Penname:
LightningScar
Member Since:
2006.12.17


Track This Author:


Stories Posted:
0
Reviews Posted:
63
Favorite Author of:
0




Author's Favorite Stories | Author's Stories | Author's Favorite Authors
(145 found— page 1 of 6)
---
|<
1
2
3
4
5
6
>|
1 : The Harder Struggle by Ericfmc Novel
Rating: 15+ Chapters: 29 Reviews: 118


Voldemort is defeated. Now the trio face a more complex challenge, changing the society that let Voldemort come to power and flourish. First though they have to recover and start rebuilding their own lives. Set during the four months immediately following the Battle of Hogwarts. HG/RW , HP/GW

Now over 24,000 reads!











Genres: Drama, Humor, Romance Era: Post-Hogwarts Characters: Arthur, George, Ginny , Harry, Hermione, Molly, Ron Pairings: Ron/Hermione, Arthur/Molly, Bill/Fleur, Harry/Ginny
Advisory: Mild Language, Strong Violence, Scenes of a Mild Sexual Nature, Substance Use or Abuse, Sensitive Topic/Issue/Theme, Contains Spoilers
Published: 2012.08.30 Latest Chapter: 2014.04.11 Updated: 2014.04.11 Status: COMPLETED (132410 words)
2 : Visions of Greatness by JLHufflepuff Novel
Rating: 15+ Chapters: 10 Reviews: 7



The name of Malfoy has long been a mystery even to Scorpius, though he carries it with him to Hogwarts. It is there that he learns about the family history his anxious mother and distant father would rather keep hidden forever. Even as he makes unlikely friendships, develops a talent for Quidditch, and uncovers a devious and dangerous plot, Scorpius must unravel the Malfoy family secrets in order to truly understand himself.

banner by NevillesSoulmate at TDA!!


Genres: Drama, General, Mystery Era: Next Generation Characters: Albus, Blaise (M), Draco, Harry, James (II), Lucius, OC , Ollivander, Scorpius, Teddy
Advisory: Mild Language, Strong Violence, Scenes of a Mild Sexual Nature, Substance Use or Abuse, Sensitive Topic/Issue/Theme, Contains Spoilers
Published: 2007.08.11 Latest Chapter: 2014.03.02 Updated: 2014.03.02 Status: WIP (30026 words)
3 : Harry Potter and the Wizard's Portrait by Hogwarts27 Novel
Rating: 15+ Chapters: 39 Reviews: 151


An eighth-year post Voldemort story. Harry is still at risk of attack as news of the Elder Wand hits the Daily Prophet. Gringotts goblins are enraged by the bank break-in, and mysterious magical items surface including a goblin fairy tale.

.


Genres: General, Mystery, Action/Adventure Era: Post-Hogwarts Characters: Arthur, Bill, George , Harry, Hermione, Molly, Ron Pairings: Harry/Ginny, Ron/Hermione
Advisory: Mild Language, Mild Violence, Scenes of a Mild Sexual Nature, Substance Use or Abuse, Contains Spoilers
Published: 2011.05.20 Latest Chapter: 2014.02.20 Updated: 2014.02.20 Status: COMPLETED (251341 words)
4 : For Hope by zipzin Novel
Rating: Mature Chapters: 33 Reviews: 68




Harry has been broken, beaten, and battered. Yet Voldemort is dead, and like many before him, he must rebuild his life with the help from his closest friends.

Amazing Banner by Carnal Spiral @ TDA


Genres: Romance, Action/Adventure, Young Adult Era: Post-Hogwarts Characters: Ginny , Harry, Hermione, Ron Pairings: Harry/Ginny, Ron/Hermione
Advisory: Strong Language, Strong Violence, Scenes of a Mild Sexual Nature, Substance Use or Abuse, Sensitive Topic/Issue/Theme, Contains Spoilers
Published: 2012.01.06 Latest Chapter: 2014.01.18 Updated: 2014.01.18 Status: WIP (71067 words)
5 : We did it, we bashed them, wee potterís the one, by GinnyChaserSuberb Novella
Rating: Mature Chapters: 9 Reviews: 158

There's a school to be rebuilt,A ministry to reform.Loved ones to bury, Orphans to care for.
The only thing we know for sure is Life Doesn't Stop For Death. Follow Harry and Ginny, Teddy Hermione and the rest of the Weasleys after the war, as they struggle to begin their new life together
14,000+ reads thanks everyone! Thanks to Norway @ DA for banner!


Genres: Fluff, General, Humor Era: Post-Hogwarts Characters: Andromeda, George, Ginny, Harry, Hermione, Narcissa, Ron, Shacklebolt, Teddy Pairings: Arthur/Molly, Bill/Fleur, Harry/Ginny, Ron/Hermione, Dean/Luna
Advisory: Strong Language, Strong Violence, Scenes of a Mild Sexual Nature, Sensitive Topic/Issue/Theme, Contains Spoilers
Published: 2008.04.26 Latest Chapter: 2013.11.21 Updated: 2013.11.21 Status: WIP (55537 words)
6 : The Scars of Adventure by Gwenevere_Prewett Novel
Rating: Mature Chapters: 8 Reviews: 17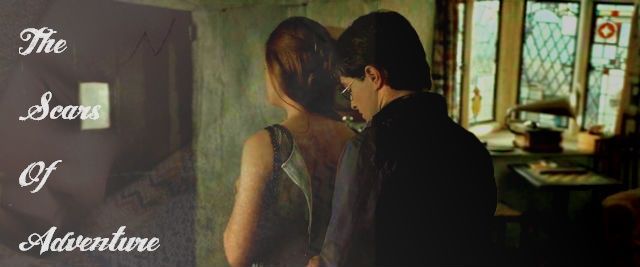 Harry Potter wakes up after the battle covered in scars, but the one scar he has worn as an emblem of pain for all of seventeen years, is fading into what Harry comes to reckonise as an emblem of hope. Can Harry finally start to build a life on a path outside of Voldemort, or will he just be 'The Boy who Lived' forever? This story follows the characters we know and love through the next few years.


Genres: General, Romance, Action/Adventure Era: Post-Hogwarts Characters: Arthur, Charlie, George, Ginny, Harry, Hermione, Molly, OC, OtherCanon , Ron Pairings: Harry/Ginny, Arthur/Molly, Ron/Hermione, OC/OC
Advisory: Strong Language, Scenes of a Sexual Nature, Substance Use or Abuse, Contains Spoilers
Published: 2012.09.01 Latest Chapter: 2013.10.23 Updated: 2013.10.23 Status: WIP (27858 words)
7 : Learning to live again by seeker68 Novel
Rating: Mature Chapters: 38 Reviews: 1025




So, what happened after Harry wondered about getting a sandwich?

Starts the morning after the Final Battle. Follow along as Harry tries to cope with the aftereffects of the war and the damage done to his life thus far. Sure, he conquered Voldemort, but how does that prepare him for a normal life? Is a normal life even possible? We know that 19 years later 'all was well'. The question is; what did it take to get there.

Genres: General, Romance Era: Post-Hogwarts Characters: Arthur, George, Ginny, Harry, Hermione, McGonagall, Molly, OC, Ron, Teddy Pairings: Harry/Ginny, Arthur/Molly, Bill/Fleur, Ron/Hermione, Neville/Luna
Advisory: Mild Language, Mild Violence, Scenes of a Mild Sexual Nature, Contains Spoilers
Published: 2007.10.19 Latest Chapter: 2013.09.22 Updated: 2013.09.22 Status: COMPLETED (238906 words)
8 : The Lord of Tang by tgfoy Novel
Rating: Mature Chapters: 19 Reviews: 140


Sequel to The Essence of Revenge. If you haven't read that then some of this story might not make sense.

A single journey across two era's a millenia apart.
A Wizard and a Witch connected by blood.
Both with destiny's to fulfil.
Forever separate, connected for eternity.
Can the circumstances of Freedom be fulfilled?

Warning: this story has some period scenes that reflect atitudes and actions of the time, Hence the mature rating.


Genres: Humor, Mystery, Action/Adventure Era: Post-Hogwarts Characters: Ginny, Gryffindor, Harry, Hermione, Hufflepuff, OC, OtherCanon , Ravenclaw, Ron, Slytherin Pairings: Harry/Ginny, Ron/Hermione, OC/OC, Other Pairing
Advisory: Strong Language, Strong Violence, Scenes of a Sexual Nature, Sensitive Topic/Issue/Theme
Published: 2009.02.14 Latest Chapter: 2013.09.16 Updated: 2014.03.26 Status: WIP (172046 words)
9 : Harry Potter and A New Chapter of Life by Rfrymanjr Novel
Rating: Mature Chapters: 18 Reviews: 54


This continues from the end of Deathly Hallows.
I have previously stated that this story would be labeled as complete, after thinking about it and receiving a few reviews from slightly disappointed readers as to the abrupt ending I have decided to pick this story back up and run with it for a while longer while working on another story, So please be patient with me as updates and chapters may not be posted as quickly as they were in the past. Thanks for all the support.



Genres: General Era: Post-Hogwarts Characters: Arthur, George, Ginny, Harry, Hermione, McGonagall, Molly, OC, OtherCanon , Ron Pairings: Harry/Ginny, Arthur/Molly, Bill/Fleur, Ron/Hermione, Other Pairing
Advisory: Strong Language, Strong Violence, Scenes of a Sexual Nature, Sensitive Topic/Issue/Theme
Published: 2012.11.02 Latest Chapter: 2013.07.27 Updated: 2013.07.27 Status: WIP (63292 words)
10 : Love Breaks The Noble Spirit by Hippothestrowl Novel
Rating: Mature Chapters: 40 Reviews: 62


Harry & Ginny's love was understated in Hallows. They knew they should separate but love can break the noblest of ideals. This tells you what secretly happened between the two.

Genres: Drama, General, Romance Era: Hogwarts Characters: Ginny, Harry, Hermione, Luna, Neville, OtherCanon , Ron, Snape Pairings: Harry/Ginny, Ron/Hermione
Advisory: Mild Language, Strong Violence, Scenes of a Mild Sexual Nature, Substance Use or Abuse, Sensitive Topic/Issue/Theme, Contains Spoilers
Published: 2012.06.08 Latest Chapter: 2013.05.12 Updated: 2013.05.12 Status: COMPLETED (260938 words)
11 : Harry Potter and The Unknown Future by GinnyPotter0116 Novel
Rating: Mature Chapters: 22 Reviews: 95



Lord Voldemort is dead. Harry Potter and his friends look forward to the future that they fought for. But what enemies will lie ahead of them? What obstacles will they face, and who will they face, once again?


*Abandoned*


Genres: Horror/Dark, Romance, Young Adult Era: Post-Hogwarts Characters: Andromeda, Arthur, Fleur, Ginny, Harry, Hermione, Lucius, Molly, Ron, Teddy Pairings: Harry/Ginny, Arthur/Molly, Bill/Fleur, Ron/Hermione
Advisory: Mild language, Mild violence, Scenes of a mild sexual nature, Sensitive topic/issue/theme
Published: 2012.09.28 Latest Chapter: 2013.04.23 Updated: 2013.04.23 Status: Abandoned (43545 words)
12 : Potters Fall for Redheads by kissedbyavampire Novel
Rating: 15+ Chapters: 16 Reviews: 97
~~thanks to SCORPIUS for the awesome banner!~~





It's a proven fact. Potters do fall for the redheads; James for Lily and Harry for Ginny. Why is this? I have not a clue, and I don't really plan on answering that question. But what I will look into is how one Potter broke the chain of "redheaded women".
16,000+ reads!
Genres: Humor, Romance, Action/Adventure Era: Next Generation Characters: Albus, George, Hagrid, Hugo, James (II), Lily (II), OC , Rose, Scorpius Pairings: Other Pairing, Harry/Ginny, Ron/Hermione, Rose/Scorpius, Teddy/Victoire
Advisory: Mild Language, Mild Violence, Scenes of a Mild Sexual Nature, Contains Spoilers
Published: 2007.10.06 Latest Chapter: 2012.11.26 Updated: 2012.11.26 Status: WIP (29986 words)
13 : Teach thy Parents by Manwe Valarian Novel
Rating: Mature Chapters: 25 Reviews: 116


It has been twenty-five years since Voldemort fell, and Britian's magical community has never been better. Head Auror Harry Potter uncovers a plot by Neo Death Eaters to go back in time and kill his parents. He, Teddy Lupin, and Teddy's trainee go back in time to protect James Potter and Lily Evans. This is another story based on After the Horcrux. Lovely banner by EmmyLemmy @ TDA.




Genres: Drama, Humor, Action/Adventure Era: Other Characters: Dumbledore, Ginny, Harry, James, Lily, Lupin, McGonagall, OC , Sirius, Teddy Pairings: Harry/Ginny, James/Lily
Advisory: Strong Language, Strong Violence, Scenes of a Mild Sexual Nature, Sensitive Topic/Issue/Theme, Contains Spoilers
Published: 2011.10.21 Latest Chapter: 2012.11.21 Updated: 2012.11.21 Status: COMPLETED (120701 words)
14 : Are all memories good? Book Two by harrysmyhero Song fic
Rating: Mature Chapters: 41 Reviews: 65


This is book two in the Are all memories good? series. Now that they are reunited, what will happen with Harry and Ginny's relationship? And who or what is the Dark One? Will Harry again choose to go it alone, or will his friends rally around him as this new threat emerges?


As times passes, the 'gold and silver quartet' learn that not only is love the strongest magic of all, when it is paired with music it will become stronger still .




Genres: Mystery, Romance, Action/Adventure Era: Post-Hogwarts Characters: Arthur, Ginny, Harry, Hermione, Kreacher, McGonagall, Molly, Neville, OC , Ron Pairings: Harry/Ginny, Arthur/Molly, Bill/Fleur, Ron/Hermione, Other Pairing
Advisory: Mild Language, Strong Violence, Scenes of a Sexual Nature, Substance Use or Abuse, Sensitive Topic/Issue/Theme
Published: 2011.10.02 Latest Chapter: 2012.09.01 Updated: 2013.06.30 Status: WIP (243187 words)
15 : The End of the Beginning-The Beginning of the End by Marc Novel
Rating: Mature Chapters: 52 Reviews: 906


The End of the Beginning

This story picks up from where book number seven left off. Harry's still having problems controlling his power and his emotions. With the help of the Weasley family, will he be able to get himself under control before the next threat comes to endanger his one and only love? Reviews are welcomed, if you wouldn't mind. Thanks.



Genres: Drama, Romance, Action/Adventure Era: Post-Hogwarts Characters: Arthur, Ginny, Hagrid, Harry, Hermione, McGonagall, Molly, OtherCanon , Ron, Shacklebolt Pairings: Harry/Ginny, Lucius/Narcissa, Ron/Hermione, Neville/Luna
Advisory: Strong Language, Strong Violence, Scenes of a Sexual Nature, Substance Use or Abuse, Contains Spoilers
Published: 2008.05.04 Latest Chapter: 2012.04.06 Updated: 2012.04.06 Status: WIP (331198 words)
16 : Harry Potter and the New Beginnings by Janner Novel
Rating: Mature Chapters: 25 Reviews: 121



Covering the two years after the defeat of Voldemort, beginning the day after the battle. Harry seeks out Ginny. He finds her, and then they find each other.†Life begins again.†
††
61,000+ reads!†That's amazing!† New epilogue coming soon!!!
Banner by shabdabdingdong@TDA

If you read, then REVIEW, REVIEW.
†
†
†
†
†


Genres: Drama, Romance, Young Adult Era: Post-Hogwarts Characters: Arthur, Draco, Ginny, Harry, Hermione, Kreacher, Molly, OC , Ron, Seamus Pairings: Harry/Ginny, Ron/Hermione, Hermione/OC
Advisory: Strong Language, Strong Violence, Scenes of a Sexual Nature, Substance Use or Abuse, Sensitive Topic/Issue/Theme
Published: 2011.05.15 Latest Chapter: 2012.03.16 Updated: 2012.03.16 Status: COMPLETED (68165 words)
17 : What Happened Next: The Rest of their Lives by Janus Novel
Rating: Mature Chapters: 33 Reviews: 310


Brilliant banner by SwissMiss @TDA








A series of snapshots in the lives of Harry, Ginny, Ron, Hermione and others, moving from the end of Deathly Hallows to James Potter starting at Hogwarts. In short, what happened next...




COMPLETE- The story continues in What Happened Next: Shadows Looming


Genres: Drama, General, Romance Era: Post-Hogwarts Characters: Arthur, Draco, George, Ginny , Harry, Hermione, Luna, Molly, Neville, Ron Pairings: Ron/Hermione, Arthur/Molly, Bill/Fleur, Harry/Ginny, Other Pairing
Advisory: Strong Language, Strong Violence, Scenes of a Sexual Nature, Substance Use or Abuse, Sensitive Topic/Issue/Theme
Published: 2008.04.08 Latest Chapter: 2011.10.24 Updated: 2011.11.18 Status: COMPLETED (90702 words)
18 : After the War by Sarah MacKay Novel
Rating: 15+ Chapters: 20 Reviews: 245


Short Novel, Completed! *CONTAINS SPOILERS* What happened to our beloved characters after the great battle? How do they pick up the pieces of their lives and live to find happiness? Has the threat of danger passed? Takes place in the summer after the war. Over 70,000 reads, Merlin's Pants! Thank you all so much, you guys rock! *Story is currently being edited to fix mistakes. :)







Genres: General, Romance, Angst Era: Post-Hogwarts Characters: Arthur, George, Ginny, Harry, Hermione, Molly, OtherCanon , Ron, Shacklebolt Pairings: Harry/Ginny, Arthur/Molly, Ron/Hermione
Advisory: Mild Language, Mild Violence, Scenes of a Mild Sexual Nature, Sensitive Topic/Issue/Theme, Contains Spoilers
Published: 2007.08.06 Latest Chapter: 2011.09.08 Updated: 2011.09.08 Status: COMPLETED (63414 words)
19 : After the Horcrux by Manwe Valarian Novel
Rating: Mature Chapters: 47 Reviews: 728


Harry has defeated Voldemort, and now is free to live his life like he chooses. He wants to be with Ginny, but will she take him back and be able to deal with Harry's fame. Please read and review. As with all Harry Potter stories, J. K. Rowling owns all rights. (I am presently revising some of the chapters to coincide with the accompaning stories). Banner by the wonderful EmmyLemmy at TDA






Genres: Humor, Romance, Action/Adventure Era: Hogwarts Characters: Arthur, Bill, Charlie, George, Ginny , Harry, Hermione, McGonagall, Molly, Ron Pairings: Arthur/Molly, Harry/Ginny, Ron/Hermione
Advisory: Mild Language, Strong Violence, Scenes of a Sexual Nature, Substance Use or Abuse, Sensitive Topic/Issue/Theme, Contains Spoilers
Published: 2008.07.11 Latest Chapter: 2011.09.02 Updated: 2011.09.02 Status: COMPLETED (330701 words)
20 : Harry Potter and the life he had never thought possible by ginnyweasleypotter87 Novel
Rating: Mature Chapters: 6 Reviews: 47








My attept to fill in the missing 19 years that were left to us be JK Rowling.

Enjoy!!!!

I own nothing..All J.K. Rowling

6/1/11: I know I have been gone from the story awhile but im getting back to it. I am starting with some editing and re-writing. So if you read it before you may need to again.!!



Genres: Romance Era: Post-Hogwarts Characters: Ginny , Harry, Hermione, Ron Pairings: Harry/Ginny, Ron/Hermione
Advisory: Mild Language, Scenes of a Sexual Nature
Published: 2008.08.20 Latest Chapter: 2011.06.07 Updated: 2011.06.07 Status: WIP (5802 words)
21 : All Right To Be Me by M Trepeau Novella
Rating: 15+ Chapters: 4 Reviews: 24


FORMERLY NAMED "METAMORPHAGUS"

An account of Ron Weasley's life, beginning with the Battle of Hogwarts and continuing throughout the nineteen years between the DH final chapter and the epilogue.

"We can never know what we can never know, except that whoever you are, and whoever I am, you made it all right to be me." -Ben Marshall, Driving Lessons

Genres: Drama, Humor, Romance Era: Post-Hogwarts Characters: Ginny , Harry, Hermione, Luna, Neville, Ron Pairings: Ron/Hermione, Harry/Ginny, Neville/Luna
Advisory: Scenes of a Mild Sexual Nature, Contains Spoilers
Published: 2007.07.28 Latest Chapter: 2011.06.02 Updated: 2011.06.02 Status: WIP (5851 words)
22 : Harry Potter and the Winters After the War by Mrs_Granger Novel
Rating: Mature Chapters: 74 Reviews: 1804


This is the sequel to Harry Potter and the Summer After the War. The years that follow Harry and Ginny's decision to become engaged are years of development and change for our young adults. In addition to their growing and developing relationship, their attention is beginning to shift to their careers and the state of the wizarding world. Challenges and triumphs fill the years ahead as Harry moves beyond basic training in the Auror Department and discovers what the surviving Death Eaters have been doing since the end of the war.




Genres: General, Mystery, Romance Era: Post-Hogwarts Characters: Arthur, Bill, Charlie, Ginny, Harry, Hermione, Molly, OC , Ron Pairings: Harry/Ginny, Arthur/Molly, Ron/Hermione
Advisory: Mild Language, Strong Violence, Scenes of a Sexual Nature
Published: 2008.12.16 Latest Chapter: 2011.05.09 Updated: 2011.05.09 Status: COMPLETED (506397 words)
23 : Harry Potter and the Fight for Freedom by Nymphadora_Metamorphmagus Novel
Rating: 15+ Chapters: 41 Reviews: 130




Harry Potter and his friends return to school for their seventh and final year at Hogwarts School of Witchcraft and Wizardry. It is full of constant reminders from their teachers on the upcoming N.E.W.T.s, good and bad times, relationships and the pressure of knowing that Harry will sometime this year; face Voldemort for the last time.
Disregards points of book six
50,000+ Reads
†
†
†


Genres: General, Romance Era: Hogwarts Characters: Ginny, Harry, Hermione, OtherCanon , Ron, Seamus Pairings: Harry/Hermione, Ginny/OC, Ron/OC
Advisory: Strong Language, Strong Violence, Scenes of a Mild Sexual Nature
Published: 2006.07.19 Latest Chapter: 2011.01.18 Updated: 2011.08.19 Status: COMPLETED (75345 words)
24 : Harry Potter and the Life After Death by kiagh88 Novel
Rating: Mature Chapters: 20 Reviews: 402





Follow Harry, Ginny, Ron & Hermione as they live life after Voldemort. What will life bring? Will there be peace for the boy who lived?

Please leave a review, 100000 reads n 400 reviews! ch20 up. For those of you up to Ch19 and wanting more..Its coming shortly.


Genres: Horror/Dark, Romance, Action/Adventure Era: Post-Hogwarts Characters: Arthur, Bill, George, Ginny, Harry, Hermione, Molly, OC , Ron, Teddy Pairings: Harry/Ginny, Arthur/Molly, Ron/Hermione
Advisory: Strong Language, Strong Violence, Scenes of a Sexual Nature, Substance Use or Abuse, Contains Spoilers
Published: 2008.03.04 Latest Chapter: 2010.12.07 Updated: 2010.12.07 Status: WIP (143808 words)
25 : The Lost Nineteen Years by Terri West Novella
Rating: 15+ Chapters: 17 Reviews: 193





Totally amazing banner by CJ_Black at TDA!

This story is about everything that happens after the big battle of hogwarts. I stick to the facts from the books, and I simply wanted to write about the things that lead up to the chapter :)

44,000 Reads!! Thanks so much for all the support!! Chapter 17 UP!! :D


Genres: Fluff, Humor, Romance Era: Post-Hogwarts Characters: Albus, Ginny, Harry, Hermione, Hugo, James (II), Lily (II), Ron, Rose , Teddy Pairings: Harry/Ginny, Bill/Fleur, Ron/Hermione, Neville/Luna
Advisory: Mild Language, Scenes of a Mild Sexual Nature, Sensitive Topic/Issue/Theme, Contains Spoilers
Published: 2007.08.22 Latest Chapter: 2010.11.13 Updated: 2010.11.13 Status: WIP (47010 words)
|<
1
2
3
4
5
6
>|