Penname:
frostedteardrops
Member Since:
2006.05.29


Track This Author:


Stories Posted:
11
Reviews Posted:
69
Favorite Author of:
10

frostedteardrops


Author's Favorite Stories | Author's Stories | Author's Favorite Authors
(11 found— page 1 of 1)
---
|<
1>|
1 : Webb's Wicked Wiles by frostedteardrops Novella
Rating: Mature Chapters: 4 Reviews: 54




Norah Webb has been wronged one time too many by Sirius Black.

It's time for revenge.

Oh, how the mighty fall.

Fantastic banner courtesy of PhoenixFlame @ TDA

Genres: Humor, Romance, Young Adult Era: Marauders Characters: A. Longbottom, James, Lily, Lupin, OC , Pettigrew, Sirius Pairings: Sirius/OC, James/Lily, Remus/OC
Advisory: Strong Language, Mild Violence, Scenes of a Mild Sexual Nature
Published: 2009.05.05 Latest Chapter: 2011.11.11 Updated: 2011.11.11 Status: WIP (7696 words)
2 : A Summer Thing by frostedteardrops Novella
Rating: Mature Chapters: 9 Reviews: 274




Dakota Wronski, direct descendent of famed Seeker Josef Wronski, hasn't played Qudditch or touched a broom since a tragic accident changed her life.

Even so, she accidently becomes Seeker on the Puddlemere United, and it seems her life has taken a turn for the better. Except for one factor. His name?

Oliver Wood.

Genres: Humor, Romance, Young Adult Era: Post-Hogwarts Characters: Cho, OC , Oliver Pairings: Other Pairing
Advisory: Strong Language, Sensitive Topic/Issue/Theme, Contains Spoilers
Published: 2008.04.28 Latest Chapter: 2010.05.12 Updated: 2010.05.12 Status: WIP (19258 words)
3 : Because she smiled by frostedteardrops One-shot
Rating: Mature Chapters: 1 Reviews: 37
Have you ever wondered what it would be like if one day your entire world changed, abruptly, utterly and irrevocably, without any warning?

||For xdaanana's title/banner challenge||
Genres: General, Horror/Dark, Angst Era: Marauders Characters: OC , Regulus, Sirius Pairings: Sirius/OC, Other Pairing
Advisory: Mild Language, Strong Violence, Substance Use or Abuse, Sensitive Topic/Issue/Theme
Published: 2008.10.05 Latest Chapter: 2009.08.21 Updated: 2009.08.21 Status: COMPLETED (2423 words)
4 : Lead the Way, and I will Follow by frostedteardrops One-shot
Rating: 15+ Chapters: 1 Reviews: 5

He brought out the best in her, made her feel alive, and pretty, and young again. With one sweet glance he could erase all the pains of her affected childhood. With one word, he made her feel as alive as a new born babe. With one caress he made her feel as beautiful as the great, beautiful witch Aphrodite herself.

He taught her to smile again, to feel to joy again, to love again--all basic skills which she'd lost at a very young age.

And now he was gone.
Genres: Romance, Angst Era: Hogwarts Characters: Dumbledore, McGonagall Pairings: Other Pairing
Advisory: Mild Language,
Published: 2007.04.16 Latest Chapter: 2008.07.21 Updated: 2008.07.21 Status: COMPLETED (1246 words)
5 : wilting. by frostedteardrops Short story
Rating: 15+ Chapters: 1 Reviews: 1


In the knot of fate there be three strands:
One of a black wing weaving made,
One of the blackthorn heart of a maid,
One not to be found in the Morrigun's hand.

"Child flirting with death, playing with fire, jousting with danger. Half of blood, half a Prince, flirting with death; careful, child. Careful."

||banner challenge||a fountain pen||runner-up||

Genres: Romance, Angst, Young Adult Era: Pre-Hogwarts Characters: Lily, Lucius, Snape Pairings: Snape/Lily
Advisory: Mild Language
Published: 2008.07.07 Latest Chapter: 2008.07.14 Updated: 2012.07.05 Status: WIP (1349 words)
6 : The Metamorphic Truth by frostedteardrops Novella
Rating: 15+ Chapters: 2 Reviews: 12




War changes people. Some emerge stronger, some weaker--one thing's for sure: Nobody ever remains the same.
Hermione Granger lost herself in the war; Is Draco the one person who can bring her back?

Genres: Romance, Angst, Young Adult Era: Post-Hogwarts Characters: Draco, Hermione Pairings: Draco/Hermione
Advisory: Mild Language, Strong Violence, Scenes of a Mild Sexual Nature,
Published: 2007.06.01 Latest Chapter: 2008.06.29 Updated: 2008.06.29 Status: WIP (1619 words)
7 : xoxo, wondering witch. by frostedteardrops Novella
Rating: 15+ Chapters: 1 Reviews: 4


I'm here to document every little misstep you take, every slip that comes out of your mouth, and finally, your very own fall from grace.
Can you handle the pressure, or will you crack long before then?

And who am I? That's a secret I'll never tell. Cheers,

xoxo, wondering witch.


Genres: Drama, Romance, Young Adult Era: Post-Hogwarts Characters: Blaise (M), Draco, Goyle Jr., Lucius, Narcissa, OtherCanon, Pansy Pairings: Draco/OC, Other Pairing
Advisory: Mild Language, Substance Use or Abuse, Contains Spoilers
Published: 2008.05.28 Latest Chapter: 2008.05.29 Updated: 2008.05.29 Status: WIP (598 words)
8 : You're Beautiful by frostedteardrops Song fic
Rating: 15+ Chapters: 1 Reviews: 10



You're beautiful, it's true. There must be an angel with a smile on her face, when she thought up that I should be with you. But it's time to face the truth: I will never be with you.One-Shot Songfic. Viktor Krum x Hermione.

Genres: General, Romance, Angst Era: Post-Hogwarts Characters: Hermione, Krum, Ron Pairings: Hermione/Krum, Ron/Hermione
Advisory: Sensitive Topic/Issue/Theme, Contains Spoilers
Published: 2007.12.08 Latest Chapter: 2008.04.16 Updated: 2008.04.16 Status: COMPLETED (737 words)
9 : Unfaithful Lips of an Angel by frostedteardrops Song fic
Rating: 15+ Chapters: 1 Reviews: 2


It's really good to hear your voice say my name, it sounds so sweet. Coming from the lips of an angel, hearing those words it makes me weak.

He's more than a man, and this is more than love; the reason that the sky is blue. I don't want to do this anymore; I don't want to be the reason why.
Two-shot songfic.

Genres: Angst, AU, Young Adult Era: Post-Hogwarts Characters: Hermione, Krum, Ron Pairings: Ron/Hermione, Hermione/Krum, Ron/Lavender
Advisory: Mild Language, Sensitive Topic/Issue/Theme
Published: 2008.02.04 Latest Chapter: 2008.03.20 Updated: 2008.03.20 Status: WIP (835 words)
10 : To Lose a Guy in Ten Days by frostedteardrops Short story
Rating: 15+ Chapters: 1 Reviews: 6





Sirius: A serious player. Can't seem to stay with a single girl for more than a week.
Norah: Fresh out of Hogwarts. Wound way too tight, and needs to relax.

The Task: She needs to get a guy and then lose him.
He needs to make a girl fall for him and stay.And it needs to be done in 10 days.

Let the fun and games begin.

Genres: Humor, Romance, Young Adult Era: Marauders Characters: James, Lily, OC, Sirius Pairings: Sirius/OC, James/Lily
Advisory: Mild Language, Scenes of a Mild Sexual Nature
Published: 2008.01.04 Latest Chapter: 2008.01.08 Updated: 2008.01.08 Status: WIP (1115 words)
11 : One Last Goodbye by frostedteardrops One-shot
Rating: 15+ Chapters: 1 Reviews: 6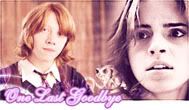 Hermione+Ron Years after the war, (which the two survived) Ron is killed in an accident at the Department of Mysteries. Hermione finally realizes on the third year anniversary that it's time to move on, and visits his grave one last time. One-shot.


Genres: Romance, Angst Era: Post-Hogwarts Characters: Hermione, Ron Pairings: Ron/Hermione
Advisory: Mild Language
Published: 2006.05.29 Latest Chapter: 2006.06.15 Updated: 2006.06.15 Status: COMPLETED (601 words)
|<
1>|