Penname:
hugs2muchgal
Member Since:
2005.07.17


Track This Author:


Stories Posted:
2
Reviews Posted:
13
Favorite Author of:
3

Personal info removed by staff. i love hp, reading, performing arts etc. fav stories are in marauder era! i love remus! anyone can talk to me about broadway or hp!


Author's Favorite Stories | Author's Stories | Author's Favorite Authors
(2 found— page 1 of 1)
---
|<
1>|
1 : Complicated Liasons by hugs2muchgal Novella
Rating: 15+ Chapters: 3 Reviews: 5


have you ever read a story full of tons of webs of relationships...ya me too, there are tons of stories with them! what makes this one different? not sure yet! marauder time, watch as people fall in love, get used, and have "happy endings", until they are all killed or betrayed or whatever. i stink at summarries..read anyway!


Genres: Drama, Humor, Romance Era: Marauders Characters: James, Lily, Lupin, McGonagall, OC, Pettigrew, Sirius, Snape, Voldemort Pairings: James/Lily, James/OC, OC/OC, Remus/OC, Sirius/OC
Advisory: Mild Language, Mild Violence, Scenes of a Mild Sexual Nature, Sensitive Topic/Issue/Theme
Published: 2006.01.08 Latest Chapter: 2006.04.29 Updated: 2006.04.29 Status: WIP (5167 words)
2 : Charms and Cellphones by hugs2muchgal One-shot
Rating: 12+ Chapters: 1 Reviews: 20


Ron finds a mysterious item in his trunk once he returns from Hogwarts. This object of dark magic scares Ron out of his wits (like he had any). Ron not knowing what to do panics and has to deal with the dark magic until Hermione returns. Oh...and did I mention...it is a cell phone. A one shot humor written by 2 crazy and bored teenage girls.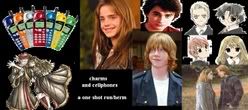 Genres: Fluff, Humor, Romance Era: Hogwarts Characters: Harry, Hermione, OC, Ron Pairings: Ron/Hermione, Harry/OC
Advisory: Mild Language
Published: 2005.08.08 Latest Chapter: 2005.08.08 Updated: 2006.01.08 Status: COMPLETED (896 words)
|<
1>|