Penname:
gossipweaver
Member Since:
2005.05.23


Track This Author:


Stories Posted:
4
Reviews Posted:
0
Favorite Author of:
18

Welcome to my inventory of stories.


Author's Favorite Stories | Author's Stories | Author's Favorite Authors
(4 found— page 1 of 1)
---
|<
1>|
1 : MOONGATE BECKONS WHEN THE CANVAS SLEEPS by gossipweaver Novel
Rating: 15+ Chapters: 13 Reviews: 31


When illusions overlap with reality, when fairy tales become too real... Unfortunately for Oliver, not all fairy tales have a happy ending... What can be more cruel… purposely arranging two people from two different worlds, to cross paths, meet, fall in love, only to part ways… Thanks to Ginnyslittlesister for gifting me this fantastic banner!


Genres: Romance, Angst, Young Adult Era: Hogwarts Characters: OC, Oliver Pairings: OC/OC, Other Pairing
Advisory: No Warnings
Published: 2005.12.08 Latest Chapter: 2006.09.28 Updated: 2006.09.28 Status: COMPLETED (34814 words)
2 : LACY LIPS by gossipweaver One-shot
Rating: 15+ Chapters: 1 Reviews: 10


Ginny's little slipup to Romilda about her satisfying married life with Harry would get him all worked up… AN EMOTIONAL ANGST-FREE STORY! ABSOLUTELY NO KLEENEX REQUIRED, I PROMISE!
Thanks to Amy4rupert for gifting me my first ever banner!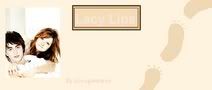 Genres: Fluff, Romance, Young Adult Era: Post-Hogwarts Characters: Ginny, Harry Pairings: Harry/Ginny
Advisory: Scenes of a Sexual Nature
Published: 2005.11.10 Latest Chapter: 2005.11.10 Updated: 2006.01.05 Status: COMPLETED (1802 words)
3 : THE BOY NEXT DOOR (MY GUARDIAN ANGEL Part 3) by gossipweaver Novel
Rating: 15+ Chapters: 32 Reviews: 81


Who could blame her for not wanting to let go... his gentleman touch, innocent face, boyish smile, and bright green eyes... who could blame her… when she sees only him… the boy next door… her guardian angel…

Genres: Romance, Angst, Young Adult Era: Hogwarts Characters: Ginny, Harry, OC, Oliver Pairings: Harry/Ginny, OC/OC
Advisory: No Warnings
Published: 2005.08.20 Latest Chapter: 2005.10.15 Updated: 2006.06.19 Status: COMPLETED (91382 words)
4 : MY GUARDIAN ANGEL by gossipweaver Short story
Rating: 15+ Chapters: 13 Reviews: 51


All Ginny wanted was a normal life free of Harry Potter. She knew her feelings would never be reciprocated. Afterall, why would the great Harry Potter care about a little girl like her? Harry's fourth year had not been the same as before because he was beginning to feel like the third wheel within Ron and Hermione. Why couldn't he be like other fourteen year olds, who seem so busy with families, friends and relationships, while all he could feel was the silence inside his heart. How could he ever love a person when his life had been one that was full of loneliness and turmoil?

Genres: Romance, Angst, Young Adult Era: Hogwarts Characters: Ginny, Harry, Voldemort Pairings: Harry/Ginny
Advisory: Scenes of a Sexual Nature
Published: 2005.05.24 Latest Chapter: 2005.08.16 Updated: 2006.01.05 Status: COMPLETED (16302 words)
|<
1>|