Penname:
lauraf68
Member Since:
2009.04.17


Track This Author:


Stories Posted:
1
Reviews Posted:
392
Favorite Author of:
2

Love everything about JKR's HP. Gravitate toward reading post DH life. I also prefer my HPFF to be cannon, yet have been known to enjoy other aspects along with some AU stories, too.


Author's Favorite Stories | Author's Stories | Author's Favorite Authors
(19 found— page 1 of 1)
---
|<
1>|
1 : 19 years by marauder5 Novel
Rating: Mature Chapters: 41 Reviews: 1133


Thanks to Melody Pond@TDA for this lovely banner!






What happened during the nineteen years we never got to see, between the Battle of Hogwarts and the epilogue? The story of how our golden trio recovers from the war and rebuild the lives they fought so hard to be able to choose, inlcuding the ups and downs that come with growing up.

Focuses on Harry/Ginny, Ron/Hermione, the Weasley family.


Genres: Drama, Romance, Young Adult Era: Post-Hogwarts Characters: Arthur, Bill, Fleur, George, Ginny , Harry, Hermione, Molly, Percy, Ron Pairings: Harry/Ginny, Arthur/Molly, Bill/Fleur, Ron/Hermione, Other Pairing
Advisory: Mild Language, Strong Violence, Scenes of a Sexual Nature, Substance Use or Abuse, Sensitive Topic/Issue/Theme, Contains Spoilers
Published: 2012.12.30 Latest Chapter: 2014.04.18 Updated: 2014.04.18 Status: WIP (163814 words)
2 : Harry Potter and The Inevitable by GinnyPotter0116 Novel
Rating: Mature Chapters: 25 Reviews: 109


Harry Potter's life is changing rapidly since the return of Lord Voldemort, the world darkening around him and his friends. After being captured and tortured by Voldemort for information, his life is about to change forever. With Voldemort taking over quicker than anyone could of imagined, Harry has to face the choices of what is right, and what is easy.


~14,000 Views!~

*TITLE CHANGED FROM 'SEEING THE TRUTH'*









Genres: Horror/Dark, Action/Adventure, Angst Era: Hogwarts Characters: Dumbledore, Ginny , Harry, Hermione, Lupin, Ron, Sirius, Snape, Tonks, Voldemort Pairings: Harry/Ginny, Arthur/Molly, Remus/Tonks, Ron/Hermione
Advisory: Strong language, Strong violence, Substance use or abuse, Sensitive topic/issue/theme, Spoilers
Published: 2012.12.31 Latest Chapter: 2014.04.17 Updated: 2014.04.17 Status: WIP (59287 words)
3 : One Summer by silverfirelizard53 Novel
Rating: Mature Chapters: 7 Reviews: 20



Banner by the wonderful Hobbit @ TDA

(After the Battle) They walked down the stairs together, no longer comrades in a great battle but simply just as friends. They would always be way more than the stereotypical definition of friends, but walking down from the tower felt like a new chapter, a new beginning. They could mourn and grieve, and when that was done, they could celebrate...and live. **CANON COMPLIANT**


Genres: Drama, Romance, Angst Era: Post-Hogwarts Characters: Arthur, Bill, Charlie, George, Ginny , Harry, Hermione, Molly, Percy, Ron Pairings: Harry/Ginny, Arthur/Molly, Ron/Hermione, Other Pairing
Advisory: Strong Language, Scenes of a Mild Sexual Nature, Sensitive Topic/Issue/Theme, Contains Spoilers
Published: 2014.03.06 Latest Chapter: 2014.04.14 Updated: 2014.04.14 Status: WIP (41846 words)
4 : The Harder Struggle by Ericfmc Novel
Rating: 15+ Chapters: 29 Reviews: 119


Voldemort is defeated. Now the trio face a more complex challenge, changing the society that let Voldemort come to power and flourish. First though they have to recover and start rebuilding their own lives. Set during the four months immediately following the Battle of Hogwarts. HG/RW , HP/GW

Now over 24,000 reads!











Genres: Drama, Humor, Romance Era: Post-Hogwarts Characters: Arthur, George, Ginny , Harry, Hermione, Molly, Ron Pairings: Ron/Hermione, Arthur/Molly, Bill/Fleur, Harry/Ginny
Advisory: Mild Language, Strong Violence, Scenes of a Mild Sexual Nature, Substance Use or Abuse, Sensitive Topic/Issue/Theme, Contains Spoilers
Published: 2012.08.30 Latest Chapter: 2014.04.11 Updated: 2014.04.11 Status: COMPLETED (132410 words)
5 : Wounded Warriors by Wildmoon Novella
Rating: 15+ Chapters: 7 Reviews: 6


Nobody came out of the Second Wizarding War without injuries. Least of all the students and staff of Hogwarts. Can Snape work through his pain and finally find peace with his life?

Part three of the trilogy that began with "The Gift of Severus Snape." Would love some reviews so I can get better!




Genres: General, AU Era: Post-Hogwarts Characters: McGonagall, OC, OtherCanon , Snape Pairings: Snape/OC
Advisory: Mild language, Strong violence, Scenes of a mild sexual nature, Substance use or abuse, Sensitive topic/issue/theme
Published: 2013.10.19 Latest Chapter: 2014.04.08 Updated: 2014.04.08 Status: WIP (21573 words)
6 : Gravel on the Ground: From the Ashes by 1917farmgirl Novel
Rating: Mature Chapters: 9 Reviews: 171

Gorgeous banner by abeille.reveuse at TDA.

Some people, they're important. They're born with destinies, courage, bravery. They have tasks to accomplish. Vital things, like saving the world. But some people... Some people slip through the cracks. For them, it takes everything they have just to save themselves.


Genres: Drama, Angst, AU Era: Hogwarts Characters: Fred, George, Harry, Hermione, OC , Ron Pairings: Other Pairing
Advisory: Mild Language, Strong Violence, Scenes of a Mild Sexual Nature, Substance Use or Abuse, Sensitive Topic/Issue/Theme
Published: 2013.08.15 Latest Chapter: 2014.03.23 Updated: 2014.03.23 Status: WIP (27965 words)
7 : Hermione Granger: Discovery by Bennardo Short story
Rating: 15+ Chapters: 8 Reviews: 3


In these 8 chapters we begin with Hermione before she enters Hogwarts and end the story when she meets Harry Potter.
Most of the characters, settings, and events in this short story were created by J. K. Rowling, not I, and I was privileged only to read, enter, and enjoy the world she created.

Author's Note: William Shakespeare created the plot, events, and characters of MacBeth mentioned in this story.







Genres: Drama, Humor, Action/Adventure Era: Pre-Hogwarts Characters: Dumbledore, Fred, George, Hermione, Neville, OC , Ollivander, Percy, Snape Pairings: Hermione/FredOrGeorge, Hermione/OC
Advisory: Mild Violence
Published: 2013.05.28 Latest Chapter: 2014.02.07 Updated: 2014.02.07 Status: COMPLETED (12196 words)
8 : For Hope by zipzin Novel
Rating: Mature Chapters: 33 Reviews: 68




Harry has been broken, beaten, and battered. Yet Voldemort is dead, and like many before him, he must rebuild his life with the help from his closest friends.

Amazing Banner by Carnal Spiral @ TDA


Genres: Romance, Action/Adventure, Young Adult Era: Post-Hogwarts Characters: Ginny , Harry, Hermione, Ron Pairings: Harry/Ginny, Ron/Hermione
Advisory: Strong Language, Strong Violence, Scenes of a Mild Sexual Nature, Substance Use or Abuse, Sensitive Topic/Issue/Theme, Contains Spoilers
Published: 2012.01.06 Latest Chapter: 2014.01.18 Updated: 2014.01.18 Status: WIP (71067 words)
9 : Out Of the Ruins by HollyStone73 Novel
Rating: Mature Chapters: 21 Reviews: 59



Amazing Banner thanks to Hobbit' @TDA!
Severus Snape survived... With the war over and Voldemort defeated, there is much to be repaired, the hardest being the emotional wounds of the survivors. The journey will not be easy, especially for Harry & Snape. Is it possible for the two of them to work together or will their history be too much to overcome? Can an intriguing outsider help bridge the gap between them?


Genres: Romance, Action/Adventure, Angst Era: Post-Hogwarts Characters: Draco, Harry, Luna, McGonagall, Neville, OC , Snape Pairings: Harry/Ginny, Ron/Hermione, Snape/OC
Advisory: Strong Language, Mild Violence, Scenes of a Mild Sexual Nature, Sensitive Topic/Issue/Theme
Published: 2013.01.08 Latest Chapter: 2014.01.11 Updated: 2014.01.11 Status: WIP (58663 words)
10 : Harry Potter and the Heart of the Hero by jeograph Novel
Rating: Mature Chapters: 22 Reviews: 109





Dumbledore is gone, or is he? Harry feels the weight of the world rests on his shoulders, but he will learn that his desire to face his fate alone may be his greatest weakness. It is his capacity for emotion that makes him strong, and his relationships his greatest source of strength. Everything Harry knows, or rather thinks he knows comes into question.


Genres: Drama, General, AU Era: Hogwarts Characters: Dobby, Draco, Dumbledore, Ginny , Harry, Hermione, Moody, Ron, Snape, Voldemort Pairings: Harry/Ginny, Remus/Tonks, Ron/Hermione, Draco/OC
Advisory: Strong Language, Strong Violence, Scenes of a Sexual Nature, Substance Use or Abuse
Published: 2010.06.25 Latest Chapter: 2014.01.09 Updated: 2014.01.09 Status: WIP (165199 words)
11 : Of hot chocolate and unfairness by DancingMooncalf Short story
Rating: 15+ Chapters: 10 Reviews: 18





After the great battle everybody has to heal, not everybody is able to do it on their own. Some just need some help to finally see sense.



Now being beta read by Siriusly89


Genres: Fluff, General, Romance Era: Post-Hogwarts Characters: Ginny , Harry, Hermione, Molly, Ron Pairings: Harry/Ginny, Ron/Hermione
Advisory: Scenes of a Mild Sexual Nature, Sensitive Topic/Issue/Theme
Published: 2012.12.11 Latest Chapter: 2013.11.29 Updated: 2013.11.29 Status: WIP (20410 words)
12 : Battle of Hogwarts: the Cost of Victory by Hagrid21 Novel
Rating: 15+ Chapters: 10 Reviews: 29


credit for the awesome banner goes to FairyQueen @TDA. Thank you







Set following the Battle of Hogwarts, our heroes awake to a brave new world, devoid of the menacing terror that is Voldemort. How will they adapt now that they're no longer at war? How will they move on knowing how many they're leaving behind? Usually things can't just change over night, but for them...everything did.


Genres: Fluff, Romance, Angst Era: Post-Hogwarts Characters: Arthur, Ginny, Harry, Hermione, Neville , Ron, Shacklebolt Pairings: Harry/Ginny, Ron/Hermione
Advisory: Mild Language, Mild Violence, Substance Use or Abuse, Contains Spoilers
Published: 2012.10.20 Latest Chapter: 2013.11.10 Updated: 2013.11.10 Status: WIP (46821 words)
13 : The Scars of Adventure by Gwenevere_Prewett Novel
Rating: Mature Chapters: 8 Reviews: 17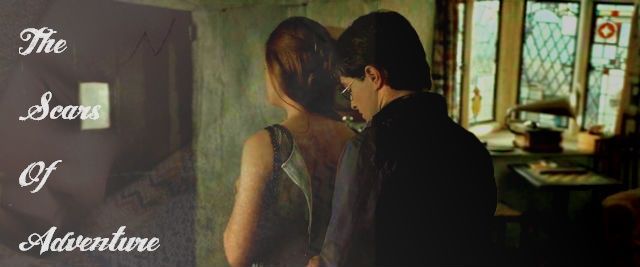 Harry Potter wakes up after the battle covered in scars, but the one scar he has worn as an emblem of pain for all of seventeen years, is fading into what Harry comes to reckonise as an emblem of hope. Can Harry finally start to build a life on a path outside of Voldemort, or will he just be 'The Boy who Lived' forever? This story follows the characters we know and love through the next few years.


Genres: General, Romance, Action/Adventure Era: Post-Hogwarts Characters: Arthur, Charlie, George, Ginny, Harry, Hermione, Molly, OC, OtherCanon , Ron Pairings: Harry/Ginny, Arthur/Molly, Ron/Hermione, OC/OC
Advisory: Strong Language, Scenes of a Sexual Nature, Substance Use or Abuse, Contains Spoilers
Published: 2012.09.01 Latest Chapter: 2013.10.23 Updated: 2013.10.23 Status: WIP (27858 words)
14 : Where Have You Been? by Sundowner Novel
Rating: Mature Chapters: 4 Reviews: 16





Gorgeous banner by killer queen @tda
UNDERGOING REVISION/Hiatus.
She thought she was alone... she had no idea how wrong she was.
"Excuse me, Professor McGonagall, but why is my supposedly dead father on the front page of the Daily Prophet?"


Genres: Drama, Action/Adventure, Young Adult Era: Hogwarts Characters: Fred, George, Ginny, Harry, Hermione, OC , Ron Pairings: Other Pairing, Harry/Ginny, Remus/Tonks, Ron/Hermione, Sirius/OC
Advisory: Strong Language, Strong Violence, Substance Use or Abuse, Sensitive Topic/Issue/Theme
Published: 2012.08.23 Latest Chapter: 2013.08.06 Updated: 2013.08.06 Status: WIP (13917 words)
15 : Ancient Relics by DarkRavenclaw Novel
Rating: 15+ Chapters: 5 Reviews: 5




Merlin has been waiting thirteen hundred years for this moment to arrive. Can he fulfill the destiny that is required of him? Will Harry learn to trust this mysterious stranger? The fate of the Old Religion and the entire wizarding world depends entirely on them.

AU for the last part of Deathly Hallows.

Crossover with 'Merlin'.

Beautiful banner thanks to Althea @ TDA!


Genres: Crossover, Action/Adventure, AU Era: Hogwarts Characters: Harry, Hermione , Ron Pairings: Harry/Ginny, Ron/Hermione
Advisory: Strong Language, Mild Violence
Published: 2012.08.18 Latest Chapter: 2013.05.27 Updated: 2013.05.27 Status: WIP (19267 words)
16 : Common Interests by Snapegirl Novel
Rating: Mature Chapters: 50 Reviews: 223


Sequel to Common Ground. After Halloween, Snape and Harry begin to bond even more as they discover some common interests. But will it stand the test of time . . .and can Sev protect Harry from the evil that stalks him? AU, Sev/Harry mentor/guardian story




Genres: Drama, General, AU Era: Hogwarts Characters: Draco, Dumbledore, Harry, Hermione, Narcissa, OC, OtherCanon , Ron, Snape
Advisory: Strong Language, Mild Violence, Sensitive Topic/Issue/Theme
Published: 2011.03.18 Latest Chapter: 2013.04.26 Updated: 2013.04.26 Status: WIP (281849 words)
17 : Healing by 1917farmgirl Novel
Rating: 15+ Chapters: 11 Reviews: 276

Amazingly wonderful banner by .Equus @ TDA!

Wars end, but healing takes time and courage, especially in the face of so many changes. Follow beloved characters as they learn that life can and does go on, that family can mean more than blood relations, and that it's okay to love and laugh again.

Special thanks to theelderwand for beta and muse help!


Genres: Drama, Humor, AU Era: Post-Hogwarts Characters: Fred, George, Ginny , Harry, Hermione, Ron Pairings: Arthur/Molly, Harry/Ginny, Ron/Hermione
Advisory: Mild Language, Strong Violence, Scenes of a Mild Sexual Nature, Substance Use or Abuse, Sensitive Topic/Issue/Theme, Contains Spoilers
Published: 2009.09.30 Latest Chapter: 2013.04.07 Updated: 2013.04.07 Status: WIP (49096 words)
18 : Book Shop Romance by RonWeasleyFans Novel
Rating: 15+ Chapters: 1 Reviews: 12


When Hermione and Draco are forced to spend time together because of the friendship of their children all hell breaks loose. But could the two get over their differences and have a second chance at love in this Book Shop Romance.

Please Read and Review

( This is my second priority fan fiction so expect an update about once a month)


Genres: Drama, Humor, Romance Era: Post-Hogwarts Characters: Blaise (M), Draco, Ginny, Harry, Hermione, Luna, Neville, Ron, Rose , Scorpius Pairings: Harry/Ginny, Ron/Hermione, Draco/Hermione, Neville/Luna
Advisory: Mild Language, Mild Violence, Scenes of a Mild Sexual Nature, Sensitive Topic/Issue/Theme
Published: 2013.01.23 Latest Chapter: 2013.02.26 Updated: 2013.02.26 Status: WIP (2189 words)
19 : Crown Fire by LadyTartan Novel
Rating: Mature Chapters: 10 Reviews: 35

ďArthurÖ your family has been in the thick of the fighting since the First Wizarding War. If anyone deserves some time off itís you, not to mention, Iím intrusting Harry and Hermione into your hands. Take your family to Australia. You can find Hermioneís parents, and your family can settle down away from prying eyes.Ē
Genres: Drama, General Era: Post-Hogwarts Characters: Arthur, Bill, George, Ginny, Harry, Hermione, Molly, OC , Percy, Ron Pairings: Harry/Ginny, Arthur/Molly, Ron/Hermione, Other Pairing
Advisory: Mild Language, Strong Violence, Substance Use or Abuse, Sensitive Topic/Issue/Theme, Contains Spoilers
Published: 2010.08.08 Latest Chapter: 2012.09.25 Updated: 2012.09.25 Status: WIP (27002 words)
|<
1>|