[
Printer Friendly Version ] [ Report Abuse ]
Polychromatic by HarryPotter is my LIFE
Chapter 17 : Kick It Here
| | | |
| --- | --- | --- |
| | Rating: Mature | Chapter Reviews: 16 |
Font:
Background: Font color: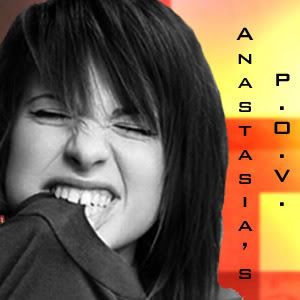 It's been getting late for days
And I think myself deserving of a little time off
We can kick it here for hours
-All Time Low
"Oh, crap!" I yelled, and ducked under the large table in the Herbology greenhouse.
We were working with Venomous Tentacula and I don't know why the professor thought that I could handle it. I had lost my concentration (not a rare occurrence) and begun looking out the window when there was a tug at my hair and that stupid, oversized plant was eating my hair.
It had eventually let go, and that was when I ducked under the table.
"The big, bad plant is gone now," said Stephen, his head appearing under the table.
"Oh, my savior! How can I ever repay you!" I cried, as I made to get up from under the table. I knocked my head on the table and fell back to my arse, clutching my head in pain. I growled.
Stephen laughed at me. "Come on, it can't be that painful. And you're not allowed to growl; people don't growl."
"Well then I'll be the first." I rolled out from under the table and stumbled up to my feet, brushing the dirt and twigs from the greenhouse floor off of my robes. He helped and brushed off my back for me.
"So," he said as he brushed off the last of the dirt. "How do you suppose you'll repay me?"
I smiled coyly at him. "I don't know, any ideas?"
We had left those bloody Venomous Tentaculas on the working tables on gone to wash off our hands. "Well, I do need someone to practice Quidditch with."
I smiled. "I'm always up for a good game of fly-up-into-the-air-and-play-with-variously-sized-balls."
Stephen hit me very lightly on the back of the head. "What have I told you about renaming things and replacing them with unnecessarily long sayings?"
I laughed and we left the greenhouse for lunch after we were dismissed. "I don't remember, what did you tell me?"
He shrugged. We laughed.
It was later that day, after dinner, that we headed down to the Quidditch pitch and grabbed our brooms from ours dorms. Technically we were supposed to keep them in the broom cupboard, but I was never one for the rules, and I was slowly corrupting Stephen with my rebellious ways.
Muaahhahaha.
We flew around a bit to warm-up first, and after that I threw a few Quaffles at him as he tried to defend the goals. He stopped every single one, but in the end we could not decide whether or not he was a really good Keeper, or I was just that atrocious at being a Chaser.
We touched down to the ground and headed immediately back to the castle. It was getting dark and McGonagall had threatened that I would be banned from Quidditch next year if I got another detention that day. (She had given me two earlier that day, in class.) I knew she was bluffing, but I had figured that I would humour dear Minnie.
"So," said Stephen, as we approached the castle. "I guess I owe you a thank you now."
I took a deep breath. I was going to be bold and uninhibited, just as always. I stopped and turned to him. Stephen's light brown hair had grown out a bit over the past few months and was now tickling the back of his next, curling lightly. He smiled a slightly-crooked smile at me.
"How about with a kiss?" I asked. No turning back now.
I expected him to answer with words, good or bad. I did not expect to have my face lightly grabbed, with Stephen's lips against mine.
He pulled back after a few seconds. "Not bad," he said, laughing just a little. He laced his fingers in my mine and we continued up to the school. Right before we stepped inside we heard a horrible, howling squeal of pain. The squeal of a werewolf.
Poor Remus,
I thought.
Stephen shook his head. "That's got to be a hell of a night for whoever turns into that."
I agreed, but I also smiled. Stephen didn't seem to hate werewolves; I don't think I could have tolerated someone who judged so quickly if he had.
I quickly pulled him through a secret passageway; we would soon be out past curfew, and by taking the passageway, we got to the common room just in time to see Filch coming around the corner.
Probably about half of Gryffindor house was crammed into the room. Every couch and chair had multiple people sitting on it, some people sat on the floor, and others were at desks, working. It was Thursday and exams started the next day. Most people were doing last minute cramming.
I however, never the perfect student, refused to. I always did well enough, even though I knew I could do better if I studied. But where was the fun in that?
"Hey," Stephen said pointedly, "look at all these studying people. Maybe we should try that?"
I shook my head. "Nah. I think we should go nick Remus' chocolate again."
Stephen contemplated this. "But he's been guarding it more secretly lately."
It was my turn to contemplate.
Stephen spoke again before I could come up with an answer. "I'll make a deal with you. I'll help you get the chocolate, because I just might possibly know where it is, if you agree to study with me afterwards."
"Pinky swear?" I asked him, and stuck out the littlest finger on my left hand for him to grasp in his own.
He laughed at me. "What are you, seven?"
I stuck my tongue out through my teeth and tried the best impression I could of a little child. "Yes."
"Alright," he agreed, and grasped his pinky into mine. Then, being unnecessarily sneaky, we darted up to the dorm. I didn't worry about any of the Marauders spotting us trying to steal the chocolate because they were otherwise preoccupied; Stephen didn't know that.
Stephen had made me turn around while he extracted the chocolate from its hiding place, saying that he even though he was helping me get the chocolate, he couldn't let me see where he was getting it from. "Grab some chocolate quickly, what if they come now?"
"They won't," I assured him, but did not explain further. Remus had a wide selection in the large box. There was milk chocolate, white chocolate, dark chocolate, chocolate with almonds in it, and all other sorts. I grabbed more chocolate than I needed (all dark chocolate, my favorite) and turned back around so Stephen could replace the box.
"Ready to study now?" he asked, touching his hand to my shoulder.
"No." Stephen gave me a look. "But I will, just like I promised."
He smiled. "I'll get my books."
He met me down in the common room less than a minute later, and we scanned the room for a place to make ourselves comfortable. There were no places, and even most of the floor was getting covered.
"Let's sit on the coffee table," I suggested.
Stephen shrugged and sat down across from me when I plopped myself down. He opened up a textbook and began to read a passage. I wasn't paying too much attention, instead I tilted my head back a bit and closed my eyes. It wasn't a minute before I was hit roughly on the shoulder.
Stephen was looking at me like he was trying not to laugh. "Can't you even concentrate for seven seconds?"
I shook my head. "Not likely."
"Too bad."
He got up and after putting the book down, dragged me from the table and sat me in a corner. Stephen then retrieved said book and sat behind me. With his arms wrapped around me and the book in front of me, he began to read off passages in my ear.
I let him continue for a while before I interrupted him and said, "If you think that I'm concentrating more like this then you're kidding yourself."
He laughed and kissed me under my chin when I turned around slightly. "But, seriously," he said, "we have to study. But you can eat the chocolate while we study if it makes you feel better."
"Okay!" I said brightly, intending on spacing off again. "I'll listen."
He laughed. "No, I was thinking it'd be a rather good idea to have you read this time."
I grumbled and angrily turned pages in the book. Tomorrow was our Transfiguration O.W.L., I supposed, because that was the book that Stephen had gotten. I began to read about hellhounds.
"Hellhounds are dark creatures resembling large dogs, though they are three-headed. These creatures are often used by witches and wizards as guards, because they are un-able to be put to sleep, except for a weakness which is unique to each . . ."
I stopped, having forgotten what I was doing in the middle of the reading. It actually happened quite often.
I heard a snapping noise behind my head and came back to the present. I jerked around and saw Stephen shaking his head. I could not tell if it was in frustration, disappointment, pity, or just plain amazement.
"Did you really just forget that you were reading?"
I looked down at my feet. "Maybe."
"You are so odd," he told me, laughing.
"Yes, thank you," I replied. "Do I really have to study?" I gave him puppy dog eyes. To be honest, I was quite pitiful at it, but, I hoped it would work all the same.
Stephen sighed. "Alright, I suppose not. But I do; so why don't you sit there and stare into space for a bit?"
I nodded and leaned my head back against the wall, popping some chocolate in my mouth. I thought that, maybe, after Stephen had studied, we could nip up to mine and the Marauders' dorm, since I knew they wouldn't be returning any time soon.
I suppose I don't sleep much, what with my late night tendencies and waking early in the morning for classes, because I dozed off. I was shaken awake roughly an hour later by Stephen. "Well, it's good to see that you're at least getting a good nights rest."
"Nuph me fruo," I mumbled.
"Yes, of course." Stephen laughed and he grabbed my arms, pulling me up. I stood and swayed falling back to the ground and knocking my head into the wall. I lay on the ground and groaned, still perfectly content to go back to sleep.
"Shit!" he muttered and picked me back up again, not letting go this time. "I'm going to help you up to your dorm, alright?" He laughed and I stumbled around a bit on my loose legs. "It's a good thing you stay in the boys' dorm; if you stayed in the girls' you would have been sleeping in the common room tonight."
I made a sound to show that I had, in fact, heard him and let him continue leading me up to the dormitory. I vaguely remember being lain in a bed, and being kissed on the forehead before falling asleep once more.
I did not wake up until ten the next morning. I looked around, startled to realize it was Friday. It was a particularly pleasant morning; sunny, warm, and the only thing wrong being a slight ache on the back of my head and the fact that I'd have missed my first two classes.
I got up lazily, grabbing some clothes and heading to the bathroom, noticing that Peter, James and Sirius were still asleep. Remus was not here, presumably in the hospital wing, though.
I had slowly dressed in my robes, wearing the pants that used to be Sirius' even though they should have been in the wash at that point. However, I didn't feel like wearing a skirt that day. It was ten fifteen and I was about to head to my class (which would have been Transfiguration) when I had a near heart attack. I realized that it was O.W.L.'s; the Transfiguration exam started fifteen minutes ago.
"Bloody hell!" I shouted, and immediately doused the entire room in water from my wand. The sleeping boys jumped up and fell ungracefully out of their beds. "We're supposed to be taking our exams now!"
I suppose, even us four slackers who didn't give much of a hippogriff's arse about most of our grades, understood the importance of this O.W.L. James, Sirius and Peter, without even changing, bolted from the room, directly behind me.
Without incoherent shouting, we managed to cram ourselves into a narrow passageway and arrive outside the Great Hall in less than two minutes. No one gave a thought as to the fact that barging into the test in a mad dash would get us into more trouble than simply quietly arriving late, but our muddled minds could not process such a complex thought.
"What is the meaning of this?" Professor McGonagall exploded as us four frenzied students burst in on the exam.
"Er, well, we overslept," Sirius began to explain. I was still reeling from the journey and shock of realizing that I was missing my O.W.L. "And I suppose Anastasia did too because she ran into our dorm to make sure we got to the O.W.L. and-"
Sirius stopped talking, and had a strange expression on his face. No. Could it be?
Embarrassment?
"We took the O.W.L.'s last year," he muttered. Then he began to laugh; to himself, or at himself, I did not know.
Then, Sirius' statement clicked in my brain. Crap. I had woken them up in a complete panic attack, and I had only just realized that they had no test they needed to take. They were Sixth years and their exams did not start until the next week.
Without another word, Sirius, James, and Peter left the Great Hall. That turned all of the attention onto me. I cleared my throat. "Er, Professor, sorry, but I think I'm going to need some parchment."
A/N: Well, here's chapter, 17! Time for a preview!
Chapter 18: Preview:

"Well I've lived in this muggy country my whole life," he explained. "Not that I don't love it," he continued. "But sometimes I just wish there was a little less rain."
I shook my head, disagreeing. "No way! If there was less rain there'd be less mud-sliding!"
Stephen nodded. "You've got a point there. Well since you're so smart I think you deserve a reward."
He leaned over and planted a kiss on my cheek, then trailed them to my mouth. We once again began to snog, still on the floor, me leaning over him.
I hadn't heard the passageway open, or the whispers that followed, but I did notice when someone tripped over my back and let out a strangled scream. Did I mention that the passageway was extremely dark?
A/N2: Chances are, updates will be quite quick, since I obviously lack self control. But eventually, I'll run out of saved chapters and they'll become more slow. Hope you guys liked this chapter!
---
Previous Chapter
Next Chapter
---
Favorite&nbsp|Reading List&nbsp|Currently Reading
Write a Review
Polychromatic:

Kick It Here
---
Other Similar Stories

My Road to N...
by PhoenixFl...