[
Printer Friendly Version ] [ Report Abuse ]
Harry Potter and the Army of Decendants by Iced_Cherriez
Chapter 14 : Chapter 14 - The-Boy-Who-Lived
| | | |
| --- | --- | --- |
| | Rating: 15+ | Chapter Reviews: 26 |
Font:
Background: Font color: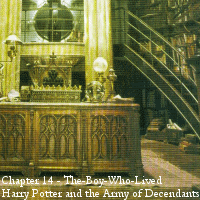 Harry Potter and the Army of Decendants
Chapter 14 - The-Boy-Who-Lived
Tonks watched in horror as the sixteen year old boy jumped out in front of her, pushing her to the ground. The green light of death encased his body as it fell limply to the ground. She stood up, but only to not be able to move anymore; watching the lifeless body of the teenager sprawled across the floor. 'This cannot be happening!' her mind screamed to her, trying to get some sense out of it.
Malfoy, who was simply doing the same, only stood there, not believing what he had done. He was proud of himself, but also scared. He was only sixteen, Harry had been sixteen, he had not deserved to die, especially at this age. But on the other hand, Malfoy would probably be praised highly by his master, who had yet to kill the boy. They would probably expel him from Hogwarts, but then he would only go and join Voldemort in his rain of terror. They would fight side by side.
"
Stupefy
!" Malfoy fell to the ground in a heap, stunned. Tonks barely looked up to see Ron's wand in his hand, his face filled with fear. She turned to look at the rest of the class, none of them brave enough to move, each and everyone had a look of horror and sadness on their faces. After what seemed like ages of shocked silence, Ron finally ran over to his friends, tears already brimming in the corners of his red eyes.
"Harry? Harry?" He shook him over and over again, hoping that it wasn't real. Harry wasn't dead! Harry was a hero; he had failed death so many times, why now? Why him? Why Malfoy? Ron wanted to kill that slimy git, but the shock of the whole episode had truly restrained him from lashing out.
"Ron." Ron turned to see Tonks standing over him, tears of worry and sadness falling freely down her face. Ron had never seen Tonks cry before, but also wished that he hadn't. She wiped the falling tears away from her face in embarrassment and bent down closer to the ground.
"Ron, I must take Harry and Malfoy to Professor Dumbledore…" She started.
"Harry is not going anywhere! He is not dead!" Ron stated, looking red eyed at Tonks. Tonks didn't dare move him away from his friend, from their friend. She remembered her years of training to be an auror, training to deal with situations like this, but none of that mattered. She had stuffed up on her very first day of teaching, causing the death of someone she had grown to care for.
She flicked her wand. Malfoy's stunned body rose into the air, sitting a metre off the ground.
"Ron…" She said as soothing as she could possibly get, trying to hide her voice, which was wavering out of control, with a hint of calmness. "I will take Malfoy to the headmaster and then come back with him. You must stay here."
Ron just nodded and didn't take his eyes away from the floor.
"Class Dismissed! I do not want you saying anything till an official announcement has been made, or you will be in bog trouble." She said angrily at the class, not meaning to take her anger out on them, but she couldn't help it.
She lifted Malfoy's body out the door, making sure that she hit his head on the doorway as he passed through.
The journey was non eventful on the way to the stone gargoyle that separated the busy life of the school and Dumbledore's office. Tonks was so angry that she purposely made Malfoy bump his head on the wall the whole way there.
"
Pumpkin Pasties
" She whispered as she approached the gargoyle. It immediately jumped out of the way, letting Tonks and an unfortunately bruised Malfoy through to the spiral stairway that lead up to the office.
She knocked on the door. She listened carefully to what seemed like a huge audience inside the professor's office. As soon as the door was knocked upon the catting stopped and a single voice was heard.
"Come in." It said gravely. Tonks was sure that Dumbledore knew who was outside the door and what was to be said. But how could that be? Dumbledore was not in the room at the time, only her and the students. None of the students knew how to get to Dumbledore, so she passed this off as a coincidence.
She opened the door, banging Malfoy on the way through and burst through herself.
"Professor…" She didn't know what to say. The old man cut her off and looked at her through his half moon spectacles, a look she had seen too often, but did not know what it truly meant.
"What has Mr Malfoy done?" He asked calmly, knowing that it was not good in any way.
Tonks didn't answer. She dropped the body of Malfoy to the ground and found a chair near the front of Dumbledore's desk. She collapsed into it and dug her head into her hands and wept.
She did not know how long she wept for, but she knew that Dumbledore was being patient and stood there waiting. Harry had been a special boy. She had yet to learn why he was so special, but she knew it, she felt it in her heart. She knew her cousin, Malfoy, had something against Harry, but not to this extent. Maybe it was because Harry had sent his father to Azkaban. The followers of Azkaban had been broken out and Lucius had gone back to his master. He had told Draco of his little encounter with Tonks and how much he now loathed her.
'My father said you would get yours.' Was something that was replaying over and over again in her head. She had been so close to death, twice, and was utterly terrified. It was now her fault that Harry was dead. He had risked his life to save her, in front of everyone. He had been so brave when he was with Voldemort, she hardly thought of him as being a school boy. Now he was gone and it was all her fault.
She finally wiped her eyes and looked up into the headmaster's. She felt like a child again, crying in front of a teacher. She had done it so many times before when she was younger.
"My dear Nymphadora. Are you ready to speak?" Dumbledore said, gazing down at her. For one of the first times in her life she did not frown or even flinch at the sound of her first name. This was odd for Dumbledore, who had known her for a very long time. She had had a hard life at Hogwarts, never quite fit in. When she was accepted for the Auror Academy, Dumbledore helped her for fill her dreams. After she had graduated, he asked her to be part of the Order, which she accepted without any questions or reluctance.
Tonks nodded and sighed. She went on to tell Dumbledore about what Malfoy had done to Harry, how Harry had fought of the Cruciatus Curse, how he, Harry, had saved her from a certain death.
For the first time in her entire life, Tonks saw a tear fall from Dumbledore's eye. She watched the twinkle that formed behind it disappear, one placed with a look of disappointment. Not the disappointment of Malfoy, or Harry, but a different one, like he actually knew something.
Dumbledore breathed deeply and finally talked.
"Where is he?" Tonks told him about leaving Harry with Ron in the classroom, who seemed to not want to let go of his best mate.
"There is only one thing we can do right now. We must punish Mr Malfoy here. I can not show anymore disappointment in him. The only thing we can do is to expel him from his schooling…" But he was cut off when the door was suddenly burst open.
"Don't you dare!" A teenage boy stood there, shaking. He had unruly messy black hair and was unusually skinny for his age. He had brilliant green eyes, which were hidden behind his glasses and an unusual lightning bolt shaped scar on his for head, which was bleeding down into his eye. His scar had been reopened, he looked positively dangerous.
The lights in the room flickered on and off and there was an unusual surge of energy emitting from around him.
"Harry?"
---
Previous Chapter
Next Chapter
---
Favorite&nbsp|Reading List&nbsp|Currently Reading
---
Other Similar Stories

Unus Devoveo...
by Patronus ...