[
Printer Friendly Version ] [ Report Abuse ]
Living as Dead by Iced_Cherriez
Chapter 1 : Chapter 1 - Beginning of the End
| | | |
| --- | --- | --- |
| | Rating: 15+ | Chapter Reviews: 25 |
Font:
Background: Font color: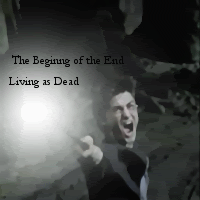 Living as Dead
Chapter 1 - Beginning of the End
AUTHOR NOTE - MUST READ!
This story does not continue on from Harry Potter and the Army of Decendants! I repeat it does not continue from the Army of Decendants. This is a much earlier fic and it gave me barriers of where to go in Army of Decendants. I would rather go forwards than backwards and did not like the barriers. I like to think that I can go anywhere with my stories. Sorry to everyone who wanted to know How Amry of Decendants got to the beginning of Living as Dead, but this has to be done. An Auror After Death will be re written after I have finished Army of Decendants and my yet to come seventh year fic, so don't worry! there will be a post Hogwarts story of two to come!

Sorry about the inconvenience!

Lotsa love Iced_Cherriez
**************************************************************
Prologue
"Curse you Voldemort! You can't do anything now!" A voice was said from behind the light. This voice was husky, as if it had been through a lot of pain. Of Course Harry had been through a lot of pain in the past years of his school life. But this was different.
Ever since a prediction was made by the less seeing, Trelawney, that there would be death tonight, a great death, Harry had been fearful. He remembered the look on the professor's face. She wasn't looking all dreamy as she normally did, in fact, far from it. The prediction ended with a large pop and Trelawney collapsed to the ground.
"What are talking about Harry? Your heard the prediction. There is nothing you can do!" Voldemort pulled back away from the light, causing Harry to loose his concentration. Suddenly Harry was vulnerable again, in harms way. Harry felt like he had betrayed every single wizard known to man, he was about to die.
"
Avada Kedavra!
" Voldemort shot at him. The spell nearly missed for the thousandth time. But this time it was different, this time, the green light hit Harry squarely in the chest.
He fell to the ground in a heap. A dead heap. Voldemort let out a shill laugh and apparated, not wanting to be there when the Order started to arrive.
*************************************
"Harry? Harry! HARRY!" Lupin ran over to the seventh year's body on the ground. A faint eerie green glow was floating around his body like mist.
The Werewolf fell to the ground, shaking Harry non-controllably. It was official, Harry Potter, The Boy-Who-Lived, the only hope left for the wizarding world, was now dead.
"I doubt he will wake, Remus." An ancient voice was heard behind the wolf. He turned to see the calm face of the Hogwarts Headmaster.
"How can you be so bloody calm!!?? He's dead. It your fault! Did you hear me? YOU'RE FAULT!" Dumbledore wasn't shaken a bit by the sudden out burst of Lupin.
"This was destined to happen, Remus." He simply said.
"YOU MEAN YOU KNEW ALL ALONG!" But Remus didn't give Dumbledore time to reply. He grabbed Harry and Disapparated in thin air.
"Remus I..." Was all Remus heard, before suddenly appearing under a tree, in the backyard of Grimauld Place.
**************************************************
Remus lowered Harry's body to the ground, wiping a few tears from his eyes. He suddenly jumped when he though he saw Harry's eyes twitch, but realised it was only his imagination. He had seen the curse performed, and there was no way that Harry could resist it a second time, or was there.
But these thoughts were simply shaken out of his head when he heard a quiet voice behind him.
"Remus?" He turned to meet Tonks. She no longer was wearing her hair in bubblegum pink, but in long black locks, as if she was sad.
"Oh…" Lupin didn't now what to say. The past two years, the two had had feelings for one another. But after the attack on the school, which left a heavy dent in the schooling life, though no one was killed, the two had sort of gone their separate ways. Lupin wanting to be alone for a while and Tonks was wanting to work hard on becoming head of the auror department.
"Remus? Are you okay." She motioned towards Harry's body and Remus slowly lowered it to the ground.
He slowly got up and engulfed Tonks in a reluctant and awkward hug.
"We'd better do something, we don't want Ron or Hermione to see, they will be absolutely devastated." Her eyes suddenly sprung with tears, as if the shock had finally settled.
"You don't want us to see what?" A voice said from behind them. They turned to meet Ron, Hermione walking a few paces behind.
"Oh.. Um.. That." Tonks closed her eyes and motioned towards the bottom of the tree.
"What?" Hermione said.
"We are so sorry but.." Remus started.
"Remus! He's gone!" Tonks cried, half, happy half scared.
"What?" Remus turned to see that the body of the so called dead, Boy-Who-Lived's, body was no where to be seen.
Lupin rushed to the trees to look around. Something was wrong, who had taken him. This was cruel joke, he thought. He heard a large crack and looked back to a large clearing. Someone had been there, someone had been there and had apparated before Remus saw them. Maybe Harry was alive.
But how could that be. Harry Potter was not seen for the following five years. He was presumed dead and Voldemort went back into hiding again. No one knew why, some people believed that the Boy-Who-Lived was still alive. But after such a long period of time, people thought otherwise. Harry Potter was not coming back.
---
Next Chapter
---
Favorite&nbsp|Reading List&nbsp|Currently Reading
---
Other Similar Stories

The Saddest ...
by New Kat


A Actual Azk...
by misery