[
Printer Friendly Version ] [ Report Abuse ]
The Hermione Granger Story by Iced_Cherriez
Chapter 1 : The Hermione Granger Story
| | | |
| --- | --- | --- |
| | Rating: 12+ | Chapter Reviews: 75 |
Font:
Background: Font color: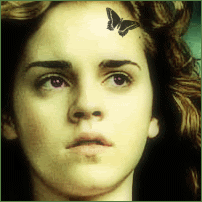 The Hermione Granger Story
Dear Readers.. I wrote this story back in 2004, and given the date at the this present moment in time - that was 4 years ago. I no longer write stories as short, or as badly written as this, and I am awfully sorry for the bad grammer and/or bad sentance structure. Thanks to all those who have reviewed! It means a lot to me.
Iced_Cherriez
xx
*******
It was late afternoon, and a muffled sniffing sound could be heard coming from a near by bush. Sitting on a rock was a little girl; her name was Granger, Hermione Granger. It had been her first day at a new school, she tried to make friends with some of the girls there, but they teased her about her buck teeth and her frizzy hair. She didn't want her parents knowing that she doesn't have any friends; they would have to move again. Hermione didn't like moving, she didn't like school, she hated being smart, it made a lot of people think she was a geek.
"Hermione?" Someone's shadow was towering over Hermione, she looked up, tears in her eyes, they glistened in the sun.
"Honey? What is wrong? Did something happen at school? You have to tell me." It was Hermione's mother.
"They don't like me! They hate my teeth and my hair!" she replied with a sniff.
"Who is they darling?"
"The girls at school, I don't want to go to school, I want to stay at home for the rest of my life!" Tears came streaming out her eyes again, cutting her cheeks with small splashes of water.
"Darling, the only way I can fix that is if you do home schooling, but you said you didn't want to do that!"
"Fine! I will do that, mummy, but I want you to teach me, not that silly man Mr McDonald, he is scary mummy, scary!" She wiped the tears out of her eyes and gave her mother a hug.
*******
Hermione started school with her mum the next day. Her mum taught her how to do the 3 times table and how to spell some quite hard words. Hermione loved it, she was able to learn and be in peace and quite!
*******
Hermione was writing out spelling words, when she suddenly threw the pen down, complaining of sore hands. She wished that the pen would work on its own; it would write the words for her. Then suddenly her wish came true. The pen started to float and then started to draw all over the page. Not what she had hoped but she was absolutely amazed.
"Mummy, look at my pen!" then pen suddenly dropped
"What?"
"Umm... I thought my pen was drawing by itself, I must be seeing things" Hermione frowned at the pen. It did it again, but this time it started to write things. 'Hermione is crazy, she has buck teeth, and she has frizzy hair!' Hermione started to cry.
"What's wrong dear? Look what the pen is writing! I wrote that I am ugly! See!"
"Darling why did you write that, you know it isn't true!"
"Mummy, you're not listening, the pen wrote it! The pen wrote it!" Hermione started crying even more.
"Darling a pen can't write!" At that moment the pen jumped up and started to write more, this time Hermione's mother saw.
"Oh my gosh the pen is writing by itself!" She screamed and ran out of the room. Hermione stopped crying and fell onto the floor in a heap of giggles.
*******
Four years later a letter came in the letter box. It was a very strange letter, one that had never been seen at the Granger's house, they were normally letters from patients wanting dental treatment. It was a fine parchment and had an embossed symbol on its back. The symbol had four different animals engraved into it, a snake, a raven, a lion and a badger. This letter was addressed to Miss Hermione Granger.
when Hermione read the lette in awe, the biggest smile spread across her face. Her mother took the letter from her hands, read it through and fainted on the spot.
---
---
Favorite&nbsp|Reading List&nbsp|Currently Reading
---
Other Similar Stories

Only a Dream
by Shadowkat


Eckeltricity
by truesable


Receiving th...
by dogluver714