[
Printer Friendly Version ] [ Report Abuse ]
Surrender by Thepheonixpen
Chapter 1 : Sanctuary
| | | |
| --- | --- | --- |
| | Rating: Mature | Chapter Reviews: 2 |
Font:
Background: Font color:
JK Rowling owns my soul and all rights to Harry Potter.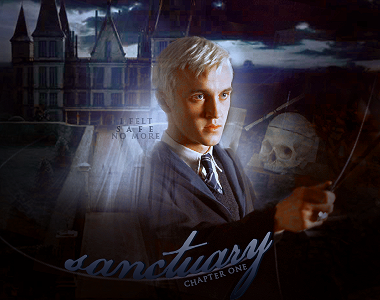 Gorgeous CI created by sanadamaiko@TDA - ILY TWIN

---------------------------------------------------------------------------------------------------------------------
I felt the ice cold shards of dread fill my body as I walked down the halls to my family's dining room. I knew that this may happen, ever since my Father had lost the prophecy a few weeks prior, each step I took, I felt as though I had always known.
I had been sitting in my bedroom only a few minutes before, I didn't leave much anymore, not since he had made our home his sanctuary. To me, our home now felt unsafe. The amount of people that now roamed the halls, were all doing his bidding. It made me feel as though at any moment, aurors would infiltrate and a battle would commence. My father told me this would never happen, that our home was too well protected in enchantments and hexes. This didn't ease my tension, I still felt just as uneasy with the current occupants. I would never tell him this though. The stress of the mistake he had made seemed to have made him prematurely grey and he flinched at even the smallest movement.
My mother wasn't doing much better, I could tell by the redness around her eyes in the morning that she has been crying herself to sleep, probably waiting until my Father was asleep to do so. She would not want to show him how this was affecting her, not when she knew how it would make him feel.
So my room had now become my own sanctuary, away from everything that was going on inside the rest of the manor. I didn't want to get involved, but even with my heart set on staying out of everything that was happening or going to happen, I had a feeling that the Dark Lord and other plans for me.
The first night he had arrived in a storm of rage, some of his words filled with so much rage that they came out as shrieks. He had let out his anger my using the torture curse on a number of his followers, including my father whilst making me and other family members watch as they wept on the floor. Just as had went to leave he and stopped for a moment in front of me, a look of intense thought crossed his face, only for a moment and then he did something I had not been expecting. He smiled. After that he left, only to return three days later, claiming our manor as his new residents until told otherwise.
It had been almost two months now since that night and I still could not shake the look in his eyes and with each day I had waited expectantly for something to come of it. I just didn't know how badly I was dreading it until my mother entered my room, a look in her eyes as though someone had died.
"Draco, dear…"
she muttered reaching for the door frame. For a moment a thought she was going to faint, but instead she steadied herself and stared at me. I slowly put down the book I was trying to read and stared back at her.
In that moment, I could see it. The pain she felt and how broken she was going to be. Whatever she was about to say, almost made her want to cry right in front of me, something I thought my mother had been too proud to ever do.
"The Dark Lord requests your presence in the dining room."
As the words left her mouth, I knew they were only just sinking in for her. So much pain on her face, we had both been expecting this. We may not have known what he wanted but we knew whatever it was, was a punishment. This was his way of seeking justice for the loss of the prophecy.
Reaching the dining room, there was nothing but dead silence, even though I knew that there was at least twenty people inside. My mother was still beside me, I could feel her cold shuddering breaths. I was sure that the thought I was something happening to me was eating at her. I loved my mother and I knew how much she loved me.
The dining room doors opened themselves, allowing me to see that I the table was filled with all of the Dark Lords followers, each and every one staring at me, some with a look of anticipation, others with cold resentment. The Dark Lord himself was sitting at the top of the table, in what used to be my father's seat, a smirk playing across his pale features.
"Ah, Draco, come sit by me, won't you?"
His words sent shivers down my spine, but I didn't want him to see how scared I was. As though his request was an honour, I walked quickly and with purpose over to the empty seat by him, bowing quickly as I sat.
The next few seconds were filled with another bout of silence, everyone waiting expectantly for what was to come next. The Dark Lord continued to stare at me, as though sizing me up, although I would never really know what each look of his meant as I would never be thick enough to stare at him for long.
"Everyone leave!"
He said abruptly.
"Except you, Lucias and Narcissa, you most definitely should stay."
He said with a smirk.
"Excuse me my lord, but as Narcissa's sister, it is my family obligation to stay with her"
Bellatrix said with a sniff.
"Only if you wish it, of course, my gracious lord"
"Of course Bellatrix, you may stay
" He said offhandedly. He did not appear to truly care whether she did stay or go.
The dining room slowly cleared no one else daring to object to being asked to leave, although a few heads turned as they exited the room.
The Dark Lord continued to stare at me, amusement still playing on his face. I felt as though he was waiting for me to stare back at him. I would not.
A few more silent seconds followed before he finally looked away and spoke.
"Draco, I have a small task for you"
Those few words filled me up with so much dread. I knew whatever this task was, it wasn't a small one and it would not be easy. I continued to wait for the Dark Lord to explain, although wishing this was all just a bad dream and that I was back in my bedroom trying to read.
---
---
Favorite&nbsp|Reading List&nbsp|Currently Reading
Write a Review
Surrender:

Sanctuary
---
Other Similar Stories

Waves Agains...
by Leonore


Where We Sta...
by DJjazzyCa...