[
Printer Friendly Version ] [ Report Abuse ]
Handle With Care by The Misfit
Chapter 1 : Lottie's Arrival
| | | |
| --- | --- | --- |
| | Rating: 15+ | Chapter Reviews: 6 |
Change Font:
Change Background: Change Font color:
Author's Note: A quick mention here - this story is set in two different time periods (1994 and 2021) and told through several viewpoints. Please watch out for the bolded sections indicating a change of date and/or POV. :)

The beautiful chapter image was made by heartfelt. @ TDA! ♥


---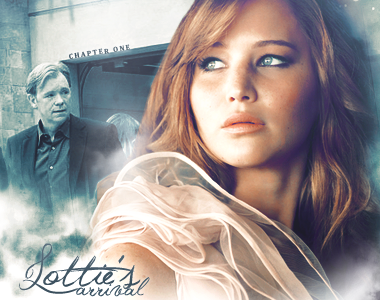 ---
LOTTIE
~
May 20th, 2021
As the Muggle car lurched uncontrollably towards the edge of the cliff's face, Lottie Selwynn could not stop her shriek of terrified alarm. Her Romanian tour guide inexpertly steered the car towards safety, hitting several bumps in the uneven road as he did so, causing the metal vehicle to shake violently. He then steered so near to a tree that one of its branches was thrust through the open passenger window, lashing at Lottie's face in the process. She let out a strangled cry of pain, and the driver of the car finally pulled up at the side of the dusty track – something that the witch was infinitely thankful for.
"How in the hell did you pass your driving test?" Lottie groaned as she scooped up her handbag and getting out of the car. Without waiting for an answer from the bewildered youth, she dumped the bag unceremoniously onto the bonnet of the car before rummaging in it for the small mirror that she kept inside.
"I can drive," the young man protested as he got out of his car. "Just because I haven't had my test yet –"
Lottie had by now retrieved her mirror and was peering at her reflection, wincing as she saw that her perfected hairstyle had come loose so that her strawberry blonde curls were now askew, and there was a small gash on her cheek from where the tree branch had scratched it. Raising her eyebrows, she put down the mirror and put her hands on her hips, turning to the Muggle and sending him an appalled glare venomous enough to shut him up mid-sentence.
"Are you telling me that you just drove me halfway up the Cernei Mountains without even passing your test? You do understand the dangers of inexperience?"
"Even if I had taken my test yet," the Muggle argued, "it would have been taken in the city. I still wouldn't be an expert on driving these roads. Besides, your boss said he didn't care whether I had a licence or not."
"He said that?" Lottie raised an eyebrow, before turning away from the Romanian to survey the Caras-Severin province below.
She knew that they were only a twenty minute drive from the small village where she had agreed to meet the head dragon keeper of the local dragon reserve, but she didn't think she could possibly get into that car again. She had always known that her boss disliked her – the reason he had sent her gallivanting across Europe to
Transylvania
, of all places, when she'd practically
begged
for the more popular reserve in Australia – but she'd never thought he would be so reckless with her life. After all, she could have
died
if it hadn't been for the sheer luck that her driver had some common sense.
"Ma'am, we need to go. We are already late; we don't want to be even later. Your boss is waiting for us."
The Romanian's eyes were pleading, and Lottie motioned to get back into the car – very reluctantly – when she froze as his words sank in.
"Did you say my boss was waiting for us?"
He nodded in confusion, and Lottie frowned.
"But that can't be right – my boss is in London."
"Actually, he's right here," a voice said from behind her, and Lottie whirled around to see its owner – a redheaded man with freckly skin who looked just shy of fifty, wearing faded workman's clothes with his arms folded. "You see, when a dragonologist gets sent to my reserve to study the dragons I take care of, they become
my
responsibility. So yes, Abraham Green might be the guy you report your findings to, but while you're here you follow
my
rules."
"
Your
reserve?" Lottie raised an eyebrow, tentatively guessing that he was the Charlie Weasley she had arranged to meet. She'd expected someone more cordial, after hearing excellent things about how lovely his family was. "Don't all dragon reserves belong to the Ministry of whichever country they're in?"
"I run the place," Weasley pointed out. "I'm in charge, and I'm the one who's responsible if something goes wrong. It's the Ministry's only on paper. Now,
you
," and he pointed to the younger man who had brought Lottie up the mountain, "take Miss Selwynn's bags out of the car and leave them for her to carry, and then you can go home."
Lottie watched as the Romanian quickly deposited her two suitcases at her feet before getting back into his car and leaving them, dust billowing up from the road as the wheels turned, causing Lottie to cough violently. As soon as the dust had settled down, she looked up to see Weasley walking up the mountain, her suitcases still at her feet.
"Hey!" she called. "Aren't you forgetting something?"
"What?" he asked, turning around to face her.
Lottie gestured silently towards her luggage, an expression of expectation written all over her face. The wizard gave a small chuckle that escalated when she frowned in annoyance.
"I'm not your house-elf, Miss Selwynn. You can pull them along yourself – they're those new-fangled ones with wheels on, aren't they?"
"They're a Muggle invention," Lottie retorted. "The wheels will get damaged on this bumpy road."
"Carry them then, if you're that fussed."
"I'm injured!" she wailed dramatically, pointing at her cut cheek, to which Weasley shrugged noncommittally. "But –" Lottie spluttered indignantly, before an idea came up to her and she grinned, pulling her wand out of her pocket. "
Wingar
–"
"
Expelliarmus
!"
Lottie felt her wand slip out of her hand and saw it fly over to Weasley, who caught it with ease with his left hand, his right holding his own wand outstretched.
"Do anything that stupid again, Selwynn, and I'll kick you off the reserve so fast you'll be bouncing on your backside all the way back to London. We're not on the reserve; we haven't even gotten to Scarisoara yet and that's the nearest Muggle village to it. What do you think would happen if a Muggle saw suitcases floating in mid-air?"
"Sorry, sir," Lottie mumbled quietly, taken aback by Weasley's immediate change in demeanour.
In response, he handed her wand back to her and she took it, stuffing it into her pocket before pulling the handles of both suitcases and dragging them behind her as she followed him – she'd just have to hope that the suitcases were magically repairable.
"So. Scarisoara – did the Muggles call it that because of the scary dragons they saw soaring overhead? You know, before Memory Charms were developed?"
"Nope," Weasley answered gruffly, and Lottie got the distinct feeling that he didn't actually want to answer her question but was obligated to. "The Romanian translation of the name is actually 'small ladder'. Absolutely nothing to do with dragons."
Silently, the duo continued to walk, Weasley ignoring the heat of the midday sun above them while Lottie could feel herself getting hotter, both from the Romanian heat and the effort of dragging her suitcases. Suddenly, out of nowhere, she heard a voice call out Weasley's name, and looked up to see a blond dragon keeper her age flying upon a broom near their heads. She opened her mouth to warn him that it wasn't allowed, but Weasley had already turned to look at the blond wizard and to Lottie's horror, stopped to talk to him with a smile on his face. She blinked in disbelief, trying to understand how it was forbidden for her to levitate her suitcases but the blond man smirking upon his broom was allowed to fly without Weasley glaring at him and issuing threats.
"Hey, dragonologist!" the blond called out, and Lottie saw Weasley turn to survey her with a smirk. "You do know that you guys passed Scarisoara like fifteen minutes ago? You don't need to carry on dragging those bags any more."
Lottie turned to glare at Weasley. "You never mentioned that! I was expecting us to get to Scarisoara before the reserve!"
"I took a detour past it; thought I'd make the journey shorter for you since you were carrying those heavy bags," Weasley shrugged casually.
"Come on then, dragonologist!" the blond shouted. "Only five more minutes to go until we get back to the huts!"
"My name's Lottie," the witch snapped. "Lottie Selwynn."
He merely shrugged in response, causing Weasley to intervene.
"Seth, go on ahead to the huts and let them know I expect lunch on the table by the time we get there."
After Seth had left, Weasley turned to Lottie, but before he could say anything the younger woman had let loose her pent-up frustration.
"How could you do that? Just let me suffer carrying those bags when there wasn't a need for me to? And then you acted all friendly with Seth when you gave me the cold shoulder for the whole time we were walking here! What do you have against me, Weasley?"
"Nothing," he answered.
"Liar!" Lottie cried out before she could stop herself, her irritation with Weasley and her anger at Seth and his smirks overpowering her.
"I don't have a single damn thing against you," Weasley growled, stepping forward so their faces were almost touching. "As soon as I saw who you work for, I figured you had to be different from every other dragonologist who's come here to study the dragons. You see, being dragon keepers means that every one of us here cares about those dragons. We don't want them dead and we sure as hell don't want them hunted for their blood or their skin or whatever's fashionable on the black market these days."
"What does that have to do with me?" Lottie asked, bewildered.
"Every dragonologist who's come here in the past has been interested in what dragons can do for wizards. They want to discover the thirteenth use of dragon's blood, they want to find out what lotions are best to keep the dragons' skin healthy so that it can be used for clothes, they want to make ornaments out of their claws and that means
pulling the claws out of a living dragon
. No dragon keeper worth their salt trusts a dragonologist these days."
"But I'm not –"
"I know you're different. I read your application; read every page of that research project you did in Scotland to find out how to cure dragons from their sicknesses; how to cut their claws with minimal pain to the dragon and the least risk to the keepers – I know all of that. But that doesn't matter to those other keepers, OK? You're gonna have to
prove
to them that you're not like what they're assuming, and trust me, Seth calling you by your job title isn't the worst of the names I've known them hurl at the others who've been here before."
Weasley placed a hand on Lottie's shoulder, and she was surprised at how strong he was, considering his age and the years he'd spent working with dragons – most keepers his age were retired, dead or had requested more bureaucratic jobs with the Department of Magical Creatures at their home Ministry. Weasley was one of the very few who still actively did their job.
"If I'm nice to you, it'll just make them treat you worse because they'll think you're sucking up to me and hell, I don't let anyone suck up to me. I won't let them do anything serious, Selwynn. But you know what? You don't like what I'm doing, fine. You're on your own."
And with that, he turned and stalked off down a path Lottie hadn't noticed before, but which she realized must be the concealed path that led to the reserve. She blinked, frozen to the spot for a few minutes as Weasley's words rang in her ears. It was an unexpected gust of wind hitting her face that snapped Lottie out of her thoughts, as the cut on her face stung from the cold breeze. She took a deep breath, closed the handles of her suitcases and levitated them before taking the path that she'd seen Weasley go down.
She would go to the reserve, find the sick bay and get her cut healed, and then she would take her seat at lunch and show those idiotic dragon keepers that she was different from the dragonologists they'd known – she was a Selwynn, after all, and she had honourable, dignified blood running through her veins.
Most importantly of all, she would make sure that Charlie Weasley learnt not to get on her bad side ever again.
---
Author's Note: I hope you liked this first chapter of Handle With Care! I'd just like to say an incredible thank you to the amazing teh tarik and patronus_charm for cheering me on and encouraging me to post this story, and to the wonderful MissMdsty and Debra20 for answering my questions about Romania and for providing the Romanian translations you see in this story. Hugs to you all ♥

I'd absolutely love to hear what you think of this chapter, so if you have time, a review would completely make my day! :D
---
---
Favorite&nbsp|Reading List&nbsp|Currently Reading
Write a Review
Handle With Care:

Lottie's Arrival