[
Printer Friendly Version ] [ Report Abuse ]
Sincerely, Eloise by qmclaren
Chapter 1 : Sincerely, Introductions
| | | |
| --- | --- | --- |
| | Rating: Mature | Chapter Reviews: 2 |
Change Font:
Change Background: Change Font color:
DISCLAIMER: Everything you recognize belongs to their respective owners. Everything you don't belongs to me such as the plot and O/C's.
---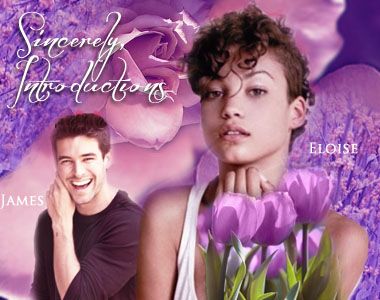 BEAUTIFUL CHAPTER IMAGE BY WillowAryaCyrilla @ TDA
---
At the end of 6th year our Muggle Studies teacher, Professor Burbage (the niece of a previous muggle studies teacher that was murdered by Voldemort himself) assigned us a pen pal. She had organized each of us with a student from a school that was made up of entirely of relatives of muggle-born witches and wizards. Their school was just outside of London and it was called The Potter Academy of Muggles Predisposed to Magic. It was generally just known as Potter Academy and it was obviously named after the savior of the Wizarding World, Harry Potter. I thought it was a good idea that the Prime Minister of England and the Minister for Magic (my father) had founded this school about 10 years ago. It was a way for pure-blood or half-blood witches and wizards that had no contact with the Muggle world to learn about it from someone their own age and vice versa. With the Potter Academy being full of staff and students that were related to a magical person they wouldn't be so quick to expose us to the world. As apart of our assignment Professor Burbage set up a student exchange program between the schools. It was to happen during our 7th year during the winter and spring. For 2 weeks in December we would be going to Potter Academy and for 2 weeks in April they would be coming here to Hogwarts.
I managed to get unpacked from the past 10 months I was at Hogwarts 2 days after arriving back home. This was incredible timing as last year I barely even unpacked my trunk. After getting settled into my bedroom I had time to reflect this past year at school. We won the House Cup AND the Quidditch Cup. I broke up with my boyfriend, Sean McLaggen that was just using me to get close to my father. He was a 7th year that was hoping I would get my father to use his power to get him a notoriously competitive internship at the Ministry without going through the application process. I was blind to see this for most of our relationship until my very overprotective little brother, Nate and cousin, Louis overheard him talking to his Ravenclaw cronies. They proceeded to hex him until he started crying. Their stunt was all over the school in a matter of 5 minutes. This also meant I faced the humiliation of finding out my boyfriend's intentions from a bunch of gossiping Hufflepuffs while I was going pee. I spent a week crying in my dorm not even leaving to go to class or to get food. Luckily, I have awesome friends that brought my homework and food up to me in the Gryffindor tower. Overall, I had a pretty good 6th year (besides the embarrassing breakup) and I had high hopes for my 7th and final year at Hogwarts. I had friends that loved me, a school trip to look forward to and a muggle tradition Hogwarts picked up over the years known as Prom. Prom was a dance for all the students that were graduating. You got to dress up to the nines and make memories with your friends that would last a lifetime. My girl friends and I could not wait to start shopping for dresses. Yes, we wore muggle dresses not traditional dress robes that older witches and wizards seemed to still wear. I fell asleep dreaming of shoes, dresses and jewelry.
---
In the morning I woke up to the sound of an owl tapping at my window. I reached over to grab my wand from my bedside table and I just about cast Alohomora until I realized I wasn't at Hogwarts and I was still underage. I groaned at this because it meant I had to actually get up and let the owl in. Why did I have to have my birthday in December? It wasn't fair. Almost all of my friends were already of age. I was extremely jealous at the fact they could perform magic whenever they wanted. I went to get out of bed but somehow I ended on my floor in a mess of sheets and blankets. Untangling myself I slowly made my way to the window but the owl was getting extremely impatient. When I finally let it in, it pecked my finger and made me bleed.
"Bollocks! Stupid pesky owl. First you wake me up and then you cause me bodily harm. How would you like it if I did that to you?" The owl just stare at me like I was crazy. Frankly, I was kind of crazy as I just had a one-sided conversation with an owl.
While I was untying the letter that was addressed to me in writing I did not recognize, I realized that I didn't recognize the owl either. That's odd. I wonder who this could be from? It wasn't from the Ministry so it couldn't have been a warning letter for using underage magic yesterday.What? Don't look at me like that! How do you think I unpacked my trunk? I couldn't have done it without the help of magic. Besides I think my father had a way of making sure that little stunt went unnoticed. Note to self: Thank Dad when he gets home. If it wasn't from the Ministry I honestly have no idea who it could be from. I was always a bit cautious when it came to opening letters from an unknown source. I mean I am the daughter of the Minister for Magic and regardless if my father was well liked he couldn't appease everyone. It also didn't help that his bodyguard made me watch a video about how you couldn't be too safe when it came to letters. It briefly mentioned a relative of a previous Minister losing an arm from an exploding letter. I was 7 when I watched this and I've been traumatized ever since. My brother wasn't though so I'll just get him to open it.
I pulled out an over sized Quidditch hoodie from my closet and put my slippers on before walking down the hall to my brother's room. Looking at my wristwatch I noticed it was still fairly early but I proceeded to open the door. Once the door was fully open I ran full speed towards the bed and jumped on to my brother.
"Naaaaaaaaaaate!" I could heard my brother grumbling as I put all my body weight on him.
"Go away El. I'm still sleeping. It's summer hols and I want to sleep in!" He said this with a very irritated tone. I was not impressed with the way he decided to talk to me. So, me being the mature older sister I was I began to tickle him.
"Nononononono! Don't do that. You know how ticklish I am. EL, STOP IT RIGHT NOW!" I was enjoying this way to much to stop and now with him being whiney I just couldn't stop. I'm evil I know but whatever this is what older siblings are supposed to do.
"I will stop ONLY if you do me a favor! K?" I obviously said this with a triumphant attitude smiling from ear to ear.
"Fine, fine, fine. What do you want Eloise Gabrielle Thomas?" I swear if that boy sounded any more defeated I would have thought someone told him his dog died. He doesn't have a dog but still it's just a figure of speech.
"Can you open this letter for me, Nathaniel Aberforth Thomas?" I mentally fist pumped as he cringed at the use of his full name. He really hated his middle name. If he thinks he can use my full name without me using his then he's crazy. "It came on an owl I didn't recognize and I also don't know the writing. You know how I feel about these types of letter." I added in a pouty face at the end. My brother was a sucker for that face. Seriously, I pull the face and I can get him to do anything I want. I really do love my brother. I'm lucky to have him.
"Is that all you wanted? Fine." He grabbed the letter from my hands and as soon as he did I ran to the doorway. I heard him tear it open and I flinched. "El, it's okay. You can open you eyes now. I still have all my limbs AND my ridiculously good looks. It's just from your new pen pal. Remember your muggle studies assignment?" He knew me too well. I opened my eyes and walked towards him to retrieve the letterr.
"Good looks? Ha! I just asked you to open a letter not tell me a joke." I chuckled while saying this "Thanks Nate! You're the best little bro ever. I'll quickly go read this letter and get ready. We can go visit Dad at work and maybe stop by at Mom's new shop now that we're both up. What do you say dearest brother?" I really hope he agreed to come with me because I didn't feel like going out alone. I had an uneasy feeling in my stomach. I didn't know why but I knew I would feel safer with him around me. He may be my little brother but he's at least a foot taller than me and rather muscular. I could see why he was such a lady killer. It grossed me out when I saw girls fawning over him but I also couldn't deny that my brother was a looker.
"Sure. That sounds like fun. I'm gonna sleep for another half hour because knowing you it'll take you a century to get ready. Now, get out of my room before I physically have to remove you!" He said this trying to have a stern look but instead it looked like he was constipated. My brother didn't know how to look stern. He was just way too smiley. I loved that about him.
---
Dear Eloise,
My name is Isabelle Marie Krum. I'm 16 years old and I just finished my 6th year at the Academy. I'll be starting my final year this fall. As you may have recognized my last name I will explain to you how I'm related to my Uncle Viktor. If you didn't put the pieces together the magical person I'm related to is Viktor Krum, captain of the Bulgarian National Quidditch team. Anyways, long story short. My biological paternal grandparents (who have now both passed) had two sons, one being my Uncle Viktor and the other my father, Alexei Krum. My Uncle was clearly born a wizard however my father, much to my grandparents disappoint, was born a squib. The shame was too much for them being a pure blood family and all.. So, they put him up for adoption. My Dad was adopted by a lovely English couple and was raised as a muggle. My Dad's adoptive parents aka my grandparents never kept his life a secret from them. They kept his last name the same which made it easier for my Uncle Viktor to find his younger brother and keep in contact. It's pretty crazy how you wizarding folk used to be so serious about blood purity and imperfections. Anyways, that's my relation to the wizarding world. I love my Uncle Vik regardless of what his parents did to my Dad. He's even taken me to a couple Quidditch World Cup games. I think that would be one of the coolest things about being a witch.
My teacher said we had to describe ourselves. I think this is kinda of weird.. but whatever. I have ice blue eyes and black hair. I'm told that because of my dark hair it makes my eyes stand out. I have fair skin and if I go into the sun without sunscreen I will burn in about 2 seconds. My mother's name is Nina and as I mentioned before my father's name is Alexei. I am an only child and I don't mind that one bit. I live at my school year round as my Dad is the principal and my mom is the school nurse. When school is in session I stay in my dorms but during the summer we own a cottage near the lake on the school grounds. My parents bought me a car for my 16th birthday so I'm able to drive and see my friends when I'm not in school.
I share a dorm with 3 other girls who I've become rather close with named Juniper (Juni), Marissa (Riss) and Colby (Col). My best friend of the three has to be Juniper (I call her Juni) because I've known her since I was a kid. Her family also lives on residence year round because her parents are both teachers. There are a few other families that live in the same lakeside area as we do. I'm not really interested in describing my friends looks and such at the moment.
I nearly forgot about my other building mates. Juni, Riss, Col and I share our building with a 4 boys that share a dorm with each other. We're a pretty good group of friends. Their names are Ryan (Ry), Marcus (Mar), Trevor (Trev) and Joseph (Jo). Ry and Juni have been dating since forever.. Well 4 years but come on that is forever. Jo and I have been hooking up for the past month but no one knows. We are definitely not dating and I don't have the desire to but there's nothing wrong with getting some.
Well, I'm off to Juni's house for the day. I hope to hear from you soon!
Sincerely, Isabelle
PS. Sorry about the owl. Our school supplied some to us for this assignment but I swear this one hates me. My teacher won't let me trade this one in for a new one.
---
I folded the letter up and placed it into a shoe box turned letter holder. I had no idea what I was going to do with the letters until I unpacked last night. I found an empty shoe box in my closest and I decorated it. I'll have to tell Dommie about what I've done. She has a million empty shoe boxes she can place her letters in. Since Nate has decided to sleep for a bit longer I'll just grab some parchment and a quill to start that letter of mine.
---
Dear Isabelle,
My name is Eloise Gabrielle Thomas but my friends call me El. I'm also 16 years old and just completed my 6th year at Hogwarts. I start my final year in September too! How excited are you for graduation? Because personally I am super stoked. My family and friend's families have quite the influence on the wizarding world which can mean that we (my friends and I ) face a lot of unnecessary pressure. Our every move is always the cover story for Witch Weekly which is known as a gossip magazine. I'm not ever sure how to start this off. Maybe I'll describe myself first and wing it from there. Bare with me for this. Once it's been explained once my whole life is super easy to follow.
My father's name is Dean Thomas, as in the Minister for Magic. If you don't know what that is it basically means that he is the leader of the wizarding world of the United Kingdom. He's done a lot of great things during his time in office. I'm very proud of him. My mother's name is Gabrielle Thomas (nee Delacour) and she is a very successful fashion designer in our world. She's made muggle clothing very popular in the wizarding communities around the world. Stuffy dress robes are definitely a thing in the past thanks to my Mom. My Dad is British Black and my Mom is French which makes me Mulatto or in other words biracial. I have extremely curly hair that I inherited from my father's side. It's a brown color with random natural light streaks. I have green eyes with flecks of golden brown. So I guess it would be considered hazel? I always call them green but whatever. I'm extremely short thanks to my wonderful Mom. When I say short I definitely mean it because I'm only 5 feet. I'm the shortest out of all my friends. I have one young brother named Nathaniel Aberforth Thomas but everyone just calls him Nate. He's about a foot taller than me with skin that's a bit dark than mine. He looks like a younger version of my Dad. Same height, same hair, same eyes. I would be lost without my little brother. We're surprisingly really close unlike a lot of brothers and sisters I know. The only about him that drives me crazy is the fact that he's so overprotective. I think my father put this into his head. Thanks Dad.. When I'm not at Hogwarts I live in Godric's Hollow. You may not recognize the name of that town as it's just for magical people. My father opted out of living at the stuffy mansion all the Ministers live in because he wanted to be close to where my cousins and most of my friend's live.
I'll move onto my relation to the Wotter's (Weasley's and Potter's) now. You may need to reread this a few times to fully grasp it. Trust me sometimes I even draw out family trees to set myself straight. I have three cousins Victoire, Dominique and Louis. Their Mom, Fleur Weasley (nee Delacour) is my Mom's older sister. She married into a very large wizarding family called the Weasley's. Auntie Fleur is also in business with my Mom which means Dom and I have the best wardrobes at Hogwarts. My Uncle Bill is a Curse Breaker which is really cool. He has these scars across his face that he got during the second wizarding war. He looks like a total bad ass but really he's the sweetest man ever. Uncle Bill had 6 younger siblings but unfortunately one of his younger brothers was killed during the battle of Hogwarts leaving him with 5 remaining siblings. First there is Charlie who never married or had children. We never see much of him as he's always away in different countries training dragons. Then we have boring Percy who married a woman named Audrey. They both have boring jobs at the Ministry to suit their boring lives. They have two children that are really rather annoying Molly II and Lucy. After Percy there is George (His twin Fred is the one that passed) and he married Angelina (nee Johnson). She is a famous Quidditch player that plays for the Holyhead Harpies. She's not just a player either she's the team captain. George owns Weasley's Wizard Wheezes aka the most successful joke shop ever. Anyways, George and Angelina have 2 children Fred II and Roxanne. After George there came Ron. You may recognize the name Ron Weasley as he is part of the Golden Trio. Yenno the saviors of the wizarding world.. yadda yadda I've heard it a thousand times. Ron married Hermione (nee Granger) who is also a member of the Golden Trio. Ron is an Auror, while Hermione is the head of the Wizengamot which is the courts of the UK wizarding world. They have 2 children name Rose and Hugo. Lastly, we have Ginny (nee Weasley) who married Harry Potter. As we all know Harry is the one that killed Voldemort. Harry is the Head Auror and Ginny had played for the Holyhead Harpies with Angelina before she retired to start a family. She then decided to become the Quidditch correspondent for the Daily Prophet. They have 3 children James, Albus and Lily. They also have godson, Teddy Lupin that they've been caring for since the day after the Battle of Hogwarts ended.
Next, we've got the family friends. My father's best friend from his school days Seamus Finnigan married fellow Dumbledore's Army member, Katie (nee Bell). They became close while my father was on the run in their 7th year at Hogwarts. Katie has been best friends with Angelina Weasley since their days on the Gryffindor Quidditch team. The Finnigan's are extremely close to my family that I call them Uncle Seamus and Auntie Katie. Uncle Seamus and Auntie Katie own two shops that sell Quidditch related items one being in Diagon Alley and the other in Hogsmeade. They have 1 daughter, Claire Finnigan. Our birthdays are only 2 weeks apart so we've literally been inseparable since birth. My family is also close with the Longbottom's. The family consists of Neville, who is my Herbology Professor at Hogwarts and the Head of Gryffindor and his wife Hannah (nee Abbott) who runs the Leaky Cauldron as well as the Three Broomsticks (They're pubs in the wizarding world). They have fraternal twins Frank and Alice who were named after Neville's parent that were tortured in the first wizarding war. Lastly, we have the Scamander family. Their family consists of Luna (nee Lovegood) and her husband Rolf. They are both Wizarding Naturalists. I don't really know what that means but whatever. They also have twins Lorcan and Lysander.
Now that I've explained the families of the people I surround myself with I might as well tell you who I actually spend most of my time with. I am in Gryffindor. I share a dorm with my cousin, Dominique Weasley also known as Dom or Dommie (She's also a cousin to James and Fred); my best friend, Claire Finnigan and Frank's twin sister, Alice Longbottom. I do consider all of these girls to be my best friends but Claire is like the ultimate one. Meanwhile Alice is Dommie's ultimate best friend. We also hang out with the Gryffindor boys that are in our year. That crew consists of my best friend and Dom and Fred's cousin, James Potter; Alice's twin brother, Frank Longbottom also known as Frankie; James and Dom's cousin, Fred Weasley also known as Freds or Freddie and Lorcan Scamander also known as Lor. The 8 of us have known each other our whole lives. It was awesome that we all ended up in Gryffindor besides Lorcan's twin Lysander but he was always a loner that never hung out with us anyways. At the end of 5th year Frank showed his Gryffindor bravery by getting the nerve to ask out Dom. Dom said yes which ticked of James, Fred, Louis, Albus, Hugo and Nate off big time. All the Wotter's plus Nate are super protective of their family. It's rather annoying. They all got over it after they saw how happy the couple was. Claire told me last week that she really likes Freddie as in more than a friend. I totally knew this for years but she wouldn't admit it before now. I've made it my mission to get the two of them together before the end of 7th year. I'm on the Gryffindor Quidditch team that is captained by James. Our team consists of 3 chasers (James, Frank and myself), 2 beaters (Fred and Claire), a seeker (Lily) and a keeper (Hugo).
Since I've already written this much I'll tell you a bit more about where the other people I previously mentioned are in their lives. My cousin, Victoire is engaged to Teddy. Molly and Lucy go to a boarding school in America called Salem Witches' Institute. Roxanne and Rose are also in Gryffindor but in the year below us. Also in the year below us are Nate, Albus and Louis but they are in Slytherin. Their group of friends isn't complete without Scorpius Malfoy. Scorp is the son of Draco and Astoria (nee Greengrass). Lily and Hugo are two years below us but also in Gryffindor.
I have to go now! I've made plans to go see my Dad and Mom today at their respective work places with my little brother. If you have any questions in regards to anyone in my circle or about Hogwarts feel free to ask in your next letter. I hope you have fun at Juniper's house.
Sincerely, Eloise
---
Once I finished writing the letter I quickly tied it to my white snow owl, Max and sent him off to meet Isabelle. Speaking of Isabelle she seems to be a nice person. Well, from what I gathered in her first letter. I figure it was a good idea to explain my life all in one go rather than in little chunks and confuse both Isabelle and myself. I feel like I've just written an essay for Transfiguration; I mean it was long enough to be one. I really hope this upcoming school year goes well. I have a Summer to enjoy with my awesome friends which means I don't have to start stressing over my final year for a couple more months. Now that I've gotten this letter out of the way it's time to get ready for my day out with Nate.
---
"Nate! Let's go." I yelled this as loud as I could up the stairs. I was really tired of waiting for him. I swear I should just leave without him. That will teach him a lesson. As I was making my way to the fireplace I heard him running down the stairs.
"Eloise, wait for me! Wait! I'm coming. Don't you dare think about leaving without me!" He said this with a knowing tone. How did he know I was going to leave? Is my brother a Legilimens? If he is.. Merlin, help me. No, seriously. He will kill any boy I fancy including a very important person in my life.
"Yeah, yeah. Just hurry up. I owled Dad and he's waiting for us. He said he doesn't have much time because he's extremely busy today. Lots of meetings with the Auror department or something." When my Dad had mentioned that in his letter I was a little concerned. I mean why would he be that busy with the Aurors? There hasn't been any major crime since the Voldemort days. I better not look into it.. Well, just yet anyways. I'll have to ask James about it later. Maybe Harry told him something my Dad didn't tell me.
"You have that look on your face El!" He said in a very concerned manner "Don't get ahead of yourself. I'm sure it's nothing. I know how you think but just stop that thought process." Ugh, my stupid brother knows me too well. Honestly I have got to stop hanging out with him. It's getting annoying how easily he can read me. Maybe I should learn Occlumency? Seriously.
"Yeah, yeah whatever!" I hope he heard how annoyed I was in the way i said that. I grabbed a handful of Floo Powder and stepped into the fireplace. "Minister for Magic, Dean Thomas's Office!" Our house had special access to his office because our fireplace could tell if we were flooing there on our own will or if we were being forced. It also could tell what our intentions were. It kept Dad safe but also made it easy for us to visit him.
After feeling like I was being squeezed through a straw I stepped into my Dad's office. He wasn't here yet. He must still be in a meeting. I took my time to take a look at his office. He had one wall that was covered in pictures whether it be of him and his friends or his family. I could see why my father was liked by the people. He was down to earth and very real. He was a family man and that's what made him so good at his job. He had the safety of the wizarding world under control. A few minutes after I had began observing the office my brother stumbled out of the fireplace. He was never good with his landing.
"Good to see you're still clumsy!" I smirked at him.
"Good to see you're still a bitch!" He smirked back.
"Good to see you're both grounded!" Wait, that wasn't Nate's voice. It came from behind us so that must mean..
"Daddy! You can't ground me. I'm starting my 7th year at Hogwarts in a couple months time!" I was definitely whining and I threw in the pouty face for good measure.
"Oh calm down El! I was just kidding! Besides how could I ground you when you're making that face." My Dad walked over to me and wrapped me in a big hug. I love my Dad's hugs. He makes me feel so safe.
"But Daddy El was making fun of me!" I knew my brother was mocking me because he said it in the same whiny voice I used AND he tried to do my signature pouty face. He failed miserably but A for effort, right?
"Nate, you know you aren't as cute as your sister here. Just don't even bother." My Dad then walked over to Nate and gave him a man hug. You know those hugs that men do. The one were the like shake hands and pull into a hug. I dunno it's weird.
"So.. Daddy do you want to come with us to see Mom. We're going out for lunch with her. If you're too busy that's okay." I really hoped he wasn't busy. I loved when we all got together to eat.
"Me too busy for my family? Never! Of course I'll go with you two. I just have to wrap something up with Harry and then we can go. Give me an hour tops. You can walk around the Ministry if you'd like. That way we can go to Diagon Alley together. I'm sure you'll bump into one or both of the Potter boys. Ginny sent them here to drag Harry out of the office for lunch." My Dad was awesome. He was the Minister for Magic but he still made time for us. Woo! He's seriously the best. Now that he mentioned it I hadn't seen James since we left school. It would be really great to see him.
"Sounds good! We'll meet you back up here in an hour. Bye Dad. Bye El. I'm going to go look for Al." With that both my father and brother left me in the office alone.
---
Walking around in the Ministry was so annoying. I mean just because I'm the Minister's daughter does not mean I need everyone trying to stop me to ask how my year at Hogwarts was. I'm sure most of them read Witch Weekly which means you already know how it went. If one more person stops me I'm gonna snap. I know I sound like a rude spoiled brat but I just want to find my best friend that I may or may not fancy. Okay. I totally fancy James but it's not my fault. I've been smitten with him since I've been 5 years old. The boy pushes me into the mud and I'm in love. I know sooo romantic.
"Good day Miss Thomas. How was your year at Hogwarts? I heard about your boyfriend scandal. Such a shame for such a pretty girl." Oh god, really. I feel sorry for whoever I'm about to face. One, they tapped my shoulder. I hate when people do that. Two, they asked the same god damn annoying question. Three, they brought up my embarrassing break up that I would just like to forget about. Four, they commented on my looks and generally when this happens it's a creepy old git trying to hit on me.
"First of all don't.." I started talking before I fully turned around to see who was talking to me. Once I did I came across a stupid giggly boy. "Jamesy!" I was so happy to see him. I went in for a hug before remembering the little stunt he just pulled. I stopped immediately to reprimand him for his actions. "James Sirius Potter! You are such a git. You know I hate when people do that to me AND you brought up the whole Sean thing. As my Best Friend you know how much grief that caused me." I made sure to add in my pout because it would make him feel extra guilty.
"Oh Els, please don't do the pout. I feel bad now that you mention it. I was just trying to tease you. It's been 3 whole days since I've seen you shorty. I'm having some serious Eloise withdrawals." He said this feeling like a total jerk for what he did. I couldn't resist him though. I mean I was gonna forgive him in about 2 seconds. He said he had Eloise withdrawals.. I fancy the freaking pants off of him. No way in Azkaban am I gonna stay pissed at him. I just want my James hug.
"Whatever. Just don't do it again or else you'll be going a lot longer without seeing me." C'mon I had to pretend I wasn't a pushover when it came to him. I was but still he doesn't need to know that.
"Okay! I promise. Now give me that hug. I've got something important to tell you." He was really tall and it made hugging him look funny. My face was squished into his chest. It gave me a reason to smell his cologne. He smelled so good. Merlin, I could just snog him right here. Wait.. what!? No, I cannot be thinking like that. He doesn't feel that way about me. He hasn't told me this but I can tell.
"So, what do you wanna tell me James? Please tell me you didn't get any one pregnant. I swear to god if you did I will not tell your Mom for you." He burst out laughing as I said this. I really don't know why he thought it was so funny. This situation scared me on a weekly basis. Women just threw themselves at James. They wanted to get a piece of that Potter fortune. "Don't laugh at me James! I'm serious." I scolded James much to the same degree as Ginny Potter.
"Merlin El. You sound like my Mom! You even look like her with that hand on the hip and scowl on your face. Stop it. It's freaky" He pleaded with me. It was funny seeing him look terrified of me and my shortness.
"Well duh. You think your Mom just let's you go to Hogwarts without someone that can scold you up to her standards." I smirked at him. I don't know why I was smirking so much lately. I hope I didn't look weird when I did it.
"That's besides the point. Do you really think I.." He stopped what he was saying, grabbed my arm and pulled me into an empty broom closet. "..lost my virginity in the 3 days I haven't seen you and managed to somehow get someone pregnant. Even if I did shag someone it wouldn't be possible to tell if they were pregnant yet!" He spoke in a soft, quiet voice. He was extremely embarrassed at the fact he was still a virgin. All of his guys friends lost it in 5th and 6th year but not James. He didn't want to sleep with a girl that just wanted him because he was a Potter. I stood on my tippy toes and put my hand on his face.
"Oh, James. Look at me. Don't be embarrassed. I'm still a virgin too. Remember? Just because all your friends have done it and you haven't does not mean you're not a man. You're the best man I know. You're loving and caring. You will meet a girl that cares about you for you soon. Don't even worry about it. Besides the whole wizarding world thinks you lost it to some lady during you vacation to Italy in 4th year." I said this in a gentle voice. It made me so happy that he hadn't shagged anyone yet. I wanted to be his first and I wanted him to be mine. Of course he didn't know this. No one did. Don't get me wrong James Potter was no saint. He has had plenty of girlfriends, had countless snogs and he's done everything but actually sleep with a girl.
Before I knew it James was lowering his face towards mine. What was he doing? He just kept getting closer and closer. Oh my god. Is he going to kiss me? His face was an inch from mine. I think I'm going to have a heart attack. He licked his lips. Am I dreaming? This cannot be happening. His lips just grazed mine. I pinched my arm. Nope, not dreaming. He kissed me. Merlin, James Potter is kissing me. His lips are so soft yet his kiss is firm. Why have I not kissed him back yet? He's going to pull away thinking what he did was wrong. I deepened the kiss by flicking my tongue against his lips waiting for entry. He obliged to my nonverbal request. James lifted me up against the wall not breaking the kiss for a second. I wrapped my legs around his waist for extra support while his hands were on my waist. They were so cold against my skin but it didn't bother me one bit. I put my hands in his hair attempting to pull him closer to me. I can't believe that I'm finally snogging James and believe me he is far better than anyone else I've kissed.. Like hands down. This is the best day of my life.
Why doesn't it seem as dark anymore? Why are the lights flashing and was is that clicking noise? I didn't want to open my eyes because when I did I wouldn't be focused on kissing James, I would be back to the real world that didn't involve his lips on mine. Unfortunately, my curiosity got the best of me, I couldn't handle not knowing what all that was. I peeked open my eyes only to realize that we weren't hidden in the broom closet anymore. Oh no. The door was open and reporters were surrounding us taking picture after picture. This cannot be happening. I pull away from James and quickly straightened my clothing.
"I have to go. My Dad is waiting for me. I'll see you later or not. I dunno. Bye." I knew I sounded so awkward but I had to get out of there. I just kissed the boy I've fancied for years, for the very first time only for it to be ruined by stupid reporters. I shoved through the sea of people and ran towards my Dad's office leaving James behind. I looked back at him to see my lipstick smeared on his mouth, his hair looking wild and a sad expression on his face. I wanted to run up to him and hug him but I carried on.
"But I didn't even get to tell you my news!" He shouted this loud enough for me to hear it before I turned the corner. I just ran and ran until I made it to my destination. Thankfully neither my brother or Dad were here yet. It gave me a few moments to myself after what just happened. Reporters ruin everything. Everyone is going to find out that James and I were kissing in a broom cupboard in the matter of hours. I'm going to look like a slag while James is going to look like the man for "getting it on" with the Minister's daughter. This is the worst day of my life.
---
AUTHOR'S NOTE: I have been a reader on this site for years but I've finally decided to write my first fan fiction. I'm excited to hear what people thought about the first chapter. I am all open to constructive criticism.
How do like Eloise so far? What about Nate? Do you like the Thomas siblings relationship? What do you think of Eloise's well connected life? What do you think Isabelle will end up like? How did you like Eloise's first of many interactions with James?
Thanks for reading and if you take the time to review you will forever be my hero. (The rest of the chapters generally will be a couple thousand words shorter! This one is longer due to many introductions VIA Eloise's letter.)
Qx
---
Next Chapter
---
Favorite&nbsp|Reading List&nbsp|Currently Reading
Write a Review
Sincerely, Eloise:

Sincerely, Introductions