[
Printer Friendly Version ] [ Report Abuse ]
The Worst by adluvshp
Chapter 4 : More Bad News
| | | |
| --- | --- | --- |
| | Rating: Mature | Chapter Reviews: 37 |
Font:
Background: Font color:
A/N (29 may 2013): I have made some major changes in Chapter One regarding the apparition so I'd suggest giving it a re-read before proceeding with this chapter.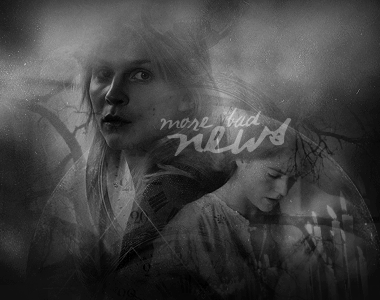 Superb chapter image by Eponine @ TDA!
---
Dominique stared at Teddy for a brief moment, taking in the frown etched on his face and the anxiety seeping through his eyes. Guilt consumed her and she averted her eyes from him.
"Dominique," he murmured. When she said nothing, he cautiously took a step towards her. She remained still.
"How are you? I-I was so worried about you. You haven't been replying to my owls and you haven't even been talking to anyone properly. We have all been worried sick.
I
have been worried sick," he said, running his hand through his hair. He didn't sound angry, just disappointed and sad. She felt terrible. "Are you okay?" He murmured after a pause, taking another careful step forward.
Suddenly her vision was clouded with tears. There had been no trace of anger or accusation in Teddy's voice, only anxiety and love for her. It broke her heart to see him like this and she berated herself for being so foolish. Why had she been pushing him away? He truly wanted to help her, he was so worried for her, and she had rejected his solace. She had been so cruel to him with her biting words earlier and he didn't even hold a grudge against her. Surely, she didn't deserve him.
"I-I am fine, Teddy," she mumbled, looking up and meeting his gaze. She wanted to apologize, to tell him that she still loved him, and that she was so very sorry for how she treated him earlier, and yet she couldn't say anything more. In fact, she didn't
need
to say anything more. He had always been able to read her like a book, and she was certain that her guilt, her remorse, her love, all was evident on her face at that moment.
The air around them suddenly felt charged and she wanted nothing more than for him to hold her. As if reading her mind, he quickly crossed the distance between them and took her in his arms. As he wrapped his arms around her, every thought, every feeling, every horrible notion that she had had in the past few days came bubbling to the surface and she buried her face into Teddy's chest, sobbing like a small child. How could she have denied herself his love, his touch, and his presence? She needed him, and she couldn't hold back any longer.
"Oh Teddy, I am so, so, sorry! I don't know what's wrong with me. All I can feel is hatred for myself and everyone else around me. I can't think straight, I just- I am so messed up. I don't know what to do," she managed to gasp out through her tears, her body still shaking uncontrollably against his. He stroked her hair.
"Shh… it's okay. You're going to be okay. We're all going to be okay. We'll get through this," he whispered, rubbing her back soothingly. She continued to cry for the next few minutes before her sobs began to cease and her tears stopped. Unwilling to let go of Teddy just yet, she closed her eyes and rested her head against his chest, hearing the rhythmic beating of his heart. Oh, how she had missed him.
Teddy broke the silence after a few moments.
"I am so glad you finally let me in, Dom. Thank you." She sniffed and pulled back to face him.
"Thank
you
. I have been acting like a pig these past days and you have all put up with me. I feel ashamed of myself, and you're only making me feel worse by saying thank you. I am such a horrible person," she mumbled, expecting him to contradict her like he usually did when she criticized herself. However, he merely looked at her intensely, shaking his head and brushing aside a stray strand of hair from her cheek. She bit her lip.
"Teddy, there's something you're not telling me. What is it? Are you… are you thinking about what I said to you earlier? I… I am sorry. I was not in a right state and the words just came spilling out. Your father… he was a great man, I am sure. I just… I am sorry, I didn't mean to hurt-," She was cut off by Teddy's finger on her lips.
"Stop saying sorry. I wasn't thinking about that. I didn't take your words to the heart, Dom. You know me; I can never hold what you said at that time against you. It's
not your fault
. Uncle Harry talked to me about it afterwards you know, even though he needn't have, and really, what you said had truth in it,
but
there was so much more to the situation than that. That's beside the point though, since I am really not thinking about it, or holding you responsible for anything," he told her calmly. His eyes were sincere and she believed him. She knew that he may have been affected by her words initially, but it seemed that he had come to terms with it now, and this put her mind slightly at ease. However, the tension in his stance remained.
"Then, what is it? What else is bothering you?" Her heart was hammering in her chest. What had Teddy so anxious? Was he going to break up with her? Was he going to tell her that he couldn't put up with her anymore now that she would be a monster every full moon? Or had something else, perhaps entirely unconnected to her 'condition', occurred?
"I… I am actually here to take you with me."
She frowned.
"Take me where? I don't want to go anywhere, Teddy. I just… I don't feel like going out. I thought you understood that." She may have let down her walls for him but she wasn't ready to allow in anyone just yet. Teddy sighed and ran a hand through his hair again, which was mousy brown once more.
"I was afraid you'd say that. I wasn't really expecting you to comply, especially since you refused Uncle Bill's invitation to stay with him and your mother. I wish you'd agree to come though, some fresh air could do you good." When she defiantly shook her head, he nodded resignedly.
"Alright then, could you at least allow your mother and sister talk to you
here
then?" Her eyes, which had been firmly fixed on the floor, shot up to meet his.
"Mum and Vic? They have already dropped by a couple of times," she muttered, a guilty weight settling down somewhere at the bottom of her stomach. Her parents and her sister had stopped by repeatedly to talk to her.
"When I say 'talk' I mean a two-way conversation in which you listen to them with your full attention and respond as appropriate," he told her in a stern tone, though the corners of his mouth were twitching. She smiled slightly.
"Fine, I will."
Teddy put his arms around her waist and pulled her closer, kissing her gently. The tension in his stance had returned.
"Dominique, Aunt Fleur and Victoire are going to tell you something that may not be very pleasant to hear... I think. Well, I am not really sure how it will affect you or how you'll react, but I request you to please try to stay strong, especially for the sake of your mother who is in great distress."
"Wh-what do you mean? What are they going to tell me? I can't handle any more bad news. I've had enough for today." She was on the verge of tears again. He looked at her sharply.
"What do you mean? What other…bad news did you have to hear?"
Dominique sighed and told him about Delilah Jones and her 'proposition'. Teddy clenched his jaw.
"I've never liked that woman, and now I only hate her more. How vile can she be? How can she tell you to still work on that freaking article? And as if that wasn't enough, she expects you to write a human-interest piece describing your
own
experience? What the hell is she playing at? Like you are not going through enough already!" He was fuming and she kept a reassuring arm on his shoulder.
"It's fine, Teddy. I'll manage it; working on the article is no big deal, I can still do it. As for the other 'personal' story, I'll think about it," she murmured and when he looked at her doubtfully she added, "You know I love my job. And this might just be my big opportunity." He rolled his eyes at that but said no more. She knew he had never approved of her boss, but she also knew that he understood her well enough to know that she couldn't be persuaded to change her job because of her strange Editor.
A loud ringing suddenly startled both of them, before they realized it was coming from Teddy's (muggle) cellphone, which had become popular among witches and wizards in the past year or so. He fished it out from his pocket immediately and moved several paces away from her on seeing the caller ID, but not before she got a glimpse of the caller as well. She watched, as his expression changed back to that of extreme distress and anxiety as he conversed with her mother. After several moments, he returned to her side looking wary.
"Dom, I know you have had a rough day, but it is necessary for you to know… it, and the sooner, the better. You need to make a…decision also, after all." This was headed in a terrible direction, she was sure of it. She had never been good at making at decisions – look where her decision to retrieve the notebook first instead of disapparating from the Cannock Chase forest immediately had landed her.
"What is
it
? Can't you just tell me and get it over with? You know I am an awful decision-maker anyway."
At her words, a slight flush crept up his neck even though his expression remained grim.
"I am afraid not, Dom. I can't tell you. Please, promise me you will talk to Aunt Fleur and Victoire?" She hesitated slightly before giving in with a nod and he gave her an encouraging smile. "That's more like it. I can't say that it's all going to be fine, but I can definitely promise that I am here for you if you need me, okay?"
His words were only frightening her further so she steeled herself and nodded again.
Teddy kissed her on the forehead and flashed her a small smile.
"They'll be here in a few minutes. Don't worry okay, and stay strong. I know you can get through this Dominique, you will adjust to it all soon," he told her softly before turning away and preparing to go out. Her hand on his arm stopped him.
"Stay with me, please."
"I'll just be in the other room. It's best to give you four some privacy." He smiled though it didn't quite reach his eyes.
"Wait, what do you mean
four
? I thought it's just Mum and Vic?" Her brow furrowed, and he looked apologetic.
"Healer Smith is also accompanying them." Her eyes widened. As far as she knew, healers hardly ever visited patients' homes.
"Healer Smith? B-But why? Healers don't usually visit their patients' homes, do they?" Teddy took her hand in his and gave it a reassuring squeeze.
"They do actually, usually to deliver… certain types of news. It's easier in familiar surroundings, and with family members. Don't worry, you'll understand soon." Even though he told her not to worry, she could see a pained look in his eyes and it did nothing to calm her fears.
"I am sorry, Dom. I wish I could do something," he murmured sadly, before striding out of the room. The next moment, her mother, sister, and the kind woman that had treated her at Mungo's appeared in her room with a series of 'CRACK' sounds
.
Dominique knew something was terribly wrong when she saw the puffy red eyes of her otherwise exceptionally beautiful mother, and the worry lines that marred her sister's forehead. Even the healer looked slightly anxious. Her heart thumping hard against her chest, she regained a little composure and greeted them, leading them to the sitting room.
"Hi Mum, Hi Vic… Hello, Healer Smith," Dominique muttered after a few seconds of sitting in uncomfortable silence. Victoire looked pleasantly surprised at this – Dom had not uttered a word the previous times they had come to visit her.
"Hello Ms. Weasley. How are you doing?" The healer smiled at her kindly and she wanted to snap at her but refrained. She had promised Teddy to at least try to converse.
"I am…fine," she lied, feeling Fleur's anxious gaze on her and not wanting to distress her mother further.
"It's a relief that you're finally talking to us, Dom. We were all so worried," Victoire murmured and Dom sighed.
"I know, I am sorry. I promise I won't be such a pig anymore. Teddy knocked some sense into me." Victoire smiled at her sister's response and nodded. "So tell me, what is this big bad news that you're all here to inform me of?" Dominique tried to sound casual, even though she could practically feel her heart beating erratically.
Fleur and Victoire exchanged glances while the healer sighed.
"I think it would be best if she hears it from you, Mrs. Weasley," Healer Smith told her mother. Fleur stared at her daughter for a moment.
"Mum, just get it over with."
Fleur swallowed and moved closer to her daughter, taking Dom's hand in hers.
"Honey, I am so sorry," she whispered with tears in her eyes, "but… but the Healer says that you cannot – you should not conceive anymore. You can not allow yourself to… bear children."
All air seemed to whoosh out from Dominique's lungs as she heard those words. Her head was spinning, the words ringing in her ears. Once again, it felt like her world had come crashing down around her. For the umpteenth time that day, tears streamed down her cheeks and she bit her lip to stop herself from crying out loud.
"W-what did you say? But how? Why? I mean… I don't understand," she managed to speak eventually, though her throat still felt closed up.
"Ms. Weasley, this might be a little hard to understand, so I'll put it in as simple terms as I can. As you are aware of, you have been bitten by a werewolf, which means that every full moon, you'll be completely turning into one. Your body will change in various ways – and not just externally, but internally as well. The entire system will be affected, be it the thought-process in your brain, or the secretion of various hormones, which is why you're more than likely to have a miscarriage if you conceive, or if you miraculously manage to carry it for nine months – which is highly unlikely – you'll most probably give birth to a stillborn." The healer paused as Dominique gasped. She had always loved children, and though kids were never in her immediate plans, she had always dreamt of having a family someday. The thought of a child, of
her
child dying, was too painful.
"B-but why? Why can't I somehow manage to carry a child and give birth to a healthy one? I am strong… I have always had strong immunity and good health," she muttered, almost angrily.
The healer nodded understandingly.
"Ms. Weasley, I've no doubt that you have always been in great health and that your body is strong but we're talking about a full-fledged human-to-animal transformation here. There are a number of things that could cause a miscarriage – or a stillborn – if you were to fall pregnant. For instance, it is necessary for hormone levels to be at certain amounts for a successful pregnancy, but what with turning into a wolf every month, your hormone levels are likely to be out of synch. Then, when your body changes, so will your internal organs such as the uterus, or even the cervix. This could affect the pregnancy strongly as well. There are many more factors for complications to occur, and most of them you'll find are in medical terms beyond your understanding, but if you wish to, I can elaborate."
"I... I see. It's fine, I don't want to listen to any more ways of how my body is going to be affected by this…this thing I'll become every month. The bottom line is, I can
not
have a baby," Dominique said in a flat voice, trying her best not to break down. Fate was hell bent on taking every inch of happiness from her life. Who knew how much more she'd have to endure in the future? She had to be strong; she couldn't keep breaking down every single time.
Victoire moved forward and hugged her sister, and she couldn't help but hug her back. She couldn't push her family away anymore. The final wall that she had built around her had broken down when her mother had told her the unfortunate news.
The healer cleared her throat, apparently wanting to say something more, and Victoire moved to sit by her sister's side.
"I am sorry, Ms. Weasley, I wish I could give you more time to grieve, but the full moon is only weeks away, so you need to make a decision at the soonest."
"What decision?" She asked warily, though she thought she knew the answer and that only made her dread it more.
---
A/N: If you've stuck by the story so far, thank you so much. Special thanks to those who've reviewed and favourited this story, and to those who've come back for this chapter. It means a lot to me. I'd love to know what you thought of this chapter by the way. Of Teddy and Dominique's interaction? Of the "news"? What do you think Dominique will do next? Any ideas on this decision?
I appreciate all reviews and reads, so all thoughts and views are welcome. I also wanted to inform you all that I will update once every month - usually anytime in the last two weeks of every month. Please bear with the wait, and stick by me, as Uni has me quite busy! I have also decided to give you all a rough idea of what happens in the next chapter at the end of every one.
EDIT (22 May 2013): Minor changes.
Up Next: A decision will be taken, some questions will arise, Dominique will do some digging with her Ravenclaw brains, and a discovery will be made.
---
Previous Chapter
Next Chapter
---
Favorite&nbsp|Reading List&nbsp|Currently Reading
Write a Review
The Worst:

More Bad News
---
Other Similar Stories

Meant to Live
by scarletta...


Beneath The ...
by lucydora