[
Printer Friendly Version ] [ Report Abuse ]
Dragon Wings, Love-Bites, and Something To Do With Marbles by LilyLou
Chapter 5 : Five
| | | |
| --- | --- | --- |
| | Rating: Mature | Chapter Reviews: 2 |
Change Font:
Change Background: Change Font color: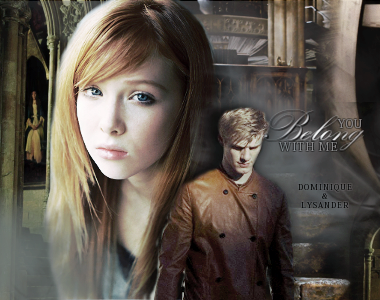 Gorgeous chapter image by Lady Asphodel @ TDA
---
All this time,
How could you not know, baby?
You belong with me.
You belong with me...
~ Taylor Swift (You Belong With Me)
---
The rest of the week went quick, and before I knew it, it was Friday. One day before Hogsmeade with Lysander.
I had told the girls, who seemed all happy and squealed, over joyed, except for Dom. I knew something was up, and I was determined to figure it out.
And I, Sophia Mae Lestrange, absolutely despised Muggle Studies. It's so… un-usable.
BAM! I just made a new word, 'cause I'm that fucking awesome.
Yep, be jealous.
And here I am again, back off topic.
We're close to two weeks into school, and I'm already beyond sick of it. I mean, only Rose Weasley is ever NOT bored of school. I hate school. Bloody despise of it, whether I do well or not. Which, normally I do well… except Muggle Studies, of course.
"Attention!" Bells calls from the front of the class.
I hate Bells.
"We're beginning a project today that is worth fifty percent of your over-all grade. I expect excellent results from each and every one of you. You will be assigned a partner and assigned a Muggle occupation to study. You will research it on Muggle computers and will interview Muggles, verbally. Now, if you give me a moment or so I shall come back with my partner list," Bells trails, scurrying out of the classroom.
I glance down at my parchment, prepared to doodle up epic doodles, when I see words scrawled out in familiar hand writing.
Ten galleons says you're paired with Louis ~Lucy
You're on ~S'Mae
Oi! I want in! ~Dom 'fucking awesome' Weasley
Is the name truly necessary, Dom? ~Rose
Yessir ~Dom 'fucking awesome' Weasley
I'm not a sir… ~Rose
'Ight ~Dom 'fucking awesome' Weasley
Well, Dom, you find your own gamble. I'm betting on your twat of a brother being paired with S'Mae, and I'm sure it'll happen. So fuck off and get your own bloody bet ~Lucy
Low hit, love… ~S'Mae
Fine. I bet you're going to end up with… with… a pureblood ~Dom 'fucking awesome' Weasley
You're on. 15 galleons I'm not ~Lucy
Oi, mate. That's a bit ~Rose
Yessir ~Lucy
Don't steal words, Lucy. It's totally un-classyish ~Dom 'fucking awesome' Weasley
Dominique, 'un-classyish' isn't a word, hon. ~Rose
Shut your gob. ~Dom 'fucking awesome' Weasley.
Five you're with Scamander, Dom ~S'Mae.
I glance over to see Dom flush crimson when she reads what I wrote. Too easy, love. Too easy… I knew she liked him.
WOAH! WAIT… Dominique Weasley has feelings?
The world's ending.
Albus, I'm moving in.
You're on ~Dom 'fucking awesome' Weasley.
"Attention! I've got the pairings, here we go! Dominique Weasley-" Dom scowls at her full name – "And Lysander Scamander," fuck yes, five galleons to moi. "Kyle McLaggen and Winston Ellis. Louis Weasley and Sophia Mae Les-Malfoy," fuck. Goodbye, five galleons. You were good while you lasted. "Lucy Weasley and Tabor Zabini."
Poor Luce. She won't live to see the end of this essay. Especially now that she's broke, given Zabini is a pureblood.
I zone out for the rest of the listings, my mind wondering to my own little thoughts and world. I loved the feeling as if I were floating on clouds, living life easily and freely, everything always working out for me in any way humanly possible.
"OI! MALFOY!" I head Louis's voice call. I snap out of my trance, and look up to see Louis smirking at me, standing on the other side of my desk.
He looked really tall from down here, in the seat… I didn't really realize how tall he was. It slimmed him out well, and it.
"HULLO! EARTH TO MALFOY!" Louis yelled.
Okay, I will not fall back into a trance, I will not fall back into a trance, I will no.
Fuck. I fell back into a trance, again.
"I give up," Louis moans before plopping into the seat next to me, his eyes landing on my parchment with my previous conversation on it.
"What's this, Malfoy? Not paying attention in class? Do you even know what this project is about?" he asks, leaning in to read the parchment.
Snatching it away, I scowl, "Yes, Weasley. I do know what the project is about."
"Here we are, you two," Bells says, holding out a baggie.
Louis reaches out, his hand diving into the bag before I have the chance to twitch. Pulling out a small folded up piece of parchment, he unfolds it and reads it aloud : "Your occupation research project will be on 'Football Players'.
I look over at him in confusion, to see his face puzzled as well.
"Erm, professor, what's a 'Football Player'?" Louis asks, staring at the parchment as if it's an alien.
And, at this point, I was too.
"That's for me to know, and you to find out. I want a three foot essay along with a powerpoint on your computer, which we studied last week," Bells snaps before moving on.
"Oh! And it's due in a month," she calls over her shoulder.
Merlin's beard. I've about had it with that bloody lady.
"Right, well, we best be getting on that… muggle thingy, and figure out what a toeball player is," Louis said, looking overly annoyed.
"It's football, you twat, and that 'muggle thingy' is called a computer. Honestly, do you pay any attention?" I snap, rolling my eyes at his stupidity.
"Malfoy, you don't pay attention either," Louis deadpanned.
"Yeah, well… I, erm…" I desperately search my small, narrow mind for a combat, but don't come up with anything.
Sodding, bloody Weasley.
"Yeah, that's what I thought," Louis triumphantly smirks, making me want to slap it right off his veela face.
That beautiful, gorgeous veela face.
Woah, what?
Not again.
Go away!!!!!!! EVIL THOUGHTS!
Hey, no one ever said I was sane.
DON'T JUDGE ME!!!
You bloody little muggle.
"Right, back on topic, yeah?" I say, quickly scurrying over to the small rectangular thing we studied last week (and may I remind you, since Louis made it clear, I don't pay attention).
I pull out the seat in front of the computer, and Louis plops his (rather attractive) arse in it.
"OI! WEASLEY! GET THE BLOODY HELL OUT OF MY SEAT YOU DUMBARSE!" I screech, shoving him off the seat and triumphantly plopping into the chair, a smirk etching itself across my face.
"Ms. Malfoy, Mr. Weasley, can you please explain to me what's going on?" Bell yelps, scurrying over and standing over Louis who was laying on the ground, glaring at me.
"Well, Professor, you see-" I began kindly, but was so rudely interrupted by…
You've guessed it, Louis.
"She shoved me off my seat!" Louis shrieks, picking himself up and brushing off his robes.
"Indeed she did," Bells mutters, mauling over the previous actions over in that little brain.
"50 points from Hufflepuff for causing disruptions in my class. 100 points from Slytherin for disrupting my class and using foul language," Bells states before stalking off.
Great. Bloody brilliant.
That was an alliteration! Fuck yeah, beat that.
"So, Slytherin, are we going to sleep so soundly over there or are we going to get something done?" Louis demands, an irritated looked etched over his face.
You know, I really didn't mean it when I said to beat that.
But whatever.
"You know, now that you mention it, I think sleeping soundly over here sounds superb," I smirk, laying my head against the table.
I hear Louis's sigh of frustration as he takes his seat next to mine, pulling out his notes. He spreads them out before him, his dazzling blue eyes sparkling as he looked them over. He scrunches up his nose in a way that makes my heart flutter with admiration, his eyebrows creasing together as he concentrated.
Bloody adorable.
"Ah!" he yelps with delight, placing a finger on the paper. I lean over his shoulder to see what he's pointing at.
Football is an American muggle sport, often played by men. It is…
"Brilliant, Louis! I guess you aren't as thick as I thought, yeah?" I smile up at him in a mock sweetness, batting my eyelashes. He scowls in response, looking down at the paper.
"It is played with a large variety of players. There is a Quarter Back, who is known as the captain. He controls the field. The Quarter Back throws the ball, a football, as shown to the right, down the 100 yard field to a wide receiver, tight end, running back, mainly. A wide receiver's job is to-" Louis began to read, but I cut him off.
"OI! TOO MUCH THINKING! LET ME TAKE IT ALL IN, YEAH?!" I explode, banging my head off the desk, clutching my ears.
Yeah, be afraid. I'm that crazy.
Louis rolls his eyes and continues reading: "-run down the field, attempting to outrun the other team, who is blocking him, trying to prevent him from catching the football. They run up to the full length of the field.
"Okay, seriously. Stop. Yeah? Let's look at it this way. There's an offense, and a defense. I'll take the offense, you take on defense, writing it up. We'll meet in the library three times a week, Mondays, Wednesdays, and Fridays, 8 to close. Unless we have detention. With it being us, we probably will normally. We can sit there and write it up, combining our essay. Today's a Friday, in case you're too thick to realize. Then we worry about this… comparter thingymabob," I say, gesturing wildly at the muggle machine (that I already forget the name of) in front of us.
Rolling his eyes at my stupidity, Louis nods in agreement. "For once in your life, Malfoy, you seem to have actually rubbed off as 'smart'. Sadly, that isn't your vocabulary, but hey? Miracles happen," he smirks.
I slap him.
In the face.
Wiping that smirk off his face.
Then I smirk in return.
Git.
"Violence is never the answer, love," Louis oh-so-wisely says. So, instead of slapping him, I try a gentler approach.
I smack him across the back of the head.
Hey, it's better than a swollen handprint on his cheek.
Well, in my opinion, anyways.
"You're impossible," he mutters.
Before I could retort, the bell rings, signaling the end of class.
Thank. Merlin.
---
"Oi! S'Mae! Anymore of that you might explode!" came the singsong voice of Evee Tuttles-Goyle, a girl who I didn't know all too well. We were forced to work together in Potions, and I quickly found a liking towards her.
Evee was the same year as I, and in Slytherin as well. She had blonde hair that was always pulled up in a sloppy ponytail. She wore no make-up and wore zits proudly on her face. She wasn't any bit Ladylike, and was a bit on the chubby side. She shot down whomever she please and wasn't afraid to make you burst into flames.
I loved her.
"Nummphhsadoff," I sputter, food crumbs flying out of my mouth, hitting Scorpius in the face.
"Watch where you aim that, yeah?" Scorpius growls, frantically rubbing the skin raw on his cheek in attempt to wipe away my DNA.
Wouldn't want to be framed for murder there, Scorp-O.
"Shove off, Malfoy," I growl at him. He ignores me, as per usual.
Evee plops down in the seat next to me, reaching for a treacle tart.
"And where were you, walking in late?" I ask suspiciously, eyeing her up and down.
Evee was a bit… violent, to say the least.
And violent was an understatement.
"Well, MUM, If you must know, I was held after Ancient Runes. Professor Higginbotham was wondering if I wanted to help out with tutoring. I turned him down flat, but then he said it wasn't an option, and I had to go," Evee explained dramatically, her hands flailing around as she spoke.
"'Aye," I respond, shoving a piece of chicken in my mouth.
Uck, fatty piece, that is.
"Yeah. And then old Sluggy wanted me to stop by and pick up some of our supplies for our project. So, tonight, 8 o'clock?" she asks, looking at me.
"Oh, sorry. How about tomorrow? I've got bloody muggle studies with that slimy little-" I begin to rant, but Albus cuts me off.
"Let me take a guess. Louis?"
I glare daggers at him, and he and Scorpius snicker.
"Oi! Shove it up your arses," I spat, stuffing a fork full of chicken into my gob, forcing myself to shut up before I pushed it past the limit.
"My arse is rather sensitive, though, and can't take all of that," Al states in a matter-of-factly way. I roll my eyes at him, his green eyes glowing with mischief.
Again, all too familiar look, that is.
My eyes begin to wonder the room when they land on Dominique, smiling at a lonely looking Lorcan. She had this look in her eyes, one of wanting. As if she were wishing he was Lysander, not Lorcan.
Gotcha.
I jump out of my seat and sprint across the Great Hall, swiftly walking past Dom, grabbing her hand to haul her in tow.
"Gerroff me, woman!" Dom shrieks, attempting (and failing, that is) to twist her wrist out of my death grip.
I haul her down the halls of the castle, trying to make my way to the common room. Dom kicked and screamed, biting at her lips at times, forcing herself not to laugh. At one point, I even had to drag her by her feet, her head banging off of each marble step we descended until we reached the Slytherin Common Room.
"The Chamber of Secrets," I state to the wall. A doorway appears before me, and I slip inside.
The room was empty, which was a relief to me. I haul her skinny little arse in the room, throwing her on a black leather couch in the far left corner of the rather crammed room. She looks up to me, eyes locking, her expression dripping with hatrid.
"You fancy Lysander," I deadpanned.
Her blue eyes widen in horror, and she blushes furiously. But, before I could tell her I told her so, she explodes.
"What the bloody hell are you talking about?!" she screams, standing abruptly.
I shake my head up at the crazy girl, "Don't act so innocent, young lady. You should have seen your face when I bet that you'd be with Lysander. I didn't know someone could get that red in the tick of a clock," I say in a metaphoric way.
I hate clocks. The bloody things make annoying noises that are so bloody-
"I don't like Lysander Scamander, S'Mae. That's your job, young lady. He fancies the pants off you! Not me, you!" she yells, looking close to tears.
Her hands were trembling, her lip slightly quivering. My eyes widen in alarm, and I freeze as a tear rolls down her cheek.
"Why doesn't he like me, goddammit?! For once in my bloody like I actually like a bloke, and guess what? HE DOESN'T LIKE ME BACK!" she screams, tears now streaming down her face. I automatically feel guilty for saying yes to Scamander. Why hadn't I seen this before.
"I… I'm sorry," I whisper honestly, feeling so incredibly guilty. It bubbled inside me and made me, too, want to have a breakdown.
And I do.
Now, what would you do if you walked in on two very crazy, fearless girls who were in tears, clutching each other tightly balled up on a couch together?
I'd run.
The door to the common room appears on the wall, and two boys walk in.
Lysander and Lorcan.
Oh, the irony…
"Dominique? S'Mae?" Lysander says quietly, walking up to the couch, crouching down so he's on his knees.
"G-go away, Lys-Lysander," Dom sputters. I pinch her.
"No. What's wrong?" he asks quietly, cautious of what he says.
"N-nothing. G-girl stuff," she says, sniffling a bit, her face buried in the crook of my neck.
The next thing I know, I feel Dom being pried off of me. I look up to see Lysander cradling her on the floor, holding her in his lap.
I smile, the tears stopping.
Strong arms wrap around me, lifting me up, and throwing me over their shoulder. I look up and find Lorcan sitting next to Lysander, and I'm instantly confused.
Who is this?
If it's Louis, I swear I'm avada kadavraing his ass.
I feel the sway of the guy's body as he walked and didn't even bother asking who it was, knowing they'd tell me when they're ready.
Before I know it, I'm being set on the ground and look up into wide, alarmed green eyes.
"What the bloody hell was that all about?" I snap, punching him in the arm.
"OI! Watch where you swing that fist, Malfoy," he snaps, rubbing his arm.
Baby.
"Stick it up your arse," I snap.
"Is that like, your phrase of the day or something?" he asks, snarling.
I nod.
"Albus, seriously, what's up with that?" I ask, gazing up at him, expression stern and serious.
"You looked like you needed a knight in shining armor to rescue you from that awkward situation," he explains. His expression quickly changes to one of concern.
"You okay?" he asks quietly, stepping closer. He wipes away the tears that were still on my cheek.
"I'm fine," I reassure, smiling at him. I was so thankful for a friend like Albus.
Sometimes we seemed a bit more than that. But I knew better. We knew better. We've even had feelings for each other in third year. But we had to stop it, we didn't want to risk out friendship. It was too valuable. Too important.
And him being this close? It brings back memories. Memories that I wish I didn't have. Not because they were horrible or disgusting, because BELIEVE ME, they weren't, but it scarred us for a while. It made us awkward, but eventually we got over that.
I pull him into a hug, wrapping my arms around his middle, his arms around my neck tightly. I loved this bloke. He was my brother, my best friend.
Eww. Okay, I didn't realize how bloody mushy I've been being. I guess It's a sentimental moment.
But ack. I'm good now.
I released Al from my death grip, and step back, wiping away the remaining tears. I smile up at him, before my smile faltered as quick as it came.
"What? What's wrong?" he asks quickly, startled from my mood swing.
That's when I beam. I guffaw into hysterics, and squeal, jumping like a mad man. I jump up and down, holding Al's shoulders.
He was looking at me as though I had truly lost it.
Which, of course, I have.
"Al! It's great! It's perfect! Oh my bloody hell! Holy Merlin's pants!" I scream, clapping my hands rapidly.
He laughs, looking taken aback.
"What's perfect, S'Mae?" he chuckles. I stop and stare him straight in the eye.
"Lysander! He didn't comfort me, Al! He held Dom! Dom!" I proclaim, throwing my arms up in the air.
Al looked puzzled.
"And that's good…. How?"
I roll my eyes at him, crossing my arms over my chest.
"Honestly, Al. You need to be more into this. Dom has fancied Lysander for centuries! And she was broken when Lysander asked me to Hogsmeade! We both thought he fancied me. But he doesn't! Obviously, if he cared about me more, he would have comforted me, not her. But he comforted her! HER! THIS IS FUCKING AWESOME!" I scream, yet again clapping my hands like a three year old girl.
Al still looked fazed, so I flipped a hand at him and began to walk back to the common room.
---
I groan, banging my head off the table. I hear a chuckle next to me, and hushing from Madame Mazzer, the librarian. The smell of dust from the book under my face brought tears to my eyes due to irritation, and I sneeze. Again, a chuckle.
I stick two fingers in the direction of the chuckle.
"That's it, Ms. Malfoy! GET OUT OF MY LIBRARY!" Mazzer screeches, pointing in the direction of the door.
Grunting, I stand up, grabbing my books, Louis by the sleeve, and trudge out of the library, stomping extra loud with each step I took.
I stomp along the corridor, my steps echoing through the abandoned halls. Louis's laughing hysterically behind me, and I still haven't spoken a word.
It's not until we pass the separation of Hufflepuff and Slytherin common rooms when I whirr around and face Louis.
"What?" I snap. He shrugs, holding out his parchment that had our project notes on it.
"We'll work on it Monday," I growl. He rolls his eyes.
"No, we have to pace through it. We still have just, a chapter left in the book. C'mon," he says. I shake my head vigorously.
"I'm done for the night. Please, Louis. My head is pounding and I'm exhausted," I moan. His face lights up with glee.
"What?" I snap again, irritated by his good mood.
"You called me Louis," he sings, cocking an eyebrow.
I roll my eyes, and can't help the small, faint smile creep upon my lips.
"Yeah, well don't get used to it," I snap, before spinning on my heels, and stomping very dramatically up the stairs.
And, whatever Louis says, don't believe him.
Because I did NOT trip up the steps.
---
A/N: Tell me, what do you think? REVIEW! How do you like Evee's character? Should I keep her around? Tell me!! Lemme know! Any questions, problems, concerns, I don't care! Just REVIEW!!!(: Love you all!
---
Previous Chapter
Next Chapter
---
Favorite&nbsp|Reading List&nbsp|Currently Reading
Write a Review
Dragon Wings, Love-Bites, and Something To Do With Marbles:

Five