[
Printer Friendly Version ] [ Report Abuse ]
Dragon Wings, Love-Bites, and Something To Do With Marbles by LilyLou
Chapter 2 : Two
| | | |
| --- | --- | --- |
| | Rating: Mature | Chapter Reviews: 2 |
Change Font:
Change Background: Change Font color: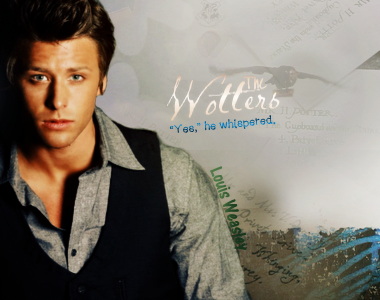 GORGEOUS CHATPER IMAGE BY LongLive @ TDA !!!!!!!!!!
---
Tick, tock.
Tick, tock.
Tick, tock.
Tick, tock.
Tick, tock.
Bloody muggle clock...
Tick, tock.
Tick, tock.
Tick, tock.
One more 'tick, tock' and I swear...
Tick, tock.
"ARGHHHHH!" I groan extremely loud in the middle of Muggle Studies.
I couldn't take it; it was too quiet. We were taking a top of the year quiz, and all I could do was hear the bloody clock tick and tock. It was annoying and highly distracting.
"Miss Malfoy!" Professor Bells barked.
"Yes?" I ask, oh so innocently.
I hear Louis scoff from across the room, rolling his eyes at me.
I bat my eyelashes sarcastically in his direction and stick up two fingers.
"MISS LESTRANGE! THAT IS QUITE ENOUGH!" Bells yelled, slamming her hand on her desk infront of her.
"It's Miss Malfoy," I say flatly.
"Yes, dear, I'm sorry," Bells apologized sincerely.
She knew I was sensitive, all the professors knew. I had, in my first year, made it quiet clear that I was not 'Miss Lestrange', I was 'Miss Malfoy'.
I continue to stare at my paper.
What is the function of a rubber duck?
What the sodding hell?! Is that a trick question?!
I scribble down nonsense on the answer lines, hand in the paper, and shuffle out the door. I wasn't five steps out before I hear footsteps behind me and clapping hands. I wipe around and come face to face with Louis.
"What?" I snap. I wasn't in the mood for Weasley and his bloody games.
"That was quite a show, Malfoy," he says, an amused smirk on his face.
Damn, that was a cute smirk...
Wait, WHAT?!
ERASE, ERASE, ERASE!!!
Then it hit me. He called me Malfoy. Not Lestrange.
I smile, my mood lifting. I continue to walk, knowing he'll follow.
"Why, thank you, Weasley. It was all for you," I say sarcastically, rolling my eyes.
"REally, though. What were you groaning at?" Louis asks, curious.
"The bloody muggle clock. It kept ticking and tocking. Quite annoying, really," I burst, not being able to stop myself.
I blush scarlett with emberassement when I realize I actually admitted that to him. Why did I do that?
"The clock? Really? It annoyed you that much?" He smiles. An actual smile, good hearted. He didn't mean anything by it.
"Yes," I admit.
He bursts into hysterics, laughing until the point where he was about to wet himself and his gut probably hurt like hell.
"Stop it, you git! It isn't funny! It was extremely annoying! Almost as annoying as you!" I scream, poking him in his chest with each word. I pick up my pace quickly.
I hear Louis's hurried footsteps from behind me as he meets my side. I look over to him, glaring, to find his face. It was Puffy from the laughing... but his eyes.. I've never seen that look on his face before.
"I'm sorry," he said. A small smirk played on his lips. I rolled my eyes, knowing he wasn't serious.
We find ourselves parting ways where he had to go up and I down to our common rooms. He waves me off, surprisingly, with that smirk on his face. I couldn't help but smirk back, rolling my eyes, and waving as well. What the sodding hell was that?
I plop down on a couch in the common room, splat on top of Scorpius, who was sleeping. His hands absent mindedly wrap around my waist, and I laugh. I look over to see Albus, who was making cooing noises.
"Shove off," I mutter at him. He smiles and looks back down into his book.
"Hello, low class Slytherins!" a voice announces from the common room door. I turn to find Lucy making her way towards me, walking proudly with a smile on her face. She sits down next to me and Scorpius.
"You know, Luce, if you keep it up, you're going to be hung from the quidditch hoops," I warn her. She just rolls her eyes.
"What's up with brother being all cuddly?" she asks, smirking at me. I find Scorpius had nuzzled his face in my shoulder, his arms still secured around my waist.
"Dunno," I admit. "Just let him lone. He's dreaming about something adorable right now, I reckon if we leave him be he'll wake up and realize what he's done and stop."
Albus nods in agreement, and Lucy scoffs.
"Well what's the fun in that?" she asks, a devious smile on her face and a sparkle in her eye that screamed Weasley blood. The same sparkle is in Louis's big blue eyes that are very pretty..
WHAT?!
AGAIN!
ERASE, ERASE, ERASE!!
"Lucy Ariel Weasley, what exactly are you doing?" I ask her.
She just stands and moves me lightly, replacing me with herself. She straddles Scorpius, who was still sleeping, and he hugs her in his sleep. She smiles widely, and leans in. I exchange a look with Albus. It was a cross of terror and absolute amusement. She kisses him ever so lightly on the lips, and I lean in to watch their lips. I wanted to see if Scorpius would kiss back and still sleep. That would be bloody hilarious. She presses a little harder, putting more passion into the kiss. Scorpius's lips begin to move in unison. His eyes flutter open. Then close quickly. Shit. Should I tell her? No. Albus notices too, because he was about to say something when I cover his mouth quickly. I didn't want him to ruin it. Lucy goes to pull away, and Scorpius grabs her waist and throws her back down, and straddles her.
"You know, Weasley, Rosie wouldn't be too happy with you if she finds out this happened," Scorpius scolds, shaking a finger at her.
She struggles under his weight, but he doesn't budge. There was no point; he was so much stronger than her.
Albus and I fall to the floor, holding our stomachs as we laugh hard. My gut was so tight and I laughed so hard tears were falling out of my eyes. By the time I was able to control myself, Scorpius had already gotten off of Lucy, who was blushing with emberassement. Her face... Oh, her face...
And I fall to the floor in hysterics again.
"Don't you think you're exaggerating just a bit, S'Mae?" Lucy pouted, sounding rather irritated.
I shake my head and continue to laugh. I was there for several more minutes before a large pair of hands grab my waist, picking me up off the ground, and throwing me over their shoulder like a potato sack. I look up to see Albus carrying me.
"Albus?! Where are we going?!" I cry, punching his butt that was right in front of my face. It was pretty, but I really wasn't fond of my face being in his arse. No thank you.
"Ow! We, my love, are going on a field trip," he says.
I just lay there and decide to not even bother putting up a fight. I close my eyes and feel myself swaying, the blood rushing to my head. I was getting dizzy, when Albus set me down in a foreign room.
It was red and gold with tons of Gryffindor stuff...
BLOODY HELL!
"Albus!" I scream, trying to run around him and out of the common room. It was no use, he grabbed my mid section, twirling me around to face him. His Emerald eyes were pleading
" Trust me," was all he said, before pulling me behind him and up a staircase, before entering a room.
In front of me, all of his cousins, and I mean ALL of his cousins, Gryffindor or not, were sitting there, along with his brother and sister. My eyes widen, and I begin to turn away and retreat, but I feel his hands rest on my waist tightly, not letting me turn around. Curse him for being rediculously fit and strong.
"What do you want, Albus? Lucy, what is this?" James asks from his bed, obviously confused.
"Yes, Albus, Lucy. What are we doing here?" I ask, crossing my arms and glaring at Lucy.
"Listen, you lot. We've been putting a lot of thinking into this, and we want to ask you a favor," Lucy starts, looking at her cousins and sister.
"Yeah, we want you guys to... accept... S'Mae, and not be rude to her. Because, she is coming over for Christmas." Albus states, his voice strong, but I feel him pull me closer.
"It's a simple yes or no question. We don't care if you all say no; she's coming. But, if you lot want to learn to accept those who aren't leaving your life, I suggest you start here and now," Lucy finishes.
The cousins and siblings are silent, all looking at each other and exchanging glances.
"No," James states, crossing his arms over his chest and looking at me. My heart cracks a bit.
"Yes," Dominique says, smiling at me. She's always been nice to me, because of Victoire. I smile a bit back.
"No," Fred says, glaring at me. My heart breaks a bit.
"No," Lily scowls. I glare at the bitchy whore.
"Yes," Rose says, smiling at me. I know it was for Scorpius, but I didn't care. I smiled back.
"NO," Roxanne says. Honestly, her opinion didn't matter to me.
"Of course!" Victoire squeals. Exactly HOW did this graduated girl get in here?
"Always," Teddy agrees, smiling at me. Errm...?
"No," Hugo growls. My heart aches.
"Absolutely not," Molly snaps. That pushed it there. I felt tears threatening to make their way through and over flow.
"You're such a-" Lucy begins to explode, but Albus stops her.
A silence sweeps over the room.
"Louis?" Dominique asks.
Louis sat in the corner, sinking into the wall, trying to stay hidden. His answer was obviously a no. It was quite obvious; how he's always acting around me.
"Yes," he whispers, earning glares of disapproval from many of his cousins, but squeals of delight from Dom and Victoire, who both tackled him in hugs and kisses.
"GERROFF!" he shouts.
Albus tightens his grip on me, pulls me even closer, and leans down to whisper in my ear. "Five out of ten. You should be given a medal."
I shake my head, laughing, and lean up into his ear, my lips moving against his ear. "Yeah, but the cousins aren't the problem, love. It's the adults, the ones who have direct feelings towards Bellatrix."
He nods, understanding.
"I owled all of them as well," he says quietly.
I look up, startled.
"What?"
"You heard me. And you're going to read every single response, as well. Whether they want you to or not," he says in finality.
I groan and stomp my foot. He laughs at my childish behavior.
---
Albus,

Absolutely not. I will not have a blasted Lestrange in my home. I don't care if she doesn't seem like one of them. In any way, she still has their blood, therefore, she is like them. This is final. And given that you spend the entire chrsitmas at the burrow, I'm afraid you won't be seeing her at all throughout Christmas. I'm not having her in my house. And don't ask such an absurd question ever again. I feared something of this sort would happen when you were sorted into Slytherin. I let Scorpius slide, but Sophia Mae? No. Not a chance.
Love you lots,
Grandmum, Molly Weasley I
---
Lucy,
I don't know how your father will take it, but I say that if you feel she is nothing like her mother and you trust her, then I see no problem. It will be a minor set back for me and I will be forced to adjust, but I will make due. Love, I don't want to stop you from living and loving. Go for it. Invite her. She can stay at our house with us. That is, if your father says so. BUt you have my permission, love. Tell Sophia Mae that I will be awaiting her arrival and we already have a guest room sorted for her and I cannot wait to have her!
Love,
Mum xxx, Audrey Weasley
---
Lucy,
Whether your mother says so or not, your friend is permitted to attend Christmas at our household if, and only if, she is a sophisticated woman much like yourself and she is by my standards. How are her grades? Does she work hard? What are her future plans? Is she sophisticated? Let me know love. You know what my guidelines are and if the young lady meets them, she is allowed. If she screws up, she is not welcomed back.
Love you,
Dad, Percy Weasley
---
Albus,

ABSOLUTELY NOT! HER VERY OWN MOTHER TRIED TO KILL ME! I WILL NOT HAVE SOMEONE OF THAT FILTHY, MURDEROUS BLOOD STEP FOOT IN MY HOUSEHOLD! AND THAT IS FINAL! DO YOU KNOW WHAT SHE PUT ME THROUGH? YOUR FATHER THROUGH? MAY I REMIND YOU SHE TORTURE YOUR AUNTIE HERMIONE, SCREWING HER UP FOR YEARS? THIS IS FINAL. THERE IS NO WAY IN MERLIN'S WORLD THAT GIRL IS WELCOMED INTO OUR HOUSE, WHETHER YOUR FATHER SAYS SO OR NOT.

Don't forget I love you,

Mum, Ginevra Wealsey Potter
---
Albus,

I don't see a problem in it. Your mother seems to think otherwise, but I by no means see a problem of any sorts in this. In all honesty, invite her. It doesn't matter what anyone says. Invite her. I will protect her. Trust me. There's no need to worry.
Love,

Dad, Harry Potter
---
Albus,

Love, by no means do I have a problem with your friend coming. If she is how you say, then I trust her and will not hold a grudge because she is Bellatrix's daughter. Yes, I know, her mother tortured me to an amazed extent, but if you feel that she is nothing like her mother, I trust you. You don't need my permission. But, since you asked, it's granted.
Love you,
Auntie Hermione, Hermione Gene Granger-Weasley
---
Albus,
No.
Uncle Ron, Ronald Weasley
---
Lucy,

I don't see why not. Do remember, I am of Black Blood as well as she. She is my... cousin? Hm, we'll have to chat about that. If no one will take her in, feel free to owl me and in a heartbeat I will clear out a room.
Love you,
Angelina Black-Weasley
---
Lucy,
Whatever Angelina said.
Love you're totally epic and amazing and favorite Uncle who is better than Ron,

George Wealsey
---
Albus,

Yes. I've had S'Mae over a million times and I love her. She is more than welcomed. If no one says yes, she is free to stay here.
Love,
Fleur xxx, Fleur Delacore-Weasley
---
Albus,
Yes. We all know Fleur will have my head if I say no.
Bill Weasley
---
I didn't even bother reading the rest, because, well, I broke into tears.
Again.
I layed my head on Albus and cried my eyes out. I hated being a Lestrange. HATED IT! It was horrible. Everyone and anyone hated me because of what my parents were. I don't even talk about my dad. He was a monster, far worse than my mother. I don't even bring him up in situations. I don't even know his name... But that didn't matter, because I didn't care. I had Albus, Scorpius, Lucy and Anni.
Anni. Where has she been?
I lift my head off of Albus's chest and look into his big green Emerald Eyes that I've grown to know and love. He seemed worried, but at the same time, happy. I know he wanted me over and with his dad forcing him to bring me over, made the bloke's year.
"Where's Anni?" I ask randomly. My thoughts had ventured to the topic wonderlessly.
"Dunno, love. She hasn't been here. Although, the night before we caught the train was a full moon. She should have been here by now, though," he said the last sentence quiety, barely audible.
"I think we should go and ask Minnie," I say, wiping away the remaining tears and standing up. Albus followed suit, and we headed towards The Headmistresses Office.
We walked in silence, letting the question hang in midair. Where was Anni?
When we reach her office, Albus didn't even bother knocking, he was in determination mode. And when he was, the bloke had no manners at all.
"Mr. Potter, Miss Malfoy, exactly what are you doing in here?" McGonagall asks.
"Where's Anni? How come she hasn't been here, and hasn't owled us?" Albus demanded.
"Mr. Potter, Miss Clearwater was severely injured during her transformation hours. She is in St. Mungos, and is now in questioning for being a werewolf," a blunt and to the point Minnie answers.
A shock waves over me, and I seem to freeze. Is she okay? Will they arrest her? Poor Anni!
"C'mon, S'Mae, we should take you back," I hear a distant voice say, sure it was Albus's. But I wasn't listening.
Will she be put in Azakaban? Will she be sentenced to death? Will they take her in for experimenting?
"Sophia Mae, come on," I hear the voice say again, but I still wasn't listening, nor did I honestly care.
Will she ever be back here? Will I ever get to see my best friend again? Will she ever get to live a life again?
I feel someone fling me over their shoulder, and I snap out of it.
Tears streaming down my face, I start to throw a tantrum.
"PUT ME DOWN ALBUS! LEAVE ME ALONE! I WANT TO GO SEE ANNI! NOW!" I kick and scream, claw at his back. But he doesn't put me down.
"We can't go see her, S'Mae, Minnie said we couldn't. She's in confinement," Albus says calmly, his voice eager and begging me to calm down. But I couldn't. I needed to be alone. Just for a while, even.
"Albus," I say as calmly as possible, gritting my teeth. "PUt. Me. Down. Now."
He sets me down, and as soon as my feet touch the ground, I'm gone.
---
I sat on the cold, hard owlery floor. I've been here for a while, not neccesarily crying, but thinking. I couldn't bare to see and hear poor Anni like this. It wasn't her fault she was attacked by a werewolf when she was 13. The damn werewolf broke down her house door! She wasn't even outside or anything! I just felt for her. I know she wouldn't want the pity, but I don't care. I felt horrible for the poor girl, being cursed with this. It was terrible.
I heard footsteps climb up the staircase to the Owlery. I quickly stand up from my position and walk over to an owl, pretending to feed it and find interest.
"Malfoy?" a voice asked. I spin around at my last name and come face to face with Louis Wealsey. Oi.
"Yes, that's my name," I spat, crossing my arms over my chest.
"You've been crying," he informs me, his voice a bit concerned.
"No shit, sherlock," I say, trying to forget about the concern in his voice. Does he really care?
NO, he couldn't...
"Why?" he asks.
I went to answer him, I did... but, the thing is... I couldn't. I broke down into tears the second I opened my mouth, and fell to the floor, trembling. I shook with fear and anger and rejection... at this point, I wasn't crying about Anni that much. I was crying for me. I was crying because everyone looks at me and rejects me because I'm of Black blood. They think I'm a monster. But I'm not! Am I?
I feel Louis sit awkwardly next to me. I lift my head out of my hands and look up at him. His eyes were swimming with feelings I couldn't place. He smiles a small smile, and I melt.
I MELT?!
I MELT?!!
Yes, I did. And I can't believe I did. He moves his hand and puts it on mine reassuringly. We sit there for what seems like forever before I finally speak.
"Why did you say yes?"
He looked at me, taken aback by the sudden question. I had to get my mind off of the bad stuff and look at the good stuff.
"That's why you're crying? Because my family won't accept you?" he asks deathly quiet.
I nod.
Smiling widely, he laughs. HE LAUGHS!
"What are you laughing at?" I ask, tears spilling over my cheeks again. I was hurt. Very hurt.
He stops, looks at me, and speaks.
"S'Mae, you won half of my cousins. That's more than anyone has ever won over. You have Albus, Lucy, Rose, my sisters, Teddy.. and Me." he says, smiling.
"That's only... half... did you call me S'Mae?" I ask, smirking at him. He scowls in return.
Ah, the Louis I've grown to know and love.
Not literally love... more like hate. But I loved hating him... if that makes sense...
"It was a spur of the moment, Malfoy, don't get used to it," he says. I laugh quietly to myself, looking at my hands.
They were still intertwined with Louis.
He seemed to notice at that moment, too, and lets go slowly and softly. His fingers taunted me as they slowly moved away, rubbing against mine as they were being pulled away. It gave me a butterfly feeling in my stomach. What was this?
"Ermm... sorry. You just seemed like you needed someone who cared is all," he whispers. I look up at him, doe-eyed.
"Thank you," I whisper. He looks over at me, and smiles. I feel my cheeks burn scarlett.
He reaches over and brushes his fingers against my cheek. "You're blushing, Malfoy."
I look away, flushed. I can't believe he saw me, I felt ultimately emberassed.
He laughs at my reaction, and grabs my hand, standing up and dragging me with him.
"Louis! What are we doing? Where are we going?" I ask, trying to stand still and not let him drag me. But he was too strong.
"It's a surprise," he says, spinning around to face me, grabbing my other hand, and drags me with him, he walking backwards.
I stare into his big blue eyes. They were swimming with mischief and I couldn't help but smile.
"What are you staring at, Malfoy? If you want me, just ask," he says, smirking. I scowl playfully, rolling my eyes.
"In your dreams, Weasley," I say.
He stops abruptly, and I almost walk into him. He laughs at my wide eyed expression as my face stopped inches from his. He raises his eyebrows questioningly.
"What, Malfoy? Can't handle being this close to a guy?" he asks, smirking down at me.
"I've been closer to your cousin," I smirk trimphantly at him.
For a split second, just millisecond, his face flashed to a different look, a different expression... I didn't even have time to read it before his smirk returned.
"You'll pay for that one, Malfoy," he says.
And, in a flash, I was flung over his shoulder like a sack of potatoes (really, what is up with guys doing that?!), and was thrown into the black lake not long after.
I lash out of the water, breath taken and pissed. I stomp out of the water, run after Louis, catch him, and drag him in with me.
---
A/N: RATHER A BIT OF A FILLER, IF YOU ASK ME. SO, I APOLOGIZE. HOW DID YOU LIKE IT?! I THOUGHT IT WAS GOOD. I HAD TO SHOW YOU THE FEELINGS OF ALL THE COUSINS, JUST SO YOU KNEW FOR FUTURE REFERENCE ON THEM. AND, HINT, HINT, A LOT OF THEM WILL CHANGE THEIR FEELINGS TOWARDS THEM, EITHER THE GOOD OR BAD CHANGE. AND SOME WILL STAY THE SAME. REVIEW! IT'LL TAKE 5 SECONDS... PLEASE?! THANKS EVERYONE! AND, ALSO, AS SOON AS I POST CHAPTER SIX I WILL BEGIN UPDATING ON MY OTHER STORY, "Misunderstandings and Used-to-bes" SO THEY ARE SET AT THE SAME PACE. REVIEW!!!!! AND READ MY OTHER STORY, IT'S AMAZING;)
---
Previous Chapter
Next Chapter
---
Favorite&nbsp|Reading List&nbsp|Currently Reading
Write a Review
Dragon Wings, Love-Bites, and Something To Do With Marbles:

Two