[
Printer Friendly Version ] [ Report Abuse ]
Dragon Wings, Love-Bites, and Something To Do With Marbles by LilyLou
Chapter 1 : One
| | | |
| --- | --- | --- |
| | Rating: Mature | Chapter Reviews: 3 |
Change Font:
Change Background: Change Font color: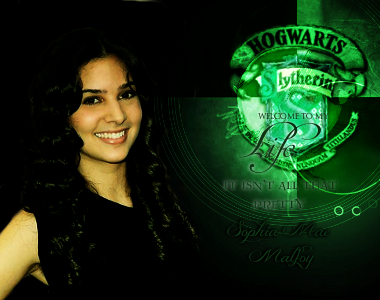 Chapter image by Asphodel @ TDA
A/N: In advance, I know, this girl would be Teddy's age if she had been Bellatrix's child. Lets just go with a crazy thing, and pretend that she isn't? I know, but we're going to pretend that she is a good six years younger than Teddy. It's impossible, but it's the only way to make this story work. Please, enjoy it! And if you have a craving for some death eater stories or Black/Lestrange stories, check out my other Novel I have been working on: "Misunderstandings and Used-To-Bes". Enjoy this amazing story!!!!!!!!! REVIEW!!!!!!
---

*** MINOR PROLOUGE ***
Righty, loves. Lets get something straight here, clear off the bat:
I am the daughter of Bellatrix Lestrange.
Believe what you want, it's the truth. I can't say I am proud, but I can say I won't take any shit from any git who comes around threatening the pants off of me, accusing me of killing a loved one. Calling me a stuck up pureblooded snob. Calling me things that I'm not.
So, you're probably wondering: deary, what did you do with yourself? Who took care of you, poor, innocent child? Well, my friends, I stayed with the greatest man I've ever met, and well, you may seem it a low, but it's not.
That man, is Mr. Draco Malfoy.
He took me in as a mere infant, and took off. He met and married the beautiful Astrid, yadda yadda yadda, they lived happily ever after and had a child, Scorpius Malfoy. Today, he lives in a mansion with his wife and two children (Scorp and I) and has tons of money working for the ministry. He doesn't and hasn't talked to his father since the War, and his mother lives a floo away, whom he visits everyday.
My best mates consist of the following:
~ Scorpius Malfoy, The Softy. He was tall and extremely built. He had blonde hair and grey stormy eyes. The eyes came from the Black blood he had in him.
~ Albus Severus Potter, The Thick-Headed. Albus was not quite as tall and muscular as Scorpius, but he was close. He had messy black hair that was like his fathers, and his eyes were glowing Emerald. He had a splash of freckles on his nose and cheeks and he was a nice pale shade.
~ Anni Clearwater, The Werewolf. (Long story...) She had gorgeous black, straight hair that made her blue eyes absolutely explode with contrastings. She was petite, and was very pale. She was beautiful.
~ And, someone who I love with all my heart. Lucy Weasley. The ginger had red hair that was straight and layed down to her butt. She had freckles all over and grey eyes, which she got from her mother. She was pale due to the ginger genes, but she was tall.
Scorpius, yes, is my adopted brother, but I still hang out with him. We are beyond close and he knows all my secrets. He knows me like the back of his hand. I bloody love the bloke.
Albus was the funniest damn bloke I had ever met. He was above all my funniest friend and made me feel light and floating on clouds when he's around.
Anni is my best girl friend.. bloody hell, not in that way! She's just a friend. Don't worry, loves; I'm straight. She was a wizard... Er- well, I should say Witch... at hair and make-up. She turned me from the pathetic excuse of a woman I was to a beautiful queen every morning. Not saying those mornings don't consist of waking the whole house with screams and cries... and banging... lots and loads of banging...
And, finally, Miss Lucy Weasley. The rebellious Weasley that got her ginger genes into action and stepped up. She's the only Weasley that talks to me; the rest look at me as if I'm a rabid beast. Why do you think I don't accompany Scorpius when he visits them for Chrsitmas? I get stared at. I get glared at. Even the sweet Molly Weasley, The First, doesn't treat me like just a normal girl.
But, the worst of them all, and I repeat, the worst, is that bloody little Hufflepuff creep... Louis Weasley. He was always up my arse, harassing me everywhere I went. The bloody bloke was on my last nerve this year. One more rude comment... off with his head.
Hmm, Lucy and Albus definetely would NOT be too fond by that spur of the moment act.
Lucy suggests I simply lock myself in her room, and camp out with Albus in his room some days during the holiday breaks... but I reject her offer. I know it's out of the goodness of her heart, but, quite frankly, I'm not up to the challenge. I'd rather stay home with Mum and Dad and invite Anni over.
I, ladies and gentlemen.. why are gentlemen called gentlemen? I mean, really; they aren't all that gentle. Rather violent, if I do say so myself...
Right! Back on topic. I, ladies and gentlemen, am Miss Sophia Mae Lestrange. Sophia Mae is my full first name, and I don't have a second name. I am a fourth year Slytherin, two below Albus and Scorp, same as Lucy and Anni. All of my bestest friends were in Slytherin except Lucy, who was a Gryffindor along with approximately three quarters of the Potter/Weasley clan.
I am 5'4" and I had the signature Black Family eyes, that were a stormy greys. I had fluffy, black hair that was in tight curls, much like my mothers. I was skinny. So skinny that sometimes Albus was concerned.
I dunno what I plan to do with myself when Scorpius and Albus graduate. Merlin, I'll be over the top clueless and a reckless mess. May as well admit it now...
And, this year, I promise one thing: I have a goal and I will complete it.
The goal, you ask?
Well, my friends... that's for me to know... and you to find out...
---
*** CHAPTER ONE ***
"Scorpius, you're a foul right git, you know that?" I squeal.
I was currently being carried like a sack of ruddy potatoes over my steroid crazed (not really; he's just built) brother's shoulder.
We were sifting our way through the crowded platform 9 3/4. Smoke settled above everyone as witches and wizards of all ages either waved off a loved one, or was boarding the train, awaiting their next year of Hogwarts. Scorp and I were currenly on a mission; and an extremely important one at that.
"Not likely, Love," my brother's deep voice said.
I let out a pouty puff of air, and cross my arms over my chest as I swayed upside down.
"Oi! Having fun there, Lestrange?" the voice of my favorite Potter called from a distance. I look up and see him in the crowd of Red Heads.
Squirming like a maniac, I wrestle out of Scorpius's arms... falling to the ground with a thud.
I recover quickly, and race over to the crowd. I didn't care at this point whether the family hated me or not, I had missed the bloke all summer. And a long Summer at that.
I scream and jump into Albus's strong arms. They wrap around my waist, holding me up. I grip tightly around his neck, burying my face in the crook of his neck, laughing with joy.
"Oi! S'Mae! Did you gain another ton over the summer? Too much cookies, I reckon?" he asks in his Oh-So-Innocent voice.
I smack him lightly, and he drops me infront of him.
I stare up... far up... into his emerald eyes. He claims he inherited them from his Grandmum off his dad's side, the one his sister is named after. I don't buy it. THose are his eyes. Beautiful and Unique, like him.
"Care to introduce us to your friend, Albus?" A voice asked from my left. I look over to meet eyes with Ginny Potter and her husband... The Harry Potter... The one that wanted to destroy my mum and dad.
Joy...
"Errr- Mum..." Albus attempted, but his voice faded. It was bad enough he was friends with Scorpius, but me? I'm sure that's crossing the line...
"I'm sorry," I whisper.
Albus, doe-eyed, stared back at me. Then his face expression hardened with determination. And love.
"Mum, Dad. I don't care what you think or say about her... okay? Her name is Sophia Mae Lestrange. Daughter to Bellatrix Lestrange. Don't judge her though. She's nothing like her parents in any ways and we've been best friends since she came to Hogwarts in my third year, and whatever you say about her, doesn't matter to me. I love her, as a friend, and she is amazing. Scorpius is her adopted brother, yes, Draco adopted her. And she is the most smart, amazing person and-" Albus exploded, in a rush with one giant breath.
His mother had cut him off, putting a hand over his mouth.
Albus looked mortified.
His father rested his hand on his sons shoulder.
Here it comes.. the blow.
"I, for one, don't care if she's a Lestrange. She is your friend; and I respect that. She is welcomed anytime she'd like to visit."
I gasped, covering my mouth with my hands. I smiled so brightly. I was surpised that he didn't seem to mind. Although, he wasn't one for my concern.
Ginny looked outraged; although she seemed to hold back the anger. I appreciated that.
"S'MAE!" I hear a squeaky, girly voice squeal.
Before I can even comphrehend a thing, I was tackled by Miss Lucy Weasley. I missed her oh so much.
"LUCY!" I laugh, hugging her back with not as much will power. I didn't want to seem scary...
"I take it that she's also friends with LUcy behind our back?" an irritated Ginny Potter growls at her son.
If looks could kill...
Also, I'm pretty sure poor ole' Albus wet his pants.
"Err-" he began, but Lucy cut him off.
"Yes. Is there a problem, Auntie Ginny?" she asks sickly sweet, a hint of growl underneath as she unlatches herself from me and faces her aunt.
Ginny look taken aback, as if she couldn't imagine her niece say such a thing. She clearly did not know Lucy well.
At that moment, before anything else could go on, the ten minute warning whistle blew from the Hogwarts Express.
Thank Merlin.
I felt Scorpius's hand grip my waist, pulling me away and casting knowing glances at Lucy and Albus.
"Well, it was lovely to see you, Mr. and Mrs. Potter, but we must be going," my brother politely states.
Kiss up.
I wave them off as sweetly as possible, and jump on Albus's back as we made our way to a compartment.
When we find a compartment, Albus sets me down on the seat, climbing in next to me.
He knew what was coming, and I did too.
I break down, bursting into the waterworks. I lay my head on his shoulder as he wraps his around my waist, holding me in his lap as I cry. I cry, and cry, and cry for Merlin knows how long. It was horrible, how no one accepted me. How could I possibly ever get to spend time with Lucy and Albus outside of school when their parents hated me? Harry, Victoire and Teddy seemed to be the only ones that ever accepted me. Possibly Fleur and Bill; they've had me over a few times. Although, I can't imagine they are the biggest fans of mine. They were simply nice and good hearted people. The cousins and siblings hated me with an absolute passion. Rose was the only one that was ever remotely nice to me, and that was because I was Scorpius's sister and she secretly had a thing for him. Such a big secret that she herself doesn't even know it yet. But I do. I'm not blind. My brother was as bonkers about her as she was he. It was crazy.
Albus shifts me so I'm facing him. I begin to bury my puffy, blotchy face in the crook of his neck, but he lets go of one side of my waist and holds up my head by the chin so I'm facing him, looking deep into those Emerald Eyes of his.
"Sophia Mae, there is nothing you should be crying about," he said softly, yet sternly. That's what I loved about him; he never sugar coated. I for one was not a fan of sugar coaters.
"Yes I do! I shouldn't have came over to you. It was stupid. It's just that I missed you. Your mother gave me a look as if I were a bloody alien, and it was horrid. Absolutely, horrifically-" i exploded, but was cut off by the door to the compartment flying open.
In walked Fred Weasley II, James Potter, and Louis Weasley. Merlin, help us all.
Fred was a handsome boy, no doubt. He had darker skin thanks to his mother, and had the odd match of auburn hair to go with. He had freckles, although they were rather hard to see. He was very, very tall and was rather skinny. Fred was the mastermind for pranks and had a tendency of getting in trouble. He was bloody hilarious, but a wanker and was very stubborn, not accepting those who weren't his kind *coughcoughmecoughcough*.
James Sirius Potter. The looker of the age. Albus always complained about him, saying that it was himself that should get the good looks instead of James. James was bloody beautiful, I'll admit it. He had the black messy hair identical to his fathers and Albus's. His hazel eyes were goreous, specked with emerald green in them. He was tall, strong, built, and his body was perfect. He was the definition of perfection; too bad me didn't like death eater families, even if the child wasn't a death eater *coughcoughmeagaincoughcough*.
Then, there was Louis Weasley. Louis was in my year, and as I said before, he was my nemesis. We fought and we were always in detention together. He had a bad attitude and had the Weasley knack for pranks. It killed me. He always got me. In second year, my hair was purple with pink stipes for a month. A MONTH! Louis.. as much as I hated the git.. was gorgeous as well. He had strawberry blonde hair that stuck in all directions rather like the Potters'. His blue eyes were shiny and always sparkled with mischeiveness. He had a perfect body (for a fourth year, that is) and had super soft skin that made me absolutely melt at his touch.
"Oi! Lestrange, gerroff my brother!" James yelled, furiated.
I smirked, ignored him, and buried my face in Albus's chest again. I could feel him tense.
"Relax, love," I breathe, knowing he and only he could hear me.
I feel him lax a bit, and I felt better.
"What's next, you going to kiss the poor bloke? We all know he's faking it, he couldn't care about you!" Fred yelled.
Ouch. Okay, that one hurt.
I felt the tears threatening to follow the stained cheek paths, when I feel Albus pull my face away from his chest.
I look into those gorgeous eyes of his, and he looked back at me, cupping my face.
"I'm so sorry about my bloody cousin and brother, S'Mae, don't cry," he whispers, putting his forehead on mine.
I close my eyes and take in a deep breath. God, those Wotters can be foul gits at times. And, others, they are the sweetest damn things in the world.
"He doesn't mean it," I hear Louis say.
Okay, that's enough. I can't take this. I pull away from Albus and stand. I feel his hands grab my waist in attempt to stop me, but he was too slow.
I walk out of his reach, straight up to Louis, and get close to his face. Really close. I glare at him, growling. He stared back, clearly amused.
I step closer, causing him to have the reaction I wanted. He widened his eyes in shock and flushed.
"What, Lou? Haven't been this close to a girl before? I understand; you don't have the balls to stay this close to a girl. It's okay, your secret is safe with me," I laugh, smiling as I step away from him, arms crossed over my chest.
Lucy and Fred were laughing while everyone else stared in shock. I had won, goddamit. I had finally won.
"Shame, Lestrange, you're so desperate you get this close to me?" Louis shoots back.
Damn, he was good.
But I was better.
"No, actually. You were just having a hard time believe a girl would come this close to you, so you convinced yourself it was because you actually attracted a person," I snap.
"That's enough, Sophia Mae," Scorpius says, coming over to me and stepping infront of me. I growled at Louis from around Scorp.
I feel hands grab my waist and drag me to sit down ontop of the owner of the arms. I knew it was Albus, so I didn't even bother looking. I just glared at the floor for the rest of the ride.
---
"So how was your summer?" Lucy ventured, eager to finally talk.
The boys had taken another carriage, so we were able to snatch up our own. Haha, I wish. Turns out we missed the bloody carriages so we were walking to the castle on foot.
"Eh, could've been better. I love Scorp, I do, honest; but he was getting on my nerves and I was just about ready to crack. Hell would've broken loose of the summer hadn't ended so quick," I tell her. She nods, understandingly.
Lucy's older sister, Molly, was James' age, and as always on her nerves about owls and stuff. I mean, Merlin girl, we were fourth years! We weren't taking the bloody OWLS for a whole other year! Molly was a 'Claw, and had a serious place in her heart for school and learning and that kind of wacked up, no good bull. Incase you havne't noticed, I wasn't one who gave a flying dragon dunk about grades. As long as I passed, I was good to go.
"Yours?" I ask, trying to make conversation. She knew I wasn't in the mood, but, whatever.
"I thought I was going to pitch myself out the attick window in the burrow. I swear, those cousins.. they're everywhere!" she scerams, pulling her hair as if she was raving mad. I laugh in hysterics at her over exaggerations.
I wasn't a big fan of them, but if you're on their good side, they don't seem all that bad to be around. They seem funny, fun, caring, carefree, and just... the bestest of friends one can have. But, unfortunately for me, only two of a thousand like me...
We made our way into the Great Hall, parting ways with a hug, sending me one way and her the other. I quickly spot Albus, who was standing on the table, waving me over. I rolled my eyes, laughing as I make my way over to the table. I grab Albus's hands, pulling him down.
"Bloody hell, love, trying to make a show of yourself?" I ask, laughing as I pull him down next to me.
"Only for you, S'Mae, only for you," he winks, planting a sloppy kiss on my cheek.
"Oi! Mate! That's my sister, yeah?" Scorp snaps, spitting the cookie he had chewed all over the place.
"Yeah, and you're a pig," I say, wiping my arm from the chewed cookie he had spit on it.
When the sorting began, it was awfully slow.
The kids took for what seemed ages as they were sorted. I didn't understand, why couldn't they do this on their own bloody time? But, no, it had to interrupt our feast and cookie munching.
A little girl by the name of Roxanne Weasley made her way to the hat, I saw Louis stand and yell,
"OI! ROXI! DON"T FORGET ME, LOVE! ALWAYS KNOW THAT HUFFLEPUFF IS THE BEST, NO MATTER WHAT THAT WANKER BROTHER OF YOURS HAS TO SAY ABOUT IT!"
Finally, something we agreed on.
Jealous of the fun he was having getting yelled at by Minnie, I had to join in. I stood up on the table, cupped my hands around my mouth, and yelled back, "DON'T LISTEN TO HIM, ROXI! WHAT YOU REALLY WANT IS TO ACCOMPANY YOUR FAVORITE COUSIN ALBUS OVER HERE IN SLYTHERIN, WHERE THE REAL WITCHES AND WIZARDS ARE HOUSED!"
Louis wasn't taking any of it.
"DON'T BELIEVE A WORD THAT DEATH EATER HAS TO SAY, ROXI! YOU WANT HUFFLEPUFF, WHERE THE LOYAL AND BRAVE ARE HOUSED!"
"OI, ROXI! NO! SLYTHERIN IS THE HOUSE YOU WANT! IT'S WHERE THE LOYAL AND TRUSTWORTHY LIE! WE PROTECT EACH OTHER! FAMILY! YOU KNOW ALBUS! HE'S AN EXAMPLE OF A TRUE SLYTHERIN!"
"NO, ROXI! IT DOESN'T MATTER! SOME SLYTHERINS ARE HORRIBLE BEINGS, LIKE LESTRANGE OVER THERE! I-"
But Louis was cut off by a silencing charm. As was I.
"MR. WEASLEY! MISS LESTR- MALFOY! MY OFFICE, NOW!"
McGonagall screeched.
We obeyed at once, and quietly made our way to the Head Mistress's office.
We walked side by side, shooting glares at one another, wishing we could say something. But we couldn't.
We reach a waiting McGonagall, who clearly apperated. She undid the silencing charm, and we both exploded into an arguement.
"Stop! Enough! You two should be ashamed of yourselves! One hundred points will be taken from each. Along with a month's worth of detentions. Every night, starting tomorrow night from here on out for the rest of September. Am I understood?" she barks.
We both nod, unable to say a thing. We were too scared.
"Very well. You are dismissed, and can head back down to the feast," she says, waving us away. Obediently, we slip out the door together.
We walk, overcome by an awkward silence. I had to say something.
"This is your fault," Louis growls, as if reading my mind.
I turn to him, my eyes and mouth wide with disapproval.
"I think not! If you wouldn't have shouted first we wouldn't be in this bloody mess!" I screech, outraged.
"No, Lestrange, I-" he starts, but I cut him off.
"It's Malfoy," I whisper, barely audible. It wasn't intended for him, but he had heard it.
He looked at me, wide eyed.
"I-... I can't believe I'm saying this, but I'm sorry," he whispers, looking at me.
I simply stare at him.
We get into the Great Hall and I take off before he could say anything else.
Louis Weasley had just apologized to me. For calling me Lestrange.
Well, we were in for one hell of a year.
---
A/N: I HOPE YOU ENJOYED IT! IT'S JUST THE FIRST CHAPTER/PROLOUGE, SO YOU REALLY CAN'T MAKE MEANING OF THE TITLE YET. BUT DON'T WORRY, YOU WILL. WHAT DO YOU THINK OF MY CHARACTERS? THE STORY PLOT SO FAR? ANY CHANGES? REVIEW!!!!! PLEASE, IT'LL TAKE 5 SECONDS! I NEED ADVICE!! WELL, PLEASE, STAY TUNED FOR MY NEXT CHAPTER, THAT WILL BE UP IN A MATTER OF DAYS. JUST AN FYI , I AM CURRENTLY WORKING ON ANOTHER STORY,
"Minsunderstandings and Used-to-bes"
THAT IS UP AS WELL, AND I WILL BE SWITCHING BACK AND FORTH BETWEEN UPDATING THEM. SO, THIS MAY BE A BIT SLOW. OTHER THAN THAT, PLEASE, ENJOY! AND CHECK OUT MY OTHER STORY AS WELL! ~Lily Lou
---
Next Chapter
---
Favorite&nbsp|Reading List&nbsp|Currently Reading
Write a Review
Dragon Wings, Love-Bites, and Something To Do With Marbles:

One