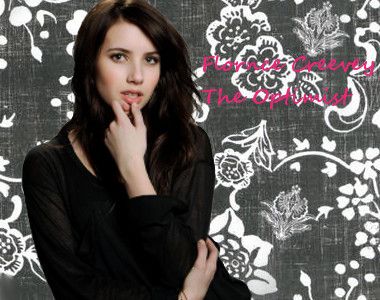 Chapter Image made by me! Hopefully things will get better as I get more practice!
My Nan always said that certain things happened for a reason. I never really paid any attention to her, but after all that's happened, I can't help thinking she was right.
-------------------------------------------------------------------------------------------------------
Someone drew back the curtains sharply causing the August sun to stream through the window, hitting me like a laser.
"Close them," I growled, slamming my head into the pillow to block out the offending glare.
"No," a soft voice answered.
Now this I was not used to. For the last two weeks, my Healer had basically left me alone. Which was exactly as I wanted it. Squinting, I raised my head to glare at the brunette standing at the end of my bed, her arms crossed.
"Who are you?" I asked, not really caring about my manners.
"Your Healer, I've been put in charge of your case."
"Healer Rickward is in charge of my case," I said slowly, just to make sure she would understand. She didn't look old enough to be a Healer; she was definitely younger than me, and I was twenty four.
"At the request of your family members, Healer Rickward has been removed from your case,"
"Why?" I asked, astonished. In my eyes, Healer Rickward was brilliant. She just left me be
"Because it's been two weeks and you haven't made any progress."
She looked me straight in the eyes. I noticed her irises were the colour of golden syrup. Pity her personality wasn't as sweet.
"What progress can I possibly make?" I snorted. As far as I was concerned, my life was over. And this wasn't me being dramatic. I could never play Quidditch ever again. My life was literally over.
"So you just want to spend the rest of your life in this room?" she frowned at me.
"Pretty much," I shrugged, then turned my head away from her, signalling for her to leave. If there was one thing I hated, it was being bossed around like a four year old.
"Well, Healer Rickward may have been happy to go along with that plan, but I'm not! So you are going to get up off your lazy arse, and claim back your life!"
"What life? I've no life to claim back! I can't play Quiddich, and the best I can hope for is to be able to walk with a cane. Imagine that! Twenty four and using a cane! How sad is that?"
"You know, some of the people in here would kill for that outcome? Do you realise how lucky you are? You were hit in the head repeatedly with the Sectumsempra curse! You shouldn't even be alive! Never mind able to walk!"
"It's only a possibility that I'll walk, it's not definite," I spat at her.
"Well, you'll never know unless you try, and by God are you going to try! I will make you!"
"Who do you think you are?" I stared at her incredulously.
"Well, I'm Florence Creevey, but I'm pretty sure you have some choice words to describe me."
"Damn right I do," I mumbled, keeping my eyes averted as far away from her as possible.
"Well, as much as I would love to pretend I care what you think about me, I really don't have the time. Now, it's time for you to shower, because you smell revolting."
"Well, as much as I would like to pretend I care what you think," I mimicked her soft voice. I didn't like her, she was too blunt. It was like she could read my mind. "I really don't care if I have a shower or not."
"To be honest, I don't care how bad you smell, but your family are coming to visit this afternoon, and I'm sure you don't want to smell like a decomposing corpse."
"I banned my family from visiting me last week; they don't need to see this."
"I owled them this morning, telling them to come and visit, that you wanted to see them," she said simply.
"You did
what
?" I asked sharply. "Look, you can't hole yourself up in this room James. And your family are desperate to see you. Stop shutting them out."
"I can do what I want. I'm an adult." "You are also under my care, and it is my medical opinion that you need some social interaction to stop you turning into a hermit. And you need their support considiring you have a long road ahead of you."
"I have no road ahead of me now that I can't play Quidditch! My life is over!"
"Quidditch isn't everything, you know."
"To me it is," I rolled my eyes at her stupidity.
"Just because you can't play Quidditch doesn't mean that you can't still be involved."
"It won't be the same."
"I know that, but let's try and make the best of the situation."
Great, that's the last thing I wanted. An optimist.
---------------------------------------------------------------------------------------------------------------------
Hey there! The idea for this story came to me after I read this piece in a paper about a man who endured near fatal injuries, and he got up and got his life back together! It really tugged on my heartstrings and I just had to write about it :)
This chapter is dedicated to 'yeahbroccoli' who was the first person ever to add me as a favourite author :)
And many, many, MANY thanks to my fantabulous new beta reader 'apondinabluebox' :)
Siriusly89
x