[
Printer Friendly Version ] [ Report Abuse ]
My Baby Girl, Amelia Jane by MalfoyRocks
Chapter 3 : Shopping
| | | |
| --- | --- | --- |
| | Rating: Mature | Chapter Reviews: 2 |
Font:
Background: Font color: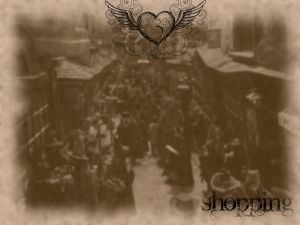 The next morning I woke with a start, Ame was crying. So I got out of bed and went into her nursery to get her. "Shh, I'm here, sweetheart. Mommy's here," I calmed her easily. Usually in the morning all it took was me picking her up and she was instantly calm. "You hungry, little one?" I asked as she cooed sweetly. I went down the stairs and into the kitchen to get her bottle prepared for her and pour myself some cereal and got a glass of orange juice. I fed Ame her bottle then layed her in her play pen to wiggle around like she likes to do while I quickly ate my cereal. I went upstairs to check on my dad who was sleeping when I got home last night. He was in his study reading a book I had bought him not to long ago, so I left him to himself. He was like me, or I was like him, we didn't like to be bothered while we were reading unless necessary. It wasn't necessary, so I went back downstairs to get Ame and take her up to get ready for the day. It was warm outside, so I put a cute light grey and white pleated dress on her. Then I went to pick out clothes for myself. Ten minutes later I chose a light yellow sundress and white flipflops. After Harry had left yesterday I packed my Hogwart's trunk as well as started packing away Ame's clothes and necessities in a smaller tunk for her. (McGonnegal had sent me a letter after I sent my reply back to her telling me that Ame will have top of the line furniture in her nursery at Hogwart's, so I didn't have to take any of the larger furniture with me.) So besides the clothes that i'm getting while shopping today, everything is ready to leave for Hogwart's tomorrow. I got her diaper bag ready for the day, extra diapers, wipes, bottles, formula, teether, yep looks good, and put it on the bottom of her stroller. I picked Ame up from her resting spot on my bed and cradle her gently. "You ready to go sweetheart?" I asked her before I put her in her troller and went to dad's study quick. "Dad," he looked up. "I'm taking Ame out to get her some more winter clothes before school. Is there anything you needed while I was out today?" He just shook his head no. "Oh, before I forget, I'm bringing my friends back with me when we're done. They've never been here before and they want to see it. Okay?"
"Yes, dear that's okay. Have fun today. But don't get in trouble," my dad said before going back to his book. I laughed lightly and shook my head at him. We were to much alike. So I took Amelia to a little cafe that we all decided on meeting at before we started shopping today. I went inside to order a latte and went outside to the round little tables outside with umbrellas put up. About five minutes later my four best friends showed up and they all hugged me in greeting. They all went inside and ordered food for themselves then came back out to join me.
"So, I'm guessing we're going to be in muggle London today Mione," Ginny asked excited about shopping.
"Yeah, I wanted to go to a couple baby stores if you guys didn't mind. Plus I just wanted to show you around," I said while they finished their meals quickly. Even Ron and Harry who knew they'd be out shopping most of the day were happy about exploring muggle London. Ginny finished her meal quickly and started playing with Ame in her troller. Lavender was watching all the people around us just enjoying the day. While Harry and Ron finished their breakfast.
After ten or so minutes we were all done eating. So we paid for our meals and left the cafe. I took them a block down the road to Cheeky Monkey to get this cute little knit onsie and knit jumper and pants sets I had found online a couple days ago. While there I found the cutest boots for winter, a couple new swadle blankets, a infant insert and sling to carry Ame without having to take her troller with me all the time, so I got them along with the rest of my purchases. An hour later I was done in there so we left to walk around a bit. Lavender was carrying Ame bouncing her up and down in my new sling set for her. I just laughed. Ame may not have a father, but she sure has alot of aunts and uncles that would do anything for her already. We went to a couple shops here and there, just having fun being able to hang out before school tomorrow. I explainied that I would have my own common room this year because McGonnegal wanted me to be able to have my privacy with Ame, but promised each of them that they'd be able to come over whenever they wanted to.
We spent a few hours walking around London, going into a few stores, at least half of them being baby stores. As well as a bookstore, a clothing store (for the girl's benifit), and a sports store. Ron was hilarious. He kept asking why there wasn't anything for quiditch. Harry and I had just laughed at him, explaining in between laughing that there isn't any quiditch supplies because there is no quiditch for muggles. After we were all tired of shopping, and I had basically bought a whole new wardrobe for Amelia and myself, we made our way to my house since we had actually stayed close to all day. "So Hermione, how is it being a mum," Ginny asked as she bounced Ame up and down. (everyone was taking turns with her, even the boys, after some persuassion of course.)
I looked around smiling. "Honestly, it's great. I've been working a part-time job in the evenings while dad watches Ame. But all the money I've made has been put in a savings. It's not much right now. But it'll do for the school year. I have a feeling that my dad's going to be sending money every other day though. Or putting money into my account since I put him on it. He has been great. I think she's helping him be able to deal with my mum's death. But I love being a mum, knowing that no matter what happens in life, I'll always have her in it." I looked up again to realize we were in front of my house. So I opened the steel gate and let everyone in. My house, or my childhood home, was a two-story tan victorian with dark green trim and shutters. When you first walk in to the entrance way the stairs to upstairs is straight ahead off to the left, straight back the hallway is an archway to the galle kitchen in the back, off to the right is a door to my dad's study and an archway to the dining room, to the left there is an archway to the living room with the fireplace. If you walked upstairs, on the top of the is a half bath for guests, to the right of the stairs and directly beside the guest bath is Amelia's nursery. Beside Amelia's nursery is a small library, where I spent most of my childhood reading.Then the last room on the right is my parent's, well my dad's room with an en suite bathroom. The room to the left of the guest bathroom is the guest bedroom. My room being the last door to the left of the the stairs. I also have an en suite bathroom. "So, this is my house," I told my friends as I showed them around the house. The whole house had hardwood floors, except the kitchen which had a gray slate tile, and the bathrooms that have a cream colored tile in all of them. I showed them Ame's room which had very light green walls and a huge rug with different pastel colors on it was covering most of the floor. All of the furniture in the room was white. "So, this is Ame's room. I want to get her changed quick. Then I'll show you my room and the backyard. You can wait in the library until I get her changed," I said as I started to change her diaper the boys practically ran out the door while the girls laughed at them. "Tell me honestly guys, are you mad at me for not telling you," I asked Ginny and Lavender timidly.
"No, Mione, why would we be? We were a bit bothered that you wouldn't let us in, but we understand now," Ginny said as she one armed hugged me, so I could finish changing Ame. "We're just happy that you're okay. Well, more than okay. Especially now that we know what you went through."
"Yeah, Mione. Plus Amelia is so utterly cute. So why on earth would we be mad at you for having her, when we know you weren't some teenager that was stupid and got herself knocked up with a boyfriend. You went through a tragedy, hun. And you are conquerring it while taking care of your beautiful baby girl. You are a very strong woman, Mione. I'm so glad we're friends now," Lavender said making me teary-eyed.
"Thanks guys. You don't know how much that means to me. You have no idea how many times I tried telling you, then I'd chicken out. It wasn't very gryfendorish of me," I sighed as I got out a light purple nighty to change Amelia into. After Ame was changed and happy we went over to the library to find the boys playing a game of chess. "I knew you would be happy once you found the chess set," I laughed. So we all stayed in the library laughing and talking while Harry and Ron finished their game of chess. "So, did Harry talk to you guys last night about what I asked him."
"What was Harry supposed to ask us," Ginny glared at her boyfriend. Harry put his hands up in surrender.
"Sorry, Mione I figured we could all talk about it today. So you could ask them," he said trying to defend himself.
"That's alright. I think you're right anyway," I smiled to him. "So guys, I have a propostion for you all. And if you agree you can stay there as long as you need or want to and you are welcome back anytime after you move," I began.
"What, Hermione. Since Harry already knows," Ginny exclaimed.
"Well, my dad had this idea for after I graduated this year that he was going to buy me a house in the outskirts of London. Or where ever I wanted to buy a house really. I wasn't so sure about it until I came up with an idea. Have my closest friends stay there with me. So this is my proposition for you all. Since my dad has already told me he's going to be putting a down payment on the house for me and will co-sign a loan for me so I'll be able to afford a decent sized house. I want it close enough to London that's it's not going to take hours to get here. But far enough away where we can still have our privacy from people. Harry already agreed. But I'd like to ask the rest of you. Would you all like to move in with me and Amelia after we graduate. You guys of course wouldn't have to live there with me forever. But I figured it would be a way that we can all live on our own away from our parents and still have people around for support. Ginny, Lavender, you guys wouldn't have to be stuck at home while the boys went off to Auror school. And Harry, while you're at training if you'd like we could try to get Grimwauld Place cleaned up for you. Maybe paint the rooms and have everything cleaned out and put up in the attic. I plan on taking a year off after school except for the part-time job I have at the grocery store. My dad already knows that and has agreed to pay the morgage for one year only. But we'd have to pay all the other bills that we end up with. But split five different ways. It would be very miniscule. What do you say?" I asked everyone in the room with me. Ame was giggling to herself on the floor while everyone debated about it to themselves.
"Are you sure you'd want us to live with you Hermione?" Lavender asked shyly.
"Of course. I already planned it all out. A couple weekends out of the school year we would all have to come here, so we could go house shopping. I already asked McGonnegal if we could come back to go house shopping and she agreed to let us all come. I found a house that I like, but I'm not sure if you'd like it. I know it's going to be up to me in the end, but if you all want to move in with me I'm going to give you a say in it also."
"Hermione," Ginny started slowly. I nodded my head to show her I was listening to her. "Well, two questions really. The first being, do I get to watch Ame when you go to work. And the second being, do we get our own rooms?" Ginny asked as she bounced up and down.
"No, Gin you guys all have to share a single bedroom. Of course, you get your own bedrooms. I wanted to get a four bedroom house. So you guys would have to share with your significant other. Unless of course you wanted to share with Amelia. But she gets cranky in the morning. Nothing you will have to worry about. She doesn't cry loud. I have a baby moniter to wake me up is all. But I would like to get a house away from the city. But close enough that we could easily get to work. Well, at least me since I'm going to be working at my muggle job for a while. Oh and I wouldn't care if you wanted to watch Ame while I worked. My dad watches for me, but I'm sure that he would like a break every now and then," I smiled.
"Great. I'm in then," she smiled back.
"I'm in too. It'd be nice to live on our own. But still be living with friends to keep us company," Lavender smiled.
"I suppose we could give it a go," Ron agreed with everyone. "We already live with each other during the school year. So it won't be much different."
"Well, then do you guys want to go see the house later that I like. We can't get in. But I can atleast show you where it is now," I asked as I picked Ame up from my feet where she was trying to climb my legs.
"Sure," Ginny said still smiling like it was Christmas.
"Alright. Well, I'll go get the car keys. We can drive there," I said as we all got up and went downstairs. I went to my dad's study and asked him if he could watch Amelia for me until I got back. He agreed since he hadn't got to spend any time with her the past couple days. And started playing with her as soon as I handed her to him. "Thanks, dad," I laughed as I went out and took the car seat out of the back of the car to get it ready.
Fifteen minutes later I stopped the car in front of the house that I fell in love with over the summer. It was a white three-story farm house with a porch that wrapped around most of the house, sitting on ten acres of beautiful land with a barn that could be used as a garage and extra storage. It had five bedrooms, three and a half bathrooms, a finished basement with an in-law suite for guests and a rec room, a finished attic that had an ensuite bathroom and a sitting room for a small library, making it the perfect master bedroom for me, and it had an open floor plan on the main floor. It was my dream home. I just hoped that my friends liked it because I had already told my dad this is the house I want more than anything. As I explainded everything that the house had everyone listened intently. By the end of my excited speech everyone was laughing and saying it sounds wonderful. So I told them I'd call the realator tomorrow morning and see about setting up a tour for all of us and talk to my dad about actually buying it. We went back to my house in time to put Ame back to bed. So I put Ame to bed and walked my friends to the living room so they could use the floo network back to the Burrow. "I'll talk to dad before I go to bed. And then call my realator tomorrow morning to tell her I want to see it one more time with you guys. Since we leave for Hogwarts in two days I'll ask to schedule it a week from now. And if you all like it, I can sign the papers to get the process started. We can look at a couple more if you want to be sure. I saw a couple houses that were alright, but I fell in love with the farm house. Or maybe I can owl McGonnegal and see if we could go to school a couple days late since classes don't start for a week." I started ranted before I stopped myself. "Well goodnight. I'll owl you after I get a response from McGonnegal," I said before they all gave me hugs and went through the floo. I went to dad's study and sat on the lounge while he finished what he was reading. "They like the farm house I like. I'm going to owl McGonnegal to see if we could go to school a couple days late. Oh and I'm going to call Ms. Freed tomorrow morning to see if we could see it. What do you think," I asked my dad once he put his book down.
"Sounds fine. That would give me more time to see Ame before you go off to school," he said while folding up his reading glasses and putting them on the desk in front of him. "Are you sure this is the house for you, sweetie?"
"Yeah. It is. I mean it isn't that far from here. I'll still be able to come here every day if I wanted to or you could come visit me. And when my friends are ready to live on their own I'll have room for a family as big as I wanted it to be," I sighed. I always wanted a big family growing up, but mum couldn't have any more kids after me. So I was an only child with no cousins to play with either.
In my room, I made sure the baby moniter was on and had full batteries before I sat down to write my letter to McGonnegal. I just hoped that she said we could. I would love to move quick on the house so I knew I would be able to get it. So I sat and wrote and rewrote trying to word it just right. After half an hour I finally had it completed. So I sent the letter off to Hogwarts with my new owl, Nyctimene, and asked him to wait for McGonnegal's reply. I snuggled on my window seat and opened up the newest version of "Hogwarts: a History" to read while I waited. I'm not sure exactly how much time had passed since I started reading and the time I passed out. But my nap didn't feel like it lasted long, as I heard a tapping on my window. I let Nyctimene in quickly so he could rest and to give him water and a treat. I read McGonnegal's reply which by the end of I was smiling broadly. She agreed to let us come to school a couple days late and also said we could floo to her office on Sunday at 5 in the evening. I owled Gin quick and got into bed to pass out untill Ame woke me up in the morning.
---
Hello again everyone. I'm happy to say this chapter is longer. I don't know why I'm so adament about longer chapters. I guess it's because I happen to read alot and I know once I'm engrossed in a story I don't like it to be cut short. =] Well, hopefully you all enjoyed this chapter. I will be adding another tomorrow while I work on the next few. I'm sorry for the spelling errors I'm sure there are. But unfortunately the spellchecker isn't available at the moment.
---
Previous Chapter
Next Chapter
---
Favorite&nbsp|Reading List&nbsp|Currently Reading
Write a Review
My Baby Girl, Amelia Jane:

Shopping
---
Other Similar Stories
No similar stories found!