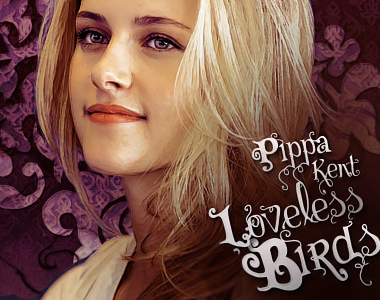 flyaway@TDA
Pippa Kent
---
Unfortunately for me, Billy decided that Operation Blue Skies (...yeah, I really don't know what exactly is going on in Billy's head) was to commence the next day and Pippa was absolutely ecstastic to be in "for the fun". She claims that it was about time Lily got a lasting boyfriend, and I had to restrain myself from pointing out that she had two years left in Hogwarts and her whole life ahead of her and why should she find her 'true love' now? Pippa and Billy, of course, ignored me. Closet romantics, the both of them.
"This is insane," I bit out, just about managing to restrain myself from wrangling both of their necks. "Lily is going to murder all of us - and what will Devon think, his meddling cousin messing in his business?" Pippa tutted, half-smiling, and Billy threw a lazy arm around my shoulders.
"Come now, Lucy," he drawled lightly, ruffling my hair and I swatted his hand away as he continued. "You think too much. Devon won't mind - this is all part of the deal, anyway." I not-so-discreetly gaped at him, but Pippa got in before me.
"What?" she cried, pouting like a child. "Devon
knows
we're going to spy on them? That ruins all the fun!" I face-palmed myself. That was
not
what I had in mind. "Where are they, anyway?" Billy merely grinned at her, however, and placed a finger to his lips, before gesturing around the next corner.
I was the first to peer around carefully, with Pippa's head popping up under mine and Billy's under hers, so we probably looked comical to any and all passersby. Billy told us the truth - Lily was flicking rapidly through a book, eyebrows furrowed in concentration, and Devon was nearer to us, standing with a couple of friends, so near that he would easily see us if he walked backwards a few steps. We were in the red zone - this was dangerous.
The awful thing was that I was actually excited by it all.
Ugh. Don't make me say that again - please.
"Gryffindor's so going to kick your butts in tomorrow's match," I heard a rough, Scottish-tinted voice say, nudging Devon in the elbow. I couldn't see it, since Devon and his friends were turned away from us, but I could tell that he was rolling his eyes.
"Yeah, right, Adrian," Devon scoffed, neither of the boys bothering to keep their voices down as they walked away from us. "Caitlin's a brilliant captain, and Albus left last year, right? You're no match for us." Underneath me, I could tell Billy twitched at the offhand remark about Gryffindor's Quidditch team, and Pippa looked up and rolled her eyes at me. Boys and their Quidditch. Although, admittedly, I can't exactly talk. Gemma was captain of Hufflepuff's team, and I'm a Weasley - it's in the blood to like it, if not adore it.
"Hey, watch it," Billy hissed suddenly, and I saw the top of Pippa's head shift. "Ow, Pippa! I think you just stepped on my fingers!" The back of Pippa's neck coloured, and I stifled a groan. Fantastic. With their bickering, it was obvious we were going to get caught in no time.
"You
think
?" Pippa echoed, blonde hair flying as she shook her head at Billy in complete exasperation. I put a hand to my face and tried to breathe. Please shut up. If we were going to spy on Devon and Lily, the two of them could at least be quiet about it. I shushed them, now irritated, as I heard Lily's voice finally speak up.
"Watch it!" she snapped at Adrian, Devon's aftermentioned Scottish friend. I tilted an eyebrow in interest. Why did Billy think Devon liked her, again? "Be careful, at least." Adrian let out a bark of laughter, and I saw Devon looking sheepish as he tried to drag his friends away.
"Merlin, Potter, lighten up," Adrian told her, laughter still making his eyes light up. "Studying already?" Lily glared at him, and I, too, resisted the urge to shove Adrian or yell at Devon to take him away.
"Leave her, Adrian," Devon muttered under his breath, cheeks red, but it was a mistake. Temper flared at Adrian's jibe, Lily turned on him.
"I can handle your
friend
on my own, Blue," she said coolly, obviously struggling to keep her temper in check. "I honestly don't need your help with this." Devon frowned, seeming as if he was genuinely just trying to help, but Adrian wasn't finished with poking fun at Lily. Rolling his eyes at her, he nudged her gently in the side, grin quirking at his lips.
"Geez," he commented mildly, and I couldn't quite tell whether his smile was mocking or not. "Devon didn't do anything, what's the matter with you, Lils?" Sending him a disapproving frown at the overused nickname, it still looked like Adrian Wilson had struck a nerve.
"No," Lily muttered gruffly, looking faintly embarrassed at overreacting to Adrian shoving her as he walked by. "And anyway, it isn't any of your business, is it, Wilson?" Adrian shrugged innocently, before taking Devon by the arm and making his way down the corridor again.
"Whatever you say, Lillian!" he called brightly over his shoulder, and Lily turned bright red. I was still pondering on her confusing behaviour when Billy and Pippa, who seemed to have moved away from the corner when I wasn't looking, pulled me away. Billy looked breathless with excitement, and Pippa had a knowing look in her eye. I looked between them, confused. What did they know that I didn't?
"Well!" Billy gasped, brown eyes wide. "Looks like we've got a bit of a snag in our plan -"
"Snag?" I echoed, eyebrows furrowing. "What do you mean?" Billy and Pippa exchanged looks, before opening their mouths and saying the exact same thing at the exact same time.
"Lily's got a crush on Adrian."
---
"Adrian
Wilson
?" I found myself saying, flabbergasted, a whole hour later sometime after we had our lunch, during our free periods. Gemma had disappeared off to do her weekly tutoring of some first or second year somewhere, and thus, I was still stuck with Billy and Pippa and their bizarre, but still reasonable theory. "You - Lily -
Adrian
- they've been playing pranks on each other for
years
, she even said she's never liked him, even as a friend!"
Pippa resembled an all-knowing Seer at that moment as she patted my hand gently, blonde hair ruffling in the breeze that accompanied sitting cross-legged under the huge beech tree by the Black Lake outside. She calmly said, "Well, there's you and Elias, isn't there? You never liked each other before, and now you're pretty okay with each other, right?" I shot Pippa a look.
"What do me and Elias have to do with this?" Coughing slightly to fill up the sudden awkward silence, Billy took his turn to talk.
"It still makes sense, though, doesn't it, Lucy?" he explained patiently, as if he was the Head Girl (or Boy - whatever!) and not me. "The way she blushed when he left and gave up so easily and took up their precious time by being annoyed with him?" Urgh. He does have a point, admittedly. I still couldn't believe it, though. Lily told me
everything
, and vice-versa! I would've known about her crush way before Operation Blue Skies even commenced in the first place.
Our rather pathetic conversation continued in the same vein - me shaking my head in awe of this stupid thing that I only just figured out, and Billy and Pippa assuring me that yes, I wasn't dreaming - until something in blue caught Billy's well-trained eye. And by 'well-trained', I do mean 'seeing the same thing for seven years and maybe more than he should (cough, cough, stalking).'
"Is that -" Pippa started abruptly, following Billy's gaze with a surprised and slightly glossy look in her eyes. Rolling my own - none of the team were Christopher - I twisted around to see exactly who were heading our way.
"OI, DEVON!" Billy bellowed as a familiar head of dark brown hair headed to the Quidditch pitch with a broom and a group of Ravenclaw Quidditch players along. "OVER HERE!" I gave Billy an exasperated sigh, but Pippa was too busy staring at the male members of the team to pay attention. Devon rolled his eyes at his cousin - which was obvious even from this far of a distance. I tried not to smirk too much at Devon's slightly embarrassed face - I knew far too well how annoying family members could be.
"LATER, BILLY!" Devon hollered back, before quickening his stride and walking far ahead of the rest of the blue-clad players, who were sniggering and smirking. Caitlin Altman, however, merely smiled, giving the three of us a nod and making Billy blush the deepest shade of red I've ever seen.
I gave him my best exasperated sigh, and said, "Gosh, Billy. You are
so
obvious!" He merely glared at me for that one, before leaning against the tree behind us, cheeks still the approximate colour of a strawberry before jabbing Pippa in the arm to divert my attention.
"Pippa, you still alive? I don't know about Lucy -" Here, Billy paused to give me a sideways glance, eyes narrowed, daring me to make another teasing comment, though I refrained, interested in what he had to say. "- but I personally think you're the one being the most obvious about your crush on the team." I waited for Pippa to snap at him, much like she had done all day long, but she was still far and away in the land of daydreams.
Fortunately for both Billy and I, she snapped out of it just two seconds later, but unfortunately, there was a wicked gleam in her dark brown eyes that I knew instantly meant bad news.
"Just out of curiousity, how good are you guys at spying on people?"
"No." I didn't even skip a beat before voicing my opinion on Pippa's completely crazy ideas. "No way in
hell
are we ever going to spy on the Ravenclaw Quidditch team
just
because you and Billy have stupid crushes on the members - we're going to get caught so quickly it wouldn't even be funny later on." Pippa shot me a glare, head tilted subtly towards two or three other people dotted near the edges of the lake and clearly in hearing distance.
"Caitlin is not stupid!" Billy declared loudly, blatantly ignoring Pippa's silent instructions, causing her to elbow him in the side. "Anyway, other than that, I kind of have to go with Lucy on this one - sorry, Pippa. I mean, Lucy trips over stupid stuff like
air
and her
feet
." I frowned at him, giving him my best offended glance, although Billy ignored me and ploughed on. "What I mean is that we'll get caught in five seconds, natch. Unless you've got a super secret power to make us make no sound, this is never going to work."
Pippa deflated, looking so lost and forlorn with her straight blonde hair acting as a shield between Billy and mine's reasonable but slightly harsh words and innocent eyes as wide as saucers that I instantly felt bad for her, and with a touch of reluctance and slight regret in my voice, I opened my big fat mouth.
"Oh, all right, Pippa. You've got your way - we'll help you to spy on the Quidditch team, though if we get caught, I'm blaming it all on you, understand?" I barely got a chance to finish my sentence before Pippa pounced on me, wrapping her arms around my smaller frame in the tightest bear hug possible.
"Thank you, thank you,
thank you
!" she squealed, sounding like a five-year-old who had gotten their Christmas wish - a pony - and probably rattling Billy's eardrums. "You are the absolute
best
, Lucy, I swear! I won't let you down - we're going to do this right or not at all!"
"Is it too late to go back to the 'not at all?'" I muttered out of the corner of my mouth to Billy, who was gaping at me and had the same gobsmacked look on his face when I had first said that we would go along with Pippa's plan. He broke out of his shocked reverie, however, in time to snicker at my statement before immediately shutting up again at Pippa's sharp look.
(That girl is an absolute sneak, the way she bends things to her own comfort to get her way, honestly.)
"Oh, all right," Billy sighed, too dramatically, in my opinion, standing up and stretching before offering a hand to Pippa or me - whoever would take it first. "Two against one, majority rules, I believe." His eyes lit up, and he didn't even wait for me to stand up properly before proceeding to drag me after Pippa who had started walking to the Quidditch pitch already. I ended up stumbling over my feet as I followed him. "Ah well! It won't be too bad, I can say that at least."
Why do I have the strangest feeling that Billy isn't too angry about us spying on the Ravenclaws?
---
My earlier statement still remains - this might just be the worst idea Pippa Kent has ever come up with, and that includes going along with Operation Blue Skies in the first place. My mouth was a thin line of impatience as we stood like idiots behind the stands. It was a shockingly windy day today - which meant they'd have trouble staying on their brooms, Billy couldn't help but point out smugly, causing Pippa to shoot him a look as she elbowed him for making too much noise - so the brightly coloured flags from the stands flapped irritatingly into my face along with my hair as I tried to see what on earth was going on.
"You two are idiots," I hissed to them, as Billy jostled me as he tried to get away from Pippa's abnormally sharp elbows. "Stop that! Quit fighting! If you keep arguing with each other, I swear, I'm going to walk right out onto that pitch and reveal to the world that Pippa Kent and Billy Switch are either in love with each other or have a crush on the Ravenclaw Quidditch team."
It was immensely satisfying to see their mouths snap shut and open a moment later to gape wordlessly at me. Grinning cheerfully, I turned back to where I could just about hear Caitlin instructing the Ravenclaws to put their blindfolds on. Apparently they were doing trust exercises or something, I wasn't really paying attention.
"You are bloody evil, Lucy Weasley," Billy muttered to me, away from Pippa's ear-shot, breath warm against the side of my face. "Imagine if Caitlin knew I liked her!" I gave a heavy sigh, although I refrained from speaking. I didn't have the heart to tell Billy that everyone in the whole school knew of his crush and that Caitlin didn't like him in that way at all. I didn't want to break his heart, but I knew it had to happen sooner or later, whether I wanted it to or not.
"Alright, team!" Caitlin called in a breathless, bright voice that made Billy's cheeks warm enough to squeeze my arm tightly to prevent himself from running out onto the pitch and declare his love to her like an idiot. Even if I disapproved of the whole spying thing, I at least didn't want either of us to get caught, and it that meant Billy cutting off the blood circulation to my arm, then so be it. "Have you got your blindfolds on, everyone? Ready to begin?"
"Go for it, Captain," I heard Devon's voice distantly encourage, and I could almost see the huge grin on his face as he nodded eagerly at Caitlin. Even without looking, I could also tell Billy was rolling his eyes at his younger cousin. The other Ravenclaws chimed in with their own agreement and support and whatnot but I wasn't paying attention to them at that moment - my eyes were on Pippa.
"Pippa, where the hell are you going?" Billy hissed at her, noticing a split-second after she had disappeared from his side. Exchanging wide-eyed glances, Billy and I immediately abandoned our positions - stomach flat on the slightly damp grass underneath the stands - and scrambled upwards to look for my stupid best friend.
"Pippa, where are you?"
"Pippa...."
"Come on, Pippa, come back! We're going to get caught!"
"Damnit Kent, where the hell did you go?"
Suddenly, at that very moment, I realised what would happen before it actually happened, and I started at a run, ducking under the colourful flags of the stands as I darted to where I knew Pippa would be.
"Lucy -" I heard Billy's startled voice say behind me, and then the pounding sound of footsteps as he caught up for my not-very-fast-running. "She went to the bloody changing rooms, didn't she?" I didn't even have to look at him to answer
that
question. How could Pippa had been so stupid? I mean, I knew she liked someone on the team, but she could at least have told us before running off and risking us getting caught and stuff.
Billy and I managed to slow to a stop as we neared the changing rooms, practically holding our breaths as out on the pitch, the Ravenclaws still continued with their practice, completely oblivious to the three intruders spying on them. At least they didn't see us, was all I could say, and I hoped it would stay that way. Pippa's unmistakeable head of blonde hair was nearing, and my plan was just to grab her and go.
I was so sure that we were going to drag Pippa away from the boy of her dreams and get back to the castle unscathed that neither Billy nor I noticed the suddenly hushed whispers, almost-silent footsteps and looming shadows until it was too late and someone was grabbing Billy by the collar and breathing down my neck.
"And what -" Caitlin's voice wasn't breathless or bright anymore - now it was just harsh and cutting and all-business. "- exactly do you two think you're doing?" I just had time to exchange a horror-filled glance with Billy before another member of the team located Pippa and pulled her over, too. She wouldn't look any of us in the eye, but that wasn't the only thought on my mind.
Crap, we were so screwed now.
---
A/N: I promised you guys a huge, plotty chapter and you got it! :D First things first, however - I am so, so sorry for the horrible wait on this chapter. I swear it was meant to come out sometime last week (and this apology would be on Revelation and not Overloaded) but RL just piled itself on me and with school starting I just didn't have the time or the energy to work on this chapter as much as I wanted to :( I went on a loooong hiatus there, but I'm back, and hopefully for a while!

So - what did you guys think? No Elias or Gemma, unfortunately, but you did get the briefest glimpse of Lily and Devon and a nice chunk of Billy and Pippa and Lucy - of course - and even some romance, too :p Remember it, folks - more romance won't be coming for a long, long time. There's a cliffie, too, so enjoy it while it lasts. However, I am pleased to say that Chapter 6 should be out sooner than this one was, and Gemma's going to be there, with maybe a glimpse of Elias, and can I just say that Lily and Hugo are going to go in - and out - with a bang :D Reviews are appreciated, and again, sorry for the wait!