[
Printer Friendly Version ] [ Report Abuse ]
Curiosity Is Not a Sin by Beeezie
Chapter 24 : Asking Around
| | | |
| --- | --- | --- |
| | Rating: 15+ | Chapter Reviews: 14 |
Font:
Background: Font color:
Thanks to uprising. @TDA for the CI!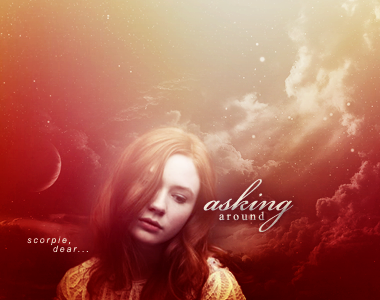 Rose had to reread the letter three times before she actually managed to process what it said. Predictably, her mother had spent a paragraph going on about interhouse cooperation and unity and how
proud
she was of Rose for finally being able to look past those lines, but how she really wished that Rose had told her about it so she didn't have to hear it from another source.
Rose was starting to have growing suspicions about who that 'other source' was, and if she was right, she thought that she really might kill him.
Her father's reaction initially came across as a bit less awkward. The jump from her mother's neat handwriting urging Rose to write home detailing how exactly she'd come to get involved with Scorpius to her father's messy scrawl discussing the latest Quidditch results was a bit jarring, but she preferred the latter by far.
In fact, her father seemed like he would quite like not to mention it at all. Despite the fact that they had presumably written because of this - her mother certainly hadn't said anything about any other subject - her father spent almost a page talking about Quidditch, and only managed a brief comment saying that when they'd met him at the Potters' the summer before, Scorpius had seemed like a decent enough kid for a Malfoy and a Slytherin.
There was an implicit suggestion that that wasn't saying much, but still, at least he didn't want details. She suspected that the fewer details he had, the happier he'd probably be.
On her second read through, however, she caught a little note that father had scrawled on the bottom of the parchment: "But we'll see what he's
really
like once I ask around."
Rose had no idea what 'ask around' meant, but she was fairly sure that it would be highly embarrassing.
Once she was satisfied that there was nothing else in the letter that she'd managed to miss, she hopped out of bed and made her way down the stairs. The Common Room wasn't especially crowded yet, but she did see her brother sitting with one of their cousins by the windows, and she hurried across the room.
"I am going to
kill
your brother," she told James. At the sound of her voice, he looked up from Hugo's Defense Against the Dark Arts essay.
"What?" he asked in confusion.
She lowered her voice, and Hugo leaned across the table to listen in. "I'm going to
kill
Albus," she repeated. James and Hugo both gave her blank looks, and she sighed and collapsed into one of the chairs. "He told my parents about Scorpius."
Her brother let out a loud guffaw, and she glared at him. He'd been telling her for the past week that if she didn't tell her parents about Scorpius soon, they'd find out soon enough, anyway.
She really hated it when he was right.
James didn't react quite as strongly, but did let out a little chuckle, and she glared at both of them.
"This isn't funny," she insisted. "It's
not."
"Yes it is," they said at the same time.
She looked around the room again, but she didn't see the bright red hair anywhere. "I'm going to kill him," she repeated.
"How do you know it was him?" James asked, and she rolled her eyes.
"Who else would have? Besides, he was awkward about his letter together - I bet he wrote home about it all without thinking and
your
parents went and told
my
parents and-"
"Is it really such a bad thing?" James wondered out loud. She must have looked furious, because he held up his hands. "Rosie, it's an honest question. You'd have to tell them eventually."

Hugo was now looking obnoxiously smug, so she leaned across the table to smack the back of his head gently. "It's not funny," she said again, and both of the boys snorted again.
She was clearly not going to get any sympathy from them, but after they'd both gotten over their amusement, they
were
interested in what her parents had actually said, so she showed them the letter. Neither seemed to think that she had much to worry about - her parents clearly weren't about to disown her - though when she'd pointed out her father's parting note about "asking around," they did admit that it didn't sound promising.
By the time Albus climbed in through the portrait hole, she was feeling much calmer, though she was still decidedly grumpy when she greeted him.
"What'd I do?" he asked. She shoved the letter across the table at him, and he skimmed it before looking back up. "I- er-"
She sighed. The irritation had largely gone out of her. "You mentioned it in a letter to your parents?"
He made a face. "I wasn't really thinking. Then they responded and mentioned it, and..." He threw his hands up in the air. "Sorry."

"It's okay." She shook her head as he read the letter. "I guess they were going to hear about it eventually."
Scorpius, for his part, found the entire thing very funny, and wouldn't stop gloating about how
his
parents' reaction wasn't anywhere near as embarrassing. He didn't shut up until she'd grumpily threatened not to find time to see him around her upcoming Quidditch practices, and even then, she could tell that he was still exceedingly amused about the entire thing.
"Wonder what he meant about 'asking around,' though," Scorpius wondered out loud a few days later as he was walking her down the pitch. "Who is there to ask?"
Rose shrugged. "Dunno."
After another couple minutes of thinking about it, however, Scorpius groaned and stopped dead.
She looked back at him. "What?"
He made a face. "I think I know who he might ask. If I'm right, I might be dead."
He wouldn't say anything else on the subject, and when they parted ways in front of the Gryffindor locker room, he was clearly a little preoccupied when he kissed her goodbye.
"What's up?" James asked as Scorpius walked away. He'd gotten there at the same time as Rose, and he glanced back at Scorpius's retreating form. "Is there something wrong with him?"
Rose spared one last look at Scorpius. "I'm not sure," she said after a moment. "He said he knew who my dad might be asking about him, though."
James looked a little curious, but when she said that she didn't know anything about who it might be, he shrugged and followed her into the locker room.
Try as she might, she couldn't convince Scorpius to explain it further that evening, and for the rest of the week, she had precious few chances to try. It seemed like her time was completely taken up by Quidditch practice and homework; the first match of the season was fast approaching, and James was taking no chances of a surprise upset from Hufflepuff.
It wasn't until they were sitting by the lake Friday afternoon after classes had finished for the day that she had the chance to bring it up again, and this time, he was willing to explain it.
"My cousin Johanna is an Auror," he told her after a minute. "I was afraid your father would pull her into his office to interrogate her about me."
Rose winced. "Did he?"
"Oh, yes." Scorpius shifted so he could pull something out of his pocket. "Here," he said, passing her the letter. "Read it. You'll get a laugh out of it.
She took it, and he put his hands behind his head and leaned back against the tree.
"You know," she commented as she unfolded the letter, "if we break up the lake is going to be completely ruined for me."
He didn't respond, and she glanced over at him. His eyes were closed, and after a moment, he said, "Wow. So you've not only admitted we're going out, you've opened yourself up to the possibility that we're never going to break up. That's progress." She smacked his leg lightly, and he laughed. "Just read it, Red."
She opened the piece of parchment.
Scorpie dear,

A funny thing happened the other day. There I was, minding my own business, and my boss calls me into his office. Apparently, he'd heard that my dear baby cousin was getting involved with his daughter, and he was a bit concerned, you being a Slytherin and a Malfoy and all that.

So what I want to know is, where do you get off going out with my boss's daughter? And, more importantly, why are you going out with a
Gryffindor?
Scorpie, I thought you had
standards.


At any rate, don't worry. I told him that you were a filthy amoral little boy who was going to ruin his daughter's reputation.

You know, the truth.

Love and luck,
Jo

P.S. If you do anything that makes Weasley call me into his office again to discuss my family, I'm going to feed you to a manticore. I can, you know. I have friends in high places.
Rose looked up from the letter. "Is this - er - a joke?"
Scorpius snorted. "No. I know what you mean, but no. That's just my cousin Johanna."
"She - er -" Rose tried to think of an appropriate verbal reaction, but came up blank. "Did she
really
tell my dad that?" she asked instead.
Scorpius shrugged and dropped his right arm so he could loop it around her and pull her closer to him. She curled up and rested her head on his chest, and his grip tightened. "Probably not," he said after a minute. "It's hard to tell with her sometimes, but I don't think so."
"She sounds a little like Roxanne," Rose commented, and Scorpius laughed.
"If you say so. I don't really know Roxanne." His hand moved up, and he began to stroke her hair. She let out a contented noise, and he kissed the top of her head. "I don't think she likes me very much."
Rose was inclined to argue with him, but she couldn't quite bring herself to do it. He was right. Roxanne didn't like him very much, and unlike James, she wasn't making any effort to reform her opinion.
When she didn't say anything, he sighed. "Yeah. I didn't think so."
"That's just who she is," Rose said. "I'm sure she'll come around eventually."
"If you say so," he said doubtfully. "Well, I guess I can't have everything. I think Al's brother is actually starting to like me." He paused, and then amended the statement. "Or, well, at least tolerate me."
Rose smiled and nuzzled into Scorpius's chest. "That feels good," she murmured, referencing the hand he was running through her hair, and he kissed her forehead again. "And yeah, he is."
"Why didn't he bother to try before?" Scorpius asked. His tone said that he was still having a lot of trouble with the entire thing. "I've only been one of his brother's best friends for the past four years. No offense, but you shouldn't be more important to him than
Albus
is."
"I'm not," she said. "That's... that's not really how it works."
"Enlighten me."
She sighed. "It's easier to avoid someone's friend than someone's boyfriend when you're close with them," she said. "It just... is." He made a noncommittal sound, and she glanced up at him. "You disagree?"
"I'm not sure." He glanced up at the sky. "Probably not. It just feels..." He shrugged. "Unfair." He rolled his eyes at the look she gave him. "Oh, shut up. I'm a Slytherin, not heartless. And I look out for my friends."
She settled back against him. "Yeah," she said softly. "I'm getting that." She heard him snort, and after a moment, she said, "I'm sorry."
"Hmm?" She repeated herself, and he asked, "For what?"
"For being so..." Her voice trailed off. "You know."
"Haven't we already been over this?" She shrugged, and he said, "Look, Rose, it's fine. And honestly, it's probably just as well that we didn't get on well before this year." She glanced up at him in confusion, and he grinned. "If you'd spent four years thinking, "Oh, Scorpius Malfoy, he's all right, I guess," would you be going out with me now?"
She decided not to embarrass herself by quibbling over his characterisation of their relationship. "I'm not sure," she admitted.
He laughed. "Well, I'm pretty sure that resenting you for being both incredibly obnoxious and the prettiest girl in our year helped me along," he told her.
"You think I'm the prettiest girl in our year?" she asked with interest. He blew out his breath, and she said, "Scorpius, I'm not digging for compliments."
He didn't say anything for a minute. Then, as a breeze blew across the lake and whistled through the leaves above their heads, he said, "I think you're the prettiest girl in this school."
She jerked her head around, expecting him to have a smile on his face, but he appeared to be completely serious.
"Really?"
He made a face. "Yes, Rose, really. It's made my life a lot more difficult for the past year or two."
She took awhile to absorb that. In some ways, she wished that she could say that knowing that shed some light on things that she'd found odd, but unlike Albus, she simply hadn't been paying close enough attention to Scorpius to ever notice it.
Given that she was also apparently a bit oblivious sometimes when it came to romance, she supposed that she probably could have been paying attention and
still
wouldn't have noticed much.
"I thought that you just didn't like me," she said eventually.
"I didn't. I thought that you were obnoxious and full of yourself. Wanting to kiss you just made it worse."
"Now that you can kiss me, is it still worse?" she asked.
"No," he said. "Now when you're obnoxious and full of yourself, I can shut you up." She elbowed him, and he laughed. "What?"
They sat there in comfortable silence for a few minutes before he spoke again.
"Hey, Rose."
"Mm?" She looked up at him. His face was flushed, but she decided not to point out his current resemblance to Christmas.
"I -" His voice caught in his throat. "I - I love spending time with you like this."
She smiled and leaned up to kiss him. As they were walking back to the castle shortly thereafter, however, she couldn't quite shake the feeling that that hadn't been quite what he meant to say, though she had no idea what else it could have been.
---
A/N: I hope you liked this chapter! Sorry it's on the short side - the next bit doesn't really work with this, so I decided to break it up rather than having a chapter that abruptly switches in mood halfway through.

Scorpius's cousin Johanna is Johanna Greengrass (an OC). I think she's been vaguely mentioned in this story and a few others - she was Head Girl in the year before Teddy's, and is actually a good friend of his as well as being an Auror. I've got some half-written stuff about her that I'll probably post at some point - she's a fun character.

As always, thank you for reading, and I would love to hear your thoughts on the chapter if you have a moment to review. :)

Beeezie
---
Previous Chapter
Next Chapter
---
Favorite&nbsp|Reading List&nbsp|Currently Reading
Write a Review
Curiosity Is Not a Sin:

Asking Around
---
Other Similar Stories

The Bump Problem
by Mistress ...


You're Nothi...
by llyralen