[
Printer Friendly Version ] [ Report Abuse ]
Stories no one wanted to tell by KnightRoseSword
Chapter 1 : Stories no one wanted to tell
| | | |
| --- | --- | --- |
| | Rating: 15+ | Chapter Reviews: 5 |
Font:
Background: Font color: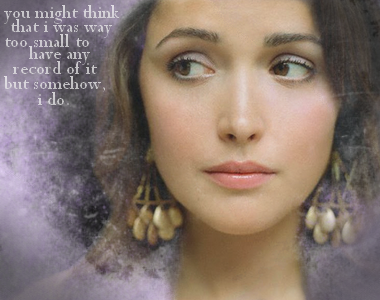 Thanks again to Pheonixn @TDA for the beautiful Story art!
---
"The house was beautiful! It was the icon of that town until they died. Nobody ever was completely sure of how it happened. Not even poor Old Frank knew how to explain it. My mother was just a little girl by that time, and she had to hear a lot of versions of it, one tale less probable than the others. It's this time that I know the truth… Or that's what that weird man said. And honestly is the only version that can explain the facts, even if it doesn't make any sense at all!"
I've heard my parents saying that too many times… It's a very confusing –and incomplete- story that has something to do with a part of my family, an old and very dark side of my family.
It's only now that I can start to understand all those things the stranger told my father at a bar the night he celebrated my mom was pregnant with me. I was not allowed to comment those things in the house because my grandmother never got along with that side of the family; apparently it was a big rivalry between them and us, memories no one wanted to go back to.
I was only 2 years old when I got what my parents were told was a "precious gift". I'm not supposed to say
his
name; anyway I'm still too scared of saying either what this gift is or how I got it. I was very little but I suppose something like that you just never forget. You might think I was way too small to have any record of it but somehow I do. I've had dreams of that day… That's how I go back to that night. That's how the dark memories from when I still was just a baby come back to me.
My mum talks to me about it when the nightmares come back to me. She always points out how she just couldn't believe my father and the way he got us out of the house that morning to go to that place. According to my mum, he was acting very strange, not answering any of her questions, not even looking at any of us, he didn't even have much of expression in his face, she says.
Once there, mum still was vacant about what was happening when it did! She was clueless! It was some sort of magic, she guessed; because it looked a lot like the things people show on TV and old tales. We were in a big grey room, small candle-lights placed on the walls, there was only one small window but it had been covered with a black curtain. About 5 or 7 hooded and masked men were standing there with us, bright lights coming out of sticks they held, my mum deduced those were "wands", but what did that has anything to do with me? What that group of hooded-masked men was trying to do in the room? And most importantly, what were they going to do to me? My mom was taken out of the room when she tried to stop them while I stayed there with my dad; he still was quiet and a bit numb. I guess they both were… cursed?
Were those things I'd been able to do since I reached my 5 years… magic? Well… Magic seemed like the only logical explanation.
I went to see them a few more times since that day. Father would somehow go back to his numbness and take me there even though mum tried without success to keep me home.
Since the day I had to start hiding my left arm from the public eye, even as a baby, my house was a total mess! My parents got divorced a few weeks after my 5th birthday. But still my father would pop in time to time for some months to pick me up and take me to a place where one of his partners would come and take us to the place of meeting. I learned I had to call them "followers" but I was too scared to even speak. My parents were told to call
him
by one out of few nicknames. It seems every time someone says any
he
grows more with power, even though
he's
gone now! Or so they all say. In the meetings they talked murders and plans of conquer I didn't really understood because I was way too little and father wouldn't talk much about it with mum. I just nodded from now and then when he asked if I agreed… Like that was going to change something! My guess is he would do it just to mock at me. I was just a two year old baby, for Christ sake!!!
I think my way of staying away from that business –and to avoid looking at some certain snake- was focus on my baby thoughts… What I remember from my dreams is just looking at an empty spot wishing I was playing with my dolls. Aside from that, I've only read my dad's diary notes about what came back from his mind blanks and heard what my mum had to tell me. It's just all a blur! I didn't have much choice either way! And I only got out of my own mind in a jump when I was asked: "Little Lisa, What do you say?"
From all those hooded men sitting around that granite table I only got along –if you can call it so- with one of them: a tall man, black deep eyes, greasy hair just as black as his eyes, always wearing black robes, hard expression on his face but in my memories and dreams it seems he was a nice man. His name is Severus Snape. He was always the one who took us from the spot where my father would come to meet him to the hall with all the others. He only wore the mask once we were inside the room. I'm guessing that's why I came to trust him.
By the second time we met, I read he told us we shouldn't be so afraid, that nothing was going to happen to me and by the third time he'd told me I could call him Severus, although my scared self only dared to call him Mr. Snape. I suppose my terrified little face and my words of "I want to go back with my mummy" did some kind of work in him. I also know father would hold me until we got to the place in which he'd leave me with Mr. Snape and then he'd take me by the hand and make me sit next to him. He was the only one who would take us from anywhere to their place.
I think father's blur was eased when Mr. Snape was near because most of the diary notes showed more details there than any of the others situations and, that helped me remember how we would talk about "brewing potions" to entertain me and he would stand up in front of any of the oh-so-called-followers –specially a messy-haired woman- if they tried to joke on me.
All of this started around March, about a month after my birthday on February 9th and, it all stopped when I was already 3 years old. On the morning of July 31st, Mr. Snape came home to tell mum to hide me. Demanding her to keep me safe, to hide me and most importantly to don't go out until he came to tell us we could do it. Mum arranged the house so it would look like it was empty for quite long time and she had taken most of the kitchen stuff down to the basement along with a small bed where we both could sleep. We hid for about a week; in our small basement there were no ways to look outside, all we had to connect with the outside world was a very small television and a very old radio mum would turn on once a day. At the end of that week we didn't see Mr. Snape, instead we got a letter from him, carried by an owl, telling us everything was going to be alright and we were allowed to come out. Mum still keeps the letter:
"Mrs. A. Sinclair,
Everything is coming to an end now. You can come out of your hiding place and back to your house. Still, be very careful.
I wish you both the best,
S. Snape
PS: I wonder if you would let me visit you from time to time to make sure Lisa is fine."
He indeed has come every other month but I'm usually at school and he wouldn't stay too long unless it's a weekend and we three sit to talk about how mum and I are getting along while we drink tea. It's been like that for nearly 9 years now, and he watches the weird –or magical- things I suddenly do. I've learned how to pull up some small tricks, although almost all the times I don't do them voluntarily and it has even caused me some trouble in school. Oh, and yes. I still cover my left arm. The mark is almost all faded by now, almost invisible, but I don't want to take any risks at that thing showing up again; plus, since I've wore them since I was two years old, I've got used to the long sleeves and arm warmers.
I guess some people will look at me like a freak even if I were their daughter. But mum didn't do a thing that wasn't meant to be done for my own good. She would let me go to their meetings when I had to only because she didn't know how those men will react if she kept me away. I would only burst in cry once I was with her but she guessed that was the shock, she also came to trust someone in there was watching over me since I never got hurt, and that was Mr. Snape for her.
For this past 9 years she has raised me like any other girl. Yes. I have special abilities but she accepts that as a part of who I am. My guess is Mr. Snape explained it all to her. He actually has been always there for us.
Today is my 12th birthday. Earlier this morning, right after finishing my breakfast; mum ran to me in tears followed by an old man with a long white beard wearing a night blue cape and with a letter in his hand. I was puzzled at the moment and then even more when I saw Mr. Snape walking in behind them. What was all that? Why was my mom crying? I didn't know Mr. Snape was coming today! Was that old man another of his little friends? The old man was about to start talking when my mom fell to my lap saying what seemed to be an apology mixed with words about father, things I couldn't understand. Oh! I should tell you, my father died 7 years ago. I believe he died in their hands, the 'followers' of the one called The Dark Lord. Everyone tried to tell me it was an accident in his job but I've just always known it was far from being any real-world situation.
Anyway, my mom was red and in tears. The old man tried to comfort her but my mom was no easy woman when it came to her feelings and decisions. She finally sat in front of me, I could see the old man going behind her and Mr. Snape coming to my side and putting a hand on my shoulder and making a gesture with his eyes when I tried to ask him what was happening.
"Sweetie… Lisa… You… I'm so sorry… You're a… a w-witch… I'm-"
I tried to calm mum but her words were cut off by the old man who looked down at me with blue eyes that made me feel like he was scanning my soul, seeing all the surprise I had for this moment.
"Hello Melissa. My name is Albus Dumbledore. I believe you already know professor Snape."
–This man would talk very kindly but only taking his look away from me to point at Mr. Snape or mum.
"Professor?"
-I asked. Mr. Snape never told us, or at least me, what his actual job was.
"Yes, we work together at Hogwarts School of Witchcraft and Wizardry. You were accepted as a student a year ago on your 11th birthday."
"
No! I will do that!
" –Interrupted my mom. She wiped off her tears and took a deep breath before looking at me and saying: "
Darling, last year you got a letter of acceptance for Hogwarts School
". -She was having a hard time putting herself together but she went on taking a deep breath at the end of each sentence- "
But I answered it by saying you weren't going to go there because I did not want you to go through all those things we have managed to leave in the past somehow… But this man has convinced me, along with Severus that you can't deny what you… what you are and that if we actually feel uncomfortable by you going there… He has agreed of homeschooling you while we get the hang of it. Just a few classes… Umm the one with…
" –She raised her look at Mr. Snape, pointing at him, searching the words inside her head, so he turned to me looking straight at my eyes, and started talking with a soft but firm voice.
"
Lisa, you are a witch. You have always been and you need to learn a few things about it. A few professors, me included, will come here some week days, but mostly weekends to teach you those things. The classes will be Transfiguration with Professor McGonagall, Charms with Professor Flitwick, Potions class with me and finally you'll get flying lessons with Madame Hooch once a month for the first year, then they will change for different ones and, others will continue.
"
He starred down at me waiting for my answer. I was just staring back at him, still kind of spotless but at the same time seeing some sense in all those words. After a few seconds I said what started as a low "
Ok… I will
" but I got cut off by a fear and that terrifying feeling that I haven't felt since I was just that little girl, a fear that comes back only in dreams. All my mouth could bare was "
Will it all be back?
" and just as that my eyes got watered but I didn't cry. Mr. Snape started telling me that it had nothing to do with "all that" and what they were going to start teaching me would actually help me deal with everything. He was followed by the old man, I mean, Professor Dumbledore. Who ensured me there was nothing bad about me or my classes, and I'm guessing he looked at the question inside my head because the next thing he said is that I would have my answers when the time was right.
To finish I'll say that still I am rather puzzled and filled with fear and I have my head full of questions, answers objections and their words of consolation! It's almost midnight now. Professor Dumbledore and Professor Snape –I guess now I should call him that- stayed to sing happy birthday to me and they left like an hour ago. We had a good time listening to the wicked magic tales they had to tell and somehow now I'm looking forward to that, because so far, during this long 9 years, no one ever brought the subject up –a real full explained reason- about me doing the things I do; why I am like that or anything related to it.
I guess now I'll find the road to the right answers and I'll learn to leave my fears behind me. Oh! I'll still go to "muggle" school as they call it. I said I didn't want to quit that but it will only be for a few more years.
---
EDITED AS OF 11/5/2012


Thank you for reading it!!! Please leave a review! Whether you liked it or not, I'd appreciate your opinion! =) Also, I took this away from the summary in the editing so I'll put it again here: Thanks to LunaLuver for somehow dragging me to the site and to write my fics by reading her own awesome stories! And to Caomoyl for helping me in my way through the site!
:* see you in the next chapter!!
---
---
Favorite&nbsp|Reading List&nbsp|Currently Reading
You must be logged in to post a review on this story.

---
Other Similar Stories

Emma Steele ...
by mo1301


Until I Fall...
by freespiri...


Here I Stand
by acatnamed...