A/N: This is for Puygmepuffgal Teen Pregnancy Challenge.
I know Lucy is supposed to be a little older than Scorpius, but that is different to fit the story.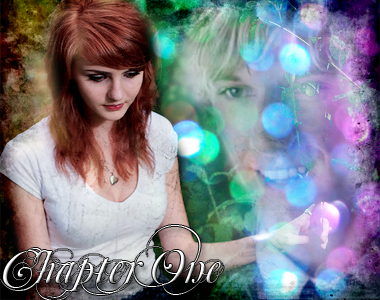 Chapter One
"I love the way your shampoo smells." A deep voice said through my hair followed by a yawn. I felt the bed shift and I could tell he had rolled over on his back. I didn't want to open my eyes. I knew once I did I would have to face the day. The last day of summer break. Today I would be off to Hogwarts and it would be harder for Scorpius and I to have moments like this.
So, without opening my eyes, I roll over and find his, resting my head on his chest.
"Lucy," he groaned. "We can't lay here. We have to get up. If my dad catches you in here we will be in big trouble."
I sighed, now opening my eyes. He was right of course. I sat up, running a hand through my crimson hair, scanning the floor for my knickers. I didn't see them and grumbled, knowing I would have to get up to find them. I hated standing naked in front of him in the daylight.
Taking the sheet with me, I stepped off the bed.
"Oh no, Luc, I wasn't covering up with that or anything." Scorpius retaliated sarcastically. I laughed. I walked around the bed, finding all my other clothing items, but my knickers. I couldn't leave them here. That would be suicide. I picked up a pair of his trousers on the floor and threw them at him, picking up my pink knickers that were under them. I shook my head.
"Do you not watch where you put things?" I asked, turning my back toward him I finally let the sheet fall to the floor and began to get dressed. I heard him chuckle a bit behind me.
"I was a bit busy trying to figure out how that damn bra clasped to worry too much about where my trousers landed, love." He replied, a hint of sarcasm still in his voice.
I turned toward him as I pulled my white skirt up. To this day, after all the years I have known him, he still takes my breath away. He was the spiting image of perfection. His hair always seemed to be perfect, even known in its blonde mess, strung out over his face; though somehow not hading his shining blue eyes. His face was smooth and flawless. It made me wonder what he saw in me sometimes.
"Today is a big day." He started as he grabbed his pants and pulled them on. He stood up and walked toward me, taking me in his arms. This is always how I knew it was time for me to go. "Sixth year."
I sighed, hugging him back. I didn't know what to say to that.
"Well, I guess you should go." He finally said after a minute. He took a step back and kissed me on the forehead. "I will see you later on the train."
"Bye." I nodded and started toward the window. I had climbed in and out of this window more times than I could count this summer. It was really depressing knowing this would be the last time I did so.
Sneaking out I took a glance back at the Malfoy manor. I bet it was beautiful in the daylight. I would never know thought. It was always the dead of night and early morning when I came and left. It had to be that way.
Jogging through the familiar woods, I could see the sun peaking through the clouds. This is my cue to pick up speed. Molly would be waking up soon and I couldn't deal with her questions today.
It was a ten minute jog through the thick woods from the Malfoy manor to my home. It was now routine. Thankfully Molly and my room was on the first floor, so I didn't have to climb any trees to get in. I slipped in and was going to slip out of the room and into the bathroom, but I noticed something that made me stop in my tracks. Molly's bed was empty. I sighed, knowing this wasn't good. I just hoped she hadn't woken up dad.
"Lucy?" I heard her voice ask as the door opened. My twin sister stepped into the room looking at me confused. I sighed, not really knowing what I was going to say. "Lucy, where have you been?"
"I just went for a walk..." I made up, hoping she believed it.
"Since one o'clock?" She questioned, folding her arms. "Lucy, you never lie to me..."
"Molly," I whined. "I can't deal with this right now. I need some sleep before I have to get up and go to Hogwarts. Just don't tell dad."
"How can you expect me to do that, Lucy?" Molly replies, just now beginning to sound mad. "You haven't told me where you go all summer. I am worried about you."
"I am fine, Molly. I just can't tell you where I would go. Trust me, It would cause more trouble than it is worth."
"Lucy..." Molly trailed off, but I knew now by the tone of her voice that I was safe. She wasn't going to say aything. "Let's just go back to bed..." She trailed off, walking toward her bed. I smiled, happy that I had won. I quickly changed and climbed into bed, knowing I only had a hour and a half to sleep before it was off to Hogwarts.
"LUCY ANN WEASLEY! IF YOU DON'T GET UP RIGHT NOW YOU ARE STAYING HERE AND GOING TO MUGGLE SCHOOL!" I heard my mum yell up the stairs. I groaned. Life isn't fair. I thought as I rolled out of bed. She was right, though. I did have to get moving. Otherwise I would be going to school in my pjs.
"Ginny will be here soon to get you. Eat your breakfast." My mother snapped at me when I did come down stairs. Mother was always like this when it was time to send us back to school. I never understood why. Although Mother was always uptight. I loved being with Aunt Ginny. She was the complete opposite of my mother and father. They were both uptight and didn't like fun very much. Aunt Ginny and Uncle Harry loved fun. Molly and I love going to their house. It's always a ton of fun.
The rest of breakfast went silently. Molly wasn't talking to me. On one hand I didn't blame her. If she had been lying to me I would be the same way. Though, I wasn't about to tell her.
Aunt Ginny congratulated me on getting Gryffindor Prefect, which made Molly and Rose grumble a bit. I just laughed, knowing I deserved it. Otherwise the headmaster wouldn't have given it to me.
The train station was busy as it always was on this day every year. Nervous first years, overly anxious seventh years and all in between.
"Here we are." Aunt Ginny annouces. "Platform nine and three-quaters."
"We know, Mum. You don't have to tell us. We can see." Albus rolled his eyes. Ever since he had been sorted into Slytherin he hadn't gotten a cocky attitude. Aunt Ginny and him fought all the time. She says that he needed to stop hanging out the Scorpius. He was a bad influence. Though she had the Scorpius talk with most of her kids. Guess Weasleys were just drawn to him.
"Albus..." Aunt Ginny began to fume, but bit her tongue. My guess was she didn't want any bad words when we all were about to leave.
"Mum..." Albus shot back and laughed. "Now she is going to go tell dad." Albus told Rose and I and looked back at his mother. It disgusted me how little respect he had for Ginny. I didn't care what she said, that isn't something he picked up from Scorpius. If there was one thing Scorpius loved in this world it was his mother.
Aunt Ginny looked as if she were going to explode. I felt bad, but didn't voice my opinion. Albus was right, though. She would tell Uncle Harry when he got home and he would take care of Albus. Even if that meant coming all the way to Hogwarts to do so.
"Everyone go on through.Albus, you first." Aunt Ginny pushed us forward. Albus smirked as he ran his cart through. Everyone else ran through, leaving Aunt Ginny and me alone.
"Aunt Ginny, don't worry about Albus." I tried to comfort her. "He is just going through a phase."
"Thank you, Lucy," She tried to force a smile. I hated to think that Albus was probably the reason for the wrinkles that dented her face. "I really hope you are right."
"No worries, I am." I smiled at her and hugged her. "I will see you on Holiday."
"Can't wait. And congratulations again on Prefect. You will have a lot of fun."
"Thank you. Give Uncle Harry a hug and kiss for me. Bye." I waved as I took off with my cart through the wall.
This is where my year begins. I thought as I looked up at the massive train.
"Come on, Lucy!" Molly yelled. I hurried to put away my luggage and find my way to the compartment to spend some time with my friends before I had to go to the prefect compartment.
I walked down the hall, looking in each compartment. Finally I found Rose and Cindy sitting by themselves. I opened the door and smiled. Molly usually stuck with Lily, which I didn't mind. For some reason Lily didn't care for me too much.
"Hi!" Cindy greeted me. She was always hyper and excited. I smiled and nodded as I took my seat beside her.
We were deep in conversation about our summers when we were interrupted by the same blonde headed male I had left in bed this morning. I smiled at his beauty.
"Ladies," I nodded toward her. "Hey, Love, missed you." He said as he leaned down and kissed Rose and then sitting down beside her, throwing an arm around her. Rose smiled and cuddled up next to him.
I sat there, zoned out to the rest of the conversation. I usually did this when I had to sit with Scorpius and Rose. The only thing I could think about was how unfair it was. Why didn't he just leave her for me? Though I knew that would never happen.
Not being able to take it anymore, I got up, leaving the compartment without a word. I guess I would just show up to the prefect meeting early.