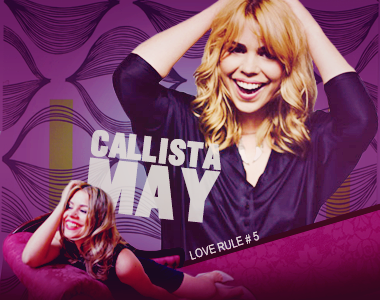 Chapter image by inspector.
Love rule #5 - Don't play hard to get, be hard to get

A few hours after Albus asked his favour, the party was all set up and ready to go.
A word of warning – this chapter plays out like an episode from one of my favourite old muggle shows, Gossip Girl. And I was at the centre of
everything.


It was a night that was meant to be brilliant, but it turned out to be the complete opposite. This is the night that I pinpoint the start of all our friendship problems on, because everything bad that you're about to read just continued to escalate into one huge, horrible mess.
Everything started out fabulously. The girls came to help set up and get ready, and we got changed with the help of a few whiskeys. I was forced into a pair of heels and a lovely dress by the girls, and my hair was straightened and smoothed and glossed and then curled.
The common room looked amazing, with dim lighting, low tables and little alcoves in all of the corners.
I told Callie and Sophie about how the date went, and that I didn't want things with Jake to progress any further. It just didn't feel right - when I kissed him at Hogsmeade, it felt like kissing my brother. Not that I've ever kissed Hugo like that, don't be weird.
It's just a metaphor!
"Too bad you kissed him!" Sophie said with a shriek of laughter. To my surprise, Callie seemed quite undaunted by the fact we were talking about her brother. The conversation had turned, of course, to boys. I did my best to steer them away from it, but to no avail.
"I think tonight is the night that I tell Albus," Callie said, all dreamy eyed. My heart skipped a beat in dread, suddenly remembering my conversation with Albus from that afternoon. My cousin was stupid, but surely not that stupid?
"Freddie is coming, right?" Sophie asked me hopefully, and I nodded at the risk of poking myself in the eye with eyeliner and becoming permanently blind.
"Oh, and Rose, I hope it's alright – we told Scorp that it was okay to bring Loretta."
Oh Merlin, no. She was the type of person who would use this party to blackmail me. Just fabulous. Of course I couldn't say anything - the damage had been done after all - so I kept my mouth shut.
An hour or two later, lots of photos, several more firewhiskeys and many giggles, the party was in full swing. The silencing spells seemed to be working, because so far no one had come to see what all of the noise was about.
The room was packed, and everyone had a drink in hand. I saw Malfoy in one corner with a very drunk Big Boob Bimbo once again hanging off him. I put the sinking feeling in my stomach down to disappointment. I thought that my fellow head student had better judgement than that.
Callie - strong, independent, man eating Callie! - was following Albus around unconsciously, and Sophie was dancing with Fred - go girl!
I was standing at a table talking to Anna Hart and a few other girls, when I saw Jake threading through the crowd to get to me.
"Uh oh," I muttered, "Quick, stand in front of me!" I begged Anna. Imogen Brown, a sixth year Hufflepuff, giggled.
"I bet you're fighting the boys off you now you look so hot, Rose."
The others nodded in agreement, and before I could ask what they were talking about, Jake popped up beside the group. Of course, being the huge freaking coward I am, I turned away, grabbed Hugo from nearby and dragged him onto the dance floor.
Thank Merlin for convenient brothers. He grinned at me and rolled his eyes, before twirling me in time to the music. For a sixteen year old, he was a surprisingly good dancer.
I giggled, and for a little while just enjoyed the company of good music and my little brother. Then, over Hugo's shoulder, I saw Albus dragging Callie towards one of the quieter alcoves, Callie wearing a look of pure happiness. No no no.
"It's been lovely, little brother, but now I have to go and save someone from certain heartbreak," I told him dramatically, and pushed through the crowd to get to my best friend and my cousin.
But it was too late.
I couldn't burst in and tell Albus why he couldn't ask Callie for help because I'd give her secret away. I slid down the wall behind a plant, and listened unseen to the conversation happening in the alcove.
"And so I was wondering if maybe you…" Albus was saying slowly, and I heard Callie's indrawn breath. They both sounded tipsy, and I rested my head in my arms.
"Yes?" she asked breathlessly.
"I was wondering if you could pretend to be my girlfriend to make Sophie jealous and want to be with me, because I
really
like Sophie and you're such a lovely person that I was sure you'd say yes."
Poor, poor Callie and stupid, tactless Albus. And yet, I didn't hear the slap that I was expecting, or the tears.
"I'd do anything for you Albus, of course I will."
Oh sweet Merlin, why would you do this to me? Callie was so lovestruck that I wasn't sure if she even knew what she was agreeing to.
On second thoughts – "What will I be expected to do? Just pretend in public, or keep up the charade the whole time just in case?"
When she put it like that, she sounded no better than a whore. Not to be mean or anything, but really. She's a modern, young witch – why do such an awful thing to yourself? Feminism has come so far, damnit!
Just when I had made up my mind to barge in there, I sensed someone standing above me. I looked up to see Jake with a firewhiskey in his hand and a drunken grin on his face. He ruffled my carefully made up hair, and I refrained from breaking his fingers.
What did he think I was, a dog or something?
"
There
you are, my beautiful Rose!" he boomed, and I winced. Great. Now I couldn't save Callie. Jake hoisted me to my feet and went to kiss me, but I dodged it.
"Jake, what are you
doing
?" I snapped, and he looked hurt.
"You seemed eager enough this afternoon! And besides, I wanted to ask you something. Will you be my girl-"
I wrenched my hand from his before he could finish the sentence and stepped out from the shadowy corner, only to crash into Malfoy.
He was chivalrous, I'll give you that. Didn't even say anything as he helped me to my feet and surveyed Jake following behind me with his shirt untucked and my hair dishevelled. Malfoy and I both knew what it looked like Jake and me had been doing, and I could have screamed.
"Why do you keep playing hard to get, Rose? I've already got you, babe. Anyway, as I was saying, you're a great snogger and do you want to be my girlfriend?" Jake continued like we hadn't been interrupted.
Malfoy raised his eyebrow, let go of my hand and melted into the crowd.
"I'M NOT A HUSSY!" I wanted to yell after him. I opened my mouth to tell Jake no, but as I did so, an over-enthusiastic party goer screamed out, "Yes!"
Jake's face lit up, and he didn't seem to hear the rest of the sentence ("Yes! I'm the King of the Cup!"). He gathered me into a huge bear hug and managed to slop whiskey all down his shirt.
"Aw, crap. Oh Rose, you're the best. Oh, this sucks, I need to go clean up. Yay I'm so happy!" And with that, he, too, disappeared into the crowd. Shit shit shit. Where was Sophie? She'd know what to do.
I found her sitting in a different corner, downing drink after drink after drink.
"Soph, what the hell are you doing!" I cried, prying a bottle from her hands. She gave a hiccup, and tears began pouring down her face. With a shaking hand, she pointed to the dance floor. I didn't see anything out of the ordinary.
Teenagers with drinks, couples dancing, Freddie snogging Anna and – oh. Right.
"Oh honey," I sighed, and gathered her into a hug.
"I just –hic!- want him to –hic!- like me!" She burst into genuine sobs on my shoulder, and I pulled her to her feet.
Taking her up to my room, I put her on the bed, took her shoes off and conjured some water.
"Go to sleep, sweet pea. It'll be like you never even saw it."
I was about to feel bad for just abandoning her there, until I realised she was already passed out and not even listening to what I was saying. Merlin, how long had she been drinking for before I found her?
With another sigh, I shut the door gently and began to walk down the stairs when Malfoy started running up them. He stopped and sneered at me slightly.
"What's the holdup, babe?" I heard the most awful voice the world say, and Loretta O'Walsh's ugly mug appeared from behind Malfoy.
I snorted and stepped aside. If it weren't for the fact that I have great hearing, I would have thought that I'd imagined the "It doesn't feel good, does it?" from Malfoy as he slipped past with O'Walsh in tow.
And he was right. Seeing them going upstairs, for some reason, didn't make me feel good at all. Why do I want to kick a puppy every time I see Malfoy, and why do I feel worse than usual right now?
Right, just so we're all on the same page:
1. Malfoy and enemy number two (Malfoy is number one) are hooking up
2. Callie is so in love with Albus that she's pretending to be his girlfriend to help him get Sophie.
3. Sophie just got her heart broken by the boy who doesn't even know she likes him
4. Jake is under the impression that we're an item
5. Malfoy thinks I'm a skank
6. Fred is so oblivious to the world it's not even funny
7. I'm currently watching my little brother hook up with a girl in his year GROSS HUGO WHAT ARE YOU DOING, I CAN SEE YOU!
I was about to storm down the stairs and shake my little brother until his teeth fell out (girls are a bad idea, plus he was way too young), when, suddenly, I just gave up.
My stomach gave a lurch because I'd hardly eaten all day, and when someone passed me a whiskey I took it gratefully. Probably not the greatest idea to drink on an empty stomach, but it was way too late now.
I could see Albus and Callie dancing together – Callie looked unsure but happy, and Albus was simply looking - for Sophie I assumed.
With a sigh, I sat down on the stairs and watched the crowd full of my happy friends, leaning my head against the wall. Someone brushed passed me forcefully, and I was surprised to see Big Boob Bimbo running down the stairs and out the door in tears.
Thank
Merlin
I wouldn't have to go to bed thinking that she was in the room across the hall doing you-know-what with you-know-who. Someone sat down next to me and I turned bleary eyes on Malfoy. I was actually relieved to see him – he already had such a low opinion of me that I didn't have to even need to bother to talk to him. He had other ideas however.
"Interesting night, hey?" he asked, rubbing his eyes. His arm was so close to my bare shoulder that I could feel the heat coming off his skin.
"Pretty much," I muttered.
"Kinda crappy night, hey?" he continued and I couldn't help but laugh a shrilly, over-wrought laugh. "Yep, pretty much."
I burst into tears.
**
The next morning at breakfast, those who made it down alive were raving on about how it was the best Hogwarts party thus far; everyone but myself, Sophie and Malfoy.
Sophie's eyes were still puffy and red, and she didn't say a word even when Fred sat down beside her. I poured her a coffee and piled comfort food onto her plate – waffles, cream, and syrup. All the things I wanted to eat but wouldn't let myself.
She dug in gratefully, and I turned away in time to hear a rather pale, hung over Albus boast, "Well I'm going to host a Halloween party ten times better at the end of the month."
Great, another night for a million things to go wrong.
"And," he continued, "My gorgeous girlfriend is going to help me plan it!"
Callie was walking past as he said it, and she turned bright red as he pulled her onto his lap and planted a loud kiss on her lips. Speaking of snogging…
"Hi, Rose," Jake said, squeezing in between me and Sophie and wrapping an uninvited arm around my waist. Sophie almost spat her coffee out. None of us had actually managed to catch up on the events of last night, so I was the only one who knew all of what was going on – I fully expected a Spanish Inquisition on my bed later on in the day.
I glanced at Malfoy just as he ducked his head to hide a grin, and I almost smiled myself. How could everything be so fucked up?
A few seconds later Malfoy did catch my eye, and we both couldn't help but laugh out loud. Yes it was Malfoy, and yes we were being chummy, but don't be shocked. We bonded over a terrible shared party experience last night.
Don't worry though, that's the only thing we're chummy about. With all other aspects in life, I still greatly dislike him.
"Erm, hi Jake," I finally muttered, desperately trying to think of a reason to leave.
Unfortunately, in light of my date and the party last night, I'd worked hard on my school work so I wouldn't have to worry about it today. Maybe I could go to the gym, or go for a run in the woods. I knew some great back trails that no one else knew of…
"And I had a great time last night, by the way. I was wondering if you want to go for a walk or something later?" Jake was asking, starting at me adoringly. Crap it all.
"Yeah, sure," I said tonelessly. What a mess it all was.
"Oh Albus, you're so funny," Callie suddenly and loudly gushed, looking across the table pointedly at Sophie. Soph just raised her brows and went back to her waffles. The awkwardness mounted at the table until I couldn't stand it any longer.
"Well!" Malfoy and I suddenly said in unison, pushing back our chairs. We blinked at each other in surprise.
"Erm, well, I'm going to go," I continued.
"Yeah, me too," Malfoy said. No one was even listening to us. I shrugged and walked towards the doors, planning on going back to bed. The common room was already clean, thanks to the wonder that is magic. I knew Malfoy was behind me on the way back to the dorm, but didn't turn around. There would be time enough to be tortured by him at the head's meeting later tonight.
Reaching our dormitory, I said the password and held the door open for him.
"Thanks," he nodded. I nodded back. Could it be any more awkward between us?
"Rose, wait up! What are you doing today? What about our walk?" I heard Jake's footsteps and stopped myself from groaning. Apparently it
could
get more awkward.
"Rose! There you are. What are you – uh what are you doing with Scorpius?" he asked, stepping into the common room and frowning.
"Well, we do
live
together," I said slowly, and Jake's lips tightened.
"Of course you do. Well, Scorp, Rose and I have plans for today," he said, looking straight at Malfoy. There was a silence. We were all standing in an awful little circle with nothing to say to each other.
"Er – cool? What's your point?" Malfoy asked, and I could tell he was feigning puzzlement to make me feel even more awkward. What a prat. What an idiot. Malfoy is a pratiot.
"Well, can you
leave
?" Jake asked, and I opened my mouth to tell him to bugger off and not be so rude, but Malfoy beat me to it.
"Actually, Jake, it's my common room that I share with Rose. If you want time alone,
you
are going to have to leave."
And with that, he sat down on a lounge and opened a book.
"Fine! Let's go, Rose," he snapped, and I stared at him in amazement. Why was he bossing me around? Like I was going to let him be a prat.
"No, that's okay Jake. I'm just going to go back to bed for a bit." I pushed him gently through the door and shut it in his face. I know it was bitchy, but I had a splitting headache and didn't want to talk to anyone, especially a boy who was under the impression that we were an item.
"Oi, let me back in! Rose!" Jake was banging on the door, and I rolled my eyes.
"Such a lovely couple," Malfoy commented from behind his book.
"Shut it, Malfoy, or I'll stick that book somewhere unpleasant," I snapped, stomping up to my room and slamming the door shut.
Stupid, freaking boys.