Disclaimer: Funny, I don't recall having written seven novels.

A/N: In this chapter: Results of the Quidditch match, some people act
rash, and Harry (finally!) discovers some facts.
What do you think of everything so far? Any dastardly wonderful conspiracy theories involving Harry, Nikkus, or a jar of nutella? (Alright, maybe not that last one. Maybe.)
All reviews are adored. ♥
---
CHAPTER THE SEVENTH:
RUNNING OUT OF TIME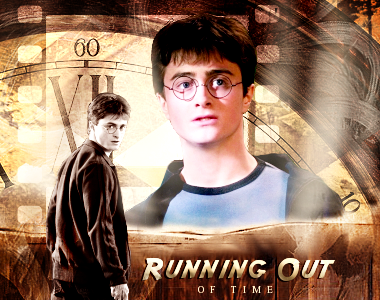 ○ • ○ • ○ • ○
Lily bit her lip again. Somehow, in the time spanning her argument with James and the Quidditch match, she and Sirius had become friends. Sort of. If friends were people who annoyed you but you still had to grudgingly tolerate them anyway, then Sirius was the epitome of a great friend: he had the annoying part down pat. All throughout lunch, after Gryffindor's victorious Quidditch game, Sirius had been giving her meaningful looks which morphed into glares after she continuously ignored him. Now, though, Lily had come to terms with the fact that it was inevitable: she was going to have to apologize to James Potter, and if it were down to Sirius, it was going to be sooner rather than later.
Mustering up her courage (It wasn't that hard, she supposed, she wasn't a Gryffindor for nothing) and throwing her dignity and pride temporarily out the window, Lily slowly made her way over to where the Marauders were animatedly planning the victory party to take place in the common room the next evening. Believe it or not, James had actually cleared it with McGonagall this time, as Remus had informed her with relief. Apparently McGonagall had reluctantly agreed with James's reasoning that the students needed a morale boost in these bleak times, as long as no Firewhiskey and breaking of curfew rules would be involved. Lily had been pleasantly surprised.
As she approached, James, who had been drawing a messy diagram at how the common room should be decorated, stiffened and became silent, as if sensing her presence. Lily sighed. He was going to make this difficult for her, wasn't he? A taste of her own medicine. Lily cleared her throat. "Er…James?"
James made no response, and Lily shifted on her foot nervously. Lily couldn't fathom why exactly she was nervous; it was only two simple words that she had to say, two simple words that could be over and done with in a matter of minutes. And yet she felt that a hasty apology wouldn't suffice; once she started something she had to do it all the way or not at all. She had to apologize not only for this incident but for all those past years where her behavior was out of line. Lily didn't know why, but at that moment she only had one goal: she was going to get James Potter to forgive her. She looked past James, who was sitting, to Remus, Sirius, and Harry, who gave her their best attempts at encouraging smiles (Sirius's looked rather creepy) and Peter, who looked giddy, from the exciting victory over Slytherin or the prospect of her embarrassment, she didn't know. Lily tried again. "…James?"
James turned around to stare at her stonily. "Yes, Evans?" he asked, his voice laced with ice. Lily winced. "You know, if this is about the party, we already have Professor McGonagall's permission. I thought Remus ran that by you."
"Yeah, I know. It's not about that. I wanted to—"
"Come over here to yell at me some more? Wait for me to ask you out again so you could heartlessly reject me? Is Lily Evans's day not complete until she completely crushes James Potter?" James cut her off bitterly and looked away. Lily recoiled at his words, each syllable a shard of ice penetrating her skin. Surely his opinion of her wasn't that low?
Remus cleared his throat. "Maybe we should leave. Continue planning in the dorm…" He stood up hastily and pulled Sirius and Peter with him, Harry scrambling up as well.
"No that's alright, you guys stay. We'll talk outside," James said through gritted teeth, and swiftly walked towards the portrait hole.
Lily grimaced, and Sirius gave her a consoling pat on the back. "Don't worry, he'll eventually forgive you. He always does, you know. He can't stay mad at you."
Lily nodded and went outside, where James was leaning against the wall, his arms crossed. "So what was it that you wanted again?" His eyes bored holes on the opposite wall; he was seemingly determined to look at anything except her. The fat lady, who was drinking celebratory rum with her friend Violet, eyed them with mild interest.
"Iwantedtoapologize." Lily's words came out in a tumble.
"…Because really, I don't have time for mind games anymore… I'm sorry?"
"No, I am. I'm sorry, Pot—James."
James blinked at her. "What?"
Lily took a deep breath. "I'm sorry for all those years I yelled at you—though most of the time you really deserved it—and for being that mean while turning you down—but I didn't want a relationship and was trying to throw you off, and you really get on my nerves sometimes, you know?—and especially for blowing up at you the other day—but in my excuse I had a terrible day and you were being your usual pratty self. So, er, sorry for all that." Lily looked up expectantly. James's face was a cross between anger and amusement, which made him look constipated. She let out a laugh.
"Are you… laughing at me?"
"You should've seen your face!" Lily gasped out between giggles.
James shook his head. "I think this is officially the worst apology ever."
Lily shrugged. "I was never good at that."
"And I'm sorry, too. For the other day."
"Eh, I probably deserved it."
James raised an eyebrow. "Did Sirius put you up to this?"
"He encouraged me. But I was going to do it sooner or later."
James scoffed.
"Alright, maybe later," Lily amended. "So it's alright then? Truce?"
James shook his head, and she couldn't help but feel disappointed. He suddenly looked up, a gleam in his eye. "Let's start over, yeah? I'm James Potter." He extended his hand.
Lily took it and smiled. "Lily Evans. Nice to meet you."
"You too. And Lily, dear?" James asked innocently.
Lily glared. "You're going to milk this for all it's worth, aren't you?"
"Perhaps." James looked cheeky. "Am I really that intimidating to you when I'm mad?"
"I'm not going to answer that," Lily muttered as James uttered the password. "Oh, and James? Don't think this makes us friends. We're just tolerating each other. As civil classmates and housemates."
"Civil? I can do that." James flashed her a goofy grin before disappearing into the portrait hole, and Lily couldn't help but smile back.
○ • ○ • ○ • ○
Harry squinted at the time travel section skeptically. Medieval Myths about Time Travel, The Invention of Time Turners, Stepping back to the Time of Our Founders… none of them seemed promising. He needed something about the Ministry of Magic and time travel; preferably something about the Department of Mysteries… but who would write about that? The wizards there were called Unspeakables for a reason. Frustrated, Harry sighed. Maybe there was something in the restricted section that might be helpful. He'd need a teacher's permission; perhaps pretend he was James and try to fool Slughorn? Or, well, he could always visit Dumbledore again.
Suddenly, he noticed a bit of movement in the corner of his eye. Turning around, he saw that it was only a fluttering of pages. Upon further examination, he realized that it was a stack of parchment hastily bound into a leather book, perhaps a journal of some sort. Someone must have left it behind in a rush. He frowned. Harry was quite certain there hadn't been anyone sitting at that particular table—the lone table near the time travel section was dusty and seemed to have the average of about one visitor a month at most; most were clustered around the better-lit tables in the front. Though the book was quite plain—small and black, with no lettering on the front, just a strange symbol—for some reason it had perked his curiosity. There was something different about it. He picked up the book walked slowly towards the entrance of the library. Harry found it to be quite old, not likely to belong to anyone here—and the library was quite deserted anyway, with most people heading back to their common rooms, he repeated to reassure himself. Surely it wouldn't hurt to take a look? Perhaps, he might even help find its true owner; what harm could it do? Harry mentally chided himself. Tom Riddle's diary had looked quite harmless, too, and look where that had gotten him. But, the voice inside his head reminded, the book appeared to you, out of all people. Maybe it could provide some answers. Still wavering on whether to open it or not, Harry was disturbed by a cough and a shuffle of feet, and quickly stuffed it into his book bag.
"Hullo, Harry!" came the voice that accompanied the cough, a cheerful one that sounded a lot like Remus. "Up for some studying, huh?"
"Remus! What are you doing here?" Harry quickly reciprocated, slightly startled. Not that it was strange to see Remus in the library, but it was almost after curfew.
"Rounds. I was patrolling the corridor when I happened to see you in here," Remus beamed. Oh right, he was a prefect. "Do you want to me to accompany you to the common room?"
"Sure." Well, he was about to see Dumbledore, but would it be too suspicious for a new student to visit the headmaster's office too many times? Maybe he could borrow the Invisibility cloak and sneak out later…
"So, are you enjoying Hogwarts?" Remus's voice penetrated his thoughts once again.
"It already feels familiar," Harry replied, grinning. That part, at least, was true. Not much about Hogwarts had changed, which was expected—the castle had been here for hundreds of years, after all. Harry had felt immediately at home, even though his real time period was far from his grasp.
"Yeah, its' that feel of Hogwarts," Remus agreed. "It makes you feel like you belong."
Harry looked over and felt a surge of compassion for the werewolf at that moment, seeing the boy who struggled to feel accepted, to fit in with his peers… to belong.
○ • ○ • ○ • ○
James squirmed uncomfortably in his seat across from Sirius in the common room, coughed a bit, stood up and sat back down twice, and ran a hand through his hair at least ten times, all in the span of about five minutes. Sirius would know; he counted.
Sirius sighed and looked up from his Muggle studies assignment (Write at least a foot about the exact function of a rubber duck.) "Alright mate. What's up?"
James cast him a look before answering hurriedly, "Nothing."
Sirius raised an eyebrow. "Alrighty then," he said, adopting the patronizing tone he usually reserved for first years and his annoying little brother, Regulus. Sirius knew James well enough to know that when wanting to wriggle something out of him, one should act like one doesn't care; it drives him nuts.
James stood up and ran a hand through his hair again. He started pacing. "I need to tell you something."
"Well make it quick; I need to finish my essay. Or at least start on it. The clock's ticking."
James shot Sirius a glare, and Sirius gave him his best impersonation of an innocent face. "Sirius, do you believe that strange things can happen?"
Sirius raised an eyebrow. "Do you have amnesia or something? Prongs, we're in a school of magic. Elaborate."
"Like, suppose, theoretically, that you have a son sometime in the future. And he travels back in time to your time period, predicting that you'd someday marry…" James had a dreamy look on his face, which he soon snapped out of. "Er, never mind. This is all theoretical, of course. But suppose that happened. What would you do?"
Sirius sighed. "Is this your way of trying to get over Evans? Make up weird hypothetical situations?"
"No!" James's eyes flickered over to where Lily sat, laughing with her friends. "There's nothing…this doesn't have anything to do with her."
Sirius looked skeptical. "Ri-ight," he said, drawing out the syllables in the same patronizing tone.
"She doesn't even want to be friends, Padfoot." James's voice sounded small and vulnerable.
"Look, mate—"
"But that's not the point. The point is… Oh, screw this. It's true. The hypothetical situation, I mean. It's true and it's happening to me."
Sirius stared at him disbelievingly as he connected the dots. "You're saying that you have a son. That Harry is your son."
"Well, yeah."
Sirius scoffed. "Right. I suppose I'm the godfather or something? And Lily is the mother of your child?"
James scowled. "Yes, I suppose if you put it that way."
"Prongs, you're delusional. I think you've finally cracked, mate." Sirius clucked his tongue in mock-disapproval.
James threw his hands up into the air. "I didn't make this up. Just ask Harry. Or just look at Harry, for that matter. He looks almost exactly like me! You can't deny it; you said so yourself. And you've always been suspicious at his cover story."
"Hmm, Harry isn't here so I'll just ask Lily instead."
James's eyes widened. "No, Sirius. She's just being able to tolerate me, don't ruin it."
Sirius cocked an eyebrow. "I thought you were trying to get over her?"
"I am."
"Then it doesn't matter what she thinks. Hey, Evans!" Sirius shouted towards the window seat where Lily sat, halfway across the common room. "Do you think James here is delusional?"
Lily looked up from her potions essay, slightly surprised to be addressed. She smirked. "What, the guy who has been convincing himself that I'm secretly harboring a passionate love for him ever since third year? No, I don't think he's delusional at all."
James scowled as a few people in the common room laughed. "Padfoot, you know that's not what I meant. Be serious."
Sirius laughed. "I am Sirius." He snorted while James rolled his eyes—that joke was almost as old as Dumbledore. "Okay fine, I'll ask her." His eyes suddenly danced mischievously. "Lily! Sorry to bother you again, but how come you never told me that you and James shagged?"
"What?!" Lily almost fell off her window seat, while James's face had started to oddly resemble a Quaffle.
James glared. "I'm going to join Wormtail up in the dorm," he muttered and disappeared up the staircase.
A few moments later, Sirius watched as the portrait hole opened and Remus and Harry stepped into the common room. He stared intently as they also made their way up the dorm. Harry did look like James, obviously; he had noticed that on the first day. And he had Lily's eyes, and acted like a mixture of both of them. But that was impossible. Harry was their age, or maybe a bit younger; how could he be James's son? It sounded suspicious to him.
The common room soon emptied out, leaving Sirius alone by the fire, lost in his thoughts. His friends were growing up too fast, and Sirius couldn't help but feel left behind.
○ • ○ • ○ • ○
Not being able to help himself, Harry waited until everyone else was asleep before pulling the worn diary out. He drew the curtains around his bed and cast lumos, eagerly cracking open the book… only to be severely disappointed. There was nothing there to read at all—or rather, nothing he could read. The entire book was written in Runes, and having never taken the subject, it was as foreign to him as the concept of Dudley being nice.
Harry scratched his head. Well, the author obviously didn't want anyone to read it. He'd just have to return it then. But Harry had this burning curiosity inside of him. He felt that there was a reason the book was there—and then, just now, it had opened to a page with a diagram of a time turner! Surely that was a sign that there was vital information inside. If only Hermione was here; she would have been able to translate for him immediately. Harry's heart ached for home, for Hermione and Ron and Gryffindor tower as he knew it. He desperately needed to get back, and another visit to Dumbledore was long overdue. Surely James wouldn't mind if he borrowed the cloak for tonight…
Leaping off his bed and making sure to draw his curtains closed, he made his way over to James's, where the boy laid sprawled spread-eagled across his sheets, his hands dangling over the edges of the bed. He looked like he had fallen headfirst in a belly flop on his bed and never bothered to change his position. Harry rolled his eyes and started to look for the cloak. Where was it? Ah, there it was, crumpled on the floor, almost directly under James's left hand. He quickly snatched it, but not before the fabric had brushed James's fingers. With a start, harry quickly stepped back and pulled the cloak over his head, just in the nick of time, for James had sat bolt upright.
"Wha…whozzat?" he mumbled groggily, rubbing his eyes. Harry stood still, not trusting himself to escape without tripping over something and making a noise. James warily looked around, seemed to find the three snoring bodies and the closed curtains around Harry's bed satisfying, and laid back down, drifting back to sleep. Harry sighed in relief and slowly crept outside. James had started to murmur in his sleep, and as he left he thought he could decipher one key word from it all: Lily.
○ • ○ • ○ • ○
Harry quickly mumbled the password and slipped into Dumbledore's office, where the former looked as if he had been expecting him.
"Ah, Harry. Do come in." Dumbledore stood up to greet him, the few rays of moonlight seeping in from the side window bathing him in an eerie silvery glow.
Harry blinked. "Professor," he began hesitantly, running his hand through his hair subconsciously, something that he had picked up from James even after spending only a few days with him. He cleared his throat, deciding not to beat around the bush. "Do you—Could you tell me anything about this book?" He pulled out the leather bound book, and, realizing how suspicious it looked, quickly added, "It's not someone's journal or anything; it appeared to me in the library. And I don't think it belongs to Tom Riddle, either, because it's written in runes. Well, I don't know, actually. Was Voldemort well-versed in runes?" Harry looked a bit thoughtful.
Dumbledore raised an eyebrow, amusement twinkling in his eyes, and reached out to take the book. "Why, I do believe it's the Book of Ayuda," he said simply, after a few seconds of scrutinizing it.
Harry waited patiently for Dumbledore to elaborate, but when the former didn't seem inclined to do anything of the sort, he pressed, "The book of Ayuda?"
"It's a very ancient book, Mr. Potter," Dumbledore explained. "I'm not that surprised that it… appeared to you, you say? Out of thin air?" Upon Harry's nod of confirmation, he continued, "The book, some say, was crafted by Rowena Ravenclaw herself. Ravenclaw, as you may know, loved acquiring and spreading knowledge to those who deserved it; the book was designed to help readers of pure heart and intention. To those who summoned it, thirsting for power, it would just appear blank. It's very mysterious and contains a wealth of knowledge, however. It might take a lifetime to sort through it and find your answer, or it might take a matter of minutes," Dumbledore mused, staring intently at the book. "Am I boring you, Mr. Potter?" His eyes twinkled as he turned his gaze upon Harry, who looked a bit sleepy.
"Er, no, professor," Harry quickly replied and sat up straighter in his chair, now the epitome of attention and awareness.
Dumbledore smiled and continued, "As I was saying, only those of pure intention would be able to read it. Therefore, it may, or may not, contain the answer to your problem, or at the very least the knowledge on how to solve it." He handed the book solemnly back to Harry.
"Do you mean that it might help me travel back home?" Harry asked eagerly, peering at the book in his hands with a renewed interest.
"It might tell you more about that fountain in the Department of Mysteries you fell into," Dumbledore replied calmly.
"How did you know that?" Actually, Harry had almost forgotten about the fountain; it seemed like a logical idea that that might have been the cause, now that he thought about it.
"I know a great many things, Mr. Potter."
Was that a hint of a smirk Harry detected? Nah, he probably imagined it— one of the consequences of spending too much time with the forever-smirking James and Sirius. He decided to change the subject. "But… Suppose that I could be able to use the book. How would I be able to read it? It's completely in Runes."
"Then, of course, you must find someone you trust who's good at Ancient Runes," Dumbledore said before dismissing him.
○ • ○ • ○ • ○
Lily was lying in her bed, wide awake, when she heard a gentle tapping, rapping on her windowsill. She looked up, weak and weary, and recognized Barnaby, one of the school owls that she frequently used to deliver letters home to her family.* But the last letter had arrived only last week; surely it wasn't from them, then? Curious, she opened the window and let him in, collecting the piece of parchment. 'Lily,' it said in a messy scrawl, as if someone was in a rush, 'I need your help. It's urgent! Meet me in the common room as soon as possible. –Harry.'
Lily blinked, and before she could decide whether or not she should come, her hands had already grabbed a sweater and she was halfway out the door. For some reason Lily felt like she would risk anything for this boy she didn't really know, as if he were somehow connected to her. Maybe he wasn't lying when he had claimed to come from the future; maybe he really was her son. Lily didn't really know, the only thing she did know was that she would be doing all she could to help him. Her gut told her she should, and her gut was almost always right.
As she reached the bottom step, she saw a lone figure emerge out of the shadows of the common room and approach her. "Oh," Harry said in relief. "I thought you wouldn't come."
Lily wrapped her sweater tighter around herself. "Well, I wasn't going to just leave you waiting." She walked over and sank into one of the armchairs. "So what is it?"
"It's sort of a long story," Harry answered sheepishly.
Lily glanced at the clock. Well, she wasn't sleepy, anyway. Must have been the excess of caffeine she had consumed earlier. "Start from the beginning. I have time."
Lily listened thoughtfully as Harry explained about the mysterious fountain in the Ministry of Magic, the book he found in the library, and the visit to Dumbledore. "And that's why I need your help," he concluded. "So will you help me?"
Lily fingered the book suspiciously. "Is this really Ravenclaw's book? And are you really—"
"It doesn't matter. Even if you don't believe me, there's no harm in helping me, is there?" Harry cut her off desperately. "Please, Lily, I really need your help."
Lily bit her lip. "Alright then. Let's get cracking. Where do I start? Surely you don't expect me to translate the whole thing."
Once again, Harry looked sheepish. "Well, er, I was just thinking you'd just open to a random page and see if you find anything interesting." He scratched his head. "You know, stuff about time traveling and the Ministry of Magic," he added vaguely.
Lily rolled her eyes and opened to the first page.
Half an hour later, the search had still been fruitless. Ravenclaw apparently believed in filling the people she helped with as much information as possible; the book had detailed time travel starting from Merlin's age to the present. It included the meticulous instructions on the workings of a time turner and several diagrams and illustrations. However, thus far they still hadn't unearthed anything to do with the mysterious fountain. Harry yawned and rubbed his eyes. "Could you skip ahead?"
Lily flipped several pages and her eyes widened. "Harry, is this it?"
Eagerly, Harry clambered over to peer over her shoulder. Depicted on the page was an exact reproduction of the Ministry fountain, along with a short passage. He listened closely as Lily began to translate:
The Fountain of Fortuna, named after the Roman goddess of luck and fortune, was the seventh part of the seven wonders of the ancient magical world. (These are quite different from their Muggle counterparts. For more information about both, see page 217.) Located in a secret garden near Rome, it was thought to be destroyed in the fire during the Roman Emperor Nero's rule. However, recently the Ministry of Magic has uncovered the unharmed fountain, and has transported it back to the Department of Mysteries for further investigation. Not much is known about it, but it seems as if the fountain has a mind of its own, or at least an ethereal being influencing it. The fountain is thought to be able to grant the wishes of the person who steps into its waters, though probably not to the wisher's intention. It is known to induce random time travel...
Lily suddenly stopped reading and looked up at Harry with wide eyes. He motioned for her to continue, which she did, after clearing her throat, "It is known to induce random time travel, the effects of which can become permanent after seven days."
Harry's breath caught in his throat. Seven days… he had been here for two. That means that if he didn't come up with a plan soon, he'd be stuck here. Forever.