[
Printer Friendly Version ] [ Report Abuse ]
Love Rules by bester_jester
Chapter 1 : Love rule #1
| | | |
| --- | --- | --- |
| | Rating: Mature | Chapter Reviews: 15 |
Font:
Background: Font color:
AN - Welcome! Thanks for taking the time to read my little story. Just a heads up that this could prove triggering for anyone who does or who has suffered from any form of an eating disorder. Also, don't forget that you're perfect just the way you are.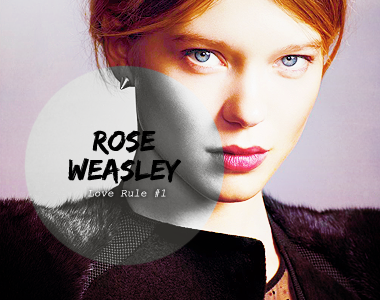 Chapter image by emccentric

Love rule #1 - When in crisis, eat chocolate
Like many teenage girl dilemmas, my problems started with a boy; many boys, to be exact, and their inability to recognise me as a female. However, in their defence, who would have considered me, Rose Weasley, as a potential girlfriend? Bookish, plump girls who read their way through quiddich matches don't often find their way onto many radars.
And truly, take away my bookish qualities and I still certainly don't compare to the beauties of the world. My reddish hair came from my dad, along with my freckles. Fred once drew a quiddich pitch on my arm by connecting my freckles together, and charmed a few of the larger freckles to move about as players. Needless to say that my air-head cousin did his own essays that week. I suppose my larger figure can be attributed to my love of all things chocolate and refusal to leave the library; exercise is an unknown and scary concept to us library-dwellers.
Mum proudly claims my brains as her genetic contribution. She pressures me to perform well in all aspects of my life, and sometimes I feel as if I'm striving for a perfection that I'll never quite grasp. I spend the majority of my time studying and reading, and hiding in the library to avoid a certain blonde someone.
If it weren't for my two best friends, I probably would have turned into a weird recluse who only ever leaves the library for food, classes and perhaps the occasional shower.
We grew up together, the girls and I. Although we first met on the Hogwarts Express as tiny, over-confident first years, it was like we'd known each other since birth. Callie started as a scrawny, snub-nosed rascal, but became magnificent by fourth year. Tall and willowy, with large blue eyes, long dark lashes, a beautiful mane of bright blonde hair, kindness mixed with steely determination and a chaser on the Gryffindor quiddich team.
Sophie, our French beauty, stayed the small and delicate girl that I knew from first year, but grew lumps and bumps in all the right places. Her dark, sparkling eyes betrayed her dreamer personality and hid her wicked temper and tongue, and she practically oozed a beauty and love that made you feel warm inside. Her occasional French accent caused boys to fall over themselves to ask her out on dates.
And me? As the years since first year past, I grew, and I grew bigger. I was completely discontent with my body but in love with my hair that gradually faded from horrible orange to beautiful auburn. I had a brain that could spar with any professor and friends who could help me withstand anything.
It wasn't all books and study for me, though. We had fun. We had adventures. In our third year, we snuck into the boy's dormitory and stuck all, and I mean
all
, of their belongings onto the ceiling, including the dirty clothes on the ground. It was made funnier by the fact Peter Maloney was asleep in his bed when we did it. He got an awful surprise when he woke up.
But in seventh year, life in general went wrong. I messed with the system when I realised that I didn't want to be that bookish, boring Weasley who fixed everyone's essays. We fell in love, and I became so screwy in the head that I barely knew how to get out of bed of a morning.
But there was one person, the only person in the world, who almost made it all worth it.
It was in the summer before seventh year that everything bad started. The girls were determined to help me feel happier in my own skin, and so I became their 'project' for the summer holidays. Which was completely fine; I no longer wished to be Rose Weasley; the girl who graduated Hogwarts with honours in nerd and a future as a cat lady. I wanted to be Rose Weasley; the girl who actually got a first kiss before she graduated Hogwarts and became a cat lady.
Although we three girls didn't live in close proximity outside of Hogwarts, finally being of age and legal to apparate made life easier.
We had been staying at Uncle Bill's old house, Shell Cottage, for a few days at the start of summer. Sophie's family didn't like visitors, Callie's pureblood mum hated me and my 'traitorous blood', and my family didn't have room at home for privacy and space for three best friends.
The day everything started spiralling downwards was stunningly beautiful. A rare blue sky stretched out over the grey ocean, and instead of being in my hand and read, my History of Magic textbook was shading my eyes from the sun.
I remember everything so clearly. You're probably expecting something truly awful – a death eater uprise, one of the girls drowning, a house-destroying earthquake - but it was one small moment, a moment that has probably already been forgotten by anyone who witnessed it. But it was something that changed my life completely, and probably forever.
Callie was stretched out on the sand beside me, her long, bronzed limbs glistening and her blonde hair coated in a fine layer of sand. Her face was hidden behind a
Witch Weekly
–'Loose five kilograms in five days!', 'Fab or drab: Which of these celebrities have let themselves go?' – as she read, and I eyed her toned stomach. Would life be better if I were skinnier?
Sophie was on my other side, her midriff covered by a modest yet lovely one-piece. She was humming to herself and filing her nails; although quite a high achiever at school, she wanted nothing more than to be a beautician post-Hogwarts, and always took particular care of her appearance.
I shifted uncomfortably on my towel and tugged at the hem of my board shorts. Satisfied that nothing too unsightly was showing, I played with the fraying hem of my oversized tee. Was I burning? Mum would kill me if I got too much sun ("You don't need any more freckles, Rose! Put some more sunscreen on!").
"Why don't you take that off?" Sophie suggested, eying my oversized shirt casually. But we all sensed the underlying question: do you really have to be so self-conscious when it's just the three of us?
Truth to tell, I never used to be self-conscious. It was only when the other two started getting dates and I spent more time alone in the library and at dinner that it started. Was everyone staring at me as I scoffed my treacle pudding? Was the Hufflepuff quiddich team judging me as they passed by on their weekly run around the lake? Why did that girl laugh at me – was it what I was wearing?
"Sun," I muttered. I jumped as Callie threw a tube of sunblock at my head, knocking my glasses askew.
"Problem solved," she said, her white grin flashing at me from behind her magazine.
I met Sophie's smiling eyes, her encouraging nod making me sigh.
"If I get skin cancer, it's your fault," I said, and she wrinkled her nose at me. I slowly grasped the hem of my tee and pulled it over my head. Were they staring? Did I look ridiculous next to my tiny friends?
"Here, I'll do your back," was the only comment I got from Sophie, who rubbed the lotion into my skin and returned to her nail filing. It took some time, but I slowly relaxed and let the sun soak into my newly-exposed skin.
"Nice, isn't it?" Callie eventually said, and I gave her a small, tight smile. It was nice, but I still felt uncomfortable.
Trying to diffuse some of my awkwardness, I asked, "You know, this could be our last ever summer holiday together. Where will we be in ten years?"
"Successful and fabulous," from Callie.
"Married to Mandrake O'Hooley from Wizard Wackoos," Sophie giggled.
"Head of Magical Relations," I grinned.
"What about this year? I'm terrified about NEWTS. Suppose I fail?" Callie fretted, laying her magazine down. School never had been her strong point, but her other incredible qualities made up for it by far.
"You won't fail, you have super-witch Rose to help you! Besides, this won't be our last holiday together because even when we're old and wrinkled and have grandkids hanging off us, we'll still make time for each other," Sophie said.
"I'll hold you to that. So what eligible bachelor shall I date this year?" Callie mused, turning the conversation back to her favourite subject.
"There's more to life than boys, you know," I interjected with a frown. Honestly, sometimes I worried about those two.
"I want to date Freddie Weasley," Soph said immediately, ignoring me. I snorted; if she wanted to go out with my idiot cousin then that was up to her, so long as she was happy. Callie giggled and nudged her.
"He's cute," she agreed, "What about you, lovely Rosie?"
I closed my eyes briefly, thinking. I wanted lots of things, many of which I didn't feel like sharing. I wanted to be thin and beautiful, and actually be noticed when I was with the girls. I wanted to sail easily through my NEWTs. I wanted people to stop judging me based on my family and my school work. I wanted Mum to get off my back. And I, too, wanted to fall in love. Jake flashed quickly through my mind, and I thought on him briefly. Callie's twin brother claimed to have liked me since our first year - the only boy in the world who has ever liked me. The concept was too weird, though. The boy was like a brother.
Before I could open my mouth to answer, there were several loud popping noises nearby and
it
happened. The life-shattering, earth-moving moment that changed my life forever.
I heard my little brother groan and yell, "Oh dear Merlin, Rose. Who the heck let you onto the beach without a ski suit? We can see all of your wobbly bits! Look away, Scorp, Jake. Save yourselves."
My neck snapped up in horror and I locked eyes with Scorpius Malfoy. He stood there, dressed for the beach in board shorts and a bare, magnificent chest. I remember the towel slung over his shoulder, and a bag slung over the other. His grey eyes reflected the disdain he'd always held for me, mixed with disgust at my body and attire. I couldn't hide my utter humiliation and hurt in time, and his cheeks turned pink at my show of emotion. Malfoy hated when I was emotional.
With everyone's eyes suddenly on my pale, freckled and wobbly flesh, I'd never felt so huge, yet so pathetically small, in my entire seventeen years. And it was in that belittling moment that I resolved that I'd never feel so disgusting again in my life. I'd lose weight by any means possible. If I were skinnier, life would be better. If I were skinnier, I could be anyone other than who I was.
Hugo's words, although horrible, were sadly typical from him – after all, he was my brother – and he thought nothing more of them after they left his mouth. It was having Malfoy, a boy I'd always so hated but admired all my life, witness to my shameful body that made everything awful. A boy so perfect – for, who else on earth could shake off the shame of his family name and go on to become a valued member of society, incredibly popular at school and utterly, stunningly gorgeous? – that he made me want to cry.
There was an awkward silence as I scrabbled for my oversized tee-shirt and pulled it over my head so fast that my hair exploded around my shoulders in an embarrassing display of red. Albus, my favourite cousin and close friend, smiled sympathetically at me but offered no support. Fred was already chasing a seagull, and Jake was staring at me with a look much akin to a puppy dog staring at his favourite toy.
I didn't even hear the girl's voices as they tore viciously into my brother, chasing him away down the beach.
And Malfoy. Malfoy's grey eyes never left my awful body, not even when I stood up and stormed into the house.
---
Next Chapter
---
Favorite&nbsp|Reading List&nbsp|Currently Reading
Write a Review
Love Rules:

Love rule #1
---
Other Similar Stories
No similar stories found!