chapter image by hayley jade @ TDA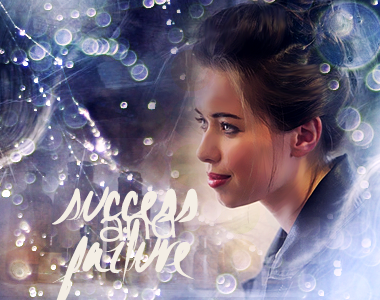 Success and Failure
The next morning, I sat watching the entrance to the Great Hall, looking for any signs of Neel. I meant to talk to him during breakfast, before classes could start for the day, but I also wanted to keep our meeting private and away from the judgmental eyes of our classmates. Though I had arrived early to breakfast, I had begun to think that I had missed Neel when I saw him walking into the hall with his cousin.
"Neel," I said, after jumping out of my seat and running over to stop him. "Can I have a word with you?"
He looked at Shreya for approval, who had been speaking intently to him. "I'll be right there," he promised her, nodding his head towards the Great Hall.
Shreya sent me a dirty look, and headed towards breakfast. I had to wonder what I had done to garner her obvious disapproval. It wasn't as if I had ever been cruel to her. I only wanted to talk to her cousin. I wasn't asking him to help me commit a crime!
"So?" Neel asked after a moment, his brow furrowing in puzzlement. I could understand why he might be confused; I never really spoke to him outside of class and when we did talk, I never approached him.
After glancing around to make sure no one I knew was watching, I stepped aside into a corner of the passageway, which was hopefully secluded enough that no one could overhear me. "Look," I began awkwardly, twisting my hands into knots. "You know I'm awful at potions. And you see that Noble hates me."
Neel nodded, still looking confused. "Yeah." He didn't look very awake yet. His robes were rumpled, and his hair was sticking up in odd clumps in the back.
I decided not to be offended that he had agreed that I was awful. I had baited him after all. "Well, you're not bad at potions: you're brilliant. And, um, Noble wants to fail me, but that can't happen because I want to be a healer. So I was wondering if, maybe, you might be able to help me." My voice lowered at the end of the speech as I realized how ridiculous I sounded. Why should I even think he would help me?
I was barely able to watch as Neel seemed to process this confession. I could feel my cheeks burning with embarrassment at having to admit to needing help and hoped he would speak soon, before I lost my courage and ran away.
"What do you mean?" Neel asked finally. When I glanced up at his face, he looked about as intelligent as a troll beaten over the head with a club.
Of all the times for him to be dense! He was going to make me say it, full out. "I want you to tutor me in potions," I spat, suddenly, inexplicably close to anger.
Neel's eyes widened, either at my proposition or my temper, I wasn't sure. "But," he began. "You're in Ravenclaw—"
I wanted to hit him and instead clasped my hands firmly around the strap of my bag. "Yes, I know that. And I don't know why, but you Gryffindors always seem to assume that we're so bloody perfect! I'm sorry I asked you!"
I turned to storm off, ready to go tell Rose that she was going to have to tutor me, like it or not, when Neel grabbed my arm. "Wait," he said quickly. "Laura, I didn't mean it like that. What I meant was, why me?"
I bit my lip. That was the one question I had hoped he wouldn't ask me. In truth, I didn't really know why, other than that Rose had refused me. There were other Ravenclaws who could help, that was true. I couldn't bear to ask them though. I knew that it would get out, and then I would that girl who was failing potions. That
Ravenclaw
girl. "I don't want people to know," I said at last.
Neel brushed a hand through his hair, looking a bit nervous. After a moment, he nodded decisively and gave me a warm smile. "Alright," he said decidedly. "I don't see why not. Where were you thinking of meeting?"
My mouth dropped open a little bit. That was it? He just agreed? I had been expecting him to argue, or to refuse. In fact, I hadn't really considered how things might proceed if he said yes. This was just supposed to be one of my numerous impulsive plans that failed. It wasn't supposed to happen this easily. "The library?" I posed weakly, mentioning the first place that came to mind.
"You can't very well brew potions in a library," Neel pointed out, smiling again.
I blushed. "Well, there are some classrooms, then. We could meet there after classes are done." Most teachers weren't averse to their rooms being used for practice, so long as they were kept clean. I could think of a few professors who might even give us permission.
Neel looked thoughtful. "I can't today," he told me. "But what about tomorrow? We can meet at the library and head to a classroom from there."
"Alright," I said, finally feeling a sense of relief. This was going to work! I wasn't going to fail. Noble wasn't going to be able to humiliate me anymore.
"See you in potions," Neel said, walking off towards the great hall.
I watched him, finally saying, "Thanks," though I doubted he could hear me.
---
Rose and I had taken to eating lunch in the common room. This departure from custom had occurred because Rose refused to be in the same room as Scorpius and his paramour, who had continued to be disgustingly public in their affections.
"You know," I told Rose conversationally as I set a sandwich in front of her, "this has got to stop. You're going to have to go into the Great Hall some time." Rose had gone so far as to make me bring her food, because seeing Scorpius ruined her appetite. Only after realizing that she was honestly not going to eat if I didn't bring her food, I had agreed to her request.
Rose pointedly ignored me and took a large bite of her ham and cheese.
"You can always look the other way," I said.
Without a look at me, Rose pulled out a book, and started reading.
I narrowed my eyes. Rose could be rather stubborn about some things. "Besides, Malfoy and Gemma will probably get married soon anyways. Then they'll leave Hogwarts to go on a wonderfully fluffy honeymoon where they'll be even more in love than they already are, but at least you won't have to see them anymore."
Rose, finally annoyed by my commentary, looked up from her book, sending me an evil glare. "You're horrible," she declared.
I felt only a little bad. "Cheer up!" I pleaded, eyeing my own sandwich. Rose was allowed to be disappointed, but this moping was getting tiresome. It wasn't as if she had ever even had a relationship with Scorpius. It was only a crush.
After a few minutes, when it looked like Rose was again trying to drown her sorrows in a NEWT level textbook, I clapped my hands together. "You'll never guess what!" I said in as cheerful a voice as I could manage.
Rose raised an eyebrow. "Lysander Scamander decided to lend you his favourite pair of fingerless gloves?"
I snorted, glad that Rose still had a bit of humour in her. "Sadly, no. My news may not be as momentous as that, but it's good enough: I'm not going to fail potions anymore."
"Is Noble sacked then?" Rose asked, looking a bit excited.
I rolled my eyes, as if I could ever be
that
lucky. "Again, no. Our dear professor is still in possession of a job. I, however, have found myself a tutor, like you suggested."
Rose stopped eating and stared at me. "Laura!" she cried. With a quick glance around, she leaned in closer to whisper, "I wasn't
serious
about that. I would have helped you. I just said no the other night because I was so upset about…" She trailed off, unwilling to say Malfoy's name.
"Well, you might have told me that earlier," I said, feeling deflated. "Before I asked Neel would have been preferable."
"
What
?" Rose exclaimed. "You asked
who?"
This was not going as I had planned. "Neel Rao."
"He said yes?" Rose was incredulous.
I nodded. "Yes. We're meeting tomorrow."
Rose started to chew on a piece of her hair. "I never would have thought," she said almost to herself. "I rather thought you hated Gryffindors."
"I don't hate all of them!" I said indignantly. "Just your charming cousin."
"Which one?" Rose joked, though we both knew I was talking about Al.
I giggled and was about to speak when several first years tumbled down the stairs from the dormitories and raced out into the corridor. "It can't be time for class already!" I moaned, glancing at the large clock on the wall. Now that Rose was acting less depressed, I wanted to talk to her.
Rose made a face and gathered up her things. As we walked to Transfiguration, I finished eating my lunch.
---
I sat on my bed later that night, after finishing my homework, trying to write a letter to my gran. She liked me to write at least once a week, though as a seventh year, I often had problems finding time. I wished I knew what to tell her. Normally, I simply wrote about my week, with little filtering, however this time, I felt as though I had to censure some parts. I didn't need to worry Gran about my problems with potions.
Finally, realizing that I would never get to sleep if I didn't write the letter, I picked up the quill and began to compose the note:
Dear Gran,
I read your letter, and I'm sorry I didn't have the time to reply earlier. It seems that the NEWT level courses I'm taking are as difficult as people said. I have more homework, and need to spend more time studying than I did last year.
I can't believe that Roger stopped by to talk to you the other day! I'm sure that Granddad almost had a heart attack. You didn't mention what he wanted in your letter. I don't think I believe that he was just stopping by to say hello and have a cup of tea. As he told me last summer, he's quite a busy man who doesn't have much spare time, never mind that I'm his eldest daughter.
Most everything is doing well at school. There isn't much gossip, except for the usual ridiculous romances and Quidditch drama. You know that I've never paid much attention to all of that. Rose told me to thank you for the book on antidote theory. She says that she enjoyed it, though she had a few questions. I've told her to write to you with those questions, because I can't possibly understand what she's talking about.
Did you know that Slughorn has retired? I'm sure you must have heard it somewhere, but I'm confirming it. While I don't mind so much about him, I despise his replacement. It's Viviane Noble, the former Transfiguration professor, the one who hates me. Honestly, Potions has become almost unbearable. I think that Professor Noble lives to make my life miserable.
Other than that, the rest of my classes are decent. It's hard to believe that this is my last year. It's even harder to imagine applying to healing schools in a few months. I don't feel old enough to be done with Hogwarts.
I've got to get some sleep now. Give Granddad my love. And don't worry if I take a bit longer to reply to your letters than normal. Don't panic—I'm busy, not injured. Also, the next time you see Claudia, tell her hello.
Love,
Laura.
I folded up the letter after reading it over once, watching the scrawl of my words curve and bend with the parchment. I should have gone to find my owl, but it was late. I would wait till morning to send the missive. Gran was nothing if not reasonable; she would understand the delay. For all her complaints about my lack of communication, I knew that she was thrilled that I still wrote to her as much as I did.
While I felt slightly bad that I hadn't mentioned my problems with potions, I didn't want my gran to worry too much. Her favourite subject at Hogwarts had been potions, so I felt embarrassed that I was such a failure in that respect. I would have gotten more sympathy from my grandfather—he was terrible at potions—but we didn't write each other often. He was not the most talkative man, and was happy to read the messages I sent to Gran. Besides, I could never tell him anything that I didn't want my gran to know. They kept no secrets from each other.
With a yawn, I set the folded letter onto my bedside table. I heard Ella snoring softly across the room. She had gone to sleep early because of the impending Quidditch match. After putting away my quill and ink, I turned out the light and closed my eyes. The morning was already too close.
---
My last class of the day was potions. I made a point of being indisputably early to class, not wanting to repeat the previous day's fiasco. Professor Noble, I learned, did not leave her office until minutes before Potions was to begin, so I was safe from her judgmental gaze.
Unfortunately, today Albus had decided to arrive early and entertain some of his mates, the New Marauders. While they had named themselves after the legendary tricksters, Al and his posse were surprisingly well behaved. There was the occasional prank, but nothing on the scale of their namesakes. For Albus, it was more about the show than the results. He would do just enough to get noticed, and not exceed that threshold.
"I'm thinking we could recruit Peeves," Al was saying in a too loud voice. "If we could get him to distract while we set everything up, it would be perfect."
Two of his mates sat around him. While not all the New Marauders were seventh years, a majority were. Finnegan and Smith were watching Albus with barely concealed anticipation. "Yeah," Smith said, in a decidedly quieter, though equally excited tone. "I reckon that if we can pretend to the Baron again, we can blackmail him into helping us."
I lost the rest of their plans when Albus stood up and waved to a newcomer. "Rao! My good man! Come here mate!"
I almost smirked when I saw Neel's expression, but realized that since he had agreed to help me, I should feel grateful. Instead, I adopted a suitably solemn expression.
Slowly, Neel made his way over to where Albus stood. Behind him, I saw a sour looking Shreya make her way to her seat. For some reason, Neel was
always
talking to his cousin. It seemed a little odd to me. Rose, I knew, had a sibling and numerous cousins around Hogwarts and she rarely spoke to any of them, except in passing. Shreya didn't even seem like a pleasant person to be around. She never seemed to smile and looked furious most of the time. Whenever I heard her talking, it was to complain.
Neel's stilted conversation with Albus was interrupted when Rose walked in. Her eyes narrowed when she saw the crowd of boys around her seat. I watched as she made her way to where Al sat. "Excuse me," she said in a cutting tone.
Al ignored her, and made some joke to Finnegan that I couldn't hear. Smith watched Rose, smirking and put his legs up on her chair.
With a snarl, Rose yanked her chair out, nearly knocking Smith over. "Albus!" she screeched.
Deliberately slow, Al turned to face his cousin. "Rosie!" he cried loudly. "My favourite cousin!"
She narrowed her eyes at him, sitting down in her seat. She said something quietly that I couldn't hear, though from Smith's laughs, it must have been rather insulting.
Anyone who was watching and didn't know Rose and Albus would think that Rose was the unreasonable one, but I knew their history. Al was annoying on his best days, but that wasn't enough to cause Rose's hatred. She had tolerated him until he had humiliated her in fifth year by reading one of her diary entries about a certain Mr. Finnegan aloud during breakfast. Rose had been teased about the incident ever since by Albus, who still quoted lines of the poem she had written whenever he was feeling particularly cruel. It didn't help that Finnegan was a New Marauder and constantly around Albus. Though she no longer fancied him, she had to watch as he mocked her childish poetry.
While she had not said as much, I guessed that Rose was terrified that Al might find out about her infatuation with Scorpius, which was one of the reasons she refused to be around him and the girl, Gemma. Al was surprising keen when noticing details that could be used to torment at later times. While Rose had only had a small crush on Finnegan, I knew she considered Scorpius a viable romantic figure in her life, and thus would be mortified if Al ever announced her love in public. If such a thing ever occurred, I wondered if Albus would survive till the next morning. Rose was an exceptional witch who would not hesitate to retaliate against her cousin, consequences be damned.
Professor Noble's entrance to the class was none too soon. Her appearance, and none other, was enough to defuse the tension between Rose and Albus by sending the others scrambling to their seats.
Neel made his way to the chair on my right quickly, sitting down with a thud. As he pulled out his books and a quill, I saw that he looked unnerved, though I wasn't quite sure why.
Any analysis of the situation was, however, postponed when Noble announced the day's task. We were to be given a bit of a poison and were to construct an antidote for it. Noble hinted that if we didn't try hard enough, we would be testing the antidotes on ourselves. Though I suspected that was illegal, Professor Noble was the type of woman who asked for forgiveness, rather than permission.
Because I wouldn't have put it past her to actually attempt such a thing, I worked furiously to try create a cure for the emerald liquid I received. Unfortunately, I had to rely on my own meagre skills with potions for it was a dreaded solo assignment.
Despite my best intentions, I was at a loss for how to even begin. I stared at the offending liquid, which looked to be bubbling of its own accord and was afraid to even open the vial for fear it might jump out and attack me.
After a few minutes, Neel took pity on me and flipped my textbook open to the correct page with some general instructions for how to proceed. I muttered my thanks, and began to read, cursing the vagueness of the book. It seemed that there was no sure way to create an antidote. As the author stated, even the most experienced potioneers could go wrong. Some potions, he said, would adapt to antidotes as they aged. He cited ways begin the process but they depended on knowing the type of poison and I was at a loss.
I was ready to put my head down on the table when Neel leaned over once more. "It's Acontium," he told me, pointing at the vial. "There're more instructions farther on."
Again, I thanked him, and flipped ahead in the book. Indeed, the antidote for Acontium had slightly more detailed instructions. While it looked rather tricky, as it involved precise quantities of magnesium vapours, at least I could try.
After gathering all necessary components of the antidote, I began to mix it. I read ahead and saw that I was supposed to crush the newt eyes, and did so first. The timing for adding the ingredients had to be exact, so it was better to crush, mince, and slice all the components beforehand.
There were only a few minutes left in the class as I began to brew my antidote. I began with a glass of wine for the base, adding in three hairs from a newborn wolf. After stirring it three or four times (the instructions were unclear at this juncture) I put in three drops of dew. The newt eyes were added next, ten seconds after a cloud of steam rose off the liquid. The diced broomslang was added in, a gram at a time, until the liquid was thick. Finally, I began to pour in a flask of pickling juice. It was a large flask, as dictated by the instructions and halfway through, black smoke began to rise off the potion.
Neel's hand caught my wrist, stopping me from pouring anymore liquid into the antidote and sloshing some into the fire in the process. "Enough," he whispered. "Any more and it's going to explode!"
I frowned, glancing at the text. "But it says a whole flask!"
Neel just shook his head. I would have argued further but Professor Noble chose that moment to instruct us on how to turn in our antidotes.
It took me a minute to scoop out some of the syrupy liquid and when I looked up again, Neel had gathered his things and left.
Thankfully, Noble let me leave her classroom without commenting on my failure.
---
Later that evening, I headed to the library to meet up with Neel. I saw him, standing by the east entrance, looking through a book on charms. "Hi," I said awkwardly when I approached him.
He marked his place in the book and looked up, with a grin on his face. "Hey," he said. "Did you find a classroom we can use?"
I nodded, and led the way to one that Professor Longbottom had given me permission to use. He had even left a cauldron for me, bless him.
"So," Neel said, giving me another wide smile. "How about you start by telling me where you went wrong today."
---
Author's Note: Thanks for all the kind things said about this story. And also, thanks for all the help reviewers have given me. I appreciate it!