[
Printer Friendly Version ] [ Report Abuse ]
Expecting by SaritaMalfoy22
Chapter 2 : Chapter 1: Angel of the Morning
| | | |
| --- | --- | --- |
| | Rating: Mature | Chapter Reviews: 7 |
Font:
Background: Font color: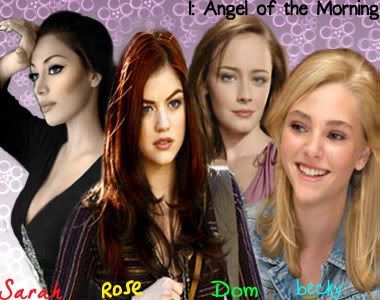 ---
Chapter 1: Angel of the Morning
I turned over in my sleep one last time and my eyelids fluttered open. It felt as though someone had stuffed my mouth full of cotton wool and then driven over my head in a car driven (I use the term loosely) by my father and full of my family members playing the cymbals.
Hung-over? However did you tell?
The last thing I remember was celebrating the win against Ravenclaw last night in the Room of Requirement, where my raven-haired and utterly mad cousin James usually makes us party until we drop. I remember drinking so much I felt I was going to die, and then being picked up on the shoulders of Steve and Danny from my Quidditch team and my darling cousin James dancing around us with a plate strapped to his head with elastic.
I've said it before and I'll say it many more times to come; there's something very wrong with James Potter. Maybe Aunt Ginny dropped him on his head as a baby. I'll have to ask her when I –
"Morning sunshine!" a deep gravelly voice said from beside me, almost scaring the magic out of me. My head of elbow-length wavy auburn hair turned and my blue eyes fixed upon Scorpius Malfoy's own. My eyes trailed down to where his blonde hair ended and past his bare shoulders and chest. I started hyperventilating as I realised I'm as naked as a baby too.
You cannot be serious! I slept with one of my best and oldest friends?!
'Ok Rose', I thought to myself, 'try not to panic. Maybe it's just a dream' I shut my eyes tight until little lights floated inside my eyelids. I opened them, hoping to see my dormitory, my old toy duck dad got me when I was little, and my group of girlfriends sleeping soundly. Instead, I saw Scorpius looking concerned.
It's not a dream. We slept together.

Shitshitshit.
---
"I bet your head hurts doesn't it?" Scorpius said. I'm not looking at him but I can hear the playful smirk in his voice.
"Scorpius did we…last night at the party did I…did you…?" I spluttered, still not looking at him and combing my hair into my face with my fingers.

"Yep." He replied with more than a touch of pride.
I didn't expect any other answer to be honest. He said something else but I wasn't listening. I sat up in bed and hugged my knees. We were in a four-poster bed with the curtains drawn and I knew instantly where we were. Whenever James arranges a piss-up we sleep in beds provided by the room of requirement so we don't get caught all stumbling back to our respective common rooms blind drunk. There are usually boy/girl segregation rules (the room made that little guideline up, James would never be so strict, although he did come around to the idea when a guy from Hufflepuff was trying to get off with Lily...)
"Rose?" I heard Scorpius' nervous voice ask, bringing me back to earth.

"What?" I said still not facing him. He sat up as well and tucked a curl of hair behind my ear. I lie down simply to avoid him touching me. I used to fancy him like mad in forth year and I suppose that feeling never really went away but it still feels weird, especially when he lay down next to me, his arm snaking under my back and around my waist. I swear if this is one of his jokes I'm going to rip his arm off and beat him around the head with it.
"I said would you like to go again or is it too early?" He asked slightly uncertainly.
Kiss your arm goodbye, Scorpy.
"Excuse me? You think that's going to happen
again
?!" I hissed, casting
muffliato
at the room in general as I heard movement from somewhere to my right; other drunkards were awakening.
"Apparently not" He said flushing a blotchy puce and withdrawing his arm. He sat up and turned away from me, running his fingers through his hair.
"Last night you were really pissed last night weren't you?" He says over his shoulder in his Londoner drawl without looking directly at me. I looked at him incredulously before it hit me.
Maybe this
thing
with us wasn't a mistake for him.
I started hyperventilating again and the only legible thoughts running through my head is that a.) My mum will be so disappointed I didn't wait until I was at least a 49 year old cat lady until I lose my virginity, b.) That my dad will kill me and Scorpius and c.) That Scorpius might like me more than as a best friend. I mean, really like me. I shook the thought from my head and glanced around for my clothes, not wanting to give him a reply. I grabbed the red skin-tight dress I'd been wearing the night before and Scorpius mutely passed me my lacy black and white bra that had somehow wrapped itself around his leg. He didn't meet my eyes but looked appreciatively at the bra as it was passed under his nose.
"Thanks" I said pulling it on and clipping it at the back. I then pulled my dress over it and looked around the bottom of the bed (without getting up) for my knickers. Unsuccessfully.
"Scorpius, have you seen my…?" I trailed off. Better not to rub salt into the wound. "Never mind" I added as he pulled his silk green boxers (no, seriously) and trousers on with his back to me.
I admired said back for a moment, watching the muscles ripple. Scorpius was tall (at least six foot two) and muscular from being the beater on the Slytherin team. His thick blonde hair was just like his Father's when he was fifteen; cut so it hung nicely framing his face at cheekbone length and getting shorter towards the back. I thought it was lovely, and his beautiful platinum blonde hair and pale skin set his blue eyes off strikingly and made them shine like sapphires. However I had more than enough sense than to describe him as beautiful; he has an air of rugged masculinity about him that subconsciously makes you change it to 'handsome' in your head. Anyway, as he stood up he pulled his tight top over the slightly darker hairs of his chest and looked at me steadily. He had already pulled on his trainers and seemed to be waiting for something. I shrugged to myself – I would go without knickers until I could get access to a shower.
"Well." Scorpius said as he passed me one of my patent red stilettos to me over our shared bed.
I put the shoe on and found the other at the foot of the bed. A house elf would come by later to rearrange the beds, but in the meantime (and because maybe I think my mother's now-international S.P.E.W. party isn't as ridiculous as dad makes it out to be) I straightened the sheets as best I could and then when I had no other excuse for ignoring him, I looked at Scorpius.
"Well." I repeated, looking at him solemnly.
I had no idea what to say in this situation. What was there to say? 'Well I'm sure that was lovely…if only I could remember it.' That would go down a right treat. With one sad look at me, he turned and pushed the curtains away from our bed. I blinked and he was gone, striding out of this massive part of the Room of Requirement and out of sight. I felt strangely miserable then, but then I felt the curtains behind me being pushed apart and I turned around to be greeted by the face of my cousin Dominique, and our best friends Sarah and Becky.

Dominique is petite and very slim like her mother. That's where the similarities between her and Aunt Fleur end. Her natural hair colour is a pretty red-gold but she dyes it either a warm honey brown, which really suits her heart shaped face, or a platinum blonde, like her mum, which looks great too. She wears it mid-length and poker-straight. She has big grey eyes and small, pink, pouty lips. She's pretty, don't get me wrong, but there isn't much of her mother in her face and I can safely say (though not within Dom's earshot) that there's barely even a trace of Veela in her and in fact she looks more like her dad, Bill. Obviously she doesn't know I think this. I don't have a death wish. To prove the point of her not having much of the Veela about her, she has horrible luck with boys. And by horrible I don't mean they trail after her like lovesick puppies, I mean she attracts complete idiots. Namely one, but we'll go into that later.

Now onto Sarah. You know that saying; pretty girls turn heads? This girl breaks necks. She's the epitome of a Femme Fatale (she's been voted the winner of the Hogwarts secret magazine The Silver Snitch's beauty award for about four years now, and is an up and coming model for Witch Weekly, winning several awards there too). She's very tall, standing at six feet, and has natural curves that would give Jessica Rabbit a run for her money. Her naturally jet-black and wavy hair is about elbow length and is always shiny and in good condition. Her eyes are sparkly, doe-like and deep blue and her skin is a light olive, if that makes sense. She's also one of the best-groomed girls I know; her eyebrows are always plucked to dark perfection, lashes long, thick and curly and her lips are always shining with balm (which only adds to the femme fatale thing she's got going on) unless she's eating or snogging. She's probably my best friend out of the three of them, mainly due to her wicked sense of humour and 'c'est la vie' attitude to life that other girls lack, and although we're all very close, Sarah and I just...click.
Becky, however, is shorter than Sarah and I, about five foot three, with very pale (and very natural) thin blonde hair she keeps at just past shoulder length. Her eyes are a grey-green and she has the cutest button nose I think I've ever seen and although she's prone to spots (which she once tried to hex off - with disastrous results) she's still quite pretty. She's not as curvy as Sarah, but isn't quite as slim as Dom either. (I guess on the curvy factor I'm somewhere in between Becky and Sarah.) Becky and Dom act like they're joint at the hip and they've never had an argument. Becky's constantly grinning like a Cheshire cat about something, and is your average giggly, bubbly girl. She reminds me of a kind of modern-day Alice in Wonderland; she's inquisitive, blonde and fairly girly. We have a group of friends here in Hogwarts which includes us four girls, my cousin James, his brother Albus, and Scorpius. Becky is close to Albus, because they both share a passion for Potions and Herbology. But like I said, we're all close.
Anyway, they've just opened the curtains; Becky is more or less fully dressed as far as I can tell, Sarah is in her silver shorts, long sleeved shirt and black heels from last night, and Dom is wrapped in a towel. We don't ask who everyone else has been with overnight so we just look at each other and simultaneously nod and say:

"Shower time."
---
While in the showers that are only separated by cubicles, we talked over the noise. Luckily we're the only ones that are up at the moment, everyone else is sound asleep since its eight o clock on a Saturday (or should that be Hangover Day?) As Sarah passed me some of her passion fruit and rose extract shower gel, we talked boys.
"I feel like a slut." Dom said, as she always does when we find ourselves in the room of requirement showers. However, usually it's only her who's slept with a guy she shouldn't have.
"Who were you with last night then Dom?" Becky sighed as she accepts the shower gel from me and squirts a generous amount into her palm, as I have done.
As I lathered up my skin, I took a sidelong glance at Dom, who was rubbing her shoulders (the only bit of her I can see, thankfully) over to completely cover them in bubbles.
"Wait. Don't tell us." Sarah sighed.
"Sean Finnegan" All four of us said in unison, Dom's nose wrinkled in self-disgust.
Dom was never usually shy – in fact she was one of the pluckiest girls I knew, often bordering on mouthy. Well, let's just say she's opinionated and not afraid to show it. Me, Becky and Sarah groaned in unison. Sean Finnegan, son of Seamus, was Dom's on again-off again boyfriend with whom she had a habit of jumping into bed with when she got drunk enough. This is the guy she has the worst luck with; every time she breaks up with him she says never again, the next party she wakes up, washes the smell of him off her body and repeats it to us, furious with herself.
"I know it was bad, but he always was a good shag." She said dreamily. Becky wrinkled her nose delicately and Sarah shook her head as she cleaned away last-night's mascara from under her eyes with her wet fingers. I stayed silent, trying to remember what had happened between me and Scorpius last night.
"Who were
you
with then?" Dom asked Becky, catching the look on her face. Becky began lathering her hair up with some coconut shampoo Dom was now passing around. Becky looked quite shocked.
"Rich, of course." She said, rather stunned. Rich (Richard, Rick, Rich, Ricky; she had a variety of nicknames for him) and Becky had been going out for four years now.
"Oh yeah, of course. What about you, Sarah?" Dom asked as I took the shampoo from Becky and lathered up my hair, resting the bottle on the top of the cubicle for Dom. Sarah smiled mysteriously, conditioning her hair now.
"Come on, Sare!" I said, smiling now and trying to distract myself from thoughts of my own experience last night.
"All right. If you must know I was with Danny. She said, a pretty blush creeping across her cheeks. Becky handed me the shampoo, stunned as she and Sarah climbed out and Dom chucked them both towels as she rinsed her own hair and threw me a towel of my own.
"Danny? As in Danny Fox?" Becky said incredulously.
"Danny on the team?" I asked, even more so, meaning the Quidditch team. Becky didn't play Quidditch but the rest of us did. Danny and Sarah'd had eyes on each other for years, though both oblivious to the other's feelings.

"Yes, but we didn't have sex!" Sarah said firmly. "We stayed up the whole night talking and fell asleep together." She added dreamily.

"Aww!" Becky said, hugging her friend, despite the towels.
Dom rolled her eyes as if she knew they would get together and I beamed at Sarah's good luck. If she did eventually sleep with him he wouldn't be her first. Don't get me wrong…none of us are sluts like the Nott/Parkinson twins (who have slept with any boy who'll have them) but none of us are virgins either. Becky lost hers to Rich two years ago, Dom lost hers to Sean about eight months ago when they were going out, Sarah lost hers to my cousin James (which I try desperately not to think about) when she was about 15/16 years old (and in a steady relationship with James might I add) and I lost mine to my ex boyfriend Freddie, who I try even more desperately not to think about, about a month later than Sarah and Dom. So now I have Scorpius and Freddie not to think about.
Oh, the joys of a sexually active life.
---
An hour or so later we were in the Great Hall having a fairly late breakfast. Sarah was sat with Danny opposite me and Dom, holding hands with him (she told us after we got over the initial shock that he had asked her out that morning in bed) and Dom and I had to watch him duck his head every five seconds to kiss her neck because he liked to see her giggle. Becky was sat next to me, Rich's arm around her waist firmly, grinning like a Cheshire cat as usual. Dom was sending hopeful, fervent glances to Sean, who was sat a little way down the table, laughing away with Hannah Hamley (a total slut with whom he had a brief fling a few weeks ago). I was avoiding Scorpius like the plague; no easy feat when he was my cousin's best mate and was opposite me across the hall at the Slytherin table, staring a hole through my head. I half-heartedly pushed my bacon and scrambled eggs around my plate. Dom looked at me shrewdly.
"You never told us who you fucked last night Rosie." She hissed in my ear. I looked at her with weary eyes, not about to call her on her less than flattering term.
"Scorpius." I sighed quietly, not looking at her.
"Ohmygod Rosie you didn't…he's like one of our closest mates!" She hissed. I rolled my eyes sadly to say 'it's not like I haven't already come to that conclusion.'
Becky flashed us an inquisitive look and opened her mouth to ask what we were talking about, but Sarah gave her a look over Danny's head that plainly said 'shut up now. We'll find out later' I retired to pushing my food around my plate again. I never left food untouched, even when I was really ill.
This is what one night in the arms of Scorpius Malfoy has done to me.
---
A.N. All right, I'll admit, it wasn't quite the introduction I was hoping since I didn't get to introduce many of the main characters, especially James, who'll be pretty huge :) In case anyone was wondering by the way, Sarah is pronounced Sair (rhymes with hair) – ah. Not Sara (: She'll be pretty huge in this story too, and I know she seems a bit too faultless to be true, that's the point. She's supposed to be something for Rose to have to deal with, like a friendly obstacle if you like :P Buuuut even if it isn't really a true taster to the story, please review, I'd love to hear your thoughts!
---
Previous Chapter
Next Chapter
---
Favorite&nbsp|Reading List&nbsp|Currently Reading
---
Other Similar Stories

Just a Littl...
by reduct72


Mission Impo...
by Dorea_Black