Of Excellence and Experience: An Introduction of Ordinary Proportions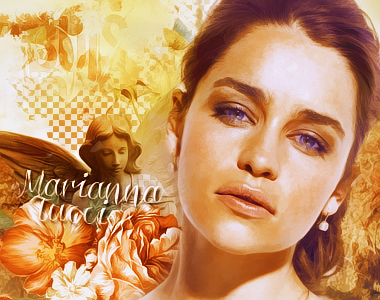 AHHHAWESOME CI by HarleyQuinn@TDA!
Marianna Tucci, daughter of Giovanni and Isadora Tucci, was the plainest of her three sisters.
Her eldest sorella, Francesca, was as beautiful as she was ambitious. Francesca's skill in performance, regardless of the instrument or act, was impeccable. Her aptitude for both the piano forte and cello sprang at an early age and her mastery of the instruments never ceased to amaze audiences all over Italy.
Then there was Marianna's younger sorella, Camille, who used her voice to share glorious melodies with her fellow vocalists. She was renowned for her dramatic vibrato and her romantic renditions of Mozart's classic "The Queen of the Night" as well for her accompanying, yet infrequent, choir performances.
It is of note that it did not hurt Camille that her words were just as sweet as her songs, for she brought harmony to all people she spoke with.
Quite the opposite, Marianna's achievements matched neither the accomplishments made by Francesca or Camille. While the world seemed to bow down in Marianna's sorella's presences, and her sisters curtsied in return, with the grace and humility of true-born stars, Marianna was not as fortunate.
Not only was Marianna inept when it came to music or instruments of any nature, artwork included, she equally lacked the finesse and ease of conversation that all Tucci women seemed to acquire at birth.
When it came to pleasantries and civilities, Marianna, though well-versed in learning languages, could only fumble for words of hospitality and bashfully murmur yes, no, and thank you along with the correct title of the person she was forced to speak with. And as far as intimate conversation went, Marianna always felt as though she had no real friends or confidants. Her padre's role in the magical world along with her sisters' fame left Marianna with little resources for relationships that were not contrived or forced.
Yet she had her sisters, when they could spare a moment for relaxation, an occasional laugh and conversation, and she had her madre's brother for guidance and support.
Support that she duly required, since Marianna's passions derived from absurdities her family little respected. Nothing political, classical, artistic, or expressive satisfied her like it did her family. She much preferred contemplative and internal time rather than constant chattering, as well as the awareness one acquires when walking in fresh air, and the study of runes and arithmetic.
It wasn't as if she did not appreciate music, art, and the theatre, Marianna reflected, but rather, she could never grasp it like her sisters could. She couldn't be a part of the sensation. And it wasn't as if she shared no qualities of the Tucci pedigree; it was simply that her beauty did not compete nor did her merits compare to the charms, genial humor, and prowess of everyone else in her family.
She much preferred silence in long doses and minimal opportunities for making a fool of herself in public spaces. Her feelings towards reading histories and novels of great lengths only heightened her need for contemplative solitude. The same novels, however much she loved them, ruined her sense of reality and hindered her character. For her insecurities went unabashed and her gullibility, coupled with the naivety one harnesses after reading scores of fictions, left Marianna without a trace of the wit and humour one typically sought after in a companion.
Truly, all that likened Marianna to her family boiled down into four simple aspects: her dark hair colour, her magical ability, her affinity for languages, and her devotion to the Church. While the latter was beginning to wane on her character, and although these commonalities were dim in comparison to Francesca and Camille's notoriety, Marianna held the traits dear to her heart. For she felt, at the very least, she could still be recognized as a Tucci when all was said and done...she hoped, nevertheless.
Over the last few weeks of summer, Marianna found herself more than preoccupied with the arrangements, food, and decorations for the long awaited gala that her padre was hosting.
As one of the leading Diplomats for Italy in the European Federation for Magical Cooperation, Marianna's padre was designated to hold a ball of grand proportion every three years. Typically these events took place in impressive halls magically designated for the entire population of the EFMC, including Ministers of Magic from the UK, Spain, Portugal, France, Greece, and Germany. This year however, marked a year of difference.
For the gala was to be held at their address.
Never before had Marianna seen so much excitement, anxiety, and hurried movement for such a prolonged period of time. Since the announcement was made that her padre was hosting the event, her madre, two sorellas, and house elves were all in a planning fervor, which Marianna couldn't help but take place. Even though the idea of all the people at the soirée unnerved her.
Marianna stared up from the table she was currently setting and took in the room as the final preparations were being made. She couldn't help but be amazed.
Their former dining room had transformed and grown double in size in a matter of weeks. The menus had been prepared, the guests had submitted their attendance, and the tables were in their proper placement, covered in gold inlay lace tablecloths imported from Firenze just last week.
Mariana watched as the elves moved in a flurry, replacing all the candlesticks whilst polishing and dusting the entirety of the ceiling and all the paintings and furnishings hanging on the walls. All the while, on the far side of the room, her madre was giving orders to all the chefs that she hand-selected to run the kitchen for the evening.
Looking down the line, Marianna spotted the bald head of her Uncle Lino wearing his finest master chef uniform. He appeared as proud as ever now that his specialties were going to be showcased properly for once. Marianna hoped that everything would run smoothly for her Zio tonight because if all went well he could finally open the restaurant he always wanted, instead of working under another's vision.
At once the cooks dispersed. Marianna panicked when she saw her madre turn to inspect the room. Marianna knew that her madre was searching for someone to check up on, so she quickly looked down at her place settings, ensuring that everything was perfectly aligned and in its proper place.
They were, thus far. Or so it seemed since her madre made a beeline out of the dining area and towards the hall where the flowers had all been delivered two hours past.
Marianna looked to see how much more she had left to do. One, two, three, four, and five tables were set perfectly, with eight of the ten settings complete on her sixth table.
She counted quickly with her finger pointed towards each table she had left, which made up the outline of the room. She only had sixty-three more tables to go. Marianna sighed and went back to work.
Her madre, picking her least verbal and most detailed daughter, had given her the most meticulous task of place settings. Yet little did her madre know that Marianna's padre had given her special chores without her madre's permission.
As she set the goblin-engraved silverware upon the table, she smiled at the memory of learning the magic behind enlarging their dining room when her padre was performing the incantations. She mentally practiced the movements in her head, trying to remember the transfiguration spells in order of how they were to be cast.
First, as she placed each fork precisely an inch away from the edge of the table and a mere centimeter apart from one another, she had to know the dimensions of the physical place she wanted to alter. Then, her padre said she must know her own limitations. Only by knowing them would she be able to master them, she thought, as she begun to set the stemware.
Four inches away from the plate and to the right. White wine, red, wine, dessert wine, and water tumbler. Starter dish, salad and soup, swish left, cross right, complete the shape of the room, know the changes, envision the movement of the room, let the magic flow and do not lose focus.
Someone bumped into her, hitting her elbow and almost, just barely knocking the saucers from her hands onto the floor.
"Mi dispiace, Mari!" Camille quickly said as she reached again to place another name card upon the table before over to the next person's spot, humming to herself as she moved about. Marianna did not flinch, used to being overlooked, nor did she make any reprimand for her sister's inobservances. She tightened her grip on the saucers and watched her sister skip off.
Light on her feet, dancing her own dance, Camille's chore was more fun to her than it would be to most. The social butterfly, priding herself on acquainting herself with everyone, loved knowing exactly who would be seated where and where she had to drop her handkerchief and where she needed to ensure she never came near.
And since Marianna did not see Francesca anywhere, when she was supposed to be helping with the musical selection, Marianna figured that Francesca was probably off in her room, likely trying on every gown and silk she owned.
The grandfather clock carved into the wall above the mantle struck a quarter past nine and the faint morning glow of sun still came in through the windows, causing the dust look as if it were dancing under stage lights.
Marianna quickly gathered her thoughts and went back to her work.
Yet she couldn't help but stare around the room once more in yearning, in equal parts, for the end her task and for an escape from having to dress for the ball. She could not sooner finish one painful task unless she wanted to endure the ridicule that would surely follow.
Marianna acquiesced and went back to her chore once again for the remainder of the morning hours.
During that time, besides mastering the dimensions of the place setting, Marianna busied herself with thoughts of how best remain polite, yet well hidden from the guests bound to show up this evening. Along with the occasional stray thought of how she could solve the runes of the Irish marshes or, fancying herself a detective, how she could locate the tombs of saints long since passed and hidden from muggles' eyes.
If only she knew that her tale was to begin on that very night, neither in the marshes nor in the sands, but off in a remote castle that she had no knowledge of. In the thickets of Scotland, Marianna would soon find her place. For, despite her own beliefs, no will or way could alter her lot.
In a world filled with moments, moments crossing generations or lapsing only milliseconds, the only occasions worth recognizing are the ones filled with new experiences, where love and loss intermingle, when a person's excellence shines brighter than any sun.
---
Basic translations:
Firenze is Florence, Italy.
Zio is uncle. Sorella is sister.
Mi dispiace is I'm sorry.
Note from the author
: Hello, hello! I hope you enjoyed the first installment to my newest story...and probably only Next-Generation fic. Yes, I know, there's been little mention of all the characters we know and love, that part will come later promise ;) And yes, I'm aware that I'm doing the whole foreign transfer to Hogwarts cliché, but I think the story won't hurt from that...er-hopefully. Like it, hate it, let me know why either way :) Oh, and I know little to no Italian, so if something is incorrect don't refrain from letting me know in the box below haha.
This story was written for Miles' The Pride and Prejudice Inspired challenge, which I spun into a Jane Austen Challenge. Therefore, motifs, themes, and diction reminiscent of Jane Austen, in particular Northanger Abbey, should be properly credited to her. Also, anything magical you recognize belongs to J.K Rowling, so everything else you don't recognize comes from my imagination ;)