[
Printer Friendly Version ] [ Report Abuse ]
Reminisce by Chocolate_Frog
Chapter 4 : Confessions of a Teenage Time Traveler
| | | |
| --- | --- | --- |
| | Rating: 15+ | Chapter Reviews: 16 |
Change Font:
Change Background: Change Font color:
Disclaimer: I am a lot of things; JKR isn't one of them.

A/N: This chapter brings with it some plot developments, more mysterious plans, and a quote from Mortal Instruments.
Reviews might possibly earn awkward hugs worthy of Voldemort.

Stella (aim.moon @ TDA) made me this gorgeous CI. ♥
---
CHAPTER THE FOURTH:
CONFESSIONS OF A TEENAGE TIME TRAVELLER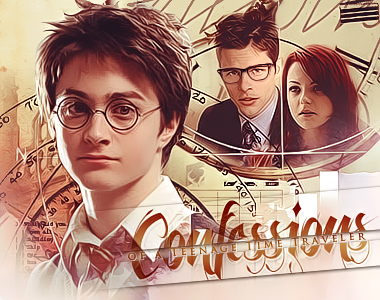 ○ • ○ • ○ • ○
"Psst, Lily." Amanda nudged her in the ribs to get her attention. "Look who's coming over here."
Ugh. It was James Potter. "Remind me what's he doing here again?" Lily groaned.
"Isn't it obvious?" Vicki Winters, Lily's other friend, smirked, winking at Amanda.
Lily chose to ignore her friends and smiled apologetically to Harry before turning to James. "What do you want, Potter?" she said viciously.
For some reason, both Harry and James winced. James glanced at her wistfully, looking like he was about to say something but then deciding against it, and then turned back to Harry. "Who are you?" he asked.
Did I just imagine that, or did James Potter just ignore me, Lily Evans? She didn't mean to sound conceited or anything; it was just a shocking revelation—for as long as she could remember, Lily had wanted James to stop bothering her so she could live a normal life, free from the stress that relationships usually brought along. Now that it had happened, though, she wasn't quite sure if she liked it. It was nice to have someone paying attention to her for a change—At home, Petunia always blatantly ignored her, and her parents were usually never home, going on frequent business trips. As much as it pained her to admit, she loved having someone's attention, even if it was James's. "His name is Harry Palmsmith," she said coolly, annoyed with James for not giving her any acknowledgement. After all, she was the one who was supposed to ignore him, not vice versa.
James didn't look convinced at her statement. He narrowed his eyes at Harry, who gulped nervously. "No. You're a Potter." He said this as casually as one might comment on the weather or last week's Quidditch score (Which was 170-10 in favor of the Ravenclaws, by the way: a cruel blow to the Hufflepuffs' egos, especially for a start-of-the-season match.)
Lily widened her eyes. "James, that's ridiculous! How can he be a Potter?"
James shrugged. "He has the same, very handsome, messy black hair that runs in the family. It's more of a curse than a blessing, really; you can never calm it down… Wait a minute. You called me James!" He said triumphantly.
Damn. She had let that slip, hadn't she? Ah, well, she might as well act like she meant it—she liked to be on top of things and in control. "So? It's your name, isn't it? I can bloody well use it if I want to!"
So much for being in control. She tended to lose her temper a lot when James was around, which was very often. Speaking of the devil, James still had a silly grin plastered on his face, as if she had just kissed him right there in front of the whole school. Which was tempting; he was so close! No! Snap out of it! What is wrong with you, Lily?! It's not like you fancy him or anything… Right?
○ • ○ • ○ • ○
Harry watched his James's and Lily's bickering, almost feeling like a normal teenager who had caught his parents in the middle of a huge argument. Almost. The fact that they were about the same age as him sort of threw it off. "Am I… interrupting something?"
His mum and dad— er, James and Lily, he had to stop thinking of them as that—looked at him as if only noticing he was there. (Weird, since their whole pointless argument had started with him in the first place. Oh well. Being ignored by your parents-to-be is better than being an orphan, he supposed.)
"No, of course not," Lily said quickly. She was blushing, but he didn't have the faintest idea why. Was it possibly because of his dad? Did she actually like him, contrary to what he had witnessed in the Pensieve earlier in the year? "I was just telling James here how ridiculous it was that you were a Potter, Harry," Lily continued.
Potter, Harry. Harry Potter. Yes, that was his name, not Palmsmith or anything else, and if he had to find a way to go back to his time he might as will tell them the truth, so they could help him.
"Well, about that," Harry started, taking a deep breath. Why was he so nervous? Getting the nerve to ask Cho Chang to the Yule Ball wasn't half as scary as this. He couldn't explain it, but it was like felt this urge to prove himself to his parents, to impress them in some way. He wanted to make them like him, to be proud of him, strange enough. Maybe it was all these years of lack of attention and parental love, but his stomach seemed to flip-flop as if it were a pancake that Aunt Petunia would make for Dudley, extra thick with butter on top: he was finally revealing his identity to his parents; they would know that he was their son! How would they react?
"Um… maybe we should talk outside." He had become aware that everyone in the Great Hall was staring at them curiously, especially a greasy-haired boy sitting in the Slytherin table who oddly resembled Snape. Being Harry Potter, he was quite used to stares, but if he were to tell his parents the truth—which he suspected he had to do soon, despite the fact that he wasn't mentally prepared for it yet, as they were getting suspicious—he rathered it not be in front of so many people.
James and Lily nodded and followed him out of the Great Hall. In their rush, they didn't notice that back at the staff table, Dumbledore was looking very amused, as if he were about to watch Act One of a very entertaining play unfold.
○ • ○ • ○ • ○
"So you're telling me that I'm going to marry him?!" Lily screeched. This was not happening. What was this, some sort of joke?
The said offender (who claims to be called Harry, but who knew anymore?) covered his ears and cringed. Well, he better. Who did he think he was, anyway, to just randomly barge into her life and turn it upside down? She was perfectly content with everything before; she didn't need this stranger to give James false hope and make things worse.
"I knew it! I knew you would give in someday!" James was equally loud; looking like all his Christmases had come at once. "Well, he does have your eyes, Lils," he teased playfully. See? That was exactly the type of thing she didn't need.
"Aargh!" Lily put her hands up in frustration and glared at James, then Harry. "You're lying! I wouldn't marry an arrogant bullying toerag like him!" Sure, James was a very attractive arrogant bullying toerag, Lily noticed. But he was still an arrogant bullying toerag nevertheless, and Lily found it hard to believe that she'd marry someone like that. Well, maybe not that hard, now that she thought about it.
"Ah but Lily…"
Lily shuddered, relieved for the first time to have her thoughts interrupted by James.
"Someday that arrogant bullying toerag will finally get to you." James waggled his eyebrows.
Or not. Potter sure knew how to instantly kill any random surges of affection she had for him (not that she had any, of course. It was all hypothetical.) Lily couldn't help but groan as James continued his rant. It was a miracle that half of the female population at Hogwarts fawned over him and Sirius. Why didn't he just choose one of those other girls, anyway? That way, both of them would be much happier, in the long run. Why did he have to steadfastly insist on pursuing her?
"And you'll realize how much you secretly love him!" He smirked and continued his chorus of "I knew it!"s.
Lily turned her back to James and glared at Harry accusingly. "Who exactly are you? Did Potter put you up to this?"
Harry looked over to where James was doing a victory dance on the grass, amused. "That entirely depends on which Potter you're talking about, Lily."
"You will call me mum, young man! I demand some more respect than that!" Lily snapped before she realized it. Harry grinned cheekily. "Ugh! You're just like your father!"
Harry's grin broadened. "So you admit it! You admit that you're my mum-to-be, and that James is the dad!"
Lily scowled. "I-am-NOT-marrying-that-git!" she said through gritted teeth.
Harry's smile faltered. "He gets better; that's what Remus said. The older Remus, by the way, not this one. That would be weird. He doesn't bully Snape that much anymore, right?" He sounded as if he needed convincing, himself.
"Don't mention Severus," Lily said quietly. She hated thinking too much about her ex-best friend ever since she had ended their friendship last year after he had called her a Mudblood. So what if Potter had stopped hexing him? What did she care? That doesn't prove that he changed to become a better person! And even if he did, what was she supposed to do about it— it's not like she was going to give him an award for it or anything! Lily shook her head rapidly and walked away, willing all thoughts of James Potter to leave her mind, where they were currently swirling around like a hurricane…
○ • ○ • ○ • ○
Harry watched remorsefully as Lily stormed away. Well, he knew she would react like this. The five-year-old boy inside of was keeping his fingers crossed for a family-reunion-of-sorts, but of course, things like that didn't happen to Harry Potter. He was unlucky, always had been and always will be; who was he to think otherwise? Ever since he was little, it had been that way. He always had been unwanted in the Dursleys' mundane, safe life because they were afraid of him… and who wouldn't be? Everything that he loved would always disappear before his very eyes. For him, to love was to destroy. Life never let his happiness last long, and if anything good happened to him, especially something that came in the form of a much-needed godfather, life, being the bully that it was, would always take it away from him. He had barely gotten to know Sirius when life stole him away as a present for death. Sometimes life reminded him of Dudley… but at least Dudley, he could hide from. How do you hide from something that doesn't exactly exist, at least not in a tangible form?
He had been charged with this destiny that was so great and powerful, but always lonely. Always. Harry knew that as supporting as his friends were, they would never make up for family, and that they, in turn, would also vanish from his life, because Harry Potter was fated to be alone, the sole defeater of Voldemort and nothing else. Once he did what he was supposed to do, he could just disappear and no one would miss him, no one would care.
Sometimes he wished that he wasn't the Boy-Who-Lived, but rather the boy who lived a normal life. He wanted actual parents, not dead ones that he never really knew. He wanted a real home, not the dump that was his residence at Number 4, Privet Drive. He wanted a life at Hogwarts that didn't revolve around fighting two-faced DADA teachers or defeating Hungarian Horntails. Basically, he wanted a life that was insignificant, perfectly normal.
Normal. The word sounded so tempting. But wait a minute. He was in the past; the future was in his hands. He could do what ever he wanted, change his life for the better. He could do it; he had the power to get everything he had ever wished for. All he had to do was to stop Pettigrew from betraying his parents, no matter what it takes. It was just one life he would be altering, just a small blip if you considered how big the universe was. What could possibly go wrong?
○ • ○ • ○ • ○
Nikkus watched the formulating of Potter boy's decision with a peaked interest. Oh, this was getting to be too good. He could always count on mortals to use something as petty as emotions, particularly love, as a motive to do a task; it always made things even more interesting. And best of all, if the mortal went through with his plan, perhaps with a little aide from himself, he would have a more justified reason for his plan.
Dione, who was standing next to him, peering down through the glass at the vision of the black-haired boy, pursed her lips. "Nikkus. The space-time continuum must not be broken. This boy can't change the past or else things will amount to disaster. Especially since his means of getting there in the first place wasn't exactly orthodox."
Nikkus simply grinned. "Perhaps that was the plan all along, sister dear."
"Father will be outraged!"
"But not at me," he replied smoothly. "At him. And of course, that wouldn't be any of my concern."
She narrowed her eyes. "This isn't some petty revenge scheme. You're planning on starting a war," she deduced.
"Quite possibly."
"But why? Need I refresh your memory on the consequences of the last war we waged against the mortals?"
Nikkus grinned wickedly. "I wanted to stir things up a bit. Coexisting peacefully with the mortals tends to become dreadfully dull."
---
Previous Chapter
Next Chapter
---
Favorite&nbsp|Reading List&nbsp|Currently Reading
Write a Review
Reminisce:

Confessions of a Teenage Time Traveler