Warning: This chapter contains dirty language. Seriously, it's really filthy; you may need to wash up after.
---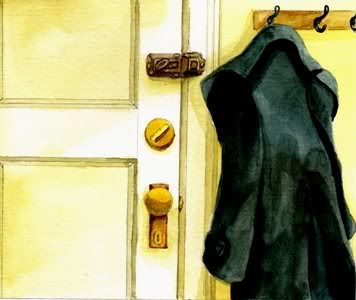 If I had been trying for a universal ward- and bond-breaker as I had described to Lee I wouldn't have gotten very far in a single day. But all I needed now was a specific pass to any wards keyed to Jody, and I had a start by possessing her hair as well. I had my memories of my bond-breaking experiments, though it was years ago. More importantly, I had house elf eyes. Their very presence is something like the physical manifestation of a broken contract between master and elf, so they could be a very powerful component in a breaking spell or potion.
By ten pm I had something that wasn't by any means a polished potion, but I was satisfied that it could muscle its way through any wards that Jody had access to. It was just rather unfortunate that Kob ignored my locked lab door and apparated directly into the cellar. It was much more unfortunate that the jar of house elf eyes was standing open next to my cutting board with one pair of eyes conspicuously missing. He must have seen it immediately; he started in on me before I even turned around from bottling the finished potion.
"You,
you
have done this? You have cut them?"
Damn
, I was going to have to waste time arguing with him now.
"I merely…" I started, but he shrieked over me.
"
You
! They are right, what they say! Your hands are full of blood and crap! You are up to your elbows! Dirty, rotten, foul one!"
"Shut up!"I tried to shout over him but he kept on.
"Stained, stinking! Dust bunny!"
"What?"
"Drain slime, grout grime!"
Obviously I would have to be the reasonable one. I tried to explain. "If
you
want me to try to track them, I
have
to…"
"No, no,
I
don't ask you to do this, you don't lay this on me, this is what
you
do. You don't have to do this, you
want
to!"
"Want? I don't
want
to do any of this; I never wanted any of it!" I shouted, slamming my hand on the counter.
"Filthy skid-mark! It is permanent, it doesn't come clean!" His voice seemed to resonate off the house foundations until my head rang with it. I hunched forward, pressing my hands over my ears. Impossibly, his voice got even louder. "It is enough,
you have no home!
"
I felt a wave of cold hit me. Somehow I had lost my footing and I was on my back on the floor trying to catch my breath. I saw Kob grab the jar off the counter and set off up the cellar steps. Did he think he could steal from me? I scrabbled for my wand.
Just as I got my fingers around it, the cupboard door next to me flew open, cracking against my elbow. My fingers went senseless, sending my wand skittering away. I scrambled after it and got it with my other hand, just in time for another cupboard door to get me in the shin.
I staggered away, swearing. What had Kob done? Backing into the middle of the room, I looked around myself carefully. From the corner of my eye I saw my stool scuttle crablike at me from the corner of the workbench. I sent a
reducto
at it, but somehow both it and the spell veered away. The spell streaked out one of the half-light windows which opened for its passage and closed with a snap once it had gone.
The large store cabinet across the cellar peeled away from the wall and moved towards me with a resounding thud.
Hell
, it was almost three meters tall; if it fell on me, it would kill me.
I made for the stairs, the stool zigzagging across the floor behind me. I tried to rush up them, but the wood twisted and writhed beneath my feet. A riser somehow got itself around my left ankle and ground viciously into my flesh. I yelled and kicked as hard as I could with my right foot. I could hear the stool skittering on the lower steps.
I kicked out again in a panic. My foot connected and after a painful wrench I was free. I lunged up the bucking treads and got myself halfway through the door when it slammed on my shoulders, crushing my chest against the jamb. When it swung back open, no doubt to deal me another blow, I staggered into the kitchen.
"Kob, damnit!" I coughed. He was nowhere to be seen. The oven door swung wide with a heavy clank and I saw a drawer start to slide open.
Bloody hell
, that was the knife drawer! I cast
protego
behind me and started for the back door. As I was grasping at the handle I saw the shield, which should have been behind me, fly in shreds out through the window over the sink which had obligingly opened to let it pass.
The back door wasn't about to offer me the same courtesy. I pulled frantically on the knob. It finally yielded a few inches as a knife thunked solidly into the wood. I wedged my shoulder into the gap and shoved back with my legs in an attempt to get it open. My coat on the hook next to the door took that opportunity to twine fast around my arms and start to work its way up my torso in a tight embrace. I just had time for a gulp of air before it pushed over my face and started to smother me.
In the darkness I arched myself sharply backward trying to get my face free, but the wool clung tightly to my nose and mouth. My chest heaved and it was like I was back on the floor of the damn shack trying to breathe through my blood. Lights flashed and exploded behind my eyes, and behind that was a wall of darkness with the weight of my own death sitting in it. My legs gave way and I could feel myself sliding down the doorjamb and keeling over in a long fall.
The next thing I knew, I was lying in the grass at the foot of the back steps, gasping in the cold air. My coat was lying half-across me, still and lifeless. I flung it away and crawled a few feet before I lay back down on my side in the wet grass. A steady cool rain was running over my face.
The throbbing pain in my left ankle finally spurred me up. I staggered to my feet and reluctantly picked up my now-inert coat. I didn't really want to touch it, but as I couldn't go back into the house, I would probably need the emergency supplies I had packed in the pockets.
A last look back at the house showed it surprisingly dark, quiet, completely still. No doubt it would be happy to throw me out again or kill me if I ventured back inside. I limped down to the greenhouse, shut the door behind me and put up the heaviest wards I could manage in my current state. I especially weighted the wards against house elves. The little sod thought he could throw me out of my own home! I tried to avoid thinking about the fact that he had succeeded.
At last I sank onto the cot that I thankfully hadn't bothered to transfigure back two days ago. I peeled back my sock and examined my ankle. The skin was torn and I was bleeding into my shoe, the ankle bruised and swollen, but I didn't think it was sprained. I cast to clean it up and seal the wounds, then worked on the rest of my scrapes and bruises.
I tried to concentrate on the healing. Whenever my thoughts veered back to being thrown out of my home,
my own home
, I felt my wand hand start to shake. How could he do that, just because he didn't approve of some potion? At least I had a place to sleep at the moment, but what if I truly couldn't go back inside, to my equipment, my business orders, my records, the rest of my emergency money? My just finished potion… but that was moot now, of course. Kob had a sacking technique that was surprisingly similar to the Dark Lord's.
It seemed strange to think that I didn't have to track Lee now, or think about Avi or Amy again. Instead of relief I just felt empty exhaustion. Whatever I did or didn't have to do, there was nothing I could do, tonight. I cast some final warming and drying charms on myself,
scourgified
the blood out of my sock, climbed into the sleeping bag and went to sleep.
---
A/N: Sorry about the language, house elves get nasty when they're riled! As you may have guessed, no matter what Snape thinks, this is not the last chapter of the story, there is more to come. Thank you to everyone for reading!