[
Printer Friendly Version ] [ Report Abuse ]
Half Brothers by TeaCakes
Chapter 1 : Half Brothers
| | | |
| --- | --- | --- |
| | Rating: Mature | Chapter Reviews: 1 |
Change Font:
Change Background: Change Font color:
Half Brothers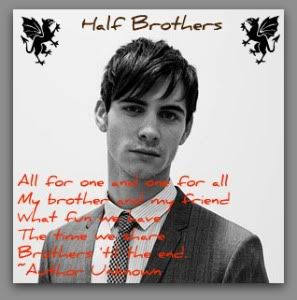 Blessed is the servant who loves his brother as much when he is sick and useless as when he is well and can be of service to him. And blessed is he who loves his brother as well when he is afar off as when he is by his side, and who would say nothing behind his back he might not, in love, say before his face. ~St Francis of Assisi
May 1998
It rained the day they buried his half brother. The sky turned black and brooding and sick as a bruise, and the rain turned the dirt to mud, and the small group of mourners into a shivering mass, hiding under umbrellas. Everything living hid. Everything dead paid no mind.
Fitting,
he thought.
Adam Turner shifted in their tiny press, as they huddled under cover, watching his half brother's coffin go down into the cold wet earth.
He was the oldest of their group. The others around him were all teenagers still, barely old enough to really appreciate the full force of death.
Particularly when the one who died was someone you grew up with.
It had been what, eight years since they saw each other? Something like that. Half brothers they might have been, but they'd operated like any brothers. Give each other hell, but in the end the only people they could really rely on in the end.
And after eight years, the first time Adam saw his brother was in the middle of a battle.
You always were a complicated bastard,
Adam thought as the earth filled in, covering his dead brother.
Always had to take the thorniest path.
When the group started moving back toward the castle, Adam stayed, standing next to his brother's grave. His socks were soaked through from the rain, but he hardly noticed.
Eight years. Merlin, but that was a long time.
"Hey, brother," he said, not entirely sure who he hoped would hear. "Been a long time. A lot I didn't know about these last eight years… funny, how some kid you couldn't stand ended up knowing more about what happened than me."
Adam rubbed at his face, and looked at his hand in surprise when it came away wet with tears. "Shit, you made me cry," he said with half a bitter laugh. "Only took you close to forty years."
The grave was silent. Adam squatted in the mud, the umbrella resting on his shoulder. "What gives, huh?" he asked. "You couldn't even tell your own brother you weren't the traitor everyone thought you were?" He shook his head. "But you wouldn't. You were the one who kept secrets, not me. You said that was why I was so bad at cards. I remember that." He rubbed at his eyes again, sighing.
"It was all for her, wasn't it?" Adam asked, looking down at the grave. "All for Lily. She's been dead nearly seventeen years and you still died for her. Not her boy, her." Adam looked out across the lake, which was as gray and moody as the sky.
"You know, brother," Adam said, looking down again, "I don't know whether to admire you or call you a bloody fool."
The earth gave no answer.
Adam straightened. "I hope you got what you wanted. I sure as hell know that you left me a shit-load of work to do, now that you're gone." He shook his head again. "I can't decide which one of us that makes selfish."
He looked down at the grave for a few moments longer, and turned toward the castle. For days it had been nothing but burials, mourning, grieving. His brother had been the last. Now repairs would begin, and eventually Hogwarts might retain no trace of the battle except for the graves that now sat beside it, under the shadow of the castle.
Adam gazed at its gothic arches, at the looming towers.
This had never been the home to him that it had been for his brother, but it had memories. Plenty of them.
He touched a wall.
Men die, and stone lingers.
Adam folded his umbrella and tread through the corridors, his coat leaving a trail of water droplets behind him. No one would notice. No one would mind.
He remembered the first time he walked through those walls. They knew that they were half-brothers, then. It hadn't been that hard to figure out, both living in Spinner's End, both having practically the same face, even if Adam "came out prettier" as his brother would tease him. They always knew. It gave them common cause—a reason to band together in their savage little neighborhood.
Adam smiled a little as he remembered. Of all those bands of Spinner's End children, seldom was it just a pair of brothers.
It had, at least, prepared them somewhat for the likes of James Potter and Sirius Black. Adam had been no stranger to the kind of things they did, even if they had magic to their advantage when the kids at Spinner's End did not.
Lily would come with them sometimes, but she hardly counted. She wasn't from Spinner's End, and everyone could tell. Her clothes were too nice, her shoes too new. She was their privileged friend from the outside, and as far as anyone else was concerned she should have stayed on the outside.
But his brother would never have stood for that.
Oh, Adam remembered too well their first years at Hogwarts. His brother knew books, Adam knew people. He could usually convince his brother to help him with assignments, but he could never convince Severus to let him introduce him to his friends. Adam's half brother had all too quickly turned into the boy who only talked to Lily Evans and on occasion a few other Slytherins. Adam was the only one besides Lily he would talk to if he didn't have to.
People could barely believe they were related, let alone brothers. Adam was the social one, the one who made friends. Severus was… not.
And he was my brother,
Adam thought. Even if they went home to different mothers in the summer it didn't matter. They were brothers. They took care of each other, annoyed each other, sometimes they fought.
Adam glanced into the Great Hall. Everyone was eating, talking, trying to pretend they hadn't come together because of war and death. Even if his brother had been alive, he wouldn't have been among them. Potter's assurances or no, they'd have locked him up, dragged him off to Azkaban to wait for a trial.
Maybe he had let himself die, to avoid that. God knew, death would be easier.
Still, that didn't quite fit with what he knew of his brother. No, his brother died because he had nothing left to live for. He had lived his whole life for Lily Evans, and once he had given her son everything Potter needed to know, he didn't feel the need to carry on.
Adam had gotten a kid of his own. He still had something to live for.
Speaking of,
he thought, looking around.
Where is the little brat?
His daughter, just nine years old, was talking animatedly to Harry Potter, who was smiling indulgently and letting her go on and on. Adam smiled to himself. Mara, her name was, Mara Turner. She looked like her grandmother, but with his black hair.
Not the only thing I got from the man who sired me,
Adam thought.
Would that my brother had been so lucky to not grow up with him.
Mara spotted him. "Dad!" she cried and ran over, grabbing his hand. She dragged him back to the table where Potter and his friends sat. "Dad, Dad—Neville killed the snake!"
Adam glanced at Longbottom, who smiled with a little embarrassment. "Does that mean you avenged my brother?" Adam asked with a bit of a smile. "Perhaps I owe you a debt, now."
Longbottom assured him he didn't.
Adam looked around, sighing. "Eight years," he muttered.
"Mr. Turner," Granger said, looking a little uncomfortable, "We don't know if Professor Snape had a will or not—"
Adam shook his head. "He wouldn't. Wasn't in his nature. I think he'd just assume that I'd take everything when he died. He didn't really have anyone left." He glanced at her. "You can have his books, though. Trust me when I say I won't have any use for them."
Granger hesitated at that. "Are you sure?"
"Sev was always into the books," Adam said, Mara hanging off of his back like a monkey, "I never was. Everything useful I learned I learned from people." He pulled Mara down and mussed her hair. "We differed, that way."
The teenager picked at their food. Picking their next question, Adam thought.
"How did you find out you were brothers?" Weasley asked at last.
Adam snorted, holding his daughter under his arm. "We grew up in the same neighborhood. Everybody knew. Nobody liked to talk about it, but everybody knew." He ran his fingers through his hair and sighed. "Merlin, I can't believe he's gone."
"Were you close?" Potter asked.
"When we were kids we were inseparable," Adam said, "Spinner's End wasn't a good place to go without an ally." Adam smiled a bit, and added—"If Old Crow Carter is still alive, I bet she still hasn't forgiven us for smashing her petunias that one time. We were being chased by a dog," he explained.
"So… you must have known my mum," Potter said.
Adam nodded. "Yeah, I knew her. Nice girl, but not my friend so much as Sev's. She didn't really like me."
Granger asked the next question. "Mr. Turner, Professor Snape's mother was a witch… yours…"
"Wasn't," Adam finished for her, "I know. Sev always said I probably wouldn't go to Hogwarts, that I was a muggle." He grinned. "The universe proved him wrong. Got lucky, I guess." He put Mara on her feet. "Why don't you go find someone else to play with, hmm?"
Mara stuck her tongue out at him and ran off. He chuckled.
A chip off the old block.
He ran his fingers through his hair again. For most of his life he'd always had long hair—generally a bit longer than his brother's, but he'd cut it a few days ago. He read somewhere that some people did that when they lost a loved one, as a mark of their grief.
Trouble was he couldn't remember if that had been fiction or nonfiction. It didn't matter, he supposed. It was the thought that counted.
Later that night he went down to his brother's old rooms. Potter had shown him where they were after the battle, when he found out his brother was dead. Mara was already in bed, curled up with a blanket on the sofa.
Adam looked around the rooms. They didn't really feel like a home. More like an imitation of one, like his brother had never really known what one should be like. He supposed that there might be more truth to that than he would like to acknowledge.
His brother would never have left that hellhole he called a childhood home. He was too protective of his mother, and Eileen… well, she was too scared to leave.
Adam sat in the middle of the floor and closed his eyes. It was all too easy, sometimes, to remember the way things used to be. But that wouldn't do him any good.
His brother was dead, and Adam had his own to look after now. There was nothing he could have done for Severus anyway.
Eight years. Eight years they hadn't seen each other, and then he was dead. Murdered for some fairy tale wand.
Brothers,
Adam thought,
we're not perfect. We try, but in the end we're only human. I couldn't have helped him, but I wish I could have.
He opened his eyes, and paused.
A silvery doe stood before him, gleaming and patient. Adam stared, wondering.
The doe pawed the ground and then turned, bounding off through the stone walls, into the unknown.
Adam was alone.
After a moment, Adam smiled.
"Goodbye, brother."
---
---
Favorite&nbsp|Reading List&nbsp|Currently Reading
Write a Review
Half Brothers:

Half Brothers