Disclaimer; The OC's in this story as well as the plot were all created by me, All other things mentioned in this chapter and this story as a whole are property of J.K Rowling. The lyrics below are by Adele and the story title comes from Taylor Swift. Thank you for reading.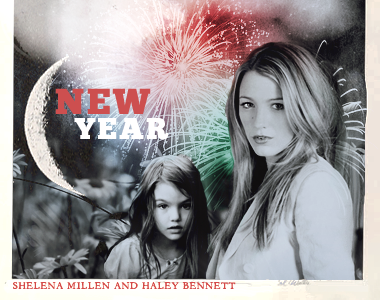 The scars of your love remind me of us
They keep me thinking that we almost had it all
The scars of your love, they leave me breathless
The amazing chapter image above was made by Broomsticks of TDA.
After a few minutes, a knock at the door disturbed the silence of the table- Coralie was grateful for this as she was sure everyone else was as they'd all just been sitting there for ten minutes or so. She was unsure as to whether they were waiting for her dad and sister or whether everyone was waiting for the roast beef to look appetising, if it was the latter she figured they'd be sitting there for the rest of their lives.
Tearing her eyes away from the roast beef that was only now cooling down after being on fire for the first five minutes, she looked up to the door to see her father followed closely by Allisyn and Haley. Coralie stood up and greeted her father with a small hug and a polite kiss on his cheek before moving to Allisyn who gripped her tightly.
"Merry Christmas little sis" She whispered before moving down the table, Coralie bent down to her niece's height.
"Hello Haley, how are you?" Coralie grinned, hugging her little niece tightly who responded with just as much gusto.
"I'm good Cor Cor!" Haley replied with her voice as sweet as sugar, Coralie chuckled at the nickname the little girl had given to her the Christmas before as she placed her little niece in the seat beside her.
"Now that everyone's here we can start eating" Marcelle grinned, sitting back down and digging into her meal while the rest of the table watched her before looking down at their food before slowly, one by one, picking up their knives and forks and beginning to eat.
"What is this?" Haley leant over to whisper in Coralie's ear as she stared down at the disaster in front of her.
"Uh…Roast beef" Coralie replied, watching her little niece scrunch up her nose in disgust.
"Are you sure?" She added and Coralie nodded, fighting back a chuckle. "Did Grandmama cook?" Coralie nodded again and Haley sighed, picking up her knife and fork and beginning to try and cut through the meat. After a few minutes, she sighed with defeat and placed her knife and fork back down on the table. "Never again Cor Cor" All Coralie could do was laugh in response.
"So, Coralie, Angus- how do you enjoy your new school?" Uncle Franc asked in a clear attempt to avoid eating what was in front of him which both Angus and Coralie jumped at the escape.
"Oh, it's wonderful" Coralie exclaimed, placing her cutlery down- her mother had always told her it was rude to eat with a knife or fork in your hands.
"Yeah, it's amazing." Angus added, pausing before he added more. "We both really enjoy it there and have made heaps of new friends" Coralie nodded in agreement.
"Oh, that's great!" Their aunt added a fake smile plastering on her face- though Coralie knew her Aunt Agnes really did care she couldn't blame her.
"Better than St. Mary's?" Rhiannon asked, flipping some of her jet black hair over her shoulder. Sometimes Coralie could hardly believe the similarities between Rhiannon and Kiki- both were insanely beautiful with their long jet black hair and their bubbly personalities.
"Yeah, totally" Angus replied, reaching his hand up to mess up his hair before letting in fall back into his lap.
"Angus made a new little friend, didn't you Ang?" Jacob teased, his brown eyes twinkling with excitement. "Had her over this week" Angus blushed a deep shade of red before he looked down at his food, Rhiannon whacked Jacob on the back of his head.
"Shut it Jake" She growled, her brown eyes flashing with anger. Rhiannon- being a year old than Jacob- and being a girl, was the more mature one out of the two (and according to Jacob the more violent one) and therefore felt the need to always protect her younger cousins from Jacob.
"Cora's got a boyfriend too" He added before being silenced with a look from Rhiannon.
"Is it that boy from the party?" Thomas asked, his head tilting slightly to the side. The smile quickly fell from the four eldest Bennett children's faces, Allisyn, however was quick to regain hers.
"What guy?" She asked casually, inspecting her fingernails calmly while the other three tried to regain their composure.
"The guy Cora was dancing with?" Thomas added as Allisyn shot him a stern glare, Marcelle was now paying attention. Violet paled as Marcelle repeated Allisyn's question though she was much more interested.
"Oh, he was just someone's son" Coralie responded confidently, "Didn't catch his name" She smiled softly before the conversation was dropped and everyone went back to eating.
"Read it" Violet whispered, joining Coralie in her bedroom a few hours later- once everyone had gone home. She dropped a letter into Coralie's lap, who stared at it for a while before picking it up and opening it,
Violet,
Aren't you just the master of disguise? Why is it that I can't seem to find you though Herbert clearly can, boy it would be wonderful to hear back from you so that I can know that it is you who's reading this and not some old creep- I'm sure you'll see what you can do.
I do have my doubts; I would have expected you to do something rash by now but alas here I am sitting in your old living room waiting for a little bit of entertainment from everyone's favourite Bennett.
Tell me love, how is Coralie? She's not like you at all is she? I fear I may have chosen the smarter Bennett to go after, pity I hadn't seen you first. Ah well, dear Coralie is much prettier, is she not?
Enjoy your Christmas.
Leo
She quickly scanned the letter, reading it over and over in her head before she could speak. "When did you get this?" Coralie asked, gripping the letter tightly in her hands.
"A few weeks ago" Violet responded, staring at the letter with her big blue eyes before sighing and look straight ahead at the wall.
"Who did you tell?" The younger one asked, staring down at her feet now with a determination filling her eyes.
"Jacob and Allisyn, that's it. Does Angus know?"
"No, I don't think so" Coralie replied and Violet sighed with relief before standing up.
"I'll see you tomorrow morning then?" Violet smiled weakly, placing her hand on Coralie's shoulder before disappearing around the corner and leaving Coralie alone to stare down at the letter in front of her.
It worried her; the fact that Leo was so desperate to take out her family with no seemingly good reason. With a sigh, she shoved the letter in the drawer of her bedside table and collapsed back into her bed and without bothering to turn off her light, she fell asleep.
A few days passed and Coralie had barely run into Violet through the house which somewhat surprised her, though the house was reasonably sized it wasn't bigger enough as to completely miss people and therefore Coralie decided that Violet was indeed avoiding her- not that she particularly minded. Her mind was focused on James' party that was to take place that night.
With a sigh, she slipped down the stairs and into the kitchen for a snack. There was only about an hour left before Jacob was going to drop her off at Mary's with whom she'd then walk to James' party with. Fumbling around in the fridge she quickly pulled out an apple and bit into it before sitting
"Who was the boy your cousin was talking about?" She asked, staring at Coralie with a questioning look on her face.
"It was no one ma" Coralie responded immediately, refusing to meet her mothers' eyes.
"Don't lie to me Coralie" Marcelle spat back, her voice raising slightly. Coralie sighed; she'd never once heard her mother get this angry about anything. "Tell me"
"It was no one important mother" She replied, trying to keep her voice as calm as possible.
"Coralie" Marcelle said sternly but she was cut off by the sound of Jacob's voice.
"Cora, you in there?" Jacob called, before he appeared in front of the two of them. "You ready to go then?" He asked casually, obviously detecting the hostility between the two.
"Yes, I'm ready" She answered, nodding a goodbye at her mother before following Jacob out towards his car.
"You alright sis?" Jacob bit down on his lip, opening the car door before sliding into the driver's seat.

"Fine" She whispered, closing her eyes and leaning back against the car seat.



An hour later the little car finally pulled into Mary's driveway after the entire time was spent in silence bar the sound of the Jacob's watch ticking constantly. As the car drew to a stop Coralie looked over at Jacob.



"Alrighty then" Jacob started, pulling the keys out of the ignition and stared over at Coralie.



"So, I'll see you tomorrow Jake. Bout three o'clock?" Coralie added and Jacob nodded, she smiled at her brother before she opened the door and swung her legs to the side.



"Wait" He said, turning to face her as she turned back to him. "So there will probably be alcohol of some kind at this party tonight and your boyfriend will be there and god knows who else" Coralie raised an eyebrow at him.



"Where exactly are you going with this?" She asked, staring over at her brother with a confused look. Jacob sighed, and bought his hand up to ruffle his hair before letting it fall back into his lap.



"Just be careful Cor" Coralie stared at her brother for a minute before she cringed.



"Please no Jake" She whispered.



"But seriously Coralie, Don't do anything" He pleaded and Coralie shook her head as she turned away again.



"I'm leaving Jake. I'll see you tomorrow" She said, pulling her bag out of the backseat before sending her brother a little wave.



"Nothing, Coralie, Nothing!" He called after her and Coralie chuckled, turning around briefly to wink at her brother as he disappeared down the street. As she turned back to Mary's house, she smiled brightly. Nothing could bring her day down now.




The sky darkened as Coralie followed Mary along the wizarding streets that led to James' house. It was about seven o'clock and the two girls were on their way to what Mary was referring to as the party of the year. Mary's parents had gone out to their own parties and had left the girls to their own devices. Coralie knew her own mother would be disgusted at the idea of letting her daughter walk alone at night but she could hardly say that to Mary.
"How much longer?" She asked nervously. Her feet were already killing her in the stupid high heels that Violet and her mother had picked out for her; they had said that it would 'attract' Sirius. Coralie rolled her eyes at just the thought of this.
"Just another street Cors" Mary responded, twirling around the sidewalk as she went which caused Coralie to raise an eyebrow. The next street came into view and Coralie found herself being pulled along by Mary to a big old house that was obviously decorated for a party. "Here we are" She grinned, pulling Coralie towards the door.
"Hey Cors, Mary!" Kiki yelled, hugging both of the girls tightly before moving onto some boys that came in the door afterwards. Coralie glanced around the room, hoping to see Sirius somewhere but couldn't.
"I'm going to find Sirius" She yelled to Mary, who nodded, though she highly doubted that her friend had even heard her. She pushed her way through the crowd to a set of double doors which she pushed her way through, letting the cool breeze rush around her.
"Hey" Cory said, appearing beside Coralie with a bright smile on his face.
"Hello Cory, you seen Sirius by any chance?" She asked, and he shook his head before he moved down the patio. Coralie quickly followed after him. "You alright?"
"Yeah, I'm just not really a party person- you know?" He sighed and Coralie nodded.
"Yeah, me neither" She added, sitting next to Cory on the patio steps. They were silent for a while before Cory coughed, bringing Coralie out of her thoughts.
"You okay?" He asked, staring up at the stars before looking over at her.
"Yeah, I'm good" She responded, her voice dry. She could tell Cory knew something was wrong but he didn't bring it up, he reminded her of her brothers in that way. The pair fell into silence again before Coralie sighed and lay back onto the patio, Cory quickly copying her but they both kept silent for which Coralie was thankful for, she was glad that Cory didn't feel the need to say something every minute.
A few hours passed and couples appeared and disappeared onto the patio, too engulfed in their passion to notice the two of them- whether their passion was real or fake, Coralie didn't seem like it was much of her business and Cory seemed to agree. It wasn't until James poked his head around the corner that the silence was broken.
"There you are Cors" He said, oddly sober which Coralie had definitely not expected from the Marauder. "Sirius is looking for you inside" He said solemnly, popping himself next to Cory and sighing.
"Okay then, I'll go find him then" She said unsurely, she wasn't sure whether it was safe to leave James and Cory alone when they both seemed so upset about something but she knew Sirius was waiting for her. She pushed herself back through the crowds and looked around for a while before finally she noticed Sirius standing on the stairs in a heated argument with a blonde girl whose face Coralie couldn't see.
As she got closer, she could just catch a few of the words that were being thrown around; '
cheated', 'forgive', 'different'
and '
sorry'
but by the time she got close enough to be able to hear full sentences, Sirius had noticed her and ignored the girl.
"Hey" Coralie said, as the blonde girl stormed past Sirius and up to the second story.
"It's over Coralie" He stated and Coralie almost thought he was joking until she saw the cold look in his eyes, She nodded without saying a word and turned on her heel- ignoring the shouts from her friends as she pushed through the front door. She quickly tossed off her shoes and sat down on the gravel driveway.
"Cora?" She smiled weakly and turned around to look at Cory who was watching her with worry laced in his eyes. He frowned but didn't say anything else as he sat next to Coralie and threw his arms around her shoulders.
"I don't get it" She whispered, resting her head on Cory's shoulders. "Does it make sense to you?" Cory shook his head solemnly. "I think its midnight" Coralie added at the sounds of cheering inside the house and the explosion of fireworks in the backyard- Coralie could only guess that they were courtesy of the Marauders.
"Yeah" Cory whispered and Coralie turned to face with a frown but was surprised as her lips were captured by Cory's. She was frozen for a minute before her mind kicked in and she pushed him away.
"I'm sorry" She whispered and stood up, grabbing her shoes and heading back inside where she ran immediately ran into Lily who looked like she'd been pulling her hair out.
"Cora" She breathed, pulling Coralie back outside. "Come on, we'll get you home okay?" Coralie nodded.
"Thanks Lil" She whispered and Lily beamed at her.
"No problem" She said as Lily's dad pulled up in front of them, she noted that Cory had disappeared from where they'd been sitting just a few seconds ago. Coralie followed her friend into the car and gave Lily's dad directions to her house as they head off. "You alright?" Lily whispered as the car drove up Coralie's driveway, placing her hand over Coralie's.
"Yeah" Coralie barely whispered, as she shuffled over to the car door. She quickly thanked Lily's dad and hugged her friend goodbye before climbing out of the car and moving towards her front door, she quickly pulled out her house keys and tried to open the door but it wouldn't budge. With an exasperated sigh, she slid down to the floor and threw her keys next to her.
"Please, just swallow me up" She said to the ground, frowning down at it before shutting her eyes.
"Talking to yourself is the first sign of madness sis" Angus chuckled, his head appearing through the front door. Coralie sighed before frowning up at her young brother. "What's up?" He asked, sitting down next to her.
"Sirius broke up with me" She responded, disappointment seeping through her voice. Angus sighed but kept quiet as he pulled her off the floor.
"I love you sis" He whispered.
The next Coralie found herself being watched by all of her family very closely; like they scared that if they looked away for too long that she might go mad or even suicidal. She early figured out that Angus had told them about what had happened the night before and now they were all taking it as their responsibility to watch over her like hawks. She thought it was sweet and she understood why they were being so protective but she also seriously needed her own space for longer than five minutes but she couldn't bring it up with them- they'd just deny it.
On the plus side, Violet was no longer avoiding her and had actually taken position of lead protector much to Jacob's dismay.
The same antics went on for days until the point where Coralie really could not take it anymore and decided to bring it up; she started with Angus first considering he'd probably be the most mature about it- funny considering he was the youngest, and so on the third day she found him outside.
"Hey Angus" She smiled, sitting next to him on one of the many stone benches that their mother had placed all over the garden.
"Hey" He grinned, throwing his arm around her shoulder and hugging her tightly. "How're you doing?" He asked, the worry seeping through his voice.
"I'm fine Angus, Really I am" She replied and he nodded though Coralie could see the doubt in his eyes. "I am, I really thought I'd be more upset about it but I don't know…"
"I know Cora. I know you're fine, you always are" He replied and Coralie smiled at him, resting her head on his shoulder. He smiled too, brushed some of her hair away and placed a soft kiss on her forehead. "Still love you sis" He added causing Coralie to chuckle. Now Coralie felt more confident about everything and so she figured maybe her family's protection wouldn't be such a bad thing.
The scene was set for Pierre Bennett's birthday soiree, the house elves had decked out the second story ballroom with golden and cream decorations- being Mabel Bennett's- Coralie's grandmother, favourite colours and the food had been prepared. Coralie and Jacob- who her grandmother had chosen would be the only eligible bachelor in the family, had arrived two hours before the party was due to start and had bared witnessed to their eccentric grandmother's planning. At one point, they'd even had to stuff their fists in their mouths in order to hide their laughter and their father was ordered around like a house elf but had quickly sobered up when their grandmother noticed.
After half an hour of witty remarks thrown at their father, Mabel sent them upstairs to get ready which they quickly agreed to in fear of being ordered around too. Coralie took her time getting up the room that she had once called her own, back when her parents were still together. The hallways hadn't changed much although she quickly noticed that her mother was missing from every portrait- she highly doubted this was the work of her father though- he probably never even noticed. Coralie was ninety percent sure it was her grandmother's idea, the other ten percent was betting on her mother's strong will.
With a slight chuckle to herself, Coralie moved into her old room which had been converted into what Coralie imagined her to be her grandmother's second bedroom. The walls were covered in hideous yellow wallpaper that also covered the roof. Three large windows that reached from just an inch off the floor to about six inches from the roof provided a ridiculous amount of light into the room- so much so that Coralie found herself squinting against the glare of the sun.
Placed right in front of the first window was a king sized bed, it was slightly higher than the rest of the furniture as it was placed on a raised platform. The curtains of the bed had been drawn back and the bed had been neatly made by the house elves which hardly took long for Coralie to ruin as she fell backwards onto the thick blanket.
After a few minutes of lying there in contentment, Coralie sighed and pushed herself up- there was no doubt in her mind that in any minute her grandmother would be poking her head around the corner to see if she was ready yet. She quickly pulled on the dress she had bought with Lily and moved towards the vanity- taking the seat in front of the mirror as she began to play with her hair- it was being exceptionally difficult that day.
It took her another half an hour before she'd managed to make her curly locks somewhat presentable at which time Jacob had collapsed onto the king bed and was humming along to some tune.
"How much longer are you going to take?" He groaned, reaching his hands to massage his head- Coralie chuckled and quickly applied her lipstick.

"Done" She grinned, standing up from the vanity stool before moving over to the bed and pulling her brother up. "Come on, let's go exploring!" Jacob rolled his eyes but quickly followed her out of the room and down the corridor; he'd do anything to not run into his grandmother more than was necessary.


Coralie let her arms fall from her brother's shoulders as the slow song came to an end, Jacob led her back to the edges of the dance floor. She could feel the eyes of almost every girl on her and though Jacob was ignoring it, Coralie knew he noticed too.
"Go on then, break some hearts" Coralie said, pushing her brother on the shoulder slightly, he sighed and then turned to stare at her with sympathetic look in his deep brown eyes.
"Are you sure you'll be alright here by yourself?" He asked and she nodded in reply, using hand gestures to usher him away. With another sighed, he nodded and headed towards a brunette who had obviously caught his eye. Coralie sighed as she was left alone with her thoughts for the first time since she and Sirius had broken up. She adored her family but they were almost acting like Sirius had died rather than them breaking up.
She quickly tilted her head back and swallowed her glass of bubbly before setting it down on a table and politely making her way through the large crowd and out onto one of the balconies that was attached to the second story ballroom. She let out a relieved sighed as the cold air hit her face but it quickly turned into a half squeal as she noticed a snogging couple on the edge of the balcony. The guilty couple quickly broke apart, the girl- a tall blonde smirked as her eyes set on Coralie before turning her attention back to the boy.
"Run along would you?" She whispered seductively- the boy nodded, clearly too fixated on her looks to notice the rudeness in the girls' voice and so he sneaked back into the ballroom. "Hello Coralie" She whispered, her lips twitching upwards again in a smirk- Coralie had begun to wonder if that was the only facial expression this girl knew.
"Who are you?" She asked calmly, one of her eyebrows rising slightly at the girl who chuckled.
"Of course, Lily would never mention me"
"Shelena Millen?" Coralie whispered and the girl cocked her eyebrows.
"And so lovely Lils did mention me" Coralie's mind was racing a mile a minute- the girl that was standing in front of her was Shelena Millen, the girl that had treated Lily horribly, made Cory's life difficult and had torn apart Sirius and she was just standing there!
"What are you doing here?" She tried to keep her cool and though she thought she seemed confident enough, Shelena laughed again.
"You are a cute one!" Shelena exclaimed, playing with her cuticles. "I mean when my brother told me all about you, I thought you were going to just be another pathetic wimp but maybe I was wrong" She looked up from her nails without a twisted smile on her face before stepping closer to Coralie who found herself frozen on the spot.
"Your brother?" She whispered- desperately wishing her own brother was there to help her out.
"From what I believe you met him last year, His name is Leo" Shelena commented, her eyes twinkling with delight at Coralie's pained expression. She felt like she'd been punched in the gut- Leo was Shelena's brother? "I take it you remember him then?" She chuckled again and Coralie tried to keep herself steady.
"How?" She whispered without even realising that she'd said it out loud, Shelena however smirked and replied casually.
"I hope I don't need to give you the talk of the birds and bees Bennett" She then snorted at her own joke before her smile turned into a smirk again. "I just came to warn you"
"About?" Coralie replied, her voice trembling slightly.
"My brother doesn't give up" Shelena answered, she then paused for a second before pulling Coralie ear close to her lips and whispering furiously, "And to stay away from Sirius, he doesn't want you" She then pushed Coralie back into the balcony barrier and turned on her heel, storming back into the ballroom.
Coralie let out the sob she'd been holding in and slid down the barrier and onto the stone floor before she wrapped herself in her own arms. She quickly let her face fall into the knees and let everything that she had bottled up, out. After a few minutes, the door creaked open slightly to reveal Jacob who took one look at her form before crouching beside her and wrapping his arms tightly around her.
"What's happened?" He whispered, and somehow between her erratic sobs Coralie managed to squeeze out two words.
"Leo knows"
Authors Note; that was the monster of a chapter wasn't it? So I'm not sure whether you guys like the chapters long like this or shorter like the other ones, no one's ever really said so I'm just guessing that this is cool- let me know which length you prefer for the future.
Anyway, I think it's important that I address a few issues before I wrap this up- one, this is probably one of the most important chapters in the entire novel so make sure you'd paid attention, secondly, don't hate me for making Coralie and Sirius break up- I promise that it's very important to the story line and thirdly and finally, I'm sorry it took me so long to update I was doing Camp NaNoWriMo last month (I was actually writing the sequel for this) and therefore I was a bit busy and it basically took me the entire month to write.
I hope you enjoyed this chapter and look out for Chapter Twenty five in a fortnight or so. Thanks for reading!