Moony Eyes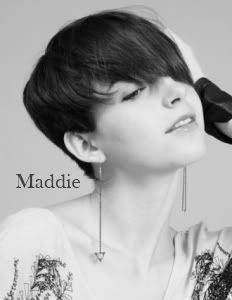 Chapter Eight: Reflection
---
"I want to talk to you," murmured Remus to Sirius as the latter joined him at the breakfast table.
"Thought you would," Sirius nodded.  "We'll talk after you get out of Herbology."
"Why you dropped that class I'll never know," Remus said, shaking his head and helping himself to kippers.
"What d'you want to do after Hogwarts, Padfoot?" asked James, joining them with Peter in tow.
"Dunno," said Sirius.  "Maybe I'll go abroad."
"And do what?" asked Peter, looking interested.
"Maybe I'll be an explorer," Sirius said with a shrug.  "I'll discover things."
"You might find Herbology useful, then," Remus grinned.
They all laughed, and for a moment it felt like old times.  In that moment there was no Lily, no Maddie Wright, no walls dividing them.  There were Mssrs. Moony, Wormtail, Padfoot, and Prongs, the inseparable four.
But the moment passed as soon as it had come.  The walls rose again, filling the air with unspoken words.  As if on cue, Maddie gestured to Sirius from the Ravenclaw table, and he rose to join her.  Peter stammered an excuse and went to go trip over Mary Macdonald's bag for an excuse to talk to her.  James and Remus were now alone, both (under the pretext of watching Peter's progress) watching Lily Evans.
"How are you, Moony?" asked James when he had at last tore his eyes away from the girl.
"What?" Remus asked distractedly.  "Oh, yeah.  I'm fine."
"You know I'm here for you, right?" James said, putting his fork down on his plate and looking intently at Remus.  "You can always talk to me if you need to."
"What are you talking about,, James?" Remus asked, eyeing him warily.
"Well..." James looked conflicted for a moment, but got over it quickly.  He leaned in.  "Okay.  I know your secret.  But don't worry," he said, holding up a hand before Remus could speak, "I won't say anything.  Your secret is safe with me."
Remus opened his mouth and closed it again.  What the hell was he talking about?
"And don't worry," James continued, taking on an annoyingly saintlike expression, "I don't think any differently of you.  You're still the same old Moony to me."
Remus blinked.  He decided to play along in the hopes that James might reveal what he was on about.
"So how did you, er, find out?" he asked.
"I saw that you checked out that book," said James kindly.  "
So I'm Gay- Now What?
"
Remus choked on his pumpkin juice.  James thought he was
gay
?  James thought
he
was gay?  Remus' mind let out a string of profanities.  Now what was he going to do?  If he denied it, James would want to know why he'd taken the book out, and Remus couldn't betray Sirius, especially not now that he was "dating" Maddie Wright.  Denying it would not only betray Sirius' secret, but Maddie's as well.
I can't believe it's come to this.
"I don't want anyone to know," said Remus quietly.
"I won't tell anybody," promised James.  "You have my word."
"Thank you, James," said Remus.  "You're a good friend."
Remus smiled because he was supposed to.  James smiled because he knew Remus was right.
---
"You're so pretty when you smile," Sirius said, tucking a little whip of Maddie's hair behind her ear.  Maddie looked over her shoulder at the figures walking across the grounds.
"They're gone," she said.  Sirius let out an exaggerated sigh of relief.
"Laying it on thick, aren't you?" Maddie laughed.  She put on a simpering face.  "Ooh, Maddie, I love it when the light hits you like that.  Maddie, your eyes are like chocolate lakes.  Maddie, your beauty is greater than that of a veela-"
"Oh, shut up," Sirius grinned, nudging her with his elbow.  She punched him back.  "Oww!" he whined, rubbing his arm.  Maddie snickered.
"Keep going like that and Remus won't be the only one who knows your little secret!" she smiled good-naturedly.  Had that comment come from anyone else, Sirius would have been nervous or offended.  But Maddie was different somehow.  He felt comfortable with her, just as comfortable as he felt with his other friends.
"Remus and you are the only ones who know," Sirius said.  "I'm glad though."
"Me too," agreed Maddie.  "I've always liked him.  He's a good guy."
"Yeah, he is," nodded Sirius, looking down at the stone bench they were sitting on.  A breeze ruffled his and Maddie's hair, but the day promised to be warm later on.
"He should be coming out of Herbology soon," said Sirius, checking his watch.
"Should I go?" asked Maddie.
"You don't have to," Sirius said.  "It's easier when you're around."
"What d'you mean?" asked Maddie, tilting her head to the side.
"Well it's just cool, you know?" Sirius shrugged.  "Having a friend who's a girl who isn't, like, trying to snog me and being all annoying and talking about things I don't care about."
"Yeah, I get you," Maddie nodded.  "It's nice cause I can be myself-
really
myself- around you."
The bell rang before Sirius could reply.  The pair quickly grabbed hands, scooting close to each other.  The group leaving the greenhouses began to pass by them, chatting happily.  Remus was among them, and he detached himself from the crowd and came to join them at their bench.
"How's the happy couple?" said Remus with a small smirk.
"Oh, shut up," said Sirius.  "You know the true story."
"That's what I wanted to talk to you about," said Remus.  "It may seem like a smart plan, pretending to date each other, but in the long run it may not be such a good idea."
"What do you mean?" asked Sirius.
"I mean you've basically tied yourselves together," said Remus.  "If people find out about either of you, they could easily uncover the other.  Also," he took a breath, "it makes it easier on your friends.  I had to cover for you big time today."
"How?" asked Maddie, looking worried.  "I feel horrible making you lie on my account."
"James saw my name in one of the books I got you, Sirius," explained Remus.  "He thought I'd checked them out for myself.  I couldn't very well deny it without outing you."
"So now he thinks..." Sirius' face betrayed his guilt.
"Yeah," said Remus.
"I'm so sorry, Remus," said Maddie.
"You didn't have to do that for us," Sirius said softly.
"Yeah I did," Remus said.  "You know I did.  But it doesn't matter.  Maybe... maybe it's better this way."
There was a long silence in which Sirius and Maddie both looked at him sympathetically.  Maddie put a gentle hand on his shoulder.
"When he starts going out with Lily- don't look at me like that," he added to the two, who had begun to protest.  "I know it's going to happen eventually.  It's inevitable.  But when it does, she'll probably find out about my 'secret.'  I'm not going to deny it then either.  Maybe then she'll forgive me a little for breaking her heart.  Maybe she won't hate me for it then."
"She doesn't hate you now, Remus," said Sirius.  "She loves you."
"Well if I went back to her now, James would find out about you," said Remus, smiling wryly.  "He'd find out I'm not gay, and then he'd work out who the book was really for.  He's not stupid."
"I know," sighed Sirius.  "I just wish... I mean, this is all my fault."
"It just wasn't meant to be," said Remus, shaking his head.  "I'd rather you had happiness at my expense than me at others'.  I have to go to Care of Magical Creatures."
Remus stood and left, heading for the little paddock where Professor Kettleburn taught.  Sirius and Maddie watched after him.
"Poor Remus," Maddie said, a small crease between her eyebrows.
"He's a brilliant friend," Sirius said.  "The best I've ever had.  Better than James, even.  I'm lucky to have him."
"A true Gryffindor," agreed Maddie sagely.
"Poor Remus," Sirius said softly.
---
The ink had long dried in Severus' quill.  His half finished homework sat before him on the bed, a constant nag in his mind like prodding needles.  He swept the books, parchment, and ink bottle roughly off his bed.  The ink bottle smashed, but Severus didn't take out his wand to clean it.  His wand, as a matter of fact, was sitting on the floor below the slightly singed bit of wall at which he had thrown it.
My life is a miserable wreck,
thought Severus, putting his face into his mattress.
What was the point? 
What was the point?
  She hated him.  It was impossible to change that fact.
And there was no point to life without Lily, his Lily.
Severus closed his eyes, trying to shut out the world.  He wanted everything to disappear.  His bed, the room, the school, the country, and himself most of all.  Severus remembered his first day of his first year, when he realized that Hogwarts was more of a home to him than the shack on Spinner's End ever had been.  He remembered his first Defense Against the Dark Arts lesson, when he'd decided his chosen career would be to come back to Hogwarts and teach that class.
But always, in every single one of his dreams, Lily had been there too.
The first good dream he remembered having was that he and the pretty red haired girl would go to Hogwarts and get sorted into the same house.  Before he'd seen her, the only dreams he had ever had were nightmares.  When he first saw her and her idiot sister walking down his street on the way to the park, it was like the sun had just been thrown into his life.  It was dazzling and blinding and beautiful, like a creature that had lived underground its whole life stumbling into the world at high noon.
When he dreamed of life as the Defense Against the Dark Arts professor, Lily was there too.  She taught Charms, or maybe Potions, and all of the students loved her.  They didn't really like Severus too much, but that was to be expected.  It didn't matter anyway, because Lily loved him.  She and Severus would walk the grounds together, just like their first few years at school.  And then one day in mid-autumn, Severus' favorite time of year when the leaves on the treetops were as red as Lily's hair, they would be out by the lake watching birds and frogs and tickling the giant squid.  Severus would know that the time was right.  He would kneel then, taking her hand, and ask her to marry him.  She would smile and toss her hair in that carefree way, bend and kiss his forehead, and accept.
Severus' eyes were shining now, and there were wet spots on the blanket where his face was.  He felt suddenly restless, unsettled.  He couldn't stay here in his dormitory.  In an almost trancelike state, Severus stood and headed down the narrow boys' corridor and into the common room.
"Severus, where are you gong?" called a girl he knew.
"Oi! You know it's almost curfew, right?" demanded a prefect.
Severus ignored them all and walked through the wall.  He stumbled blindly down corridors, not knowing or caring where he was going.  The dungeons were an endless labyrinth, but he barely even noticed when he had left them and gone into the main part of the school.  He walked on and on.
"Who's there?"
Severus froze.  Filch.  If he was caught breaking rules so soon after the last incident, he would surely be expelled.  Hearing footsteps drawing nearer, Severus darted through the nearest door, leaving it open just a hair's breadth so Filch wouldn't hear it click shut.  He waited, holding his breath, as the caretaker passed.
When at last the dim lamplight had faded from view, Severus let out a breath, sinking to the floor with the wall at his back.  He gasped, however, when he saw what was in the room with him.
A grand, gilded mirror, beautifully crafted, was leaning against the blackboard of this unused classroom.  Something was carved into the top, an inscription of sorts.  Severus stood and moved closer to see.
Erised stra ehru oyt ube cafru oyt on wohsi
What does that mean?
Severus wondered, looking hard at the words.  Movement caught his eye from the mirrors face, and Severus looked down and saw...
He almost cried aloud as he whirled around, making sure he was alone in the room.  He was.  Severus turned back to the mirror, into his own face, which smiled at him.  But Severus wasn't looking at himself.
Next to the figure of himself was Lily.  And she was holding his hand.  And she was... she was wearing a wedding dress.
His mirror self looked older, more handsome, and had a smile on its face.  He was wearing fine dress robes.  Lily looked older too, but no less radiant.
What was this mirror? What did it do?  Severus stared hungrily into the faces.  He watched, transfixed, as they turned to each other, leaned in, and kissed.  They embraced and laughed, and Severus could almost hear their voices echoing through his mind.
Does this mirror show the future?
The thought had come so suddenly to Severus' mind, but he moment it had he was certain it was true.  This was the future.  His future.  And he was marrying Lily Evans, who loved him.
His nose was an inch from the glass, his hands pressed flat to the surface.  He watched his older self and Lily holding hands, embracing, kissing, over and over and over again.  They looked at each other with such love and trust.
He heard voices somewhere distantly, a crowd of people, but he ignored them.  He was too busy watching, wishing, yearning.
How soon would this future reach him?  He tried to gauge how much older he was in the mirror compared to his future self.  Was he twenty-three?  Twenty?  Eighteen?
More noises.  Severus shut them out, annoyed. 
Go away
, he thought. 
Leave me alone.
Mirror-Lily smiled at him, her warm green eyes looking deep into his heart.  She loved him, she did!  How could he ever have doubted it?
The noises came again, but this time Severus couldn't ignore them.  With a furious yell he whirled around... into daylight.
The room was empty, but flecks of dust glimmered in a ray of watery sunlight that filtered through the window.  All was quiet.

How long was I here?
wondered Severus, looking at the bright room.  He glanced back at the mirror, a silent promise that he would return, and left the room.
Severus recognized where he was.  If he continued down this way he would be near the kitchens.  Severus' stomach growled, but eating was out of the question.  He decided to head back to his common room.
"Is that you, Mr. Snape?"
Severus stopped walking abruptly, turning around.  Dumbledore was clambering out of the portrait of the bowl of fruit, flowing scarlet robes matching his pointed hat.
"Hello, Professor Dumbledore," said Severus politely.
"Have you come for a spot of iced strawberry juice?" asked Dumbledore, eyes twinkling.  "I often like a glass in early afternoon, and I come down here to save the house elves the trouble."
Severus opened his mouth and closed it again, not quite knowing how to respond to that.
"Surprised by the time, are you?" chuckled Dumbledore.  "You were in that room for quite some time."
"Sir?" Severus asked, confused.
"You found the Mirror of Erised," explained Dumbledore.  "It is a very powerful magical artifact that shows the viewer their deepest desire."
Severus felt as if his stomach had dropped from his body.
"So... it's not the future," said Severus carefully.
"The mirror has no way of knowing what will come to pass," said Dumbledore quietly.  "All it knows is what is within your heart."
"So essentially it's worthless," spat Severus, looking at the ground.
"Worthless?" questioned Dumbledore.  "No.  Your desires are anything but worthless, Severus."
"But if it can't ever be true..." Severus trailed off.
"There is nearly always hope," said Dumbledore kindly.  "And even if it isn't possible- such as bringing someone back from the dead-" Dumbledore had a curious expression on his face.  His mouth was smiling, but his eyes held immense sadness.  "Even in a situation like that, there is a happy side.  New relationships come from lost ones.  Life is born from death.  Have you ever seen a phoenix, Severus?"
Severus shook his head.  "Aren't they really rare?"
"Yes they are," said Dumbledore.  "Phoenixes are extraordinary creatures, and a prime example of what I said about life from death.  You see, when a phoenix dies, they burst into flame and then are reborn from the ashes."
"So they can't die?" Severus asked, astonished despite himself.
"Only if they wish to die," said Dumbledore.  "If they feel they have lived enough of their life, they may choose not to be reborn.  Phoenixes are exceptionally loyal friends.  I myself  have formed a bond with a phoenix by the name of Fawkes."
"That's amazing," said Severus.
"It certainly is," smiled Dumbledore.  "But I digress.  I must warn you, Severus, that the mirror has a dangerous effect on those who look upon it.  It can cause the viewer to lose touch in what is real and what is not.  Men have forgotten to eat and sleep, and some have gone mad.  I urge you, Severus, not to go back to it again."
Severus nodded, looking at the floor.  Dumbledore's blue eyes were looking straight through him again, and it made him feel awkward and stupid.
"Unless you'd like a glass of iced strawberry juice, which I do highly recommend," Dumbledore continued with a smile.  "You should be off.  Lunch is nearly over, but you can most likely manage a sandwich if you hurry.  Goodbye, Severus."
"Goodbye, Professor Dumbledore," said Severus.  His stomach empty but his mind uncomfortably full, he set off for the Great Hall.
---
My dearest readers,
My junior year in high school has drawn to a close (and there was much rejoicing,) but there's something that I should tell you guys so you don't get a false idea of my death:
Over the month of july, I will be embarking on an internship in the city doing technical theater and lighting.  This is a superawesome opportunity for me, but it also means I'll have a looooong commute every day, and therefore won't have too much time to get on here.  However, as I always handwrite the first draft of every chapter anyway, I'll probably be writing as I go.  So there will be updates, they'll just be a little less frequent than they've been.
Anyway, I hope you enjoy this chappie, and please leave me reviews and suchlike! I promised my friend that I would include Quidditch in the next chapter too, so stay tuned!
Also, I do not know the name of our lovely Maddie model. All I know is she's gorgeous and totally rocks that pixie cut.  Unlike your author, who was often mistaken for a man when she had short hair.
Peace, love, and applesauce!
-Jess
(the author)