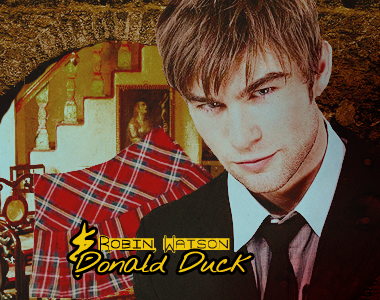 Rettopyrrah:
Apologies, our lovelies…
Flying Squirrel:
But hello! We are back.
Rettopyrrah:
Just as a head's up, Sirius' writing is in italics, James' is in bold.
Flying Squirrel:
Yeah… enjoy!
But I won't mind if you take me home
Come on, take me home
I won't mind if you take off all your clothes
Come on, take them off
- I Like You So Much Better When You're Naked, Ida Maria
Chapter Six: Robin, Watson and Donald Duck
What do Robin, Watson and Donald Duck have in common?
They're sidekicks. I am the Watson to the Marauders' Sherlock. And that is why I ran so fast from the hall that I left skid marks on the flag stones. When the going gets tough the sidekicks hightail it.
I snaked my way out of the Great Hall avoiding elephant tusks, and stampeding half deer. Tia and Lily weren't far behind and were making good progress. I ducked as a monkey with a human leg flung a handful of mash potatoes everywhere. Mr. Zonko would be amused by this report.
I put on a burst of speed and sprinted to the door. I turned back to survey the place and found that I had caused so much more chaos than I had anticipated. I was positively giddy with pride.
I skipped down the hall and up the stairs. A laugh escaped from my throat and I smiled so wide I could feel my face beginning to hurt. I heard the pounding of footsteps on the floor behind me.
'I can't believe you did that,' Tia squealed, coming to a halt beside me. Even Lily, who treats the school handbook as her Messiah, was struggling to maintain her composure and a grin was threatening to ruin her stern expression.
I poked my tongue at Lily and she scowled in response before the laughter gates opened. She was rolling on the floor shaking with laughter. Tia took one scrawny arm and I took the other. Once Lily starts a belly laugh she can go on and on and on until you have to cast a silencing charm on her. Or lock her in a cupboard. You know, whatever is handy at the time.
We managed to haul Lily up to the Gryffindor common room and into the dorms. We dropped her on the floor with aching arms and I flopped back onto the mattress rubbing my poor arms.
I watched as Tia and Lily put away all their belongings in the bedside table and in the bathroom. I probably should have done the same but I was far too comfortable.
This is by far my favourite part of the prank. When you have successfully pulled it off (again that's questionable) and all that's left is to bask in the afterglow. For the first time since the summer started I felt happy again. It's always like this. The end of school is usually ruined for me because the dread just builds about going home to that shithole and then when the start of the school year comes about again I'm bouncing off the walls like a two year old on crack.
I can even deal with having two of the Gryffindor Bitches as dorm mates. And as if on cue they - minus their ring leader - slink into the dorm covered in dinner. They both totter for the bathroom leaving behind bits of sausage and cabbage. Leila manages to shoot me the dirtiest look and a disparaging sneer from underneath her fringe of mash potato.
The Gryffindor Bitches, as we like to call them, consist of Taylor, Leila and Jenna. Taylor is blonde, dumb and harmless. There's not a mean thought in her pretty little head, but unfortunately she is easily lead astray.
Leila, what can I say except the hat must have been hung-over when he sorted her because she sure as hell shouldn't be in the house of the brave and righteous. She's always looking for a leg up to get to where she wants to be. I swear to Merlin put me in a room with Leila and that girl would look like blended meat when I was done with her.
And of course where would the winged monkeys be without their Wicked Witch of the West. If someone were to ask me if I thought the devil existed then I would say yes and direct them to Jenna. She is just… intolerable. She's a smarmy, two faced little whore who does nothing but cause pain. She's the worst breed of human being. She's the kind of person who would kick a kitten out a window to make a little kid cry. She's a strain of human who has no excuse for being an arse except they enjoy it and feed off of others' misery. I mean, take Voldemort. He kills muggles and wizards alike because he's insanely powerful and there are people who are stupid and crazy enough to do his bidding. Jenna is most likely his heir.
Jenna oozes confidence. She knows what she wants and she won't stop until the world has bowed down and given itself to her on a silver platter. That girl is sex on legs, not that I would actually ever say that to her face. I have to admire her ability to warp and twist things though. You don't see that kind of dedication to scheming these days.
I was in third year and she was in fourth. Our paths crossed and some insults flew before she went for the jugular; 'You're just a pathetic little nobody who nobody will ever love. I bet mummy and daddy are so disappointed in you, but then they must be as pathetic as y-' She ended up with a broken nose, three broken fingers and I was about to shove her down a flight off stairs before someone managed to pull me off her. I got in so much shit for that, but I still maintain it was worth it and that I should have - and could have - done much, much worse.
With her being in the year above us, though, we won't have to deal with Voldemort's apprentice next year.
The rest of the evening passed in relative peace with Taylor and Leila locked in the bathroom. We chat, and laugh and it felt really good to be back. When I finally fell asleep with Tia's hair tickling my nose and Lily's freckled arms wrapped around me, I could feel the smile on my face and the strange, glowing warmth that you get from being around those who are the best friends anyone could ask for.
'What the hell is this?' I have been bemused many times in the past, but this has to take the cookie. I had pulled a red, tartan skirt from inside my trunk. Nobody but Punks and the Scottish would wear tartan or rather should wear it. And nobody in the room is Scottish.
'That's mine.' Tia pottered over to take the offending item away from me and walked back to her trunk with a satisfied smile. Throwing her a bewildered look, I continued searching for my jimmy jams.
Lily let out a short burst of laughter. 'Where were you planning on wearing that? Are you going to runaway to Glasgow and learn the bagpipes?'
Tia glowered at us and sticking her nose up at us replied, 'Tartan is back for your information, and I am planning on wearing it to Hogsmeade. I want to look hot.' The last statement sent Lily and me into fits of laughter. Tia threw a pillow and a book in our direction. I ducked, but Lily wasn't so lucky. She let out a squawk and rubbed her now dented forehead.
'Oh, I'm so sorry, Lily; I didn't think it would land. I'm so sorry!' Tia had flown over to Lily and was petting and fawning over her. Lily swatted her away and walked into the bathroom, leaving Tia and I in fits of laughter. After a few minutes I picked myself up, got ready and left to wake up the boys.
'Guys, get up… Whoa.' I had stumbled across a scene normally only seen in the female dorms. So I suppose this is totally normal then.
'Come on, Sirius. You know you are the sexiest piece of man candy here. I mean, you have at least thirty notches on your bed post by now. Just come out, mate,' James pleaded.
I heard a loud snuffling snort and then, 'It's fifty two actually.' And then I heard a loud squeal. Sirius had apparently dissolved into tears.
Remus turned and saw me assessing the situation. 'Morning, Ava. You wouldn't mind coaxing Sirius out of there for us, would you?' Remus asked wearily. I frowned. This is just weird shit. 'Normally, I would just accept this strange turn of events but what in the name of Snivellus' hawk nose is going on here?' I was a little bit amused, yet grossed out and downright scarred by this scene at the same time. Nobody should have to deal with this before noon.
'Sirius is losing his whore crown to the new guy.' There was a loud sob and then Sirius screeched, 'You promised he wouldn't steal my crown.' I looked back at Remus and saw him staring at me with a strange expression on his face.
'What?' I said suddenly defensive.
Remus flushed and started stammering. 'Oh no, it's just your hair looks really nice today. I mean fabulous actually, I don't know why you don't wear it like that more often. I just want to stroke it, I mean…,' Remus trailed off having spotted the alarmed expression on my face. I muttered a quick thanks and despite wanting to jump out of that tantalising window it was still nice to hear a compliment.
I turned my attention back to Sirius. My solution to the problem was to walk out of the room and fetch McGonagall.
I left Sirius at the mercy of our Head of House. He'll get me in my sleep later.
Everybody was whispering, and trying to get into the girls bathroom was virtually impossible. Even Moaning Myrtle's bathroom had a whole church congregation of school girls squashed into it. The school was abuzz with gossip of a hot new piece of meat. And he isn't just some regular kind of good looking. According to gossip; he was the definition of hot. Look it up in the dictionary - his picture would be there right along with panty dropper and sex bomb.
The guy is also from Spain (accent, ladies), owns a dragon, and is filthy, stinking rich. That is if you believe the gossip harpies, which I so do.
I walked in through the Great Hall door and then stopped so suddenly that Lily smacked into the back of me. I could hear Lily squawking in protest but my mind was somewhere in the gutter imagining myself doing very naughty things with the new kid.
If anything those rumors weren't exaggerated enough. He was just sitting eating his breakfast, an act that would have repulsed me if it was Sirius or Peter, but with him it was a sacred act. With my eyes still glued to him I said in a dazed voice, 'I would tap that.'
'I call dibs.' You know the world has been turned upside down and then back around when Lily starts talking like me. This guy was like a Spanish Dr Gorgy Pants in his prime. He had this strange kind of aura. Nobody was sitting with him but still the entire hall seemed to gravitate towards him. It could be just because he's new and everyone is focusing their attention on him. I guess we'll find out.
My view of him was suddenly violated by the sight of Jenna and co. slinking their way past him. They had their skirts hitched so high I could see their butts as they wiggled from side to side, their makeup was caked on. They were on a mission: to ensnare the hottest specimen that has ever entered the hallowed halls of Hogwarts. Fuck. Maybe I can pants one of them in the hall.
Shaking myself out of the daze I pulled Lily by the arm and sat down on the bench. I piled some pancakes and sugar onto my plate and began to eat, keeping one eye on the new guy.
Tia rested her head on her hand. 'Do you think he likes tartan?' Tia asked hopefully. Lily and I looked at each other and burst out laughing. Our sides were splitting when McGonagall came to give us our timetables.
I looked at mine and saw that it wasn't too bad this year.
I reached over and plucked Tia's timetable from her hands and replaced it with mine. I scanned hers and realised she had most of the classes that I had. There weren't too many changes. She had care of magical creatures, ancient runes and arithmancy instead of herbology, divination and transfiguration, but everything else was the same. Lily's was pretty much the same. Tia was a good witch but she was absolutely awful at Transfiguration. Still transfig wouldn't be the same without her turning a napkin into something from Beauty and the Beast.
Remus slipped onto the bench beside me sans the wailing maiden and his biatch.
Lily put her elbows on the table and leaned forward focusing her attention on Remus. 'So have you spoken to the new guy yet, Remus?' Lily said with a gleam in her eye.
'No.'
Tia immediately tried to reason with Remus, 'But you're our ticket in without looking desperate. You have to talk to him.'
This is the language of a girl who is currently in a relationship and has been for the past two and a half years. Jack Connolly is currently still in Lithuania with his parents and three sisters and won't be returning for another two weeks to Hogwarts. I get along alright with Jack, but there was always something about him I found to be… just not right. He was nice enough, don't get me wrong: polite, witty and completely charming, he's a textbook perfect boyfriend. I suppose I'll get over it in time. Or Tia could break up with him and then I wouldn't have to deal with Jack and his high heeled boots. I am not shitting you- he actually owns a pair. Three pairs in fact. Since Tia stands at five' ten in bare feet and Jack is around six foot he has to wear them… a lot.
'You do realise you have a boyfriend who is coming back in two weeks and will kick the snot out of mister pretty boy if you consider getting down and dirty with him,' Remus pointed out.
Tia let out a tut and explained, 'Remus, just because I have no money doesn't mean I can't window shop. And what kind of girl do you think I am? In Texas we have morals.' Oh God. Tia's getting shirty and all high and mighty, Texas this, Texas that. Like Texas is any better than this dismal, rain sodden continent.
Lily exchanged a look with me. 'But you aren't in Texas anymore and we have to go to class now so walk and argue.' Lily said shooing us all out.
First class of the year was transfiguration with the 'puffs. The room was situated so that there were four desks on each side of the classroom going up in rows. Remus sat with us since none of the Marauders had bothered to turn up yet. Peter came wheezing into class a few minutes after us and had to sit with Andrew Wheedle, a Hufflepuff who's actually not that bad just a bit on the dull side.
The new guy wasn't in our class since he was in Ravenclaw and I couldn't wait to get to Charms today so I could work my lady magic on him. Although Professor Flitwick was rather sexy in a Santa's elf kind of way.
McGonagall came striding into the classroom effectively ending most of the chatting in the classroom.
'Since dinner ended so rudely last night,' she paused to scan the room probably looking to give the Marauders the stink eye and then continued, 'Professor Dumbledore did not get the chance to inform you of the new program that is going to take place in the following weeks. It is mandatory and not attending will be punishable by detention. You will be given the choice to choose what workshop you would like to partake in. It will be taken in the last two periods on a Wednesday and for those of you with free periods the class is still mandatory.'
At this point Sirius and James decided it necessary to grace the class with their presence and burst through the door sending it smashing into the wall, almost shattering the door.
McGonagall's customary frown was in place and her nostrils flared in repressed annoyance.
'Mr. Potter and Mr. Black I would thank you not to break my door. Now take a seat and see me after class to discuss how many more detentions should be added to your existing ones.'
James and Sirius strutted into the two empty seats in the second row, grinning manically.
'As I was saying the extra curriculars are based around muggle classes. They will feature photography, cooking, maths, sports, chemistry and many more. You can choose only one but you can change clubs if you find it unsuitable for you. The sign up parchment will be put up outside the Great Hall by the end of the week and you have until the end of September to decide. Professor Dumbledore will inform you of this at dinnertime tonight so hold any questions until then. She then began her lecture on how this year was the beginning to one of the hardest experiences of our life blah, blah, blah.
This is all the Slytherins' fault. If they would just keep their muggle hating yaps shut we would have a lot more free time on our hands. Stupid, slimy, no good rotten…
A well aimed note interrupted my monologue. I opened the note and saw Sirius' elegant script mixed with James' barely legible scrawl.
What the hell did we miss? I didn't sign up for this when I got my acceptance letter. Can we get out of it?
Do you think muggles have a class for blowing things up?
PS. I hate you, Ava.
I knew they would ask how to get out of it. They have a one track mind. I sighed and wrote down my reply.
First of all, what the fuck, Sirius? I sent McGonagall up for you and yet you still manage to be late.
Secondly, this is a compulsory thing and there is no way in hell you are slipping through the cracks. They
'
re gonna kick your ass if you try to get out of it. Besides you might find something you actually like. Not all muggle things are boring.
James, muggles don
'
t have a class for blowing things up specifically but you should visit either a brothel or the middle east to learn from the best.
PS. You try anything and I swear you will have never have hair again.
I hurled the note over to them. The note hit James right on the crown of his head and I watched as James and Sirius opened the note. A befuddled expression diffused across James' face and a horrified one appeared on Sirius'. The rest of the lesson passed in relative peace but once class was over the talking began. All anybody could talk about now was the muggle classes. Some were excited but others were horrified and secretly plotting Dumbledore's downfall.
I'm actually not too bothered by this turn of events. Hell, if it gets us out of class then it's okay in my book. I have a better idea of what muggle schools are like having attended one, but this is going to be based on secondary school because Dumbledore is not going to make us finger paint and recite the alphabet, is he?
With that unsettling thought lingering, a thought which I voiced to Tia (she dismissed it, but I swear I could see the worry on her face afterwards), I strode into Charms. There were a few people already in the class. I always thought of Ravenclaws as asexual, what with being the biggest nerds and antisocials the world has ever seen, but they have proven me wrong as some of the girls are rapidly brushing out their hair and using make up charms to pretty themselves up. My motto is if they don't like you as you are normally – fuck 'em. But then there are rare exceptions in the world of hypocrisy. This would be one of them.
I ran my fingers through my hair, checking out who was here. Most people were here, I think some have been pulled out of school by their worried parents since Voldy is freaking them out. But what I don't get is why? I mean isn't being here in a magically protected school with highly trained teachers and a super wizard headmaster the safer place? People baffle me, they really do.
James seeing as he hasn't had the time to say anything that will earn him a black eye today swung by our desk in full strut mode.
'Why, Lilykins, you are looking absolutely scrumptious today. Are you using a different shampoo?' James trilled cheerily.
'Die, Potter.'
The insult just bounced off of James' ego. He barely flinched that time.
'I've lost my teddy bear. Will you sleep with me tonight?' There was short pause and then James started squealing, turned tail and ran out the door. Lily has one mean Bat Bogey Hex.
'Poor bastard.'
'You're telling me.'
There was a pause and then it hit me the class had gone eerily silent. The new guy turned his smiled and held out hand. 'I don't believe we've met. My name is Leo.'
My head shot up at this and I realised the person I had responded to was the new guy. HE WAS TALKING TO ME. HA! TAKE THAT, BITCHES.
Unlike the time with Dr Gorgy Pants, I am going to keep cool and collected. Poised with a hint of mystique.
'Hi I'm…' I stopped when I felt something cold running over me and knew as soon as it happened what was going on. Sirius had taken his revenge using the damn ink.
I sighed and my smile was tight and forced. 'Excuse me one moment while I deal with this.' Leo seemed to be confused by the situation. He looks so much like a puppy; I just want to hold him until he is forced to love me.
I ran my fingers down my hair getting as much ink as possible on my hand then turned around, and proceeded to smash my hand into Sirius' face.
He squawked and squealed, but I didn't let go until the ink was smeared everywhere.
He sat there staring at me, panting heavily before he let out a war cry and jumped. He landed awkwardly, his weight crushing the life out of me. Sirius is no fattie, but all that muscle is bloody heavy. I tried to push him off, but he had a firm grip on my hair and he was trying to fricking suffocate me with it. I could hear everybody yelling, the sound was deafening and then Sirius was gone and I couldn't stop coughing. My chest was killing me and when I finally looked I saw that it was James who had pulled Sirius off.
I felt the anger build and then I lunged for Sirius, but Tia grabbed me round the waist and tried to restrain me. She yelled out for help. Tia's hold was flimsy at best and I squirmed out almost as soon as she had got a hold of me.
Remus lifted me despite my protests. I kicked and I punched but Remus had the whole freakish strength thanks to his lycanthropy, and it was more than enough to hold me back.
It was of course at this point Professor Flitwick conveniently came into the room and nearly had a hissy fit.
'What is going on here?' he squeaked. With his arms flailing everywhere and his purple feathered hat askew. It was hard to take him seriously.
'It was Ava, Sir. She attacked poor Sirius when he accidentally dropped ink on her,' Leila answered taking the opportunity to pin everything on me the scheming, smarmy, little bitch. My eyes narrowed at her and I shrieked, 'you lying little skunk!'
'Ava, calm down. You're in serious shit here,' Remus whispered harshly, his breath hot on my ear.
I exhaled to calm down and it worked a little, but I could feel it bubbling beneath the surface. I want to dump that girl in the Black Lake and then freeze the surface, but homicidal thoughts aren't very productive.
I swallowed my pride and said through gritted teeth, 'I'm very sorry for the disruption, Sir. May I please be excused to clean myself up?'
Professor Flitwick looked torn between fainting (due to excessive arm flailing) and turning himself over to the wacky shack. I don't know why he became a teacher to a bunch of hormonal teenagers. A nice college position with mature, intellectual students with a flair for fashion would have been more befitting him.
'Mr. Lupin, would you please accompany Miss DeSilva to make sure she returns to class in good time.' He tried to sound threatening but the effect was somewhat ruined by the hiccup at the end of the sentence.
Remus nodded and dragged me out of the classroom, leaving ink drops as we went.
'So… that was fun. I have to say, Professor Flitwick went to a whole new level of sexy today. Purple is definitely his colour.' I said trying but miserably failing to distract Remus.
'The purple does bring out the blue of his eyes.'
His eyes widened as he realised my attempt to distract him had worked. 'Don't distract me. I have to stay angry at you because if I don't you'll do it again, only next time Sirius will end up glued to a broomstick.'
That's actually a pretty good idea. Sometimes I forget that Remus has a deviously cunning mind that can be put to bad, but oh so good uses. If only he would use his mind for evil, the things he could do…
I bit my lip. 'You do realise I'm not sorry I did it, right? 'Cause as long as Sirius insists on being immature and I still have a sense of pride, I will defend myself,' I said running my hands through my hair. I stopped when I realised the ink was still weaved through my hair.
Remus took out his wand, muttered a quick spell and I was completely clean. Merlin, I love magic.
'Is it the beard or the elf ears that does it for you because I'll admit, it's the height for me. He's palm sized for my convenience,' Remus said conversationally. I took one look at him and burst out laughing.
I smirked at him and said, 'Race you to the classroom? First one there gets to steal Flitwick's hat.'
'Oh you are so on.'
|Rettopyrrah:
Well, my lovelies… I did it. I finally got the stroppy three year old to write another chapter.
Flying Squirrel
: Who are you calling a stroppy three year old?
Rettopyrrah:
Oh, do forgive me. Correction: I finally got the stroppy two year old to write another chapter.
Flying Squirrel
: Go away. Just go crawl under a rock somewhere.
Rettopyrrah
: But who would correct your spelling mistakes and ask for missing pieces of your nonsensical chapters?
Flying Squirrel
: I hate you sometimes, you know that? Anyway, we hope you enjoyed it enough to tell us about it.