I am so sorry this took me so long to update. Classes have been a pain but I should be back in full action by next week!! Here's something to tie you all over (hopefully).
Special thanks to: Sana Noor, Inthenextlife, Dani_saur, Ang3l1c Flow3r5, and dirtydeedsdonedirtcheap. This chapter is dedicated to all of you since I made you wait so long!
---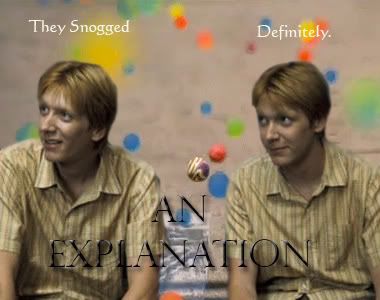 14. An Explanation
Mercy and Oliver joined their friends on the Hogwarts Express to head back to school. Neither one spoke about their New Year's escapades and they did their best not to act differently around each other. She didn't know if Oliver was willing to play by her rules, but he didn't mention anything otherwise. Maybe he'd forgotten about it. When they reached Hogwarts, Mercy was tackled to the ground by the twins who began incessantly asking if she'd received the boxes of joke-shop paraphernalia that they had sent her for Christmas. Instead of voicing her answer, Mercy simply shook Fred's hand which caused his hair to stand on end. Fred, being Fred, smiled in response and hugged her before shoving a pastry in her mouth. At first, Mercy chewed with a smug smile but then her face slowly started turning red and steam shot out of her ears. She swallowed the treat and shook her head at the redhead who stared dumbfounded. George patted her on the back and rolled his eyes at his brother before they all headed in for dinner.
Oliver avoided all physical contact during the meal and Mercy tried not to let it bother her. She never realized how much more comfortable it was when he'd keep a hand on her waist or elbow her as she was about to put pudding in her mouth, making it smear across her face. It seemed that she wasn't the only one to notice either. Trying not to make an awkward situation worse, Mercy shrugged off Oliver's behavior to the fact that he was now going to be going ballistic over the Quidditch game that was nearly two months away and how Potter didn't have a decent broom yet. Thank Merlin for stressing her best mate out more yeah?
By the time dinner was finished, Fred had given Mercy enough questioning glances for her to know that they needed to talk, so she wasn't shocked when he and George pulled her into their dormitory upon reaching Gryffindor tower.
"Spill."
"Now."
"There's nothing to tell really."
"Bollocks."
"You two are never like this. He wouldn't even look at you when you teased him about Quidditch." George argued.
"Something happened and we need to know so we can help." Mercy sighed and knew she had to admit defeat.
"Puddlemere is coming to watch him at the Quidditch match. He's a little stressed right now." Okay, so it wasn't a complete lie. They didn't need to know that they were both sloshed and took a few liberties. The twins seemed to believe her so she walked out of their room and into the Common Room. Fred and George looked at each other.
"They snogged."
"Oliver?"
"Let's." They grinned and ran up to the seventh year dormitory, not even bothering to knock. Oliver was reading Quidditch Weekly and looked up upon their arrival.
"So, Puddlemere is coming to watch the match?" Oliver nodded with a nervous grin.
"This could be my chance to make the big leagues."
"And that's why you and Mercy have been acting funny?"
"Afraid if you touch her she'll jinx you? Is that what it is?" Fred teased. Oliver frowned and paled slightly. He hadn't expected anyone to notice his behavior. Truthfully, he wasn't sure what this meant between them. He knew she was seeing Nichol, but New Year's was a shock even for him. They were both sloshed, they were lucky something worse didn't happen.
"Yeah, I guess my mind has just been completely boffed. You think she noticed?"
"No."
"Of course not."
"I mean you only avoided all contact with her all evening."
"There's no way she noticed."
"It's not like you're her boyfriend or anything."
"We'll leave the touching to Nichol." Fred goaded. Oliver stiffened at the mention of the other boy's name, even though he'd been thinking it only a moment earlier. The thought of him touching her like that had never occurred to him.
"Umm…yeah. She's seeing Nichol. Forgot about that."
"Alright, well you have fun sulking up here."
"We'll be in the kitchens." They left his room and grinned at each other.
"Snogged."
"Definitely."
"Bloody oblivious they are."
"To the kitchens?"
"To the kitchens."
"By the way, you owe me two galleons." George rolled his eyes and paid up. Together they hopped down the stairs and past Mercy who was now immersing herself in a collection of pamphlets. Although the boys didn't find this strange, Alicia, who was sitting further down on the couch, was quick to notice. She grabbed Mercy's reading material and her eyes widened in surprise. Mercy tried to grab them back but Alicia wouldn't let her. Instead she just stared at her friend incredulously. As she was holding the book above her head, Oliver walked through and grabbed it from her, curious as to why Mercy wasn't supposed to be reading it.
"Le Cordon Bleu in France? The Italian Institute for Culinary and Pastry Arts? The Culinary Institute of America?" He looked at her questioningly.
"I applied over the holiday, figured I should try and figure out which ones I'd like to go to the most." She muttered. Oliver threw the pamphlets down.
"And when were you going to tell me?! As your best mate I should know that you're applying to schools out of the bloody country!"
"Maybe I was going to tell you when you stopped acting like I was suffering from some bloody disease!" She exclaimed, standing up. He took a bold step towards her. Everyone in the room was staring at them. Oliver quickly became conscious about their gazes and grabbed Mercy by the arm, leading her out of the room.
"Oh good Oliver, let's get caught out after hours. Brilliant you are." She said sarcastically. He led her into an abandoned classroom and pushed her into a seat, leaning close to her.
"You know
exactly
why I've been acting the way I have. How can you sit there and pretend we didn't snog?" he seethed.
"I'm not pretending anything Oliver. I accept the fact that we had a brilliant snog on your roof and that's all it was. What did you expect from this?"
"I don't know, but I didn't bloody expect you not to tell me about your after school plans!" He pushed away from her and paced back and forth in the room. "You're my best mate! How could you not tell me?!"
"I was going to, I just never got the chance. Besides…I figured you were too freaked out after we snogged to mention anything that might make you mad." Oliver sat down next to her and took her hands in his.
"Yes, I was freaked that we snogged. We were both sloshed beyond belief. I just didn't think it had affected our friendship so badly that you wouldn't tell me something this important! Why would you think this would make me mad?"
"Because it means I'm definitely not living in the Wizarding World after graduation." She said softly. "I know how much we avoid the topic, but I really want this Oliver. I want to go to culinary school." He stared into her eyes which were begging for his acceptance.
"Then I'm happy for you Mercy." He smiled, pulling her into a hug. "You just make sure to cook me some of the stuff you learn and we'll call it even." She smiled into his chest and nodded. After a minute they walked back into the Common Room, Oliver's arm around her shoulder.
The next morning Mercy woke to her roommates demanding that she do something about the bouncy balls that were attacking their bedroom door. With a roll of her eyes, she pulled on slippers and a sweatshirt before opening the door, only to get pelted in the forehead with a green ball.
"FRED! GEORGE!" She shouted. "Knock it off! It's bloody six in the morning!" The balls fell to the ground and she glared at her two friends who were grinning from the bottom of the stairs.
"Oh good, you're up." Fred teased.
"Fancy coming with us to breakfast?" George added.
"I was sleeping."
"Well then we'll just keep at it then." Fred flicked his wand and the balls started attacking her until she gave in. Mercy changed as quickly as possible and grabbed her book bag on her way out, hoping that she hadn't forgotten anything. Fred and George flanked her and together they headed to breakfast.
"So, did you tell him?" George asked, buttering a piece of toast.
"Yeah. He knows about culinary school, actually was alright about it too as long as I cook for him. Merlin knows he's going to need nutritious food once Puddlemere drafts him."
"Mercy, you're impossible." She grinned through a mouthful of eggs.
"I know."
---
Hope you enjoyed it…what do you think?? Not my best work, but bear with me please :-P
And Please R/R!
Preview for Chapter 15:
"Shut it Wood, before you make me do something I might regret."
Swish and BOOM!
"I thought you were a man!"