[
Printer Friendly Version ] [ Report Abuse ]
Saving James by ACx
Chapter 5 : Finially Home...
| | | |
| --- | --- | --- |
| | Rating: Mature | Chapter Reviews: 2 |
Font:
Background: Font color: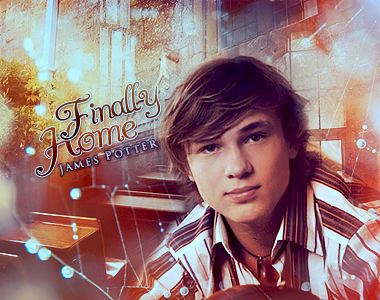 Thanks to aim.moon@TDA for the awesome CI!
I stepped off of the Hogwarts Express and into the rain, sighing heavily. After a few seconds of searching I found what I was looking for. Hagrid.
His giant shape loomed out of the semi-darkness shouting, "Firs' year's o're here!".
"Hagrid!" I shouted loudly, running towards to the Hogwarts Games Keeper. He looked at me kindly and pulled me into a giant hug. Then he noticed my new Head Girl badge.
"Well done!" He grinned down at me happily. Hagrid and me had always gotten on, despite his liking for a certain James Potter. Speaking of whom, was walking up behind me guiding a line of first years towards Hagrid.
I glared at him as he approached, but I was also pleasantly surprised to see him already staring to take a hold of his Head Boy duties- without me having to shout at him!
"Alright, Phoenix?" He said lightly as he passed and my annoyance at him returned.
"Why can't you just piss off!" I exploded at him- leaving James, Hagrid and a group of little first years looking stunned. Then without another glance I stormed off down the platform and towards the carriages.
I didn't know where this anger was coming from, and for about thirty seconds I even felt bad for shouting at James. I guess I was just in one of my "moods".
I ran for the first carriage I saw, as the rain got heavier, flinging myself in and on top of everyone there.
I shook off the wetness and looked around me. Seeing who it was, I groaned and said in my most defeated voice "Why you?".
Some cruel twist of fate had put me in the same stupid carriage as Fred, Liam, Ryan and (thankfully) Albus.
"Nice to see you as well, Jenny!" Liam said, then laughed. I decided I would just ignore them. And so sitting there in silence the final part of our journey to Hogwarts began…
__________________________
James P.O.V
Back while still on Hogwarts Express (from just after when Jenny has left)
Jenny walked out of the compartment, looking more than slightly annoyed. I couldn't help it if I liked dancing!
I turned to Fred. He had stopped snogging the face off of April Rivers and was starting to deal out cards for a game of exploding snap. Okay, not exactly the most intellectual and grown-up game- but hay-ho!
I took a seat across from Fred and our epic game began.
It wasn't long before Lily appeared, mirror in one hand and a tube of lip gloss in the other.
"For god's sake, Lils! Its like that mirror is glued to your hand!" I said, laughing.
"If you've got it…" She trailed off, applying more of the sticky, pink fluid.
"God, it's a good thing you didn't inherit all of mum's good looks! We'd never get you away from that!" I laughed, pointing at the mirror, my voice thick with sarcasm.
Then I saw Lily's face. Tears were building up in her eyes and she looked pretty upset and pissed off. A lot like Mum and Nana.
Fred looked at me nervously. You didn't get on the wrong side of Lily Potter, even if she was only 14!
"Lily, you know I didn't mean it like that…" I said anxiously, gripping my wand tightly in my pocket.
She was fast but not fast enough for a seeker. She raised her wand and just as she opened her mouth to hex me, I silently hexed her. Her legs began to move in different directions and her face grew dark with anger.
Just as I thought she might actually be considering murdering me, Paige pointed her wand at Lily and reversed the spell.
With one last tearful glance at me, she turned on her heel and ran from the compartment. Okay, that girl was way too bloody sensitive.
"She'll get over it," Ryan said to me, clapping a hand on my shoulder.
I turned back to Fred and he gave me the "you should have just kept your mouth shut" look. I shrugged and, glad that Lily had decided to leave (my fault or not!) and got back to my game of exploding snap.
About 15 minutes later, the compartment door banged open. What is it this time? I thought.
Looking round I saw , what I thought for a nano-second was the ghost of my grandmother- Lily Evans-Potter!
Obviously, it wasn't her. Instead it was Jenny, looking more angry than my Mum that time I tried to feed Albus a flobber worm…
"James Potter," she said, her voice low and dangerous. "Guess who I just met, crying her eyes out in the corridor?"
I shrugged my shoulders, still looking at my cards. Wrong decision.
"DON'T YOU DARE JUST SHRUG AT ME! IT WAS YOUR SISTER, LILY! THE ONE YOU JUST TOOK THE PISS OUT OF INFRONT OF ALL YOUR FRIENDS! AND GUESS WHAT?! I, NOT YOU, WAS THE ONE TO STICK UP FOR HER AND COMFORT HER!"
I looked up, slightly afraid that I might not make it to Hogwarts. Fred had a similar look of fear on his tanned features.
That's when she turned on Fred as well.
"AND YOU JUST SAT THERE AND LET HIM SAY ALL OF THOSE HORRIBLE THINGS TO HER! WELL, GUESS WHAT, SHE MIGHT NOT HAVE BEEN ABLE TO HEX YOUR FAT FACES INTO OBLIVION, BUT I CAN!"
The hex hit both of us, showering us in a pile of thick purple goo that stuck to us like glue.
I looked up at Fred and saw his head had doubled in size. So I guessed mines had too.
Jenny turned and stormed out of the compartment, leaving us to clean up.
It took all five of us (April had run after Jenny) almost half an hour to fix Fred and my heads and get rid of the goo that seemed to multiply whenever somebody tried to dissolve it. By the time we were finished, we had to get ready to leave.
Five minutes later, I jumped onto the platform. Thee rain bounced off of me as I searched through the crowd for any lost 1st years. I found a couple and started to lead them towards the large figure which could only be Hagrid.
As I approached I saw that Jenny was already standing beside him, slowly getting soaked in the rain.
"Alright, Phoenix?" I said, a grin on my face.
"Why can't you just piss off?!" she screamed at me, storming off (yet again) towards the carriages.
"Hi, Hagrid!" I said to the giant man. He just frowned at me.
"Why don't you just tell her you like her?" He asked, clearly frustrated.
"Because, she doesn't like me and…" I could feel a blush forming on my cheeks and believe me that doesn't happen often with James Potter!
"and that would just be stupid." I concluded.
"I still think you should say something…" Hagrid trailed off.
"sorry Hagrid, gotta go or I'll miss the carriages. I ran off up the little track, not glancing back at the man who had just made me blush…
Back to Jenny's P.O.V
"Bet you I can fart the loudest!" Ryan shouted loudly.
Oh dear god, why me?
I had sat in a carriage full of these boys for ten minutes and I if I didn't get out soon I would murder someone.
Just as these thoughts burst into my head, the shape of Hogwarts filled up my line of sight. Finally I was home…
___________________________________________________________
A/N- bit of a filler but I wanted people to see that James isn't as mean as it first looked like. I hoped everyone enjoyed and I promise more action soon…
Please review!
---
Previous Chapter
Next Chapter
---
Favorite&nbsp|Reading List&nbsp|Currently Reading
---
Other Similar Stories

As The Days ...
by Alwayswri...