[
Printer Friendly Version ] [ Report Abuse ]
Saving James by ACx
Chapter 4 : Arrogant Pigs!
| | | |
| --- | --- | --- |
| | Rating: Mature | Chapter Reviews: 4 |
Font:
Background: Font color: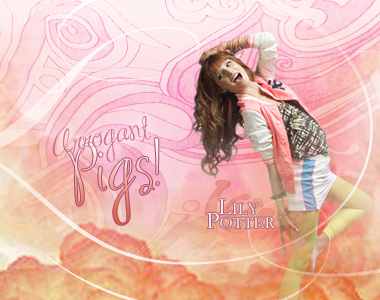 Thanks to AtomicPanda@TDA for the awesome pic!
My body shook gently with the steady motion of the train. Colours flashed behind my eyes as the late-summer sun shone through the window. Across from me, Paige and April where having a whispered conversation- thinking I was asleep.
"You wake her up!" April hissed at Paige.
"Why me? Its always me!"
"Because I don't want to be murdered before we reach Hogwarts!"
I heard a sigh and then felt someone lightly shaking my arm. I opened my eyes and squinted against the sun. Looking around me I saw Paige and April desperately trying to get nearer the door. No one wakes up Jenny Phoenix!
But as I hadn't been asleep, I let it go. Then I started to wonder why they wanted to wake me up in the first place. Looking down at my watch I realised- it was time for the prefects meeting!
I said a hurried thanks for 'waking me up', then ran out of the compartment and down the corridor like a mad women.
I wondered who the Head Boy would be. The name that popped into my head straight away was Liam Cameron. Though he hung out was James Potter, he wasn't an arrogant pig and was actually quite cool.
I reached the compartment I was looking for. The curtains were pulled across the window so I couldn't see in. My heart was pounding. Whoever was Head Boy, I would have to see a lot of them over the coming year.
Slowly I put my hand on the handle and pulled back the door to reveal none other than…
James Potter!
I stared at him stupidly for a second, then looked down at my feet, thinking of what to say.
"Hey, Phoenix!" he smirked at me, obviously delighted at my angry face.
I couldn't answer. Like seriously, its was as if my mouth was clued shut and when I tried to open it, it wouldn't budge. Instead I threw myself down onto the seat as far away from him as I could get- and it wasn't far enough.
Finally after what seems like ours of us just staring at each other, my mouth became unglued.
"How. The. Hell. Did. You. Possibly. Become. Head. Boy!?" I said the words slowly, trying not to scream at him in a rage. How dare he ruin this for me!
James didn't say anything just laughed. I'm going to make him wish he had never been born, I thought evilly. Just then the door opened revealing a bunch of fifth and sixth year boys and girls who were officially the new prefects.
After everyone had taken a seat, I launched into the speech I had prepared for this very moment. Sad, I know, but my holidays were boring! James just sat there staring at me, an evil grin on his face.
Eventually we (or I!) finished talking and the prefects left. Without a word, I picked up my wand and walked out of the compartment. Finally I was free of James' stupid grin!
I reached our compartment in record speed and climbed in, only to come face to face with April and Fred snogging the faces off each other, while Ryan, Liam and Paige look at them with disgusted faces. I noticed that Paige was sitting as far from Ryan as she could get, but every now and then she'd take a peek at him, her big brown eyes filled with love. Pity filled me up. I wished more than anything that she'd just say something to Ryan, anything!
When I walked into the compartment, April and Fred broke apart from each other- both grinning like complete idiots. I didn't say a word, just gave them a look which clearly said "get a room!", then flopped down onto one of the seats by the window.
It wasn't until a while later I noticed that someone else had entered the compartment behind me. Or that that person had started to dance stupidly.
His black hair fell into his hazel eyes and his shirt had been rolled up to reveal a lightly muscled stomach. Why, oh why, would James Potter follow me here?!
It wasn't long before Liam and Ryan had joined in (Fred and April had began their snog fest again!). Paige sat and cheered the boys on while I stared out the window helplessly.
After what felt like years, it began to darken outside and I decided I'd go and get changed into my robes. Carefully I reached into my trunk, pulled out the necessary items and then made my way to the door.
"Hey, where do you think your going Phoenix?!" Liam said grabbing my hand and twirling me round like a ballerina.
"None of your business, Cameron!" I didn't usually go with surnames, but if he was going to do it to me, then I'd do it to him! Liam must have heard the angry tone in my voice because he quickly dropped my hand and turned back to the others, while I slipped out of the compartment and closed the door behind me.
I walked quickly and reached an empty bathroom in minutes. Carefully, I pulled on my skirt and tucked my shirt into it. Then I put on my tie and fastened the strap on my little high heeled shoes. They weren't strictly uniform, but they looked good- so who cares?!
I was just leaving the bathroom when I bumped into someone. And that someone was crying.
"Lily, what's wrong?" I asked the fourth year. She looked at me her eyes glazed with tears and choked out, "It was J-James. He hexed me in front of everyone and then made fun of m-me!"
It seemed stupid, but I knew what it was like to be a fourth year girl. Most were still unsure about themselves and their looks and if I knew James he would have made fun of Lily until she'd run off the way she had.
I pulled her into an empty compartment and sat next to her. "What did he say?" I whispered gently.
"Th-that I was ugly and that it was a-a shame I l-looked nothing like m-my mum!" she sobbed.
James was going to get it. Lily was one of the most gorgeous girls, not only in her year, but in at least 1st to 4th year. And from what I had seen she could be her mother's twin. What, with her long red hair, big brown eyes and scattering of freckles. And not to mention her promising quiddich skills!
I told her all of this and more and eventually she calmed down. I helped her get rid of her mascara stains and then sent her off to talk to her friends. As she left, she turned to me and smiled then said, "You know Jenny, I wish I had a big sister like you," then she ran out of the compartment, leaving me totally shocked.
After a second or two though my anger returned at James, amplified by my liking for his little sister. Pulling out my wand, I stormed out of the compartment and headed down the corridor towards my own.
I slammed open the door and pointed my wand directly at James, who was playing exploding snap with Fred.
Paige stood up, confusion on her delicate features and April looked slightly scared.
"James Potter," I said, my voice dangerously low. "Guess who I just met, crying her eyes out in the corridor?"
James shrugged his shoulders still concentrating on his game. that's when I exploded.
"DON'T YOU DARE JUST SHRUG AT ME! IT WAS YOUR SISTER, LILY! THE ONE YOU JUST TOOK THE PISS OUT OF INFRONT OF ALL YOUR FRIENDS! AND GUESS WHAT?! I, NOT YOU, WAS THE ONE TO STICK UP FOR HER AND COMFORT HER!"
James looked terrified and so did Fred. Then I turned on Fred as well.
"AND YOU JUST SAT THERE AND LET HIM SAY ALL OF THOSE HORRIBLE THINGS TO HER! WELL, GUESS WHAT, SHE MIGHT NOT HAVE BEEN ABLE TO HEX YOUR FAT FACES INTO OBLIVION, BUT I CAN!"
Paige tried to stop me, but I was too angry. The hex flew out of me in a burst of rage. Suddenly, both James and Fred where covered in a thick goo and there heads had swollen to twice there usual size.
"Arrogant Pigs!" I muttered as I walked out of the compartment, leaving everyone in there with shocked and scared faces…
___________________________________________________________
A/N: Thanks for reading, this is a bit of a filler but I hope you liked it anyway! Please leave a review!
---
Previous Chapter
Next Chapter
---
Favorite&nbsp|Reading List&nbsp|Currently Reading
Write a Review
Saving James:

Arrogant Pigs!
---
Other Similar Stories

As The Days ...
by Alwayswri...