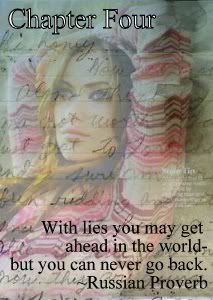 Four~
"I was not aware that we were planning on starting a family," Severus said as he returned to their quarters.
Ophelia didn't look up from her needlepoint. "The woman had me cornered, Severus. She wanted to know if I'd ever thought about
Ministry work.
What was I to tell her, 'no, Umbridge, you repulse me'?" Ophelia shook her head.
"This does beg the question what we will do when no children appear in a year or two."
Ophelia looked at her husband with amusement. "Really, Severus? Next year, if anyone asks, you need only stiffly mention that
I
can't have children. It is as simple as that." She went back to her needlepoint, and the rose she was working on.
Her husband was silent a moment. "You have thought about this."
"I am many things, Severus, but one of the things I try not to be is a bad liar. And a good lie is always put as close to truth as you can manage.
I
would not mind children, but at the present time I do not think it is wise to be trying for them." She glanced up at him a moment, and then brought her eyes back to her embroidery thread. He looked thoughtful.
In her mind, her parents' letters burned.
My Dearest Ophelia,
I hope you are doing well, and that you and your husband are happy. Your father and I are very proud of you.
I hope you are not angry with me for expressing a profound desire for grandchildren. I know it is early yet, but I am an old woman, and I would so like to know that you have become a mother.
I heard, in passing, that Dolores Umbridge is High Inquisitor at Hogwarts. Do befriend her; she is a woman very close to the Minister of Magic, from what I hear. It would benefit us all if you were to be close with her.
Your loving mother,
Constance
Ophelia pursed her lips, stabbing the needle through the fabric. Her mother. A conniving snake if Ophelia had ever met one, and yet… she still ached for her mother's approval.
Dear Ophelia,
I hope your well, truly I do… your mother would like me to say something here about grandchildren and Dolores Umbridge, but it is not in me. You know I love you, but lately I have found myself thinking about Prosper.
I know it has been fifteen years since he passed, but I know also that you feel this sense of obligation to our family because of Prosper's passing. Ophelia… you do not have to do this. Prosper was not perfect, and I do not expect you to be. I only want you to be happy, and you did not look happy that day you stood up before the chapel and said your wedding vows.
And Dolores Umbridge? She is a dangerous woman.
With love,
Dad
Ophelia blinked back tears, pulling the thread through as she stitched the rose. She had tried now for a long time to not think about Prosper.
She glanced up as Severus poured a hearty glass of brandy, and returned her gaze to the needlepoint. He seemed to suspect nothing of her plans, and for that Ophelia was glad. She did not know how he would respond to the knowledge that she was planning to meet an old lover in the Hogs Head, or her hopes for that meeting.
"Do you have any family, Severus?" she asked abruptly, looking up.
He seemed startled by the question, and stared at her a moment before answering. "No," he said, "They died."
Ophelia opened her mouth to ask more, but thought better of it and looked away. She had let herself be seen little, since the term began, and meant to keep it that way if she could. The students made little if any effort to hide their stares.
"Did you have any siblings?"
"Why this sudden surge of inquisitiveness?" Severus asked, turning to look at her.
Ophelia paused, and made a vague gesture. "My parents wrote me," She said evasively, "It gave me some things to think about."
Her husband seemed less than satisfied with her response, but let it drop.
"Umbridge seems to think the two of you are quite close."
Ophelia snorted softly. "Professor Umbridge can believe what she likes," she replied, tying off the end of the thread and examining her work thus far. "I am polite to everyone. Why, if You-Know-Who were to come banging on our door, I do believe I would invite him to tea." She smiled thinly at Severus, who was less than amused.
"A poor comparison," he said, "Umbridge is a snake in the grass… the Dark Lord is far more dangerous."
Ophelia merely shrugged, and did not reply.
Ophelia readjusted her scarf around her neck, her eyes flitting across the street. The early autumn air was crisp, and she supposed it would only get colder from there. Her long hair was bound back in a simple ponytail, and her wedding ring was on her finger, but only to ward off male attention. Ophelia was no fool- a goddess she may not have been, but she was no hag either.
The Hogs Head was not a particularly
desirable
location, but it offered some small amount of privacy, or so Ophelia believed.
She stepped inside, shaking the chill from her robes, and her eyes found Mariah almost immediately, her bright red hair standing out like a candle flame in the gloom. Mariah stood, and Ophelia flung herself into her arms, bursting into tears. Bless Mariah, she just stroked Ophelia's hair and didn't say a word as Ophelia sobbed. Normally, Ophelia wouldn't have allowed such a display in public, but it had been aching on her heart for too many weeks.
They sat in a corner table by the fireplace, and Ophelia dabbed at her eyes with a kerchief that Mariah handed her. Ophelia had to repeat the process when she realized it was a kerchief she herself had embroidered for Mariah. "I'm so sorry, Mariah," she whispered. "It… it's been such hell. Cold, frozen bitter hell."
Mariah reached out, putting her hands over Ophelia's. "Then leave. Come away with me, Ophelia."
For a painfully clear moment, Ophelia thought she would say yes. "I can't," she whispered. "I can't, Mariah."
Mariah looked at Ophelia in disbelief. "Why not?"
"He's my husband, Mariah…"
"You can't tell me you love him."
Ophelia shook her head. "It's not love… but when I said my wedding vows, that's exactly what I did, Mariah. I said a
vow."
"He sent away for you in the
mail,
Ophelia, he doesn't deserve your loyalty."
"He doesn't deserve my fidelity, you mean," Ophelia replied crisply.
Mariah went to reply, and then stopped, processing what Ophelia was saying. "You mean you won't leave him, but you'd go on with me anyway?"
"He has my loyalty, but he will never have my heart, Mariah."
Mariah regarded Ophelia skeptically. "Have you slept with him?"
Ophelia gazed at Mariah. "Once," she replied, "And we were both intoxicated. We have separate bedrooms."
This seemed to surprise Mariah. "Really?"
"I think," Ophelia said softly, "That in some ways I make him uncomfortable. If he had it his way, I think he would rather have a servant than a wife. He wouldn't let me get close to him even if I wanted to."
There was a moment of silence. "Let me get you a drink," Mariah said softly.
Ophelia rubbed at her eyes a moment, and then looked up as Mariah brought her a fire whiskey. Ophelia had never been one much for hard liquor, but… ah, desperate times called for desperate measures. She took a gulp and swallowed hard. The burning sensation was almost pleasant.
Mariah regarded her for a moment. "So, being a professor's wife is not as glamorous as you imagine, hmm?"
Ophelia stared forlornly into her fire whiskey, and kept silence.
"Why
did you do it, Ophelia?"
"Because I'm the last my parents have, Mariah," Ophelia said, looking up. "I was always the good child but when Prosper died-" Ophelia stopped, her throat constricting.
Mariah looked livid. "It's been a god damn fifteen years, Ophelia. Prosper was irresponsible by nature, and we
all
knew it. You can't help that he went out and got himself killed! You don't have to make up for your brother, Ophelia."
Ophelia was silent for a long moment. "Regardless," she said softly, "I already married him."
Mariah made a sound of disgust. "You and your thrice damned sense of honor."
Ophelia's temper flared. "If you are going to sneer at me, why did you even come here?"
"Because I hoped you would see some damn sense," Mariah retorted. "You don't
have
to stay, Ophelia."
"I do," Ophelia replied coldly. "He's my husband."
"But apparently all I'm worth is a hot and steamy affair," Mariah responded acidly. "God forbid the love I've given you should be worth anything."
"Mariah-"
"No, forget it," Mariah spat, getting up and grabbing her cloak. "Go back to your husband. You're clearly more attached to the men in your life than anyone else." She threw three sickles down on the table. "That's for the drink," she hissed.
Ophelia's mind reeled as Mariah stormed out of the pub. People were staring at her, and Ophelia didn't know what to do. She put her head in her hands, and held back the tears as best as she could. Everything had gone terribly, terribly awry. After a moment her body began to shudder, and Ophelia bent over the table and sobbed.
Ophelia stood behind her husband at the Staff Meeting, no trace of her emotional breakdown on her face. Severus had noticed nothing… but Ophelia did not like the glances that the Headmaster gave her. Dumbledore knew too much, but how much of her meeting with Mariah he knew about, Ophelia could not be sure.
Ophelia avoided the old man's gaze, and stared straight forward, pretending to listen resolutely to Umbridge's prolonged prattle. A few of the other professors glanced at her now and then, but Ophelia pretended not to notice, maintaining her straight posture just to the right and behind of the chair in which her husband sat. She looked the picture of unerring loyalty. As she had told Severus before… she tried not to be a bad liar.
The meeting dissembled later, and in her high, girlish voice (if a little girl could sound like a servant of Satan) Umbridge called out- "Mrs. Snape? A word, if I may."
Severus looked at her, and Ophelia tried to keep her shoulders from tightening. "Just a moment," Ophelia murmured, laying her hand on Severus's arm. "That's all I need."
He studied her a moment, and then nodded, leaving her behind. Ophelia turned and stepped over to stand before Umbridge. "Yes, Professor?"
"Are you quite sure you have no wish to begin a career at the Ministry? You are still young, and I think you could advance quite quickly." Umbridge looked at her almost hopefully.
"Quite certain, my dear friend," Ophelia said lightly, offering Umbridge a smile that should have looked sincere. "My place is here, as a wife, and eventually- hopefully- as a mother." Ophelia tucked away the feeling of satisfaction at the disappointed look in Umbridge's eyes.
"Ah, well, I had hoped. Enjoy your afternoon, Mrs. Snape." Umbridge patted her on the arm.
"And you, Professor Umbridge," Ophelia said with false kindness. She left slowly, so as not to look impolite, and then bolted past Severus with a furious stride, her skin crawling.
Severus caught up with her partway down the corridor. "What happened?" he demanded.
Ophelia shot him a gaze filled with fire. "First," she hissed, "I scrub my skin raw trying to get that woman's touch off of me.
Then
we talk."