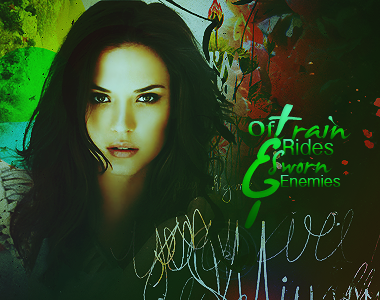 And this above would be Clover Vatalin. Aka Odette Yustman. But shhh.
eyepopping chapter image by Yellow @ TDA. She's awesome!
---
I grumbled under my breath as I pushed my luggage forward dangerously, wincing as it hit every crack in the station ground and echoed loudly.
Many stared as I passed by with two huge suitcases and a yowling cat in my arms, and many dived out of the way so I wouldn't run them over.
And trust me, it was one of those days where I would have.
I had slept in, and woken up an hour later than planned. This meant I was hurrying everywhere, and annoyingly klutzy me tripped down the stairs.
When I was ready to leave, I discovered Mommy dearest was face-down in her bed, suffering from one of her many hangovers. When I crept forward to see if she was still breathing (She was. Lucky me.), she threw a pair of boots at me.
Taking the hint, I had tried my odds at apparating, but ended up a good fifteen minutes off course.
So, yeah, the mothers who were bailing their kids out of my way hastily were actually smart thinkers.
Sorry, I should probably introduce myself. My name is Clover Vatalin, but that's "Chloe" to everyone that enjoys living.
I'm going back to Hogwarts for my final year, and I could practically drop to my knees in prayer out of the relief.
Hogwarts was my home, and I couldn't say the same about my summer arrangements.
I halted, realizing I was standing right in front of the wall to Platform 9 and three quarters.
With six minutes to spare, I thought proudly as I checked my watch.
Then I glanced around sneakily and ran straight for the wall.
I stumbled into the platform, nearly knocking over a family of brunettes that stood near the entrance. They gave me dirty looks as I righted myself and shifted the cat in my arms, but I paid them no mind, instead beaming at the big red train in front of me.
Freedom was so close I could practically taste it.
"Chloe!"
I started, looking around for the source of my name, just as a little flurry of brown hair came flying at me.
"Oh, Chlo. It's so awesome to see you! I was practically dying all summer without you!"
Leah pulled back from our hug, white teeth glinting in the sun.
I smiled, too, because I had definately missed her. Leah was my boy-crazy, hyperactive, obnoxious best friend. She was definately pretty, with long brown hair, icy eyes, and a tall figure. Leah had a different boyfriend each month, but she's not a whore. She's what we call a hopeless romantic. She spends her money on cheesy romantic novels, and every boy she starts to date will be "the one." Leah's always trying to fix Dominique and I up on dates. Trying to spread the happiness, I suppose.
"You look great, Lee. Did you get tanner?" I asked, eyeing her golden face.
She grinned. "Oh, yes. My family and I went to South America for our summer vacation. There was so much to do there! And the guys.. wow."
Leah made a fanning motion, and I laughed.
"Anywho," She continued, still gabbing on, "I got us a compartment already; off to Hogwarts we go!"
She looped her arm through mine, levitating my luggage easily behind us as she pulled me onto the train.
We shuffled down the long, narrow hallway, dodging around fellow students, until Leah stopped and pulled open the door to one.
I sighed in exhaustion as I plopped down across the seat, stretching dramatically.
I was just about ready to close my eyes when the door slid open again, and a tall figure swept inside.
Dominique grinned her usual megawatt smile, and sat down gracefully next to Leah.
Dom Weasley was my other best friend. We met on the boat ride first year when her cousin almost caused my death.
But we'll get to
that
story later.
Dom was a classic beauty, with Veela in her blood. Almost all girls at Hogwarts were jealous of her, and almost all boys drooled over her. Her strawberry blonde hair was a couple shades lighter than her family's vivid red, and she had big blue eyes that guys called "captivating."
Most people thought Dom was a stuck up bitch, because she didn't socialize much. She stuck mostly with her friends, and her family (The infamous Potter-Weasley clan). Yes, that's right, she does
not
date. She has her sights set on one guy, a guy so totally blind to her constant flirting.
Lorcan Scamander. She can tell the difference between him and his twin.
You know why? Because Lorcan's ears are smaller.
Yeah. This girl is one of my best friends.
"Hey, guys," Dominique greeted, and propped her feet up casually on my lap. I scowled, pushing her off of me, and she scowled right back.
"Someone's grumpy," She noted, dropping the look, and then proceded to stab me in the ribs with her wand.
I swatted her away with a lazy hand, and then winced as two pairs of claws dug into my legs.
"Ouch, Bludger," I hissed, and Bludger hissed back at me, narrowing his yellow eyes in challenge.
My cat hates me.
"Aw," Leah cooed to him. "Is the mean old Chloe abusing you again?" She reached forward to stroke Bludger's dark grey fur, and he purred happily against her hand.
Bludger loves Leah. Everyone loves Leah.
"Hey!" I protested. "That was
once
, and it's not like I meant to drop him down the stairs."
Besides, it's not like he was hurt. All he did was lay there at the bottom, growling unhappily before scampering up and running before I could reach him.
Leah scooped Bludger up, holding him to her chest, and then smiled at Dom and I.
"So how was your summer? I was so lonely in South America without you two."
I stayed silent, and Dom glanced at me before speaking up.
"Victoires engaged," She pitched in, and our jaws dropped.
"What?" I squealed, and Leah nearly dropped my cat in excitement.
"When did that happen?"
"Well, Teddy proposed." Dom shook out her long blonde hair casually. "I guess he surprised her at work. Dropped down on one knee and told her he wanted to grow old with her." She shrugged, looking the least bit concerned.
"You guys are invited to the wedding," She continued. "I'll be a bridesmaid. Yuck. Victoire's friends are absolutely
horrid,
and I'll probably die if I have to spend so much time with them."
"Oh, come on," I chipped in lightheartedly. "They aren't that bad."
I was lying, of course. Victoire's friends were over one night while I was staying at Doms house, and they were right snobs.
But positive thinking for the best friend, right?
Dom wasn't buying it; she rolled her eyes and crossed her legs on the seat. "Please, Chloe. You know they're cows. I'm going to commit suicide with a curler hours before the wedding. You can have my broomstick, Chlo." She laid a pale hand across her forehead, closing her eyes and sticking her tongue out for effect. It was sort of an ugly sight.
Now it was Leah's turn to roll her eyes. "You're such a drama queen, Dominique."
Bludger purred his agreement while Dom gasped in mock outrage.
What she was going to say remains unknown, though, because at that moment, the door slid open and a gaggle of boys made themselves welcome.
"Hey guys!" Leah chirped, smiling at them.
"Leah!" Drew broke free from the pack, placing himself next to her exuberantly.
Everyone with common sense could see that Drew Mauers was insanely in love with Leah. The only problem was that she saw him as a brother figure, and was mostly oblivious to the possibility of being with him.
I give it four months, tops, before Drew goes crazy and confesses to her.
I was pulled out of my thoughts as a dark shape flung himself ontop of me, gripping my neck tightly with a pair of burly brown arms.
"Chloe!"
"Fred," I shrieked. "You fat oaf. Get off me!" This was meant to be said menacingly, with venom dripping from each word, but instead it came out as a series of mumbles against his robes.
He chuckled, hugging me tighter before pulling back and smiling his trademark grin. There was never a moment where Fred Weasley stopped smiling; that boy was too spirited for his own good. Worse was that he was Dom's cousin, so I spent a lot of time with him.
"I missed you greatly, my love," He confided, and kissed me sloppily on the cheek. I rolled my eyes and shoved him off of my lap, but couldn't help but crack a grin.
"You're relentless," I sniffed, and crossed my legs.
Fred looked ready to say something, but before he could, someone cut across and my smile dropped.
"Hello, Clover."
I turned my eyes to Potter, raising a brow and pursing my lips unhappily. "Hello," I replied stiffly, and then made a point to turn away from him.
I'm sure everyone knows James Sirius Potter II, right?
I'm sure everyone's also insanely in love with him.
With the exception of me.
I hate James with so much passion that it's not even funny, and he hates me back.
It's a mutual understanding.
Yes, you remember the story I mentioned earlier? About how I met Dominique?
Yes, well, James was the cousin that nearly caused my death.
All around me, kids had been chattering excitedly to one another, staring up in awe at the huge castle that was our new home.
I was eleven, and although the experience was cool and all, I was much more interested in my copy of Vampire Academy.
The thing that changed my life was that boat ride.
Because of all people, I got stuck with James Potter.
He snatched the book right out of my hands, holding it high above me. Even as a kid, I was unfairly short, and was no match against the tall James Potter.
I had jumped for that book, begging for it back and adding a lot of pleases.
It was a no go, to say the least. Potter, the charmer he is, threw me a coy smirk and chucked it over the edge of the boat.
I screamed, outraged, and jumped in after it. Eleven year old me was stupid and didn't think about the fact that she couldn't swim.
So my first meeting with James Potter almost caused my death.
After that, he loved taking the piss out of me. He made fun of my name. ("Who names their kid Clover?")
My impossible daintiness. (Which he likes to call titchy. I like to kick him when he suggests it.)
My obsession with books. ("Who dives into the water to save a book?")
Anything really, and he picked on me for it. He stuck Everlasting Gum in my hair second year, and I had to cut it out. I mean, sure, Leah fixed it, but it was the act that counted.
To say the least, James Potter was
not
on my good list.
In fact, the only reason I refused to murder him in his sleep was because Dom would probably not take that too kindly.
She does have her limits.
"So.." James sat down almost hesitantly next to me, hands on his knees. "How was your summer?"
"Wonderful," I said shortly.
"That's great!" He smiled, clearly not hearing the sarcasm in my voice.
There was an akward pause, and I took advantage of it to glance around.
One of the Scamander twins had come in with everyone else, and judging by Dom's red cheeks and batting eyelashes, it was Lorcan.
She looked up from his gaze, feeling my eyes on her, and I winked heavily, open mouth and everything.
Dom threw me a scandalized look, clearly annoyed at my not-so-subtle gesture, and turned back as Lorcan said something to her.
"Mine was good," James was saying, nodding his head absently.
I was confused for a second before remembering he was talking to me.
"I mean, as good as it
can
be. You know.. with all my family around."
Pause, and then he ran his hand through his brown hair.
"You know.. because they're crazy."
I grunted in half-hearted aknowledgement, hoping this would suffice and he would leave me alone.
No such luck.
"I mean, I love them and all, don't get me wrong. But sometime's they're a handful."
I sighed, exasperated. "I don't really care, Potter."
What the hell was with this kid?
A few months ago he was perfectly content to treat me like dirt under his shoes.
Now here he was, acting all chummy.. Almost as if we were
friends
.
Fat chance of
that
ever happening.
There was silence and I looked at him, half-curious. He looked almost.. hurt.
"Whatever," James said, jaw set and eyes glaring across the compartment. "I just thought maybe you'd like to talk."
"Yes, well. That's where you're wrong."
He was silent the rest of the train ride.
---
A/N: I know James seems weird in this chapter.. But that's only because I'm introducing him, I swear. He'll be normal next chapter.
Here's a brief summary of the love situations that'll be in this story.
-James/Clover: James & Clover have a bad history. It's their final year at Hogwarts, and now James is acting all strange around Chloe. Dare we say he likes her? :O
-Dom/Lorcan: Dom is insanely in love with Lorcan, although Lorcan is insanely clueless.
-Drew/Ellie: Two OCs. Drew loves Leah, Leah sees Drew as a brother. Sucks for Drew, but his lady-love will come around.. maybe. ;D
-Rose/Scorpius: They don't come around until a few chapters in, but it'll be there. Look out for the hints.
-Lily/OC: What would a story be without an overbearing, prat brother to scare off all your boyfriends?
Read, love, and review! ;D And if you haven't read Spiraling yet, and you're a big fan of James/OC, feel free to go check it out.
- Mariah. <3
---EDIT:4/13: So, um. Another edit. I changed Ellie's name (I'm sorry, I just see her as a Leah!). Plus, there's so many next gens with Ellies as best friends. If you find a Next Gen with a Leah in it, feel free to point it out to me? ;) I like to keep my names not as used. Hence the name Clover. <3 Anyways. Figured I'd also let you guys know.. Chapter 2 is on the way. I need to tweak it, because it's pretty focused on dialogue, and I'd like more details. My goal is to have it in the queue by next Wednesday. Also known as April 20th. So, yep, That's all. Bye now.