Who are you? Who am I? Wrapped up in this cosmos of calla lilies and clean linens, neither of us exists. You begin me and I end you. There is no need for substance here, no sun. There is no darkness; your iridescent light shines brilliantly, bathing us in your ambers and thulian pinks.
Your breath catches like the moment before the waves crash upon the beach; my arm twines around your hips like ivy around an iron fence. Your laugh whispers over my skin, making the heat of a blush rise to my cheeks. It is not cruel, your laugh, it echoes like the chimes in the wind.
You are a packrat and so I am one too. I see the dust finds home amongst the piles on your tableside. The Eiffel Tower you brought home from one of the early summers in France, the antique mirror your mother brought you home from America, an old collectable box you stole from your first job, roses I have given you over the years, an old gold clock that had belonged to your grandfather, and letters.
I can see the postage on the letters, the Muggle letters we love to write. Brazil, Rome, Moscow, China, and India lie amongst the pile; pieces of my heart sent to you gripped in the talon of an owl. And they rest, allowing dust to coat them like paint; the red of the ribbon binding them together contrasts against the brown of the grain, the brass of the mirrors, the black of the tower.
And all the while, all these packrat items hide the book, our book, the story of us. At first you may touch wildflowers from the meadows we ran in as children. Words in tiny print, neat but slanted, accompany the pressed flowers, stories from the days, dates, or simple phrases to commemorate the day. My favorite is the sixth, a once vibrant red flower with only,
love
, scrawled beneath it.
We had met at the gate that day; you ran ahead of me, disappearing into the whispering weeds that surrounded your house. Your breaths came out like wisps of smoke, curling sweetly around my nostrils, blowing on my face.
You turn over and murmur a poem of sighs into my ear, bringing me back to the present you. Your voice is authority, grace, and charm braided delicately secured in confidence. You are a titan, securing control over what sprouts in the terrestrial depth of my soul. Your voice invigorates the life waiting to burst within me.
Your smile radiates its own energy, stretching one across my lips. You speak quietly to yourself as your hand sails along the sea of my torso, a ship guided by the wind of desire. My lips find yours; our kiss resuscitates the current of electricity sibilating under my flesh.
You pull away, your eyes forced to the window pane. It is a threshold that separates one reality from ours. I will be pulled away soon into the jet streams of political appeasements and falsehoods. Some partners would be jealous of the attention my career demands of me.
You will be succumbed to the dreary dregs of aimless writing. Your talent, your bravo will be wasted on the reports of scoundrels and ravenous loons. Your beauty, your iridescence will be mistaken for sexual prowess and social depravity. They will scavenge for some insecurity, desiring to strip you of your divinity. Some would be jealous, overprotective of you.
We are territorial of one another; not jealous though because how can you be jealous of an extension of yourself? How can you submit the purity of your wholeness to the fractured nature of envy and mistrust? In our paradise, no such feelings or insecurities exist; I am you, you are me, and we are the cosmos. We are eternity, immortal.
I watch you gaze unfocused upon the ceiling, stars in your eyes, their fire and ardor plunging into the depths of your irises. I slide my hand around your wrist, your heart fastened in my grasp. It is steady like a bass drum, beating strong but halcyon all the same. This same heart has become a snare, rattling with power and nerves.
Your focus has moved from the ceiling to me; I have become your canvas, your place to draw your dreams. I feel the hairs of your paintbrush fingers skating on my face; your eyes sharpen patterns like ice skates on a pond. You sculpt the swoop in my stomach, your hands shaping with relentless force. You blotch my skin with heat, smearing the red until the flush is a part of me.
I do not speak to you instead I let these thoughts become a force between us, pushing us away from one another. My eyes grovel to connect with yours, to build a bridge across the gap. I see the cracks in your eyes, the imperfections chipping away at you. I pull you to my breast, my heart crooning for you to understand. You are here, you are me, I am you, we are together.
We are pressed flowers, stuck to each other, stuck to pages of parchment bound together by our love. But we are not fading; we are not becoming mementos of lovers, of people that were once real and alive. We are fresh picked and in love.
Your breaths come out ragged, mummified by your emotions and fueled by your fears. You see the worst when you look out that window. Reality taints you, binds you, and coerces you into slavery, a subservient to its proclivities.
You are the light that cannot be hidden under a clay bowl, withering without being able to shine your light. Finally, I loosen my hold on you, if just for a moment. The questions climb out of your eyes, becoming demons pulling me and restricting you. I fight to get you back; please remember that pressed flower, my love and in our divinity, we last forever.
---
Hello all,
This was actually an amazing one-shot to write. And I have to say I was seriously influenced by The Civil War's song, Pressing Flowers. It is excellent and I reccomend that you read this with that song on in the background. This is a pairing that could really be any two, but I'll virtual brownies to whoever can guess the right pairing I was inspired by in the beginning. Hint, it is a next generation pairing.

Oh, and my picture for the challenge is below. Thanks to Ronsgirl29 for the challenge!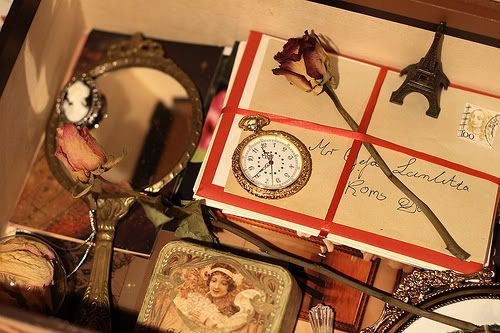 Credit-- Not my own picture and it is rated 12+.
Love to all,
Lindsey