[
Printer Friendly Version ] [ Report Abuse ]
Twelve Step Program for Romance: Weasley Style by Lucy Weasley
Chapter 1 : Step 1: The Perfect One and Always Love
| | | |
| --- | --- | --- |
| | Rating: 15+ | Chapter Reviews: 3 |
Font:
Background: Font color: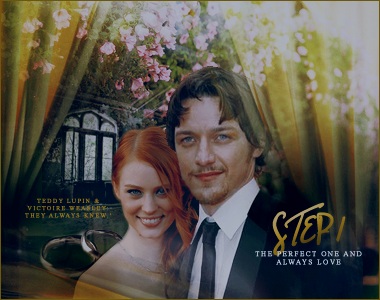 Chaper image by bellatrixx @ TDA

Disclaimers: I don't own anything you recognize.
---
I don't know where I'd be
Without you here with me
Life with you makes perfect sense
You're my best friend.

OoOoOo
Victoire
Victoire studied herself in the mirror. Bright blue eyes peered out from under her veil. Her strawberry blonde hair cascaded down her back like a waterfall. The white dress she wore was perfect; it had been her mother's.
"Ugh," a disapproving voice grumbled behind her. Victoire turned to glare at her sister. Dominique was slouched in a chair, looking as though she was about to bolt (she hated anything that required her to dress up). Her lilac dress wrinkled around her. Molly, their cousin and the other bridesmaid, stood behind her. Molly's dress was perfectly straight and smooth.
"What?" Victoire snapped, eyes still fixed upon her insolent sister. Dom shrugged.
"Nothing," demurred Dom. "You just look perfect and yet you keep checking your reflection. That's the fourth time in ten minutes." Victoire met Molly's eye and they giggled at Dom's annoyance.
"Why does it bother you?" asked Victoire.
"Because you always look perfect. Nothing ever looks wrong on you," whined Dominique, exasperated.
The girls' mother, Molly's Aunt Fleur, hastily glided into the room. The wedding was making her slightly stressed, despite her insistence that she would not be the way her own mother-in-law, Nana Molly, had been at her and Bill's wedding.
"Eet eez almost time. You are ready, no?" Her daughters and niece nodded. Fleur waved her wand over Dom's dress, fixing the wrinkles and pinned up a loose strand of Molly's hair. "Where are ze flowers?" Victoire gestured towards the armoire, which held three bouquets of violets and lilies and a circlet of violets. Her mother carefully picked up the circlet and placed it on Victoire's head. The girls all grabbed their bouquets and hurried out the door.
In the kitchen, Bill, the father of the bride, was waiting waited with the groomsmen and ushers. His wife Fleur kissed him briefly and hugged her their daughter.
"Je t'aime ma chérie.
" Victoire nodded, tearing up a little.
"I love you too, Maman." Fleur hastened from the room, no doubt to attend to any last-minute matters that had arisen.
"This is it Vic, you're getting married. Don't cry up there," said Bill, tenderly. Victoire smiled at her father; he had already cried at the rehearsal the day before. Even now, his eyes were wet.
"I'll try, Dad." They traded jokes back and forth for a few minutes, keeping the expectant silence at bay. Soon, Dom and Molly were getting into place, and. Harry and Teddy's friend Matthew had left to go up front. Victoire took her father's arm and smiled up at him.
"Here we go," Bill murmured. Music started began and Molly headed out. Dom turned and grinned at her sister.
"See you on the other side, Mrs. Lupin." Victoire didn't have time to retort, Dom was gone and she was next.
OoOoOo

Teddy
Teddy was positive he was shaking the platform. Harry noticed, and offered him a reassuring smile.
"Nervous?" He nodded, Molly was coming down the aisle. Lucy stuck her tongue out at her as she passed. Molly did not react; she had mastered ignoring Lucy years ago.
"What if I lose the rings?" implored Teddy.
Harry chuckled.
"You won't, I'm not giving them to you until they ask for them." Teddy sighed in relief. Dom was halfway down the aisle now. She grinned at him cheekily as she took her place.
The music changed; and everyone stood and looked to the back. Bill appeared in the doorway, his scars as unnoticeable as the day he himself had married. On his arm was, in Teddy's mind, the most beautiful woman in the world. Victoire smiled nervously as she walked towards him, and Teddy wondered yet again how he had gotten so lucky. When she reached him she hugged her father and kissed his cheek.
"I love you Daddy," he heard her say. A tear escaped from the corner of Bill's eye and slid down his cheek. Teddy held out his hand to help her onto the platform. Victoire's eyes were wet too.
She sniffed and reached down to grab her dress, swinging it around behind her so briskly that it was all he could do not to laugh. The vows went by in a blur, he remembered to say 'I do' and to put the ring on her finger. Fleur and his Gran were crying. He'd never seen Andromeda cry, not even at the memorial every year at Hogwarts. But other then that, he didn't see or hear anything until the minister declared, "you may kiss the bride." He leaned down and kissed Victoire gently, he hearing Dom giggle as his hair turned bright bubble-gum pink, his happy color. After quickly fixing it Teddy took Victoire's hand and lead her down the aisle.
OoOoOo
Victoire
Victoire looked around the field. Her whole family was there: Great-Aunt Muriel, complaining all the while about Victoire's refusal to wear her goblin-made tiara; Dom, chuckling with Freddie in the corner (they'd already given Teddy and Victoire their gift, surprise fireworks); her parents, spinning on the dance floor, oblivious to the rest of the world. She could see remnants of the young couple they had been, fresh from one battle and plunged mercilessly into another. Her cousin Lucy was dancing as well, and with Lorcan Scamander no less! Well, Victoire couldn't say she was shocked; it had seemed a possibility for the past four years. She leaned against her new husband.
"I love you, Mr. Lupin."
He smiled and kissed the top of her head.
"I love you too, Mrs. Lupin."
---
A/N: Song-My Best Friend-Tim McGraw
---
Next Chapter
---
Favorite&nbsp|Reading List&nbsp|Currently Reading
---
Other Similar Stories

The Twelve D...
by cherry_pop94


Pesky Parchment
by twitchy_l...


Life, featur...
by IWannaGoT...