Disclaimer; I own nothing but the plot and Emiliya. Draco is J.K Rowling's as is everything else. Thank you for reading.


Dedicated to DracoFerret11
For being an amazing writer and a real laugh.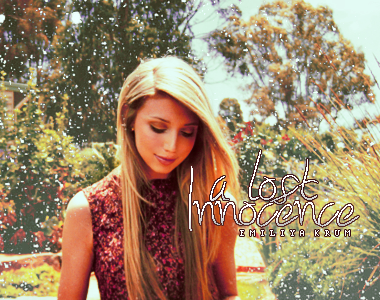 amazing chapter image by socal @ TDA. thank you so much!
***
A delicate snowflake landed on the ground joining the millions of others that made a bed of snow around two teenagers as the lay on the ground, their bodies facing each other. The boy was smiling, his bleach blonde hair covered in snow and his fancy robes soaked through and through. The girl was staring absently at the boy, half of her long golden blonde hair covering her face. Draco Malfoy and Emiliya Krum, They had been friends since they were five. Draco reached out and brushed some of Emiliya's hair out of her face, still smiling at her. She smiled back at him and closed her eyes, allowing herself to drift off to sleep.
***
An eight year old Emiliya waited patiently out the front of the local park. Her dad said that he would pick her up five minutes ago and she was getting nervous. Her dad was never late for anything, She shrugged her shoulders and went back to the swings, her feet barely touching the ground. Another five minutes passed and still there was no sight of her dad. Emiliya looked around the deserted park before deciding to walk home.She grabbed her brand new pink jacket off the fence and left the park,closing the gate behind her. She began to skip down the footpath, humming the song her mum always sings to her before she goes to sleep at night. Emiliya turned into her street and quickened her pace, seeing the light in the front room on.
"Mummy? Daddy?" She called, pushing the spare key into the key hole and turning the door and stepping inside into the warmth."Where are y-"Emiliya caught sight of her mothers mangled body on the floor and screamed.
***
"Emi, Calm down I'm here" The cool, deep voice of Draco Malfoy whispered. Emiliya dragged her hand across her forehead, wiping the sweat away.She sat, her breathing ragged and finally realised where she was. Draco's room, Green and Silver- True Slytherin style. "It happened again didn't it?"
"How'd we get here?" She asked, finding her voice again.
"Carried you her of course, with my strong muscles" Draco replied, flexing his muscles. Emiliya giggled and hit him lightly on the arm before sitting up and kissing him on the cheek.
"My savior"
"How bad?" Draco asked, his eyes avoiding Emiliya's.
"Only got to the part I saw her on the floor" She whispered, playing with the edge of Draco's dress robe.
"Your father not making an appearance as much as usual?" He asked, still staring off into space. Emiliya shook her head.
"I prefer to forget that part"
"Sorry" He mumbled, looking at her with pity in his eyes. She hit him on his arm.
"What did I say about that word?" She asked threateningly.
"Never to say it in front of you?" He said, scratching the back of his neck with a nervous expression on his face.
"Good Boy" She said,ruffling up his hair before falling into his bed, laughing.
Authors Note; Well here I am with another new novella *avoids things being thrown at her*. I know I have heaps in the works but I wanted to try out a Hogwarts fic, as I haven't written a good one for ages. I promise I'll keep this one active. So what do you all think of Emiliya? And Draco? Let me know.