[
Printer Friendly Version ] [ Report Abuse ]
How Far Would You Go? by Aidenk77
Chapter 6 : Chapter VI: Epilogue
| | | |
| --- | --- | --- |
| | Rating: Mature | Chapter Reviews: 10 |
Font:
Background: Font color: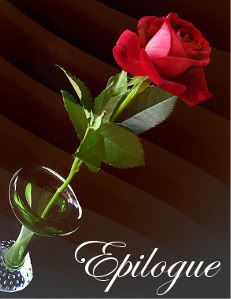 ---
Six months later.
Harry lounged comfortably in his new favourite armchair. He glanced around the sitting room, and grinned. The musty old furniture had been taken away, replaced by chic and modern black leather couches, the dark old dresser and other old furnishings had been sold to an extremely enthusiastic wizarding antiques dealer. It seemed that the Black family had spared no expense furnishing Grimmauld Place, and Harry received a substantial amount for the old things. They had been replaced with modern light coloured woods, the walls repapered and tall, elegant vases that looked magnificent with large blooms of roses. None of the redecoration would have been possible without Hermione, she had insisted on putting the old spell books, ornaments and trinkets into storage in the large cellar, and the sitting room was so much improved for it.
Harry sat up as he heard the front door click, and he stood up, beaming. He heard Hermione climb the stairs, and she entered the sitting room, closely followed by Kreacher, bearing fresh coffee and little sandwiches.
"Hey you!" she called.
Harry felt a now familiar rush of emotion towards her, and almost bowled her over in a huge hug. He kissed her, and squeezed her.
"I missed you, sweetie," he whispered.
"Ooh, Harry," said Hermione, smiling. "I've only been gone a few hours! At least one of us has to go to work!"
"You know you don't have to work, Hermione," said Harry. He felt so happy, and Hermione did know that she needn't work, but she enjoyed it.
They sat together on the sofa, and drank the afternoon coffee, and Hermione turned to him.
"I saw Ron today," she said quietly.
"What... really?" said Harry, choking on his coffee.
"Well... he was walking straight towards me in the atrium, but he just looked right through me, like I wasn't there."
Harry grimaced. He hadn't spoken to Ron since Hermione's birthday party, almost eleven months ago, and didn't intend to. Mrs Weasley had been as sweet to Harry as ever, and the entire Weasley family had accepted Harry and Hermione's relationship, Bill and Fleur had even remarked about how they should have always been together. Ron had moved out of The Burrow months ago, and found himself a flat in Central London, and was often seen in the pages of 'Witch Weekly', with a varying number of attractive and desirable witches on his arm.
Harry sighed, he knew, from speaking to George, that Ron was battling demons of his own, mainly with drink and drugs. Harry pulled Hermione gently closer to him, and kissed her softly on the pale skin of her neck. Harry would never forgive Ron for hitting Hermione, never. Ron had never offered any sort of explanation, or expressed any remorse. The Weasley family did not know, Hermione had begged Harry to keep her secret, she feared Ron would be completely ostracised from the wizarding community. Even as a victim, she still showed compassion, and Harry respected her wishes.
Hermione did not yet live with Harry, but she did spend an increasingly large amount of time there, this suited Harry perfectly, he loved having her in his house, and felt lost without her there. He wanted her to live there permanently, soon he was hoping to propose, and ask her to live with him. He had, secretly hidden in his bedside table drawer, his mother's engagement ring, which had been found in a large trunk in his vault at Gringots.
They finished the afternoon coffee, and Hermione cuddled closer into Harry. He gently kissed the top of her head, and smiled to himself. Six short months, and so many happy memories already. The first time they made love, three months ago, Harry felt such euphoria of emotion, love and tenderness he'd barely experienced before. He shivered slightly as he recalled that time, so much passion, yet so gentle and loving. Not long after that Harry had noticed her toothbrush in his bathroom, and as the weeks went by he noticed the feminine touches around the house.
Harry cuddled Hermione closer to him, and she turned and looked at him.
"I love you so much," he said.
"I love you too," she whispered, and softly kissed him on the lips.
The End
---
A/N:
So here it is guys, I really hope you've enjoyed reading it as much as I enjoyed writing it.
As ever, please don't forget to rate and review!
Keep and eye out for my next story, a fun and fluffy one-shot, entited 'The Slug Club Party'. I'll leave you guys to guess who's in it!
Thank you again for taking the time to read my story.
---
Previous Chapter
---
Favorite&nbsp|Reading List&nbsp|Currently Reading
Write a Review
How Far Would You Go?:

Chapter VI: Epilogue
---
Other Similar Stories
No similar stories found!