[
Printer Friendly Version ] [ Report Abuse ]
Potter, Please Tell Her Something by katiefelton
Chapter 2 : Part 2: Incomplete
| | | |
| --- | --- | --- |
| | Rating: 15+ | Chapter Reviews: 64 |
Font:
Background: Font color:
A/N:

Hi everyone! I promise that I am hard at work on Titanic and Just Decide Chapters, but this one happened to be the first one finished. I am so excited for you all to read this part 2, because I loved writing this:) So without any further wait, here is Potter, Please Tell Her Something, part 2!
---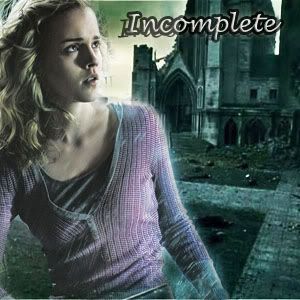 Chapter image by me:)
I'm awake, when my world is half asleep.
I pray, for this heart to be unbroken,
but without you all i'm going to be is incomplete
-Incomplete, Backstreet Boys
---
A miniscule breath escaped from her chest as Hermione witnessed the once great Dark Lord collapse to the crumbled ground, his life erased from existence. She saw Harry trembling, his wand extended towards the fallen creature. The hundreds of wizards and witches around her held on Harry's every breath for a moment, then erupted into valiant screams of the long awaited victory. Hermione stood in silence, and awe, as she watched her friend drown in a vast sea of swarming people. Some shouted chants of fortune, some wiped away streams of falling tears of elation, and some pushed their way into the huddle, the shock of defeating evil apparent on their bloodied and dirty faces.
It was over. This journey of fear, confusion, anger, and frustration had finally ended. Voldemort was dead, gone, and his plans and expectations for his reign were aborted from their sinister missions. A sense of numbness overtook Hermione, as she was still grasping the truth that the one evil that she had been sacrificing to defeat for the past year was finally demolished.
This mission had consumed her. She had abandoned her family, or both of them, if she included the Weasleys, to fight to defeat the evil dictator that had destroyed everything dear to her soul. She had abandoned Hogwarts, or her education to find and destroy each horcrux, which had previously been a driving force in her life. She had spent months traveling throughout forests and terrain, constantly on the run from the forces that attempted to derail them from their mission to save the entire wizarding world. And worst of all, she had witnessed the sheer emotion between her, Harry and Ron that had the potential to erode their entire friendship. They fought and shouted amongst themselves, and battled over the smallest of worries. But they had survived.
They all did.
As people pushed past her still figure, her eyes wandered towards Voldemort. Unlike Harry, he had no audience or cheers of applause, and lay neglected on the crackled cobblestone. It was strange to see him so vulnerable and fragile in death, because he had wrecked such a great deal of havoc and dismay on her world for such a long time. His red, snakelike eyes were glossed over, and distant, and his pale skin had lost its hue. His limbs were crossed in uncomfortable positions, twisted to depict his fall. He was dead, gone, defeated.
"Hermione!"
She was released from her state when Ron took her in his arms. He pulled Hermione tight to his chest, and she placed her arms around his back. She closed her eyes as she buried herself into his chest, releasing pent up emotion of their journey. She even heard Ron begin to choke back a few tears.
"Hermione, it's over, it's finally over. We did it. I can't believe it," Ron said happily.
She lifted her eyes to Ron's, meeting his smile.
"I know. We did it," she softly said, glancing over to Harry. He was being hoisted onto the shoulders of those around him, his grinning smile stretching from ear to ear as he raised his fists in the air. Ron released her as he was engulfed in more hugs from those around him.
Hermione sighed in relief. This painful journey had ended, and she had not anticipated the victory to be so relieving. But her soul was not complete, it was shattered, broken, and her peace was not entirely found. As wonderful as this victory was, to her, she could not allow herself to celebrate just yet. She raised her eyes and began to scan the mass of celebrating people, desperately searching for the one who held the other half of her broken soul. She slowly lifted herself on her toes and gazed out into the crowd. A small ripple of fear ripped through her body when she could not identify him. She turned as someone new called her name.
Her eyes met Harry's before she embraced him. They were filled with utter joy and happiness, and small portion of relief. She wrapped her arms around her friend, and smiled.
"You did it Harry. You defeated him. You won."
He pulled her even closer.
"I couldn't have done it without you or Ron."
Harry slowly pulled away when he received no response. He faced Hermione as she rested her hands on his shoulders, and stared into his eyes with a small smile.
Hermione watched as his expression dropped, and as a new wave of concern spread over his features. Harry stared out into the circling crowd for a few moments, and then brought his eyes back to her.
"You need to go find him Hermione."
Hermione released a small breath as she glanced away from him. Harry looked down for a brief moment, and then brought his eyes back to her.
"Hermione, there's a chance that he didn't make it."
Hermione clenched her eyes in torment, and bit her trembling lip.
"I know," she choked between breaths. After a short paused, she spoke to Harry once more.
"I have to find him, even if he…..even if he….isn't…isn't alive."
Harry pulled her into another quick embrace, and then faced her again.
"Go Hermione. We'll be right here."
She watched as Ron walked to stand beside Harry, and give a small smile of agreement to Harry's claim. Ron lifted a hand to squeeze Hermione's shoulder, and motioned her to leave. After she softly smiled at her best friends, she turned away, and began to proceed down the hall. It was then her entire mind submerged into thoughts of him.
Hermione was looking, desperately searching for Draco Malfoy, her soul mate and
other half. Even the thought of him sent splinters of pain through her abdomen, and the image of his porcelain face ripped apart her heart. She had been separated from him for so long, yet her longing for him had become greater over their departure. Being away from him was comparable to the moon not being accompanied by the twinkling stars in the sky during the night. It wasn't right.
His departure had been one of the most painful and horrible things that Hermione had ever endured in her entire existence. She had watched him die throughout their sixth year, but she had no idea as to why, or the magnitude of the situation that Draco was intertwined in. Besides watching the love of her life slip away from her grasp into an abyss of pain, she had to let him exit her life, a life that he had become so a part of.
Draco was essential to Hermione's living, and she knew it with her entire heart.
Hermione pushed her way through the mass of people, straining her neck to search through the crowds for a glimpse of his platinum blond hair. She walked through the entire hall, circling through everyone, D.A and Order of the Phoenix members, teachers, students, and friends in search of her beloved Draco. She lifted a hand in worry when she could not identify him after pushing through most of the crowd, and became immersed in him once again.
She remembered his departure vividly. Draco had asked her one evening to meet him in an abandoned corridor on the seventh floor, to discuss something urgent. The torment in his eyes had scared her, and she knew that whatever they would discuss would not be a favorable subject. She had been the first to arrive, and had watched as he neared her. Draco had wrapped her in a tight embrace, and had kissed more intensely than their usual greeting. It had alarmed Hermione, for it seemed like a sign, a sign that he may not be able to kiss her for a long time. She remembered everything that followed just as it had happened so long ago.
Hermione stared intensely into his piercing grey eyes when she broke the passionate kiss. She lifted a hand to Draco's cheek, and stroked the warm skin underneath.

"What's wrong Draco? What do you want to talk about?"

He turned from her, and wrapped his knuckles around the stone window pane. They became white, as he clenched them tighter. After a minute, Draco faced her.

"Hermione, there is something that I have to tell you."

She opened her mouth in concern as his eyes turned a shade of emotion that she
had never seen before.

"Draco, you're scaring me. What's going on?"

His tormented eyes bore into hers, and his chest heaved in a small sigh.

"Something terrible is going to happen tonight."

Hermione narrow her eyebrows in confusion.

"What do you mean?"

Draco closed his eyes quickly, then reopened them.

"I've been seemingly distant this year, I know. The truth is, I was given a….a mission to complete Hermione."

Hermione stood straighter as fear ripped through her stomach.

"You aren't making any sense. What do you mean, a mission?"

Draco sighed.

"Do you remember Katie Bell and the necklace, and….Weasley and the poisoned mead? Do you remember their real intentions?"

Sheer dread was forming in Hermione's stomach as she digested what he had just told her, and it stopped her from her usual logical analysis of any situation.

"Y-yes, they were supposed to reach Dumbledore. They were attempts to kill Dumbledore."

She froze as his gaze dropped from hers.

"No, Draco. No. I,I…I won't believe…no," she spat.

He caught both her wrists as her breaths began to quicken.

"Hermione, I was given a mission to kill Dumbledore. I had no choice, I didn't want this. Both attempts were weak and feeble, just as my desire to complete the task I was given.

Hermione's entire body was numb, frozen. Draco's words were spinning in her head, and causing nausea in her stomach.

"You…you almost killed Ron. You tried to kill Dumbledore," she paused as she glared into his eyes," But why? Who gave you this mission?"

Draco released her wrists and turned his back to her. She watched in silence as his chest rose and fell. Her worst fears were imagined as he faced her once more, his hand draped over his left forearm. She began to take in larger breaths as she watched
Draco slowly pull up his sleeve, to reveal a blackened, and swollen dark mark, plastered in his pale skin.

"No….No….Draco, no," she gasped as she backed away from him.

Draco grabbed her wrists again and pulled her to him.

"Hermione, I had no choice. I don't want this life, I don't want to be a monster, you know that! He threatened to hurt my family if I didn't join him."

She attempted to shake off his hold on her, but he wouldn't budge.

"Hermione, look at me!"

Hermione's vision began to be clouded with tears as she stared into his eyes. Her worst fears were realized; he had joined them. He had joined his father and the very evil that they had been fighting for six years. Her Draco was now a death eater.

"Draco, what's happening tonight?"

He slowly released her, and prepared to speak.

"Hermione, death eaters are coming to Hogwarts tonight."

She paused, attempting to grasp what he had just said.

"But…how?"

"There was another piece to my mission Hermione. This year, I've been mending the broken vanishing cabinet in the room of requirement."

She closed her eyes in pain, as the weight of all of his words crashed upon her.

"It has a twin at Borgin and Burkes. That's how they will get in."

Hermione was softly crying now, and allowed them to slip down her cheeks.

"Harry was right."

They stood in silence, Draco brushing the tears from her cheeks, and Hermione placing together all the strands of this year together to match his words.

"Hermione, there's something else I have to tell you," he softly said, his voice filled with sadness. He was on the verge of tears, and she silently prepared herself for the worst.

"When the death eaters leave, I have to go with them."

She jerked her face up to his.

"No."

He was somewhat startled in the sharpness of her tone.

"No, Draco. I can't live without you. You can't go."

She watched through more tears as a single drop fell from his blurred eyes.

"I have to go with them Hermione. I don't know how long we'll be separated, and I don't know if I will…..if i'll ever be able to see you again. A war is starting Hermione, and I was, against my will, placed on another side.

Hermione released a sob.

"You can't leave me Draco. Please don't leave me without you. I…I can't live without you. Don't you understand? I can't do this without you. I need you with me."

Draco suddenly pulled Hermione into a tight embrace. She began to sob, her tears spilling onto his black suit. He buried his head into her neck, and felt his tears splash onto her cool skin. They stayed here, in the silence, and wept in each other's arms.

Draco then lifted his arm with the sound of the tower clock.

He took her crying, wet face in his hands, and spoke through his own tears.

"Hermione, you are my world, my existence, and you know that. When the death eaters come, I need to know that you're safe. Promise me that you'll stay hidden. Promise me."

She didn't respond, for the prospect of death eaters entering Hogwarts seemed unreal to her.

"Yes."

"Hermione…I…I have to go now. Listen to me. You have to hide, you have to run if someone comes after you. I can't lose you. I have to know you're safe.

He paused.

"Hermione Granger, I love you so much. You are my life. You are my world, my reason for living. I love you more than you can ever imagine. You have to promise me that you will never forget me, and know that no matter what happens, I will never stop loving you. Do you hear me? I will never stop loving you. This will be unbearable for both of us, I know, but you have to help Potter defeat Voldemort, because it's the only way that we can be together. When this is all over, I'll come back and find you, and we will be together. I promise.

Draco pressed his lips against hers, and gave her a passionate kiss. He pulled her waist to him, and she wrapped her hands in his hair. He pulled away when the clock rang again.

"I love you Hermione. I have to go, but please remember that. I love you so much."
And with one last kiss, he stared into her eyes, and began the walk to the room of requirement. He began to weep when he heard Hermione collapse to the floor in sobs…..
It was just as painful and raw as it had been the day he left. She was never the same.
Hermione now understood that Draco was not with everyone else celebrating. And this fact scared her. She pushed back through the crowd of people, and began walking through one of the deserted halls. Hogwarts was not in the same condition that it had been before; stone walls had cracked and fallen into heaps of rock, and blood stains littered the walls. She shivered at the thought that it could be his.
She turned the corner down a familiar hall from her youth, and gawked at the giant pillars that had collapsed during the battle. But she was on a mission of her own, and was determined to find him. Her mind began to think. Maybe if he was in the halls, and she called for him, he would answer.
"Draco!" she cried, "Draco!"
Silence met her screams, but she was not worried yet, for she had the entire castle to search. She turned past corners, and past familiar abandoned classrooms, but sill no reply.
If she did not find him here, then there was one place he would certainly be; with the other dead in the Great Hall. All of the fallen, foes and friends alike had been placed in rows in the Great Hall to be collected. If Draco had died, he would be there. But that thought was unbearable, and she would only go to there as a final, last resort.
The Slytherin Common Room would be a place to look. Maybe he had gone to reminisce his youth? Hermione turned down the next hall, and continued down to the dungeons, screaming his name along the way.
"Draco! Draco!"
During their time at Hogwarts, Draco revealed where the Slytherin Common room was to her, and would tell her if the password ever changed. Sometimes, she would tell Harry that she was using his invisibility cloak to look at a book in the restricted section of the library, when in reality; she actually snuck into the Slytherin Common room and surprised Draco.
When she reached the entrance, she found that the painting was empty, and had been swung open. She stepped through, into the cool dungeons. The Common Room was deserted, with furniture scattered in disarray around the room. The fireplace was empty, with the exception of a lone log.
"Draco!"
There was no answer. Maybe he was in his room? Hermione ran through the furniture, and sprinted up the stairs to the entrance of his dormitory. She threw open his door, and her heart sank. The room was empty. Still, she slowly walked towards his bed. She ran her hands across the curtains, and across the smooth sheets. One Christmas, when they had both stayed over the holiday, and everyone else in his dormitory had gone home, Hermione had snuck into his room, and they had slept in each other's arms for most nights. A smile stretched across her face at the warm memory.
She had to find him. Hermione walked out of his room, and sprinted out of the common room. Once in the hall, she ran up the stairs into the main corridors.
Hermione had to decide where she would search next. Maybe she should try the room of requirement? After all, it was his escape last year. Hermione began the walk to the seventh floor, and on her way, screamed for him.
"Draco!.....Draco!.....Draco!....Can you hear me?"
She walked up the moving stair cases, past empty portraits, and the Ravenclaw and Hufflepuff common rooms. She then reached the room, which had been blasted open by wands. Hermione began to crouch through the rubble.
"Draco! Are you in here?"
There was no answer. When she reached the interior, all she found was emptiness. And more blood.
Fear was beginning to slowly trickle in now, because she still hadn't found him. But she would not give up. She had to find her love.
Hermione crawled out the rubble, and thought of all the places he could be.
The astronomy tower! That would be exactly where he would be! It was, after all, their secret hideaway, where they always me. Excitement sparked through Hermione as she realized that she may have found him after all. As she ran to the tower, she realized how much she longed for him to hold her in his arms once again.
She had missed him terribly on her journey. The first few months were the hardest, and then she somewhat became used to his absence, but it still felt as if a gaping hole had been punctured through her chest. He was in all of her dreams, every single night. What would usually occur, was that she would be standing in a field, where Draco was on the other side. She would begin to run towards him, but she would never reach him. Every night, she would wake up screaming. At first, Harry and Ron were alarmed and extremely concerned, but then they became used to her nightmares.
"Draco!"
Hermione was screaming his name as she entered the base of the tower. She threw herself up the stairs, lunging at every step.
"Draco, I'm here!"
She threw herself up, so ready to see his face, and kiss him again. But she froze. There was no one here. The tower was deserted, empty. The only noise came from a slight breeze whipping against the tower.
"No," she whispered.
Hermione slowly walked towards the edge. She grasped the railing, and gazed out into bright sunlight before her. The lake had its usual dark tint, but it was sparkling with diamond lights. She slowly turned around to face the center of the tower.
This was where it had happened. Draco had stood here, and pointed his wand to Albus Dumbledore, and attempted to murder him. She closed her eyes and pictured his terrified expression and the surely composed demeanor of the head master when he had made the death threat. But something else had happened here too. Draco had told Harry something. He had told Draco to deliver a message to Hermione, telling her how much her loved her, along with other promises. Her heart soared, realizing that Draco loved her so much, that he would confront his enemy to give a message to her.
Harry had told her everything that Draco had said. The message had kept her going through the separation. It meant the world to her. Everything that he told Harry had comforted her in her deepest despair, and reminded her of how great Draco's love was for her.
She did confess everything about her relationship with Draco to Harry. Everything from their initial fall in love, to their secret relationship at Hogwarts. He had reacted better than she thought he would, and somewhat accepted the relationship. Harry saw how much she truly cared for him, and he saw how much Draco loved her, when he told Harry the message on the astronomy tower. Ron had found out when Hermione screamed Draco's name in her dreams. He was initially upset, and furious that Hermione had been sneaking around the enemy. But he also came to see, with the persuasion of Harry, how much Draco did love her, and eventually was at peace with her feelings for Draco.
Hermione stared around the empty tower, frantically thinking of another place that he would be. But none came. After a one last look around the tower, she ran to the stairs,
and hurried down them, onto the main corridor.
"Draco, where are you?" she cried.
The tone of her voice was becoming more frantic by the minute. As she lunged down the same halls, and turned the same corners, and entered the same classrooms, dread was starting to wash over here like a tidal wave. She couldn't find Draco. But she would not go to the Great Hall. She couldn't.
As she turned the corner into another hall, her eyes began to get blurry with tears.
"Draco!"
She was running now, down halls, and screaming into empty classes. Tears were beginning to fall in streams down her face.
"Draco! Where are you?" she cried as tears fell down her cheeks.
Hermione began to sob, her chest heaving in sighs, and slowing her down as she ran through the halls.
"Draco…D-draco!...D-draco! W-where are you?"
After giving out a giant sob, she suddenly collapsed to the floor. Her sobs were uncontrollable now, and she law in a crumpled heap on the floor. With all of the strength she had left, Hermione propped herself against the wall, wrapped her arms around her knees, and sobbed into her arms. It was not use. Draco was gone. He was dead. Killed on some duel, possibly with an order member or by someone she knew. She couldn't face the truth, but she knew that Draco was lying in the Great Hall, his sobbing mother distraught over his death.
Hermione sobbed harder as she envisioned him lifeless on the floor. She couldn't do this. She didn't have the strength to live without him. It was impossible. Draco had saved her from a dull and colorless life, and had given her a reason to live. He was her sunlight, her soul mate, the one that would always hold her heart.
"D-draco….I love you…Why, why… did you… l-leave me alone here?"
She sobbed even harder.
"I can't do this….I c-can't live without you," she sobbed.
As she spoke, and buried her face deeper into her arms. This was it. She would never be able to kiss him, fall asleep in his arms, or see his smile again. She was falling deeper into despair, and cried harder and harder. She would never see him again. It was too cruel. Without him, she was shattered, broken, and incomplete.
"Hermione!"
Hermione quickly tamed her sobs and she heard a distant voice screaming her name. It was probably Harry, Ron, or any of her friends looking for her. But she wouldn't move. She didn't care if they found her like this. So Hermione buried her face back into her arms, and began to let her tears fall once more.
"Hermione!"
The voice was closer this time, and Hermione realized that it wasn't Harry or Ron. She slowly lifted her face from her hands, and strained to hear her name once again.
"Hermione Granger! Hermione!"
It was even closer this time.
"Hermione!
Hermione narrowed her eyes. It sounded somewhat like Draco in the distance. But of course, her mind, who hadn't seen him in such a great amount time, would make any one that said her name sound like Draco.
"Hermione!"
Hermione slowly raised herself from the wall. Now standing, she listened to her name being called. It did sound like Draco. Maybe her mind was slightly delusional from being separated from him for so long, or maybe it was from crying so much, but Hermione began to walk towards the voice. She slowly followed the voice. Then it came once again.
"Dammit Granger, where are you?" the voice cried.
She halted in her steps. It couldn't be. It was Draco. A sudden fire was sparked within her, and she began to call out his name.
"Draco!"
She stopped to hear the voice again.
"Hermione!"
"Draco!
She began to pick up her pace now, and was almost running down the corridors.
"Hermione! Is that you?"
With that, Hermione began to sprint, running as fast as she could towards his voice.
"Hermione!"
She had never run this fast before, and if felt as if her legs had a mind of their own. His voice was so close, she had to be near him.
"Draco!"
Hermione rounded a corner to an open hall. She stood, knowing that he was so close.
"Hermione!..........Hermione!"
Draco rounded the opposite corner to face her. There he was, as if he had never gone, standing in her presence. His blonde hair was disheveled and dirty, but still silky. His pale skin contrasted with his darkened clothing, which had been ripped and charred during the battle. It felt like a dream, seeing him here, so unreal after their separation. She brought her joyous eyes to his sparkling grey ones, and saw his signature friendly smirk begin to stretch across his features. She couldn't take it anymore.
Hermione sprinted towards him, crying out with each step. Draco began to sprint towards her too, and she could see the tears forming in his eyes. Suddenly, in a rush of emotion, the two collided. Hermione threw herself into his arms, wrapping her legs around his. Draco clenched her to his chest, and cried into her neck. He then pulled her face from his heaving chest and kissed her with more love and desire than he ever had before. They stayed submerged until they gasped for air. Hermione threw her fingers in his hair, and Draco pulled her face closer to his. After embracing they pulled apart. Draco held her face in his hands, and Hermione ran her hand through his hair.
"Draco! I thought I lost you! I couldn't find you. I thought I was going to have to live without you…"
"No, I'm right here. I'm never leaving you again. That's a promise."
Hermione began to cry once more as she looked into his eyes.
"It was so hard, being apart from you. It was awful. I c-couldn't do it…" she cried.
Draco comforted her as he held pulled her close.
"It's okay, Hermione. I'm here. I'll never leave you again.
He held her close, stroking her hair and kissing her forehead. The great time of their separation vanished with each joyful tear and they became enveloped in each other. Everything was going to be fine now. Nothing mattered except that they were once again reunited after a painful split.
After tender minutes passed, he wiped his own tears, and hugged Hermione tighter as he asked her his question.
"Hermione, the night when I left, the night everything terrible happened, I asked….I asked Potter to tell you something, to give you a message for me," he paused, "Did he?"
Hermione smiled as she lifted her head from his chest. She ran her fingers across his face and wrapped her hands around his.
"He did, Draco. He told me everything you said. It kept me going."
Draco smiled as he pulled Hermione close again. As he held his true love in his arms, he remembered that night atop the astronomy tower, and how he had trusted his hidden enemy. Potter selflessly delivered the message that kept Hermione alive for him. In the end, he did have something else to tell Potter: Thank you.
---
I hope you all enjoyed reading this. Did anyone have any tears? I must confess that I shed a few while writing this:) Let me know if any of you did!

So, there is part 2! This story is complete for now, and i'm very happy with it. Thank you to everyone that reviewed part one, everyone who read this, and everyone who is reading right now. I really loved writing this, and I hope you all enjoyed reading it:)

*Please tell me what you thought of this! Please review! I'd love to hear what you thought about part two, with everything from their relationship to their reunion:) The feedback really helps me, and I always love hearing what you all think. Thank you readers!

-katiefelton:)
---
Previous Chapter
---
Favorite&nbsp|Reading List&nbsp|Currently Reading
---
Other Similar Stories

These Arms
by Femme_Fatale


Hermoine Zabini?
by dramoinef...


You Could Be...
by Slytherin...