Fabulous Derek Chaffinch CI by Musicbox at tda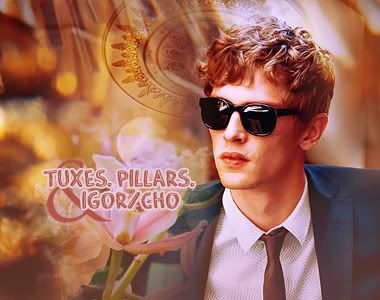 'Ding-dong.'
'Ding-dong, dong-dong, ding-dong.'
'DIIIIIIIIIIIIIIIIIIIIIIIIIIIIIIIIIIIIIIIIIIIIIING-DONG.'
The abrasive ringing of the doorbell shook Alicia's apartment in such a way that made her almost certain that her neighbours were going to take to early morning building work, just to pay her back. Her eyes flew to the clock, but she knew he was early before she looked at it. Viktor seemed to live by the idea that when you're a man with nothing better to do than annoy people, you really had to do the most thorough job of it possible.
The sound of her doorbell continued to drill into Alicia's ears as she hobbled to the door. She took a
very
deep breath before swinging the door open and watching as Viktor started, then calmly removed his finger from its new home on her bell.
'I am thinking that I used this right?'
'I'm not so sur-'
'But vait!' Viktor exclaimed as his forehead crinkled up in horror, 'Vot is wrong vith your hair?'
Despite the fact that she was nowhere near ready for this Ministry party, Alicia felt duly offended. It was not Viktor Krum's place to comment on the fact that her hair wasn't done yet, and if he dared to bring up the fact that she was only wearing one shoe, he would be hit with the other one as soon as she found it.
'I don't think there's anything
wrong
with it actually.'
'But you are not leaving the house in this vay?'
Alicia hesitated for another moment, but it wasn't a very long moment, because her hand seemed to have a life of its own and in asserting its newfound independence, decided to slam the door on Viktor Krum. She took advantage of the peace that settled over the house to check her hair quickly in the mirror. In her opinion, it was bloody fine.
And then the bell starting going off again.
'Hello, Viktor,' Alicia said as she opened the door for a second time.
'I vos only making a joke. Your hair is very nice.'
For reasons unknown to Alicia, Viktor appeared to be on his best behaviour, and for further unknown reasons, she decided to let him into her flat. The fact that his facial expression was reminiscent of a puppy dog that had just been kicked
probably
helped.
'Follow me,' she said, closing the door behind Viktor.
'Vy is your house so small? I think you can afford somevhere better than this,' Viktor observed as he trailed behind Alicia and sat down on her living room sofa.
'I don't know. I'm just used to being here, I suppose…'
There really
wasn't
a reason that Alicia could think of for staying in her flat, other than that she was comfortable there.
'Right, you just… sit here,' Alicia said as she grabbed a pile of magazines off her only armchair and shoved them onto the floor. 'I won't be a minute!'
Alicia scurried out of the room as best she could with one leg four inches shorter than the other, leaving Viktor to his own devices.
A broken vase, numerous hairdos and a lot of mental counting to ten later, the pair finally flooed to the Ministry.
---
'Ange? Ange!' Alicia hissed from her station behind an ornate marble column. She watched as Angelina's head whipped around, searching for the source of the voice calling her. 'Oi, you prat, I'm behind this sodding pillar!'
Upon seeing Alicia cowering in a corner, Angelina's face lit up in a smirk. Alicia had managed to escape Viktor's clutches after forty five minutes of hard work, and she wasn't going to risk going out in the
open
so soon after her triumph. She panicked momentarily when Angelina waltzed straight over to her, without so much as looking to see if she was being followed. Some people in this world were becoming very foolhardy.
'You look like you're having a good time,' Angelina said as she drained her third glass of champagne. 'I
would
offer you a drink,' Angelina continued, looking down at her empty flute, 'but I haven't got one.'
'Don't worry, dear, I'm going to drown myself in the chocolate fountain later. That's the only thing keeping me going.'
Angelina let out an amused snort, 'I'm not going to say I told you so, even though I did, but was coming here on a date with
Viktor Krum
really worth all this trauma?'
'Shush! Somebody might hear you,' Alicia said, her eyes wide with panic.
'What did I say? If you don't want people thinking you're prostituting yourself to your clients, then you shouldn't be doing it! Or do it behind closed doors, at the very least…'
'Oh shut up. You're no help at all. I didn't realise this thing was going to be so
formal
! The Ministry is supposed to be full of tight gits, which usually doesn't equal guests being announced as if they're at a bloody debutante ball!'
'The look on your face was priceless coming down those stairs,' Angelina recalled. Alicia cringed further into the wall, which was really quite pointless, as the redness in her face was marking her out like a beacon anyway. 'Oh, c'mon, I'm not letting you skulk around here all night. You should be networking! Plenty of nutcase-would-be-clients are on the loose out there.'
Angelina shoved her arm through Alicia's and, once she was sure they were firmly hooked together, began tugging Alicia back towards civilisation. Alicia's many protests fell on deaf ears and, apart from the occasional reassurance that nobody would spare her a second glance, Angelina remained uncharacteristically silent.
The vast hall where the gathering was being held buzzed with energy and people continued to arrive. A few more names were called out as Angelina and Alicia topped up their drink, but when a certain pair was called out the two women turned to look at each other, mouths agape.
'Did he just say Mr. Oliver Wood and Miss. Katherine Bell?' Alicia asked.
'He fucking well did,' Angelina replied, her eyes trained on the grand stairs, down which Oliver and Katie were descending. 'Merlin above, Katie's even got a dress on!'
The girls swooped across the room in a way rather reminiscent of vultures closing in on their prey, meeting Katie and Oliver before they had even walked ten paces into the room.
'Kept this one quiet, didn't you?' Angelina said, winking at Katie and playfully poking Oliver in the ribs with her elbow.
Alicia merely shot Oliver a knowing smile as Katie fidgeted with her dress, attempting to make it sit straight, even though it already was.
'It's not what you think,' Katie muttered. 'I only came because you lot were all going. It's not like we're on a date or anything…'
'Yeah, what she said,' Oliver said, nodding along obediently.
Such words only served to throw (a now rather intoxicated) Angelina into a fit of arm waving and disappointed scowling, 'Well, that's bloody boring then, isn't it?!'
'Err-'
But, before Oliver could come up with a response suitable for a terrifying drunk woman, Angelina had launched herself off into the crowd thronging the Ministry Atrium, with an uncomfortable Katie trailing after her and calling something about '
making sure she's okay
'.
'Poor girl,' Alicia tutted.
'Right, before you even start any of that, I'm not that bad!'
'Oh shush, Oliver. I'm talking about her being verbally assaulted by Ange, you prat.'
'In that case, poor,
poor
girl,' Oliver agreed.
Alicia popped her clutch under her arm during Oliver's brief moment of distraction, readying herself for battle, 'So, are you honestly going to tell me that there's nothing going on between you and my favourite young friend?'
'I am. We're here as friends – nothing more.'
'Don't give me that one!' Alicia exclaimed as she observed Oliver's stiff manner, 'You don't go to a Ministry function with someone you don't fancy.'
'I knew you agreed to go with Viktor for more than one reason…'
Alicia spluttered, 'Totally different scenario, mate. I- You- Just…
argh
!'
'I haf been looking all over for you! Vy are you screaming like this?' Viktor declared as he came lumbering towards the pair.
The hairs on Alicia's neck began to creep up, and a sudden rush of adrenaline flooded through her. This was it; the fight or flight instinct. And, for the record, everything in her body was screaming at her to run as far away as she possibly could.
'You vill embarrass me if you continue to act like this,' Viktor said before turning to face Oliver. 'And vot are you doing vith my partner? Do you think that just because they put your face in magazines you can steal vimmen? Vell, I vill not be haffing it!'
Oliver exhaled loudly, scowling down on Viktor, 'Mate, I'm not quite sure where you get off with this 'stealing women' business, but I think we should try and be civil tonight? I mean, the press are lurking about.'
Viktor visibly bristled at Oliver's words, choosing instead to ignore them and turning to clutch Alicia's arm like a drowning man, 'I am thinking that ve should go and find our seats for the food,' he said before continuing in a lower whisper, 'because if ve do not I am going to punch your friend, and it vill not be good for anyvun.'
Alicia nodded a swift goodbye in Oliver's general direction as she was whisked off by Viktor, clinging to his arm in a way that she never would have done if she had a choice in the matter.
'Viktor, let me go. Viktor!' she hissed as they were swallowed by the throng of people. 'I can't be seen to have you feeling me up in public!'
'You are very… uptight. I am only guiding you to dinner – I haf seen it in the muggle movies.'
Silence ensued between the pair, and they filtered into the cavernous dining hall which had been prepared for tonight's function, doing so in a docile manner uncharacteristic of either of them. The room was lit by a multitude of floating candelabras glittering in mid-air, shedding light on row upon row of crisp, white linen tables which were gradually filling up with anyone who was anyone in the sporting world.
Alicia was still gazing around at the lavish surroundings in awe when a waiter, who had been suited and booted and waiting to begin his job for hours, swept over to her and Viktor.
'Monsieur, Mademoiselle, what are your names please?' He asked as he tried to navigate his way through a five feet long piece of parchment.
'I am Viktor Krum an-'
'And I'm Alicia Spinnet!' Alicia cried, interrupting Viktor before he could begin his do-you-not-know-who-I-am rant.
'Ah yes, follow me. You are at zis table over here,' the waiter said as he gestured to a table which was far too central and within view of people for Alicia's liking.
'Is this definitely my seat?' Alicia asked as the waiter stopped at the table and drew out a chair for her.
'Your name is on ze card,' the waiter said and before Alicia could protest he had disappeared back to his station at the front door. And, to be perfectly honest, it was actually her name on the place card.
Alicia didn't look up as she removed her bolero and draped it over her chair, but her first thought when she did dare to peruse the other guests at her table was something along the lines of 'oh bugger'. However, this was not due to the fact that Viktor had already engaged the rather sour looking Head of World Quidditch Federation in conversation, it was rather because of the fact that now that Derek Chaffinch was sitting directly in front of her, and she was now
positive
that her night was only destined for even smaller and lesser things.
'Alicia!' Derek exclaimed upon finding her sitting mere feet across the table from him. 'How absolutely smashing to see you!'
'Err, yes, yes… smashing to see you too.'
Alicia offered Derek a polite smile and began glancing around almost immediately afterwards in an attempt to find someone else to latch onto. In fact, it wouldn't be unreasonable to say that her eyes were almost propelling themselves out of their sockets in her desperation to lay eyes on another familiar face. However, luck was not on Alicia's side, and having only glimpsed a rather drunken Angelina regaling her table with what seemed to be a resoundingly unamusing story, she was forced to turn and face Derek.
'Something wrong?' he asked, still beaming like a Cheshire cat.
'Not at all,' Alicia said as she began rooting around in her bag. 'I've just, er, I've misplaced my lipgloss… And here it is!'
Derek gazed bemusedly at the manically triumphant grimace on Alicia's face as she reddened. 'Honestly, Alicia, let's not have any hard feelings tonight. I know we don't always get along in the business arena, but we're all here to enjoy ourselves.'
'I'm sorry, yes, you're right. Let's just be civil.' Alicia was determined not to let her professionalism slip. After the pillar incident earlier, it was in desperate need of salvaging; so she agreed to act as civilised as a human being could with Viktor Krum sitting beside her. Well, that and the fact that she couldn't let Derek-sodding-Chaffinch get one up on her.
Derek leaned across the table, 'Have you heard about Igor Karkaroff and his new girlfriend then?'
'No!' Alicia exclaimed, subconsciously pulling her chair in more tightly to the table so that she was at in a better position to receive the news.
'Well, you were at Hogwarts at the same time as Cho Chang, weren't you?'
'You're not being serious!'
'Absolutely deadly,' Derek said as he nodded in the direction of a rather odd looking couple four or five tables to their right.
---
'I think that it is possible that you are turning into me,' Viktor said wisely as he observed Alicia moping alone at the dinner table.
She absentmindedly flicked a crumb across the table. 'Trust me, Viktor, you're one of a sodding kind.'
Viktor didn't hear the snarky tone in Alicia's voice (or at least he pretended that he hadn't) and so pulled out a chair, turning it so that it faced Alicia even though she wasn't looking at him. 'Vy must you sit here looking so… angry? Nobody vill vant to dance with you, and then you vill become depressed and vill be banned from vork forever.'
'Maybe I
like
sitting here by myself.'
Alicia's very protest was laughable. She may not have been the life and soul of a party, but she was very much a people person and could normally be found enjoying herself in the thick of things.
'Vot about this man you vere talking to earlier?'
'What about him?' Alicia asked as she adjusted her position slightly in order to actually look at Viktor.
'I do not know. You seemed to be friends, but vhair has he gone?'
'Well, he's off dancing with someone or other, and Angelina is eating the face off of George somewhere else, and you bloody scared Oliver off, and Katie's talking to the Bolivian Minister or something along those lines. And I'm attempting to replace all the blood in my body with alcohol.'
Alicia swigged some more of her wine.
'Oh, stop this feeling sorry for yourself. It is not attractive – and so much alcohol is not good for the health.' Viktor stood up. 'Ve are going to dance.'
'No, no, honestly, I don't want to in the slightest!' However, Alicia didn't have much of a choice. Viktor was already straightening his bowtie in a business like fashion. They were going to dance.
'My life is much vorse than yours. I am in loff with a woman who is getting married to a pumpkin, I am supposed to be the greatest man in quidditch but my team cannot vin and everyvun hates me. Let us just dance.'
And with that Alicia acquiesced, and a couple odd enough to rival Igor Karkaroff and Cho Chang prepared themselves to have a rather decent night overall.
---
A/N: I would just like to thank every single person who has read and reviewed so far. Your support has been completely invaluable and I'm sorry that this chapter took so long XD. Special thanks goes to Molly (Snitchsnatcher) for giving me the confidence to post it in the end!
As always, your feedback means a lot, so if you have anything to say don't hesitate to leave a review or pop over to my MTA.
Edit: Just a quick note to add that in canon it is almost certain that Igor Karkaroff is dead :P. I
am
aware of this, but I couldn't help throwing a little bit of Igor/Cho into cyberspace!