Hi readers!

Finals are done! Yay! So I sat down and wrote this chapter:)
Here's chapter 4!
-To readers that are reading the revised chapter4 , I have chapter 6 written, and will post soon!
---
"Can't you see? There's a feeling that's come over me."

-You Set Me Free, Michelle Branch
---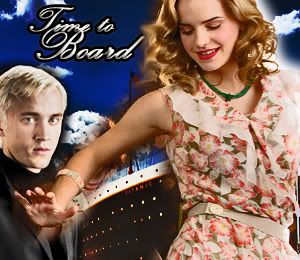 chapter image by me:)
---
Hermione didn't move. She kept a still puzzled look on her "mother."
"Hermione. Don't make me ask again." She snapped.
Her mind was screaming at her to give a response. After a few moments, she calmly composed herself, shot a "don't you dare say anything" look at Draco, and then turned to her mother.
"Well, um…we, er…I mean I, was, um…" she paused."
She gave her a glare.
"Hermione, I'm waiting."
Hermione gulped.
"I was, um, asking for directions. I was, er….lost."
Hermione watched the woman skeptically accept her answer. She then turned and faced an angry Draco.
"Well, that's enough. And you," she spat at Draco, "You're not needed here. Come on Hermione." She turned and began walking towards the first class.
"Yes, er, mother."
Hermione stood in front of Draco.
"Stop Malfoy. Let it go."
He shot an arm in her direction.
"Did you just hear what she said to me?!"
"Yes, I did. And we don't have time to argue over it. Alright, so apparently I have a family, and I have to go with them. Go get on Titanic, and we'll meet at the back of the ship deck after we board to discuss what we have to do with the task. Ok?"
Draco crossed his arms and gave her a scowl.
"I don't like taking orders from you Granger."
Hermione gave an angry sigh. From behind her, she heard her mother yell.
'"Hermione! Come here this instant!"
She turned back to Draco.
"I know you don't. But right now, I really couldn't care less. Go!" she pointed to the third class lines. "Go Malfoy."
He turned and gave her the deadliest glare she had ever seen.
"Meet you on board Granger. Enjoy your bloody first class."
She watched him spin around and fight through the crowds towards the boarding deck. He then disappeared. Her heart jumped as she remembered she was supposed to follow her mother. She grabbed the hem of her dress and tried her best to job through the crowds. She then found the green traveling dress in front of her. Hermione's stomach fluttered as her mother turned to her.
"I never want to see you talking with anyone from third class again. Do you hear me?'
"Yes, um, mother."
In front of her, was a roped off line. On the other side she could see others dressed like herself, obviously first class ticket holders. Her mother turned to the officer.
"I found her sir. Now, will you please let us through."
The officer smiled at Hermione.
"I'm glad you're safe madam. Right this way."
He lifted the rope from one of the posts and ushered them through.
It was an entirely different atmosphere to what she had just been standing in previously. Everyone was smiling, chatting with their spouses and others as officers grabbed their piles of belongings and prepared to move them on board. Maids and servants rushed about, making sure that their mistress's things were being loaded on the ship. Shining automobiles pulled up to the group, with gentlemen in gleaming suits hopping out to grab their lady's gloved hand as each stepped out of the door. Extravagantly dressed couples and families walked up the elegantly decorated catwalk, disappearing through a wide door on the side of the ship. It was extraordinary.
Hermione halted as her mother suddenly stopped, and whipped around to face her.
"Hermione, that was unacceptable behavior. Talking to a boy in third class? Only bad can come from something such as that. Did you learn nothing at finishing school? Or from me? Oh, what would Jonathon say if her saw you."
"I'm sorry, mother." Saying the word was still strange. Hermione was confused. Who on earth was Jonathon?
She watched her mother give an exaggerated sigh.
"Do you know just how much is at stake? Have you forgotten why we are even here?"
Hermione pretended to know what her mother was talking about, but in reality she had no idea whatsoever. And she really wanted to know who Jonathon was.
"It has something to do with, er, Jonathon?"
A flash of anger flew across her mother's face.
"It has everything to do with Jonathon! What has gotten into you Hermione? Do I have to remind you what exactly is going on here? Because I will."
Hermione's brow wrinkled in confusion, hoping that her mother would remind her of what was going on.
"Hermione, Jonathon Randolf belongs on one of the wealthiest families in the world. His father is an oil tycoon, who is worth hundreds of millions of dollars. His last name is the most recognizable names in America. He is looking for a bride to marry, and he definitely showed liking to you over the past few months. Out of the kindness of his pure heart, he was taken our family on Titanic to introduce you to his parents in New York. Your main priority is to show him that he is correct in his fancying of you. You must act like the well brought up girl that I have raised you to be. After all, you are meeting his parents. He would be the perfect husband, and it would be a more than suitable match. There better be a ring on your finger when we return."
Hermione attempted to digest all of the information that she had just heard. So she was supposed to be impressing a guy. But not just any guy, a very wealthy one. And if she didn't, her mother wouldn't be too pleased.
But who was this Jonathon? Sure he had money, but was he as arrogant as Malfoy was? Hermione shuddered. The last thing she needed was another Malfoy on this trip.
"Promise me that you will be on your best behavior."
"I promise."
Her mother seemed satisfied with her answer.
"Good. Now let's get back to the cars."
Hermione followed her mother trough the crowds once more. They passed more shouting officers, brightly colored coats and dresses, and more diamonds than she could count. Hermione's face dropped when she saw it in front of her.
There was a caravan of four gleaming automobiles in a line. Dozens of suitcases and bags lined the cobblestones, and officers were one by one brining the items up on the ship. The drivers of the cars were each standing by the doors obediently, prepared to take orders. She even spotted a few maids placing packages in their arms to also load onto Titanic.
What person could have all of these things? It was such a gaudy display of wealth. It reminded Hermione of a pure-blood wizard family, placing all worth on money and material possessions.
"Well, there's the cars, but where is your father and Jonathon?"
Hermione shot an opened mouth glance at her mother. This was all hers? She watched her mother walk over to one of the maids.
"Be careful Tilly. That vase is fragile."
She watched the girl bow.
"Yes, m'am."
"Where is your father?" asked her mother, obviously impatient.
Hermione realized that she must have a father too. Her stomach began to flutter again, due to her nerves of meeting these new people.
"Oh, there they are."
Hermione's heart jumped as her mother announced their arrival. From behind one of the vehicles emerged three gentlemen. On the right was an older man, obviously her father. He was tall, and looked as if at one time he had been considered skinny, but age had added some weight on his frame. The beginnings of a gray mustache was visible under his nose. The man on the far left was taller than the others, and was larger built. He was also an older man, but not as old as her father, and his facial expression was not very pleasant.
She watched as the trio walked over to their position. Her "father" spoke first.
"Hermione dear, I'm glad we found you. I was beginning to worry," he said with a kind smile as he placed a hand on her shoulder. She decided that he was much more pleasant than her mother.
The unhappy looking man looked at her, and when he spoke to her, it looked as if it almost pained him.
"It's good that you're safe Ms. Bennett," he spoke.
"Thank you sir,"
So Hermione had discovered her last name, which was Bennett. She tried to see if she remembered reading anything about it in her history books, but nothing came to mind.
Hermione's eyes then went to the third man standing in the middle, and her heart began to race. He wore a camel colored suit, with polished leather shoes, which the sunlight reflected from. A red handkerchief peeked out of his from jacket pocket. A glistening gold timepiece lay on his left wrist, and his opposite hand held a wooden cane. From underneath a bowler hat, tamed waves of dark brunette hair were styled to perfection. His eyes were a warm deep brown, which matched his rich locks. He was a bit taller than normal height, and was very fit. Layers of muscle were slightly visible through his suit. He then gave her a smile, revealing rows of perfectly whitened teeth.
He was the most handsome man that Hermione had ever seen. This must be Jonathon.
"Hermione, I'm ecstatic that you were found. This journey just wouldn't be appropriate without you," he responded with a grin.
Hermione was speechless. She was lost in his angelic presence. Was this real? How did she become so fortunate? Jonathon was undeniably attractive.
"Yes, me too, Jonathon,"
He gave her another smile and turned to her mother.
"What happened to her, Charlotte?"
Her mother responded with a smile.
"She was lost. It is understandable in these crowds of peasants."
Jonathon chuckled.
"Oh, Charlotte. Well, I'm glad you'rer back with us Hermione.
Still immersed in his presence Hermione almost missed the fact that her mother's name was Charlotte. She then watched Jonathon turn to the disgruntled man.
"Mr. Collins, will you please escort the rest of the servants on board? We'll be up in a moment."
The man responded with a small smile and escorted the two remaining maids into the crowd. Her father spoke next.
"She is the most magnificent piece of machinery that I have ever laid my eyes on Jonathon. Titanic is in a class of her own," said her father in awe, as he gazed at the enormous ship.
Jonathon showed another pearly white smile.
"Titanic is the longest passenger liner ever built. She is handcrafted with detail and luxury. And this, being her maiden voyage, everything will have never been used before."
"It truly is extraordinary," added her mother.
Hermione glanced up at the ship. It really was breathtaking. It seemed to stretch on for miles, down the long docks. No matter how hard she tried, she couldn't get over the fact that she was standing by Titanic.
She saw her father still standing, head tilting up towards the towering deck of the ship. Next to him, her mother was smoothing out her dress and readjusting her gloves on her dainty fingers.
Jonathon clasped his white-gloved hands together.
"I see that all of our belongings have been brought up to the ship, and I sent all the maids to the suites, so that tea will be ready when we arrive. Shall we board now?"
"Why, let's get on with it!" cheered her father with a smile.
Hermione then remembered that she didn't have a ticket.
"Wait, I don't have a ticket!" she said in a worried tone.
Her mother shot her another look as Jonathon rummaged through his jacket pocket.
"Have no worries Hermione. I have all of the tickets with me." He flashed four white star line, first class tickets in his hand."
"Oh," she replied, her cheeks blushing to match her grin.
"Alright! Let's board Titanic."
The four began to make their way towards the elegant entrance to the catwalk, which would lead onto the ship. Her mother placed her arm around the elbow of her father, and walked with her chin protruding high in the air. Jonathon turned to her.
"Hermione?" he asked with a smile, as he extended out his arm, "May I escort you onto Titanic?"
Hermione's cheeks flushed once more.
"Of course."
She wrapped her arm around his, just as the officer pulled back the rope to the catwalk.
"Welcome to Titanic. May I have your tickets?"
Jonathon handed the passes to the officer. After a quick glance, he smiled at the pair.
"Have a pleasant journey Mr. Randolf. And you too miss."
"Thank you sir," responded Jonathon as he slipped a one hundred dollar bill in his hand, "You have a good day as well."
The officer beamed as he gave a small bow to Jonathon. Jonathon then ushered Hermione in front of him, using his "lady's first" manners, and rejoined her side as they began the descent up the walkway.
Hermione gazed over the crowd as the pair walked toward Titanic. She saw lovers in goodbye embraces, children shouting and pointing at the magnificent ship, and the rest lifting their hands to wave at those on board. It was an amazing sight.
Her heart was soaring above the clouds. Hermione never dreamed that she would be walking up to Titanic, dressed and accompanied with first class privileges, and on the arm of one of the most attractive and wealthiest men in the world. A smile seemed to have a permanent hold on her face as she stood over the waving crowds.
The thought of the task, or any other fear lay tucked in the back of her mind. She was enjoying this with all of her heart, and she could worry about those things later. But for the time being, Hermione was ecstatic, walking beside Jonathon, and taking in the unforgettable scenery.
"You seem to be enjoying yourself."
She gave him a small smile.
"It's unbelievable."
---
Draco on the other hand, was going through a completely different story. He was stuck in a long inspection line, after an officer had caught him trying to board without an inspection. All around him, people were crowded together, holding screaming children and asking for directions in completely different languages. Finally he had reached the front of the line, where a burly officer with a large mustache was waiting for him.
"Name please."
"Draco Mal-, Anderson."
The officer raised an eyebrow as he pulled out a metal instrument.
"What's that?" Draco spat.
"It's for checking your teeth. Now stop talking."
Before Draco could interject, he shoved the instrument into his mouth, and asked Draco open wide. He muttered something.
"Looks good."
The officer than asked more questions.
"Have you ever been infected with smallpox, typhoid, yellow fever, or the flu?"
"No, I haven't," he spat again.
"Do you have any aches, pains, or rashes?"
"No, I don't!" he practically shouted.
The officer narrowed his eyes.
"Watch your tone with me sir. Now please place your hands by your side while I perform a lice inspection."
"But I don't have any bloody lice! Can't I just go in the ship?." Draco shot.
The officer raised a finger.
"No lice inspection, no passage!"
Draco scowled as the officer began to search through his blonde hair.
If only I had my wand.
The officer looked unpleased as he announced that Draco was clean of lice. He thrust his ticket back into his hand and ushered him into the boarding line. Draco shot a look at the officer as he threw his rug sack over his shoulder.
Draco was in a bad mood. First he was flown back to 1912, to a ship that was going to sink. And on top of that, he was stuck with of all people, Granger herself. And the icing on the cake, well that was Granger getting a first class ticket. He wondered where she was. He scowled at the thought of her sipping tea with her elegant "mother." It all just made him sick. From behind him, a voice suddenly interrupted his thoughts.
"Thas rotten luck you 'ad back there lad," came a voice with a thick Irish accent. Draco turned around to face a boy about his age, dressed in simple clothing, with a similar bag over his shoulder. He had wavy dirt blonde hair, which stuck out of a cap, with piercing blue eyes. Draco studied him with intense eyes.
"You really did mate. The man I 'ad gave a quick look at me hair, and sent me on through."
Draco slightly curled his lip. He felt dirty amongst all of the muggles, and even more uncomfortable that one was talking to him.
"'ave you lost your hearing?"
Draco shot him a look.
The boy didn't look offended.
"I don't know 'bout you lad, but I reckon they should let us on now. It already took me a darn good while to save for this ticket already."
"They better let us on soon," responded Draco.
The boy slapped Draco on the shoulder with a grin.
"eh, you're talkin' now!"
Draco frowned as he rubbed the now tender spot on his arm. He watched the boy thrust out a hand.
"The name's Peter O'Connell. I'm from Ireland, but I'm on my way to America now. Me mum died when I was little, and me dad died last year, so I'm on me own now. I worked on a farm outside of Dublin, but the crops ain't too good anymore. Now I'm headed to the mills in America, where they pay you per hour. Where you headed mate?"
Draco stared at the hand in front of him. He watched Peter raise his eyebrows, waiting for a response.
He hated muggles. He despised them, and he had since birth. Peter was a poor muggle, and probably had less than ten dollars in his pocket. Despite these things, the honest truth was that Draco didn't want to be alone on the huge ship. Sure he knew Granger, but he wasn't happy about that. Maybe it would be nice to have someone like Peter to show him around and keep him company. He thought he had lost his mind when he took Peter's hand in his.
"My name's Draco Anderson. And, um, I'm going to work in the factories too."
Peter's face lit up.
"Nice to meet you Draco! What a strange name. Anyways, nice to meet ya!"
Draco gave Peter a forced smile as he stood next to him.
"The line's moving," Peter announced.
Sure enough, it was. The two moved until finally they were at the end of the catwalk, where an officer was collecting tickets. He held out his hand for the wrinkled tickets that Peter and Draco handed him.
He narrowed his eyes as he intenstly studied the tickets.
"Have you both had inspections?"
Draco sighed angrily.
"Yes, we had our inspections. And no one is making me go back for another. Your man back there almost ripped off all the hair on my head."
Peter snickered at his side.
The officer gave him an unpleased look as he motioned them forward.
"Move along, move along!" he shouted.
They began the long walk up the catwalk. Draco looked over the crowd, watching the others wave at the ship. The giant hull was massive, and the ship seemed to stretch for miles. The four smokestacks stood magnificently tall in the sunlight, and seagulls swarmed in the sky. Titanic was a spectacular sight.
"I can't believe this."
To his left, Peter spoke.
"It is the most amazing thing I have ever seen."
And Draco had to agree with Peter on that.
---

A/N: Well, there it is! Hermione has her wealthy family (and possibly future fiance) and Draco met an friendly Irish immigrant. Things are going to get interesting:)

Thanks for all of your awesome feedback!

Review!

-katiefelton:)