Hello everyone :) I hope you enjoy this story :)

Disclaimer: I don't own anything blah, blah, blah you get the picture. But anyway....
On to Chapter One :)
Beautiful chapter image by
Magpie
at TDA!
---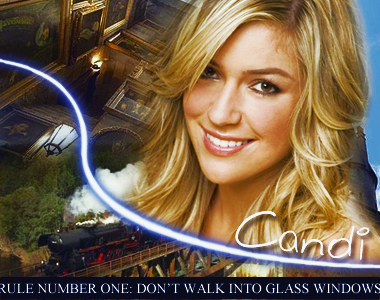 1. Dont Walk Into the Glass Windows
"Have a nice trip, ok dear? And I'll see you later yes? And Candace, remember I gave you money for a snack? Oh, and -"
"Yes mother. I KNOW. See you later." Sometimes I really hate my mother. Ok, that's harsh. She means well... But seriously.
I turn away from her. I'm about to walk away when she says, "And Candace? let me know if you have any
visions.
"
Maybe I should start again. Hi. I'm Candace Trelawney. Preferably known as Candi. Daughter of Sybil Trelawney, the Hogwarts Divination teacher. Great-great-great-great-granddaughter of the Seer Cassandra Trelawney. And unfortunately (in my opinion at least), I've inherited both of their Seeing abilities. And honestly, it's not as cool as it sounds.
Anyway.
I manage to ditch my mother and catch up with my best friend, Hermione Granger. We're in the same year, in Gryffindor. She's standing with Ron Weasley and
*heart skips a beat*
Harry Potter.
Yes. THE Harry Potter. The four of us have been best friends since first year. Secretly, I love Harry. He's so...
dreamy.
He's hot... He's sweet... He's just... Never mind. Basically, I'm head-over-heels in love with him, but he's yet to notice and pledge his undying love for me. Wait. Do guys still do that anymore? Oh well.
Hermione on the other hand, TOTALLY loves Ron, no matter what she says. They're both like in love with each other, but in denial. Last year, Hermione was dating Viktor Krum (!!!), and Ron was sooooo jealous. It was kinda funny. It was NOT funny though, when Harry was dating a girl named Cho Chang, a Ravenclaw in the year above us. All I can say is, thankgod they broke up.
I've gone off on a tangent. Where was I? Oh, right.
I hug them all. I missed them so much.
"Aw Candi, I really wish you could have stayed with us over the holidays," Hermione says.
Oh, yeah. The three of them got to hang out during the summer, but my overprotective mother wouldn't let me stay with them. I mean, come on. She sees me at school almost every day. Isn't that enough? What a bitch.
"Yeah, me too," I say. "Sounds like you guys had a lot of fun."
"Oh, well, sort of." Hermione replies, hesitant of my feelings. "We kinda just did alot of cleaning... It wasn't exactly
fun...
"
Whatever. She was still there.
I'm about to reply when I hear a voice say, "Oh look what we have here. It's Mudblood, Potty, Weasel and Insane Brain." Draco Malfoy had arrived.
I hate him. No, no. I loathe and despise him. Words cannot descrice just how much he is hated by the four of us. He calls Hermione 'Mudblood' just beacuse she's muggle-born. Harry and Ron get called 'Potty' and 'Weasel' because of their surnames. And I'm 'Insane Brain' because of my bloody visions.
Malfoy sidles up to us. "Hi Insane Brain. Have a good summer? Hope you didn't have too many of your fake visions." Did I mention he thinks I'm a fake? Well he does. Grr.
I resist the urge to slap him. Instead I say, "Why would you care Malfoy? You're nothing but an ignorant slug." Ha! I've wiped the smirk off his retarded face. I'm about to say more, but Hermione drags me onto the train. "Let's just go," she says.
Ron and Harry have already gone ahead and saved us an conpartment. I tell Hermione I'll be there in a minute, and head for the bathroom.
As luck would have it, as I exit, Malfoy is walking past. Bloody hell, where is the justice in this world?
"Insane Brain! You just can't get enough of me can you?"
I ignore him and head towards my compartment. Please don't let it be much further...
"Oi! Trelawney! I'm talking to you!"
"Lucky me," I mutter under my breath.
Unfortunately, he follows me all the way there, throwing taunts at me.
I've had enough. I turn and yell at him. "Shut the bloody hell up Malfoy! Or I'll hex the living daylights out of you!"
I swing my head back around and-
FUCK!
I have forgotten about the compartment doors with the glass windows, and slammed face first into the window. I've cracked the glass, and I'm pretty sure my face has fallen off. Wait, no it's still there. My nose is broken though, I'm sure of it. Yep, it's starting to bleed. Just what I need.
Of course, Malfoy is in fits of laughter. Hermione comes out and rescues me. She pulls me into the compartment, fixes the window, and mends my nose with a quick, "
Episkey
".
Harry looks concerned. Ron is trying his hardest not to laugh. I glare at him and sit down.
It's right then and there that I decide to to write my
'Rules for Surviving Hogwarts'
.
Number One: Don't walk into the glass windows
. My nose still bloody hurts. Pretty sure i should see Madam Pomfrey.
The sooner we reach Hogwarts, the better.
---
A/N: So.. What did you all think? I hope you liked it? :)
Please review :) I'd really appreciate it.
Oh, and in case anyone is wondering, Candi and crew are entering their fifth year ;)
Pleaseeeee review :) thanks
Love, JLLshinystar (Jess) xxx