A/N: Well everyone ... this is it.

Thanks so much to the people who have been with me and my characters through thick and thin, right to the very end! My beta, Mrs J Potter and my graphics maker .MementoMori and everyone who reviewed, who guys are so awesome you know that? I think you do :D

Thank you for everything, and I truly appreciate it!

Diclaimer: All belongs to J.K!

Claimer: My OC's and plot!

Enjoy!

Beautiful chappie image by .MementoMori!

---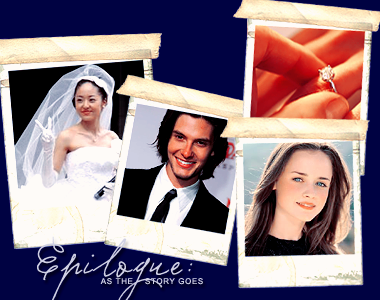 Rose sat in silence, tear marks staining her cheeks. "What happened after?" She asked softly.
I smiled weakly and turned to the last four pages of the photo album. On the first two were, pictures of my wedding day with Sirius, and then James and Lily's wedding day.
"We graduated from Hogwarts. Apart from the fears of Voldemort going to attack, we tried to live as normal as possible. Beth and I got a job at St. Mungo's as Healer's and Sirius, along with James, Lily and Remus joined The Order of the Phoenix. Peter hung around for a while, but he grew distant, none of us suspected anything as we were so caught up in our lives."
"You did have children right?"
Painful memories began resurfing. "Yes, I did get pregant, but unfortunately that was when things became worse. James and Lily, as you know, went into hiding after becoming main targets of Voldemort and the killing rate rose. St. Mungo's was over-flowing with the injured and instead of staying home and caring for myself, I helped out, I became stressed and unfortunately when I gave birth – my dear Daisuke was a still born."
I felt tears rising in my eyes and Rose shook her head, fresh tears falling down her cheeks.
"I'm so sorry Obaasan."
"It's ok, love," I assured. "He would have been just three weeks older than Harry. Sirius and I were devasted, but things grew more complicated and we couldn't try again. Then one day, I got an owl informing Voldemort had attacked again – I'd never forget the pain I felt when I saw Beth's name on that list. She was only twenty years old."
"Oh my goodness, Beth .... and then..." Rose whispered, as if she already knew what was to come.
"James and Lily were killed a year later and I'm sure you know how the story goes from there."
"Oh my..." Rose said touching my hand. "Did you know Sirius was innocent?"
"Of course I did. But nothing could have changed the outcome, Peter's plan was flawless the truth was useless. I moved to France after, to escape, I didn't know Sirius had escaped Azkaban, but when I did find out, I wondered if he ever tried to find me."
"I'm sure he did," Rose said softly, "but of course to protect you, he wouldn't of made any advances if he did find you. However, I'm sure his every second thought was about everyone he loved, especially you. Uncle Harry did mention that he carried around a pocket watch with a photo inside."
My smile widened. "That was my pocket watch from St. Mungo's; I had a picture of us inside."
"When did you find out he had died?"
"Like everyone else, the Daily Prophet - I was so upset when he was sent to Azkaban, but to find out he was no longer here on this earth and no longer a chance we could see each other again was unbearable ... time has never erased the feelings I felt."
Rose sniffed. "Why, why was everything so awful back then?!"
"It just was darling, but you have to thank your uncle Harry for finally putting everything to rest, because without him, I surely think Voldemort would have succeeded in his plans - without him peace wouldn't have existed - I think I only went on because justice was served and I knew Sirius, and also Beth, James, and Remus didn't die in vain."
I touched the photo's of Sirius' smiling face and smiled slightly. "I'm glad I finally got to tell the story, you are the closest I have to a grandchild my dear Rosie."
Rose beamed. "I'm glad I met you Obaasan, I never regret accidently walking into your house when I was three."
I laughed. "Niether do I dear."
"I think I'm going to act upon my feelings towards Scorpius," Rose said with determination in her voice.
"Well, whatever happens my dear; I wish you all the best," I said, and pointing my wand over to my dresser, I soon caught an envelope. Rose spied it as I passed it to her.
"What is it?" She asked.
"Something important and I'd like you to have it. But please, do not open it until tomorrow," I instructed.
Rose nodded and took the envelope. "I promise."
I looked at the time and sighed. "You better go darling, it's late and I wouldn't want your mother worrying."
"Obaasan, thankyou for telling me the story." Rose said, standing to her feet.
"You're welcome. Now be the very best at everything my dear Rosie and enjoy life and make me proud!"
Rose beamed. "I will goodnight Obaasan."
"Goodbye, my darling."
I watched as Rose disappeared and smiling I turned my attention back to the photo album and turned the page.
In the pictures, Sirius was smiling as he pressed his ear against my pregnant belly. I was smiling down at him was he sung to the growing bump. Below the photo was Sirius' writing:
I'm going to be a daddy!
And below that was my messy scrawl.
Who's going to be the blame for our babies deafness!
Celestina Warbeck, you are barking mad! (And I mean that literally!)
Sirius' writing was soon added.
You love me!

You are lucky Sirius!

I certainly am!

Oh, come and stir my cauldron
And if you do it right
I'll boil you up some hot, strong love
To keep you warm tonight!

Oh stop it :D
I chuckled and looked at another picture of us. What I'd do just to kiss his lips, just to hold him again, to hear his voice and feel his embrace.
Closing the photo album I took a deep breath and resting back into my chair, I smiled and closing my eyes, I fell into a deep sleep.
In my dream, Sirius came to me, a bright white light surrounding him.
"Kana," his deep voice caressed my ears, he held out his hand. "Come love, it's time."
"Sirius," I said, my voice fresh and clear. I felt happiness envelope me like a warm blanket and smiling I walked towards him unafraid. Everything became clear when I slipped my hand into his and together we walked towards the light.
My story was finally at an end.
THE END


---

Well guys, that was it. I hope that didn't disapoint ... especially because Day Seven: Part Two and this, wasn't the original ending plan, let's just say the original was a lot less happy, lol! But I thought my characters had been through nearly enough and I decided to give them happiness before Voldemort ruined it all anyway.

What was in the envelope you ask? Well I didn't feel I needed to explain it, but a lot of people were confused, the envelope contained Kana's Will :D there you go guys!

So again, thanks so much for the reviews and support, seriously without you guys this would have gone no where! I love you all and thank you! Keep an eye out for future work :D

Lots of love,

XOXO WildFlower!