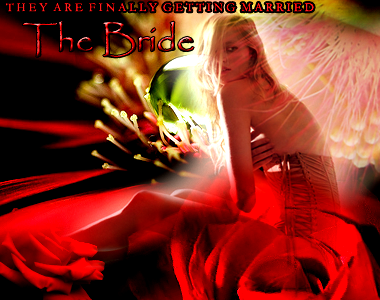 By Coco786 @ TDA!

8 years later…
Victoire Weasley stood in front of the mirror, staring curiously at her reflection as though in all her twenty-six years she had never seen her long flaxen hair and statuesque features look as they did that day. The simple white dress was what she had always wanted, and she smiled to herself as she ran her hands over the satin. This was going to be perfect.
"Babe!" Teddy Lupin, her fiancé, called. Victoire jumped at his voice and the sounds of his approaching footsteps, hurriedly trying to get herself out of the wedding gown. "Babe, come on, were going to be late." He knocked on the door.
"Just a minute," she called, struggling with the zipper that had caught on a piece of the fabric.
Her voice must have sounded strained, because Teddy asked if she was all right and opened the door.
"Get out! Get out!" She shrieked," and don't look!"
Teddy caught half a glimpse of his fiancé in a white dress before he was pushed out of the bathroom, holding his hands in front of his eyes. "Ok, ok," he said, "just don't maul me."
"It's bad luck if you see me in my dress before the wedding!" Victoire explained from the other side of the bathroom door.
"Ok," Teddy replied, not really understanding what all the fuss was about. "But, what will people think if we're late for the Portkey to our own destination wedding?"
Victoire stepped out of the bathroom, fully disentangled from her dress, and pulled his hands away from his eyes as she leaned in close. "That we were having fun," she whispered playfully before kissing him. He responded eagerly, letting his tall frame relax with the comfort of familiarity as he wrapped his arms around her.
"You know, we really are going to be late," he said as they broke away for air.
"Do you care?"
"Not really," he replied, leaning in to kiss her again.
---
Rose Weasley groped behind her for the alarm clock, whose blaring noise was giving her a headache. She accidentally slapped the pale blond head of Scorpius Malfoy, her boyfriend, who was sleeping soundly next to her. That is, he was sleeping soundly next to her, but was now cursing in pain.
"We have to get up," she groaned, kicking out to disentangle her legs from the sheets.
"Why?" Scorpius moaned into the pillow.
"We have to go to Vera's Island."
"Why?"
"For my cousin's wedding."
"Can't we just send them a card or something?" Scorpius said, his eyes still bleary as he propped himself up on one elbow.
Rose laughed, and said, "Nope. Come on, we're going to be late." And with a light tap to his bottom, Rose jumped out of bed.
"Can't I just stay here?" Scorpius called after his girlfriend as she rushed off towards the loo. "It's not like your family even wants me there."
Rose stuck her head out of the bathroom. "Don't be ridiculous. Now, get dressed."
Scorpius plopped back down onto the pillows and groaned again.
---
Dominique Weasley turned heads as she rushed through the crowded London street towards the Ministry's International Travel Office. Her long, strawberry colored hair whipped out behind her as her equally long legs allowed her to stride past the gaping men and jealous women. She was running slightly behind schedule and elbowed more than a few people out of the way, hitting others in the face with the bridesmaid dress that she had slung over one shoulder. She finally saw the office up ahead, and made a final push through the people. In her rush, she bumped head on into something tall, warm, and solid. About to tell whoever had gotten in her way off, she looked up to see a dark and handsome young man staring down at her with a dangerously roguish smile playing over his face.
"Oh, hey, Dex," she greeted, "stooped to blocking girls paths in order to get them to stop and talk, have you?"
"Charming as ever, Dominique," he responded, ignoring the jibe and opening the door to the office. Dominique elbowed him playfully in the ribs as she walked by, a smirk on her face. A bell jingled overhead as Dominique walked inside, and there was some cheering from the corner. Looking over, Dominique saw her cousins James, Albus, and Lily Potter sitting next to her other cousin, Hugo Weasley. Lily and Hugo's fiery red hair made them look more closely related to each other than Lily did to either of her dark haired brothers. Near them sat Brian Munderson and his wife Chrys, who was talking to another bridesmaid, Jillian Masters. Rather than clap and cheer her and Dexter's arrival, Chrys merely scowled in Dominique's direction. This had been happening for months. Teddy had chosen Brian to be his best man, and, while Chrys was still a bridesmaid, Victoire had chosen Dominique to be the maid-of-honor, which, in Chrys's mind, made her and Dominique rivals.
It didn't bother Dominique that much; there were certainly worse things in the world than being disliked by a girl whose full name was Chrysanthemum.
"Oh, hey, Lucy," Dominique greeted the brown haired girl who had just walked into the office. "Did you just get here, too?"
"Nope," Hugo answered for her with a yawn. Apparently, ten in the morning was too early for him. "Lucy was here first."
"I just popped outside to have a fag," Lucy explained. "How have you been, Dom?"
Dom groaned and rolled her eyes. "Busy, with work and the wedding and everything else. How was India, or was it Bangladesh this time?"
"Bangladesh," Lucy said and looked about to launch into the story of her most recent expedition when the bell jingled again, and the late bride and groom walked in to raucous applause. Hugo and James belted out a bar or two of the wedding march causing the other people waiting to stare.
"We didn't know if you would make it!" Lily called with a laugh.
"Yeah, where have you two been?" James interrogated raising a suggestive eyebrow.
Victoire blushed slightly as she and Teddy exchanged a knowing look. "Having fun," Teddy answered. Everyone pulled a face that clearly told the couple that they didn't need to hear anymore.
"Who are we still waiting on?" Victoire asked, dropping into the business like tone she always used whenever she talked about her wedding. "Where are Freddie and Roxy?"
"There was some big emergency at the shop...something about some lost merchandise or their stock of fireworks blowing up," James jumped in, "Anyway, they said they wouldn't be able to make until the actual day of the wedding with the
adults
"
Despite the fact that everyone in the room was well above the age of seventeen (in fact, Teddy and his two friends from school, Brian and Dexter, were 28), they all still referred to the previous generation as the adults.
"The 'life of the party' can't come!" Hugo wailed dramatically, as everyone else rolled their eyes.
"Oh, well," Victoire said, as long as they get there for the wedding, "Louis won't be able to come out till tonight. Apparently, he has to make an appeal for one of his clients before the Wizengamot today." Dominique nodded, their younger brother, Louis, having written to both of them.
"Who else?"
All the cousins looked around at each other doing the mental headcount that they had been doing since birth. "Rose," they said in unison.
Right on cue, the bell above the door jingled again, and Rose and Scorpius rushed in. "Sorry we're late!" She cried as she entered the room. Scorpius waved casually at the family as Rose went to greet her brother and cousins with hugs.
"Great!" Dominique cried, as she greeted her cousin. As the Maid-of-Honor, she felt like she needed to claim some authority over the situation, and said, "Well, that looks like everybody, so let's go."
"Not quite," Teddy stated as the door opened again, and two shockingly blond, young men walked into the office. Dominique paled, and then stiffened.
"Hey, Dominique," the slightly, taller of the two greeted.
"Hi, Lysander," she returned coldly.
Victoire was beaming as she walked over to her sister. "Play nice, Dom," she whispered, looping her arm through her sister's as they led the pack out of the front office and towards their Portkey. There was a bit of groaning behind them as the others picked up their luggage and followed.
After much paperwork, shuffling, and rearranging, the group was finally off to start the three-day party that would lead up to Teddy and Victoire's wedding. Dominique swore that she saw Dexter wink at her from the other side of the Portkey, but then there was the familiar tug on her navel as they were pulled through time and space.
Dominique landed feet first, thanking the gods for natural Veela grace as she dropped her hold on the Muggle jump rope and picked up the bag and dress that had fallen from her shoulder. Victoire and Teddy were helping the others to their feet, but Dominique wandered off toward the other side of the lawn.
The sight that greeted her was beautiful. The sea was a breathtakingly dark blue as its waves rolled up lazily onto the beach that the lawn led down to. Tall pines with reddish trunks were set back from the coast and continued through the island for as far as Dominique could see, except for the well-manicured lawn where they had all arrived at. Teddy and Victoire had come here years before on holiday, and Dominique was beginning to understand why they had wanted to have their wedding here as well.
"It's beautiful, isn't it?" Dominique heard someone ask from behind her, and she turned slowly, unsurprised to find Lucy standing behind her.
"Stunning," she agreed, turning back to the ocean. "Have you been here before, Lucy?" Dominique asked turning back around only to find her cousin walking back to the manor house that had been rented exclusively for their use.
Dominique grabbed her bag and headed towards the house as well. She could hear Victoire chattering happily behind her about how Apparition was forbidden on the island, that there were only a few local Floos, and pre-determined Portkeys allowed as most of the island, except for the house and its property, had been set aside by the government as a nature preserve. Apparently, Vera's Island was home to one of the highest concentrations of magical plants and animals in the Northern Hemisphere.
It was just going to be the family on the island,except for the housekeeper, with no one else to bother them for three whole days.
Wouldn't that be fun?
A/N: Whoo! So, that was a bit of a "character parade" but I think its necessary for the genre. Thanks for reading so far. Please leave a review and tell me what you think!