[
Printer Friendly Version ] [ Report Abuse ]
Betting on the Heart by MiaMarauder
Chapter 7 : Momo Puffs?
| | | |
| --- | --- | --- |
| | Rating: Mature | Chapter Reviews: 10 |
Font:
Background: Font color:
A/n- Warning! May be boring. I'll explain after. But enjoy I hope...

Disclaimer: I don't own anything! This is all J.K.Rowling's my hero!
---

Thanks to cérise@TDA for a lovely lovely chapter image!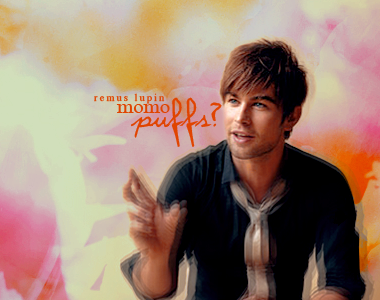 My summer was horrible!
The weeks for when I was in Hogsmeade, were the same like every year. Help my aunt out with costumers, spend most of my time with Rosemerta, and just wrote letters.
All the four letters; I've received lay on my bed.
Layla,

Don't worry about anything when we meet up. Sirius will be on his
best behavior. You shouldnt worry about anything. And yes
if you must know, we do have a wonderful plan to get Lily,
this year. I hope you're not having a boring time their. Before
we meet can you stop by Zonko's or Honeydukes and pick me
up a present? If you must know my favorite candy is Creamy
chunks of Nougat. Sirius wants Sugar Quills. Remus asks for
Bonbons, or chocolates. Peter will just take anything. Maybe
some Cockroach Clusters? We'll pay ya back if you don't
want to spend.

Well, write back I enjoyed your last letter.

FROM
JAMES POTTER!
The other letter was from Lily, lay right next to it.
To my dearest Layla,

I'm sorry for your boredness. But it's not better here! Petuna has a new boyfriend. YEAH I KNOW
HOW!? But she does and he is always here and he is so ugly and fat and he is so annoying. But
I have to put up with him. Petuna seems to be getting really close with him. If they get married
and have a baby it will probably just be a FAT little plump baby. I'm sorry I keep rambling about
them I just do not like him. Well, I hope you enjoy the rest of you time. Say HEY to Rosemerta
for me. Oh and if you must know James hasn't sent a letter to me yet. Yes I know I was shocked too, but it is only 3 weeks into summer after all.

Love always,
Lily
The other one came one week ago.
Layss

Hey! So since you're coming in like a week, I just wanted to make sure ya knew
the plan. So you'll becoming a week earlier then Lily. Then Lily will come a
week after you and then the boys will stay for the weekend. So yeah, oh and no
need to worry Chris said he wont be here when Sirius and the boys come.

See you soon,
JOHANNA YOUR BFF!

P.S Get me candy! My favorite!
The last one came yesterday. Today I will be going to Johanna's.
LAY LAY LAY LAYLA

Hey so thanks again for getting us PRESENTS! And I really didn't
think it will cost that much, we'll pay ya back. I told you really not
to worry about Sirius. He wouldn't want me telling you this but
he's kinda snogging someone. So you have no need to worry he's
over you. Oh and yes the plan has already started with not
writing letters to Lily. DONT TELL LILY WE HAVE A PLAN! PLEASE!
I'll see you in two weeks Lay!

JAMES POTTAA!
I leave tonight and I'm staying into pack. This whole month was practically spent with Rosemerta. I told her everything that went down this school year.
I remembered the advice she gave me about Sirius. "Just pretend he didn't tell you he liked you. Cause you know boys, he'll be trying to forget it too."
Which I was totally just like Sirius, I just had to forget it, just like James wrote
he's snogging someone.... he's over you.
And it shouldn't get on my nerves that he has moved on and good for him. He is after all "the womanizer" in 5th year. He had snoged anyone older then us too but something 6th year has changed he did seem to spend alot more time around me.
But no it was nothing. I just thought he liked to annoy me. Maybe he just thought he liked me and now has gotten over it. Yeah that has to be it. He wouldn't-
There was a knock on the door "Layla?" It was Aunt Ronda.
"Since this is your last night here. I thought maybe we could have dinner." It wasn't a question, and it wasn't an order but it felt like a plead. I barley even seen my aunt this whole month this place just wasn't my home.
I still remember my old house, well kinda. I just remember this big tree in front of it and it was a light blue. I was 5 when my parents died, so its not like I never met them. I can't even remember my parents faces anymore. Yeah I still have old pictures, but there not really quite the same.
"Yeah no problem," I smiled up at her and went back to packing.
"Thanks deary," She gave me a sad smile and closed the door. When I was younger she was more of charge of me. When did I grow up?
After an hour or so I went for a walk.
"Don't worry I'll be back in time for dinner," I said walking out closing the door.
It was hot out so I was in shorts and a cami. For the past month I've been walking the streets where I mostly been living my whole life. I think I only started to resent it this year. I used to love getting free stuff at Zonkos. Getting all the food and drinks I wanted from Rosemerta. Walking the streets where most people knew my name. It used to feel like home but I guess I'm growing up and realizing that I may be stuck here.
I entered Zonkos; it was empty. I feel so bad for the shop owners in the summer. There business isn't quite good when school's out.
"Mr. Evermore ya here?" I said coming into the shop.
I walked passed the normal things the Dungbombs, Hiccough Sweets, the Frog Spawn Soap, and the Sugar Quils; I got for Sirius. I made my way to the counter; there was no one there. I made my way in the back to the storage room.
"Mr. Evermore?" I said in the back room. Mr. Evermore was the owner Zonkos. He was a tall, skinny old man. But he was the nicest person I have ever met. If a fight came along, I could totally take him. He tells me stories from his past how he had the greatest pranks. The Marauders love him. They think he's a god. He was behind boxes picking up Nose-Biting Teacups.
He was muttering to him self, "Stupid things keep bitting my fingers."
"Oh Mr. Evermore let me help you," I said going behind the boxes and picking up some of the stupid teacups. Some bite me, but it was harmless.
"Thank you so much Layla," He said beaming at me after we were all done. He went back to the front counter me going on the other side. "What can I do for you today?"
"Well, I just wanted to come by and say thanks," I smiled at him while he beamed.
"What for dear?"
"For giving me those Sugar Quils for free. Sir- my friends are going to love them."
"Well I'm glad," He said fixing the counter. He seemed alittle preoccupied.
"Also I wanted to say goodbye. I'm leaving tonight," he looked up and gave me a sad smile.
"It's only been a month," he pointed out.
"Yeah I'm going to be staying at my friends house for the rest of summer. So this is goodbye until school starts again," I gave him a wave and a smile.
"Layla, you will come and visit. During the school year?" Mr. Evermore said looking a little sad.
"Yes, of course," I said beaming.
"Good I wouldn't want to loss my best costumer. And those Maruaders James, Sirius, and that Remus," People always seem to leave Peter out.
"First Hogsmeade tirp I'll be at your door," I said smiling and waving again.
I left the Zonko's to go say bye to Rosemerta and maybe get some good food in. I walked past the regular stores Devish & Banges, Gladrags Wizardwear, and Scrivenshaft Quill Shop.
I walked into The Three Broomsticks a little tired. It had a few stragglers in it, but not alot. I went to the counter and sat waiting for Rosemerta.
"Layla, what can I get you?" Mr.Jonas asked coming up to me, behind the counter.
"Oh I just wanted to say goodbye to Rose. I'm leaving later tonight. Where is she?"
"She's in the back," He said walking to the back. A few minutes later Rose ran out frantically looking for me.
She spotted me "Layla! I can't believe it has been a month!" She ran over the counter and gave me a hug.
"I know but I've been with you for the practically whole month! I'll see you the first trip!" We hugged for a few minutes then we let go.
"Promise first trip, you'll visit?"
"Promise," I hugged her again.
"Good luck with Chris," Rose whispered in my ear.
I smiled, "Thanks I'll see you when I get back!" I waved to Tom and walked out.
I walked back to the house. It's not like I'll miss much. First Hogsmeade trip, I'll be here.
I walked into the house with a smell of something burning.
"Just sit down and dinner will be out in a second!" Aunt Ronda yelled somewhere in the kitchen.
I sat down at the table dreading what she had cooking.
After about 10 minutes she started to bring the food. It was a burnt meatloaf and something else I'm not sure what it is...
I grabbed a piece of the none burnt side.
"So what classes are you taking next year?"
"Potions, Muggle Studies, History of Magic, Astronomy and Defence Against the Dark Arts. Most of my friends have the same schedule. Since we all want to be auroras..." I forgot who I was talking to.
She looked up and grimaced at me. "Layla... we had this discussion..."
"Yeah the discussion which you told me I have to run your shop," I sneered. I rarely ever act like a Slytherin. I rarely ever get mad. I stand my ground if its something I feel strong about. But its something I can't just shrug off.
I'm going into my seventh year. I have to grow up and follow my dreams.
"You're just going to have to grow up Layla. I'm leaving you my shop when I retire, if you like it or not." When Aunt Ronda wanted to be mean she could. She thinks I want to become like her.
"Just because you wanted to grow up with no adventure! Doesn't mean I have to!"
"Layla this is my house! You just have to grow up and stop living in a dream land!"
"You're just mad that I barely even talked to you this summer! I'm not that little five year old anymore! You can't control me anymore! I'm not going to be stuck here like you!" With that I got up and stormed to my room.
"How dare you say that to me!" She shouted following me to my room. I grabbed my trunk and my bag. "You're not leaving yet! Put your stuff down now!"
"No I'm done! I'll speak to you the next Hogsmeade visit!" I pushed passed her and made my way to the door. Her fireplace was downstairs in the shop.
"Young lady! You come back right now!" I kept walking. I ran down the stairs. I just can't take it anymore. She thinks she can control me. Well, she needs to think again. I grabbed the floo powder next to the fireplace.
"Layla! I am an adult and you have to listen to me!" She yelled coming up behind me.
I stepped into the fire place, knowing I was going to win. "You're not my parents!" My voice echoed in the chimney. Her face was too sad to even look at. "Nylon Manor!" I shouted and I was gone. I closed my eyes and thought of the look on her face. I never wanted to see her like that again.
I opened my eyes and stepped out of the fire place. I coughed and tripped alittle getting out and brushed myself off.
I looked up to Chris staring at me with a smile. He was on their big couch that fit the big room. He was listening to the Quidditch game, but I don't think he was paying attention anymore.
"Hi..." I said but I think it came out awkward.
There was an awkward silence; it feels like our kiss we shared never happened. I haven't even been thinking about my feelings for Chris.
"LAYLA!!" Johanna screeched, jumping over the couch and running over to me. She hugged me tight and said she had no friend contact in forever.
"I missed you so much!" She said jumping up and down.
"I know! I missed you too! Just to see anyone is wonderful!" We hugged and jumped around for a few more moments and we finally let go.
"Oh it's so great you're here! I have missed you so much," she pulled me out of the room. I made sure that I didn't make eye contact with Chris. She gave my suitcase to Zippy the 5 out of house elfs they have.
Her house was huge. Her house is like back in the olden days with tall ceilings even with designs on the top. Each room was bigger then my whole apartment. It was pale and gold all the walls downstairs. Her backyard was twice as big with a pool and a Quiddtch pitch. She lived all the way out in the valley where no muggle lived.
On the first floor there was a kitchen; which the house elfs would be in mostly, a bedroom for the house elfs; which is huge. A den; they never go into, a dinning room, the living room; which had a huge fire place, and a study.
She pulled me up to the second floor. Where the 6 guest rooms were and her parents room was. Plus the guest rooms had their own personal bathrooms. On the third floor was Johanna's room, Chris' room, the game room, the room relaxing; where Johanna says that where her mom goes to get away from her dad. The water room; where there was a pool, plus a Jacuzzi and a workout room.
Johanna pulled me all the way to her room. Which is a very long walk since its all the way up on the third floor and down the longest hallway ever!
Her room was bright neon green; her favorite color. She had a huge king bed, and a couch. She had a desk that had all her school books on. She even had a mini fridge that restocked it self. Her closet was my favorite place in her whole room. She had a walk in closet with seats in them and a bathroom in it. She had the best clothes every, muggle and wizard. She even had draws filled with bracelets and necklaces. She had bags in every color to match her outfit. She also had a bookshelf full of make-up spells and hair spells to use.
But the best thing about Johanna that she never rubs in her wealth.
She pulled me onto her bed, and but some music on.
"So tell me everything! How was your summer?!" She shouted getting way to excited. But I was just so happy to be out of Hogsmeade.
"It was horrible! Well... it wasn't horrible but I mostly drew and ate. How was yours!? Snog a boy? Tell me everything!"
"I shopped mostly. Mother and Father left for the Bahamas a few days ago. They left alot of money. I mostly hung out with Chris and stayed with the house elfs. You know how they entertain me. Their so funny when my parents aren't around. I mostly wrote letters to Remus and Lily. I even talked to Remus through the fire. My boy options are pretty limited since I just stayed home."
"You sure have gotten close to Remus?" I eyed her suspicious.
"Well, he's nice to talk to!" She yelled blushing a little.
"Right... nice to talk to?"
"Don't give me that look! Anyway..."
"Oh! I have a present for you!" It was her favorite candies wrapped up. I got it out of my pocket and handed to her.
She unwrapped it and looked at Liquorice Wands, Sugar Quils, Droobles Best Blowing Gum, Chocoballs, and Fizzing Whizzbees.
"Aw! Thank you so much Layla!" She hugged me tight and went to put it on her desk.
"So princess Johanna shall I be sleeping in here or in the servant corders," I smirked.
She gave me her death stare "Ha, ha very funny. But you'll sleep in here tonight. I'll set up the pull out couch later. Com'on lets go be girls and do our nails in the relaxing room."
*****
I woke up the bright neon green. I slowly rose and looked over to Johanna. She was sleeping peacefully in her big bed. I rose quietly and grabbed my socks, that fell off when I was sleeping. I made my way out of the room and went downstairs.
God I wish I was 17 already, I could just Apparite downstairs. Wow I just realized my birthday is soon, September 30th.
I walked into the kitchen the big kitchen. It had a island in the middle and two big stoves. On the side was a big circle table with a boy sitting there; reading the paper.
"Hey..." I said with a yawn.
He looked over his paper and smiled. He put his paper back up over his face. I grabbed the spoon on the counter and used the reflection to look at my hair. I had totally bed. Head. I quickly put my fingers through my hair hoping to settle it.
Ziggy the elf came up to me "What would you like for breakfast Miss. Alverez?"
I sat down to make us level kinda. "Just toast and pumpkin juice for now."
"That's all you're going to have?" Chris said putting the paper down. He grabbed his spoon and put a mouthful of brown looking little balls.
"Maybe. What are you eating?" I looked at his cereal in curiosity.
He finished chewing "It's Coco Puffs, it's a muggle cereal. Its made with chocolate," he said grinning. "Do you want some?"
"Uh it's chocolate. Do you need to ask more," I said obvious and asking Ziggy for a bowl.
I got my Coco Puffs and took a spoonful. It was like heaven in my mouth.
"So... you're going camping?" I asked filling the silence.
"Yeah, for like a week," He said taking another spoonful. Merlin! Why is this so bloody awkward.
"Chris..." I said not really sure to say how I feel.
"Layla... I just- it feels-"
"Morning mates!" Johanna yelled coming into the kitchen. It made me jump alittle but I took another spoonful.
"Yuck! Chris got you on those stupid Momo Muffs?" I giggled at what she thought it was called.
Chris chuckled, "It's Coco Puffs," he said correcting her.
"Whatever, Ziggy dear? May I have some pumpkin juice and a banana?" Johanna asked taking a seat.
Ziggy was quick and went to finish cleaning the house.
"So, what were you guys talking about?" We both looked at each other and both took big spoonfuls of our Coco Puffs.
---
A/n- This chapter was my least favorite chapter to write. I actually had to come back and write this chapter because I seriously was getting so bored. But just to let you know chapter 8 is probably my favorite and is finished. I'll probably post every 2 or 3 weeks.
OH and I just want to say THANK YOU SO MUCH FOR THE PEOPLE READING! You guys have been so bloody brilliant! I just want to thank all those people who favorite and commented. You guys are really great and keep me going! And just to let you guys know there will be new chapter images. So look at the old chapters, if ya wanna see some pro chapter images. They'll be all up soon.

Thanks again for reading and commenting!! Tell me what you think on this boring chapter. Maybe it was so boring because Sirius wasent in it... Ya know how much I love me some Sirius. I promise the next chapter is going to be wonderful!

Oh and if you like this story check out my others.
---
Previous Chapter
Next Chapter
---
Favorite&nbsp|Reading List&nbsp|Currently Reading
---
Other Similar Stories

Falling for ...
by Padfoots ...


Bianchi...
by Leola Rubio


Aint it Funny
by LilyMarie...